Exterior Shades | Everything You Should Know
Your Guide to Outdoor Shades and Blinds
What Are Outdoor Shades?
Outdoor window shades are similar to interior shades, with several enhancements. They're constructed from more durable materials to withstand rain and sun. And exterior shades aren't just for windows—you'll find styles designed to fill gaps between posts on your deck, porch or veranda.
Benefits of Custom Outdoor Shades
Exterior window shades or blinds offer other advantages that go beyond design. Let's look at all the terrific benefits of outdoor window treatments. They Hang Tough Through Any Season.
Heavy-duty outdoor shades are durable enough to withstand frigid winters and scorching summer days. They won't crack in cold weather and they resist mold, mildew and fading from exposure to the sun. Long-lasting, weatherproof outdoor shades make welcome additions to any outdoor living space.
You Can Customize Them.
You'll find a variety of customizable outdoor shade options. We offer a wide range of sizes to accommodate your home's unique design, and colors that complement your outdoor décor. You can also choose from varying degrees of opacity in the weaves to control the level of privacy and light filtration.
They Block Harmful UV Rays.
Outdoor sun-blocking shades provide shade to keep visitors comfortable and protected from damaging UV rays and sun glare. They're a better investment — and less messy during a summer barbecue — than extra tubes of sunscreen!
Enjoy Privacy Without an Obstructed View.
Solar shades filter sunlight and UV rays but won't block your view during the day. Outdoor shades also provide an added layer of protection when paired with your interior treatments.  
They're Energy-Efficient.
Tired of tossing money out the window on cooling costs? Outdoor blinds in sunrooms, lanais, and enclosed porches reduce heat penetration, keeping your home's interior comfortable while helping to reduce your energy costs.
They Protect Outdoor Furniture.
UV rays can do more than damage your skin — they can also do a number on your exterior furnishings. When materials get exposed to sunlight, they can fade or crack. Exterior window treatments help keep your outdoor furniture looking new.
Benefits of Outdoor Window Treatments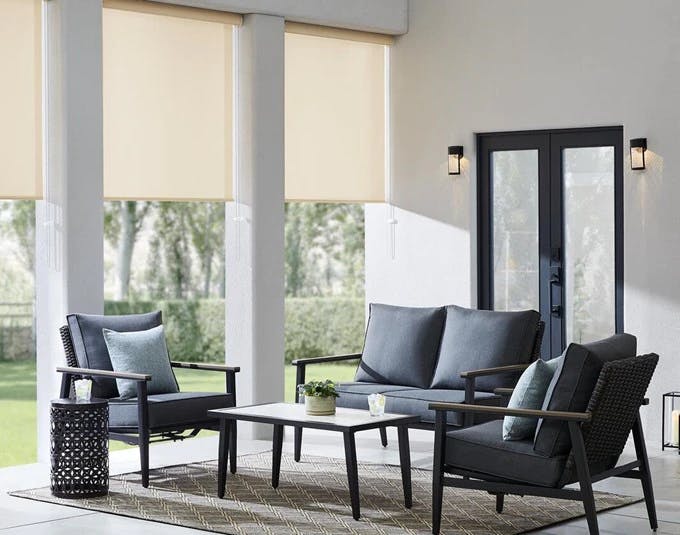 Solar Shades
Outdoor solar shades provide needed coverage for your home and are especially useful in west- and south-facing areas. Attach them to your home's exterior windows to prevent heat and harmful UV rays from entering. Of course, they can also be installed on beams or posts in various outdoor spaces. With numerous color choices, you can find the one that best complements your home's exterior!
More about Solar Shades

Roller Shades
If you thought roller shades were only made for indoors, think again! These versatile window treatments are excellent for blocking sun, wind, and rain. Attach them to the outside of your home's windows for an extra layer of protection, or mount them to pergolas, balconies, porches, or gazebos.
More about Roller Shades
Selecting the Right Outdoor Shades
Suppose you want to expand your outdoor living space but don't want to worry about the outside elements? With outdoor shades, your options are limitless! Here are some things to consider when determining what works best for your home.
Consider the Location
Think about where you need protection most. Do you spend a lot of time entertaining on a deck, patio, or porch? Make the most of these go-to hangout spots by choosing the right outdoor treatments.
Choose a Lift Option
Our cordless lift designs provide a streamlined look and convenient operation. Check out our options. 
Cordless Outdoor Shades
A cordless lift option has a hidden control system that lets you easily raise and lower the shades with the touch of a finger.
Motorized Outdoor Shades
Another cordless option is a motorized lift. Using a switch or remote, you can raise and lower the window treatments with the push of a button. Choose from plug-in, rechargeable and solar-powered applications. Remote-control outdoor shades are ideal for hard-to-reach spaces, and they're a cool way to impress your friends at your next party!
Continuous Cord Loop Controls
This mechanism is a sensible option if your outdoor pull-down shades are larger and heavier. The cords on exterior window shades get secured to a wall or frame to hide them or make them less visible for a sleek appearance.
Select the Right Materials
When choosing fabric for your outdoor shades, consider factors like how much privacy you want, where the shades are going and the climate you live in.
The Privacy Factor
Outdoor shades come in varying levels of opacity, from 1% to 14% openness. The lower the percentage, the tighter the weave (meaning less light coming through).
All-Weather Wearability
When you consider fabric options for indoor window treatments, you're likely focused on colors, patterns and style. Style and color are important when choosing outdoor window shades, but there's another critical choice you need to consider — will they withstand any weather? Materials like PVC and HDPE (high-density polyethylene) are ideal options. They resist rain, cold and heat.
Installing Outdoor Shades
If you're a DIYer looking to install outdoor blinds on a deck, patio, balcony or porch, we'll show you how to measure and install them. If you prefer, check out our professional measuring and installation services.  
Whether you're choosing outside shades for privacy, aesthetics, comfort or all of the above, check out the terrific selection Blinds.com offers. Then get ready to plan your next outdoor get-together.
Outdoor FAQs
Technically, yes, they are made with outdoor rated hardware and can handle the elements. However, they cannot block rain blowing sideways to keep people dry on a patio. That being said, they should be rolled up during extreme weather conditions.

Outdoor shades are also referred to as outdoor roller shades, outdoor blinds, or patio blinds. Hailed as the top choice for exterior roller shades, outdoor blinds are best for patios, gazebos, porches, and balconies.

Patio roller shades help block harsh UV rays, helping preserve the life of your furniture and reducing heat buildup while keeping your view clear of any obstructions.