(December 2020) To say it lightly, 2020 was an unpredictable year. While many of our lives changed dramatically as we navigated uncharted waters, home renovation projects rose dramatically as society adjusted to life at home. Closets became classrooms, kitchens became home offices, and outdoor patios became vacation destinations.
As the New Year approaches and we look towards a brighter future, Blinds.com reviewed the 2020 design trends and predictions made last year.
"No one could have anticipated what happened in 2020, but some of our predictions were realized," says Abigail Sawyer, social media manager for Blinds.com. "From wallpaper to bold color to green living, homeowners embraced many of the 2020 trends we expected. And many of these trends continue into 2021."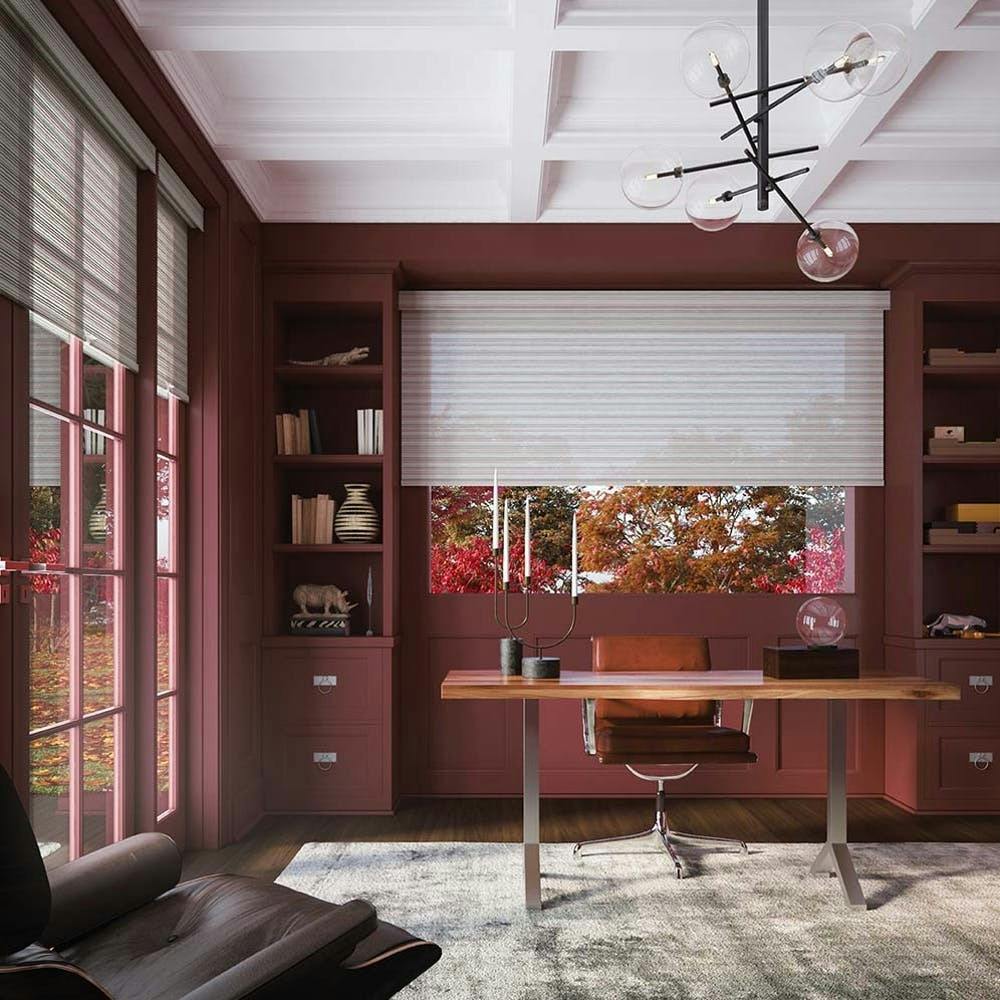 A Design Year in Review
For the past few years, Blinds.com has reviewed annual trends and made predictions on which new styles came, went, or continued.
Late last year, we predicted a few of the décor trends popularized in 2020:
Wallpaper
Back in 2019, we saw signs that wallpaper was making a comeback for 2020. Although opinions were divided on whether the resurgence would happen – or even if it was worth revitalizing – we saw decorators embracing the trend as people became more open to taking risks with painted murals and patterned wallpaper. While the install and removal can be tricky, with all the specialized tools and sticky, gummy glue, we've seen countless examples of bold, patterned wallpaper adding newfound joy into renovated spaces. And that's never a bad thing!
Bold Colors
We got this one half-right. While we predicted bold, jewel-toned hues, the shift away from dark neutrals happened quicker than we anticipated. We thought dark, moody colors would dominate the year, but world events and the necessity for sparking happiness saw a decline in the moody, broody color choices. Instead, many chose to decorate their homes with swirling, colorful murals with bright, vibrant color palettes.
Natural and Eco-Friendly Products
With worldwide attention on reducing plastic waste, single-use straws, and plastic bags, it's no surprise that ethical décor and heirloom craftsmanship have been welcomed with open arms. As people became more budget and eco-conscious in 2020, many saved big by repurposing old furniture and applying new finishes to second-hand pieces. Not only did it save on project costs, it made a positive impact on sustainability and provided opportunities to keep hands and minds from being too idle.
But we can't always get them all right. Here are some trends which didn't quite hit the mark:
Maximalism
We thought the daring, bold maximalism trend would continue through 2020; mixing patterns, textures, and colors to create something totally unpredictable and new for the maximum dramatic impact. Instead, we saw a return to the tried-and-true, retro coziness of your grandmother's house. Cottagecore, or "grandma-style" surged in 2020 to include elements like floral upholstery, wicker furniture, and pleated shades – the design comfort food we all needed this year.
Curves vs. Hard Lines
We were surprised by soft shapes and fluted molding becoming popular as people said goodbye to the strict, straight lines of past trends. We witnessed freeform curvature adding visual interest to countless homes, and the versatility made curves popular with almost any décor style; whether postmodern, mid-century modern, or even traditional.
Neutral Colors
Dark colors and neutrals were predicted to be the "it" look for 2020, starting with Classic Blue chosen as Pantone's Color of the Year. Moody hues of dark brown, greens, and blacks were expected to trend through the year and beyond, but a stark contrast happened instead. Neutral colors are out, and warm, colorful palettes are in!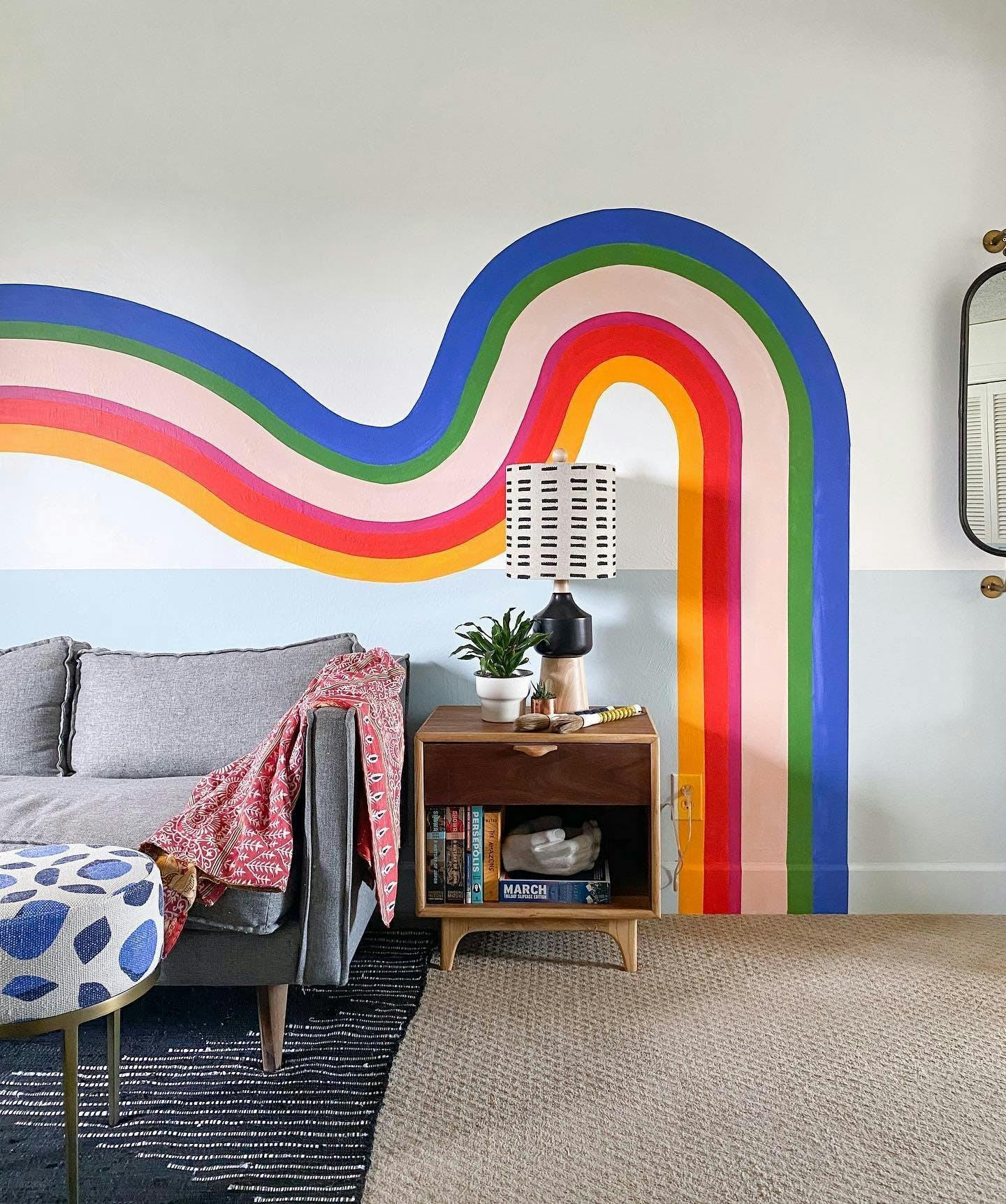 Trends to Look Forward to in 2021
While 2020 turned the renovation and décor world on its head, we're starting to see some new daring design trends emerge. What could be a better way to close the chapter on 2020 and bring in a new year than getting ahead on the latest trend?
Home Office
As work-from-home and learn-from-home became the standard for office workers and students alike, it looks like the trend will continue into 2021. As many adjusted to the shift in work-life balance, more will choose to turn spare rooms or spaces within rooms into home offices. Even without a dedicated room to transform into your dream corner office, small changes to any room can make a big impact and increase productivity. Consider updating window treatments, refreshing accent lighting, or adding easy-to-maintain houseplants to make your workspace feel fresh.
Technology and Home Automation
After a rough 2020, don't feel guilty about taking shortcuts wherever you can. In a world where you can order paper towels with your voice from your smart home device, we foresee home automation and technology being further integrated with your day to day home life. Did you know you can even upgrade your window treatments with a motorized lift? Perfect for difficult-to-reach windows, you can open and close your blinds with just the touch of a button.
Outdoor Living Spaces
Interest in outdoor patio renovations soared in 2020, and we anticipate the trend to continue into next year. As more people continue to shelter in place, outdoor spaces became a valuable amenity. With so much time spent at home and indoors, many have an opportunity to update their patio furniture, outdoor shades, or gardens to make their outdoor spaces more comfortable, functional, and inviting. A little fresh air and sunshine throughout the day can go a long way!
Want to learn more about our predictions for 2021? You can check them out here on our blog.
How to Begin
It can be difficult to navigate unpredictable times as well as unpredictable design trends. If you're contemplating a home renovation project, follow these guidelines to think through what works best for you. It can be easy to forget that there are no design rules – whatever makes you happy and fits your needs is the best choice you can make. Don't let trending fashions stop you from making a decision.
Consider Your New Normal
Are you working from home in 2021? Is your home missing any necessities? Start here first. Turn an unused corner into a workspace or learning station with a small desk or refresh a room with new curtains and a coat of paint. Invest in projects you deem essential before tackling any cosmetic or "nice-to-have" features.
Find Joy
Remember: the most important rule in design is to choose what makes you happy. Don't hesitate to paint that colorful mural on your wall if seeing it every day brings a smile to your face. Try to not get bogged down with design rules or trends; trust your own opinion first. It's great to get inspired or follow trending designs, but a little freedom in your choices can really make a space feel personal.
DIY or Hire a Professional
With more free time at home, it might be the perfect opportunity to start a DIY project. It's never been easier to find an online guide or video tutorial, so use these resources to your advantage when starting a new project. Or when you're ready to hire a professional next year, Blinds.com will have expert help at the ready for consultations and installations.
As we go into 2021 with cautious optimism, we hope one prediction comes true above all others: a safe, healthy future where we can all be together again. In the meantime, we look forward to seeing more creative style and design from across the globe. Keep inspiring yourselves and each other – and cheers to a bright 2021!