For Immediate Release: 10.1.2021
Houston, TX. 
October is National Window Covering Safety Month and a good time to assess your home for safe window coverings. At Blinds.com, supplying window covering options that are safer for children has always been a top priority.
The Consumer Product Safety Commission (CPSC) recommends inspecting your home for window coverings with exposed and dangling cords — a top five hidden home hazard — and replace them with safer cordless coverings.
Cords have long been recognized as a serious threat to children's safety. In 2018, in cooperation with the CPSC, the window treatment industry created standardized safety regulations to protect children from becoming entangled and suffering life-threatening injuries.
Choosing products without accessible cords and upgrading to safer window treatments are effective ways to childproof your home and protect your children from accidental injury.
At Blinds.com, a wide selection of our products come with a cordless option, but not all window coverings with a cordless option are safe for kids. For instance, some cordless blinds still have cords that run through the slats and can create an entanglement hazard. We recommend other products, like cordless cellular shades, cordless roller shades, and shutters to ensure your child's safety.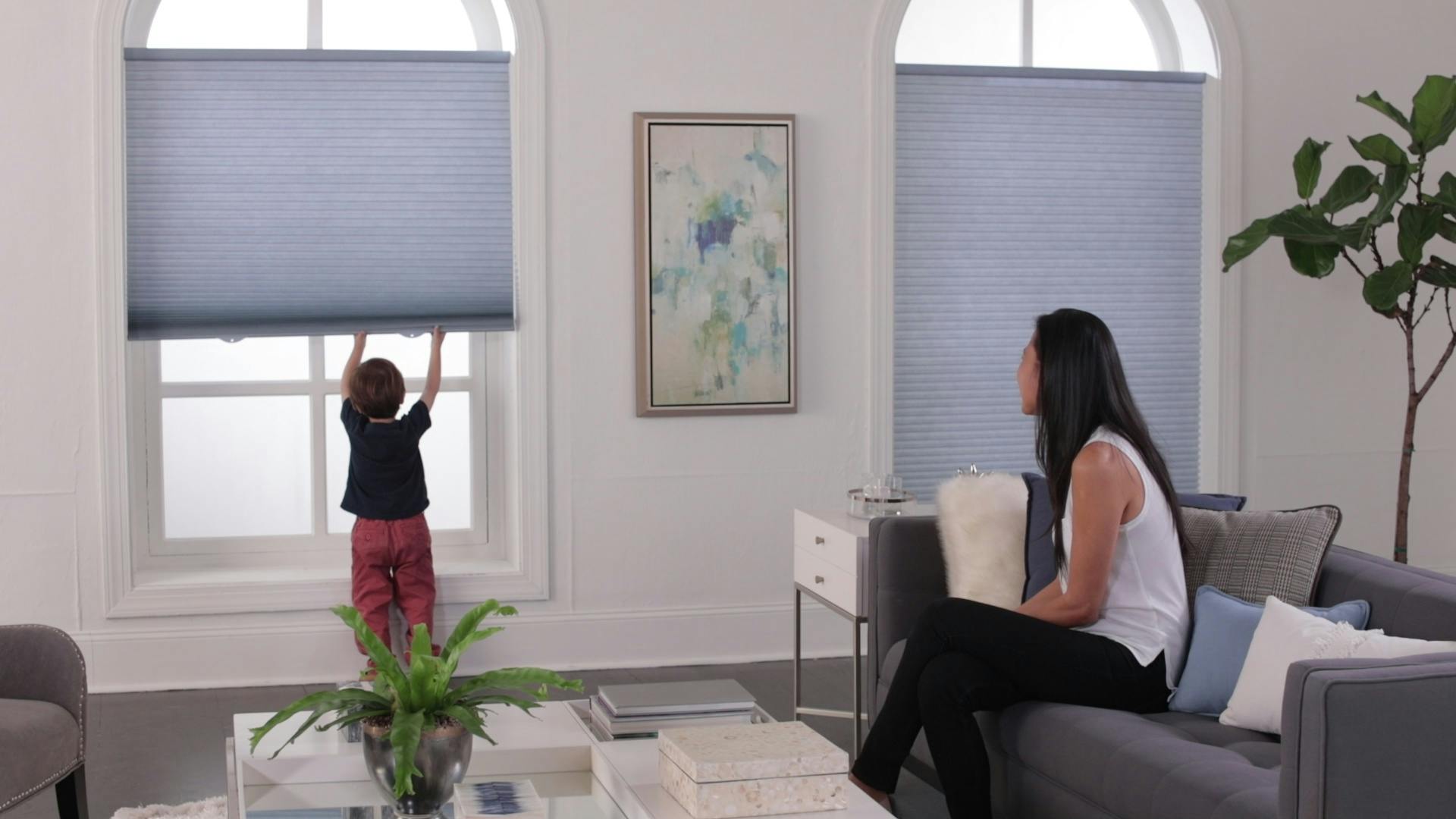 Cords and kids don't mix
Bedrooms, playrooms, and other spaces where kids might play unsupervised — even for a minute — are important to inspect for dangerous hazards. According to the CPSC, the top five hidden hazards to look out for are magnets, recalled products, furniture that can tip over, pools and spa drains, and window covering cords.
Fortunately, safer window blinds and shades have become the standard, but many homes might still be outfitted with older blinds that aren't safe for children. The American Academy of Pediatrics says cordless window coverings are the best for kids and recommend using them in your home.
If it's not feasible to replace your window coverings, you can still protect your children by implementing some safe habits.
Keep cords out of sight and out of reach — Make sure all window cords are hidden and out of reach of young children. You can also order free window cord retrofit kits from www.windowcoverings.org.
Prevent access to cords — Move all cribs, beds, furniture, and toys away from windows.
Pull it tight — Continuous-loop pull cords should be pulled tight and anchored to the floor or wall with a tension device.
Choose window coverings that are safer for kids
When shopping for window coverings, it's important to assess the risk they might pose to children. At Blinds.com, we provide child safety information on each product to help guide parents looking for the safest options.
The most important factor to consider is whether the product has accessible cords. If it does, it's not a safe option for a home with children and pets.
Some of the best options for child safety include:
Cellular Shades — Cellular shades can be made safer by choosing cordless or motorized. The top-down/bottom-up version is not recommended for kids because the cords become accessible when the shade is lowered.   
Roller or Solar Shades — These shades are safer when you choose a cordless or motorized lift. Other lift options have cords that are not recommended for homes with children.
Shutters — Shutters are a great option for nurseries or playrooms.  
Curtains — No accessible cords make curtains a safer choice for homes with kids.
About Blinds.com: 
Blinds.com is part of The Home Depot's industry-leading family of brands and is the largest eCommerce retailer of window treatments in the world – covering over a million windows a year since 1996. Blinds.com makes it surprisingly easy to shop from home for custom blinds, shades, shutters, and outdoor shades, with easy online ordering and shipping right to your door. Blinds.com guarantees the perfect fit for your windows, whether you want to DIY, need expert design help, or prefer measure and installation services. Shop online at Blinds.com.
###