With growing climate change concerns, the desire for sustainable products is larger than ever. Here are 5 ways motorized blinds and shades can help save energy this Earth Day.
What is Earth Day?
Earth Day, April 22, is an annual event that shows support for environmental protection. This year's Earth Day theme is "Invest in Your Planet."
You can easily participate in this year's theme by choosing sustainable home decor, including window treatments. Keep reading for information on eco-friendly motorized blinds and shades.
What Window Treatments are Eco-Friendly?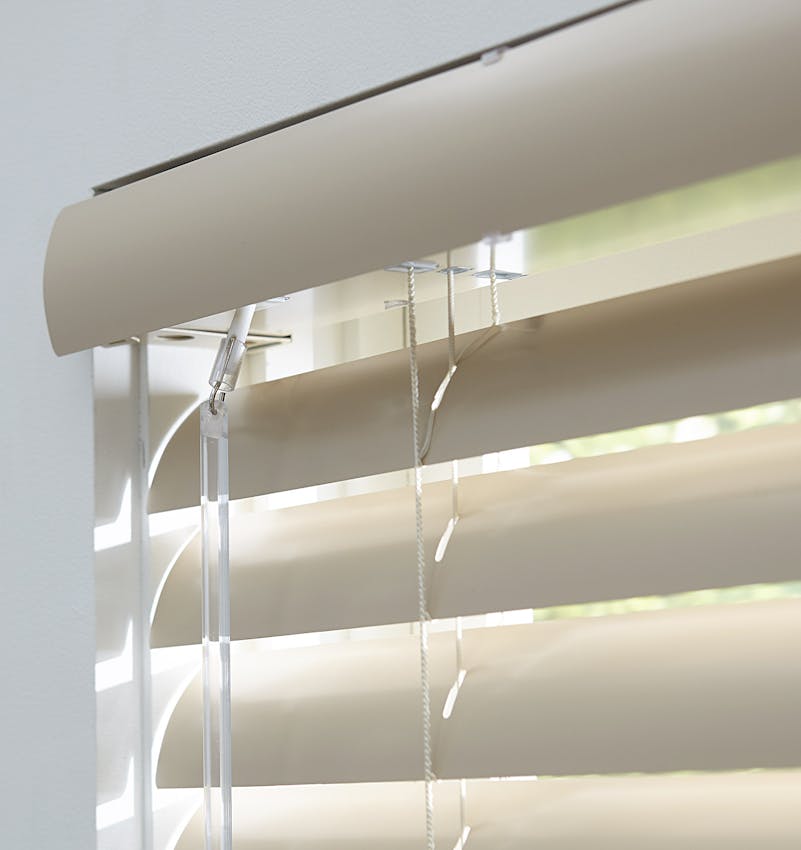 Pictured: Blinds.com 2 Inch Aluminum Blind in Fawn 031.
Aluminum Blinds
In order to recycle window treatments, the blind or shade has to be broken down into metal, plastic, and so forth. Aluminum is an easily recyclable material. Therefore aluminum blinds are one of the easiest window treatments to recycle. Aluminum blinds are also incredibly durable, so they do not need to be recycled as often.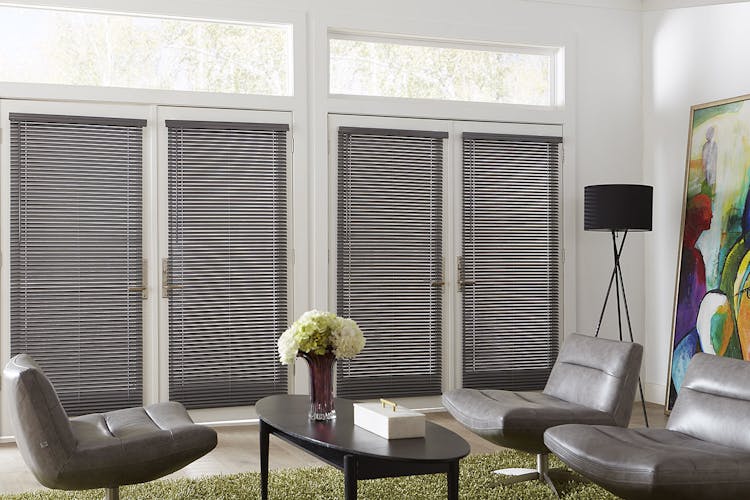 Pictured: 1 Inch Cordless Mini Blind.
Cellular Shades
A cellular shade is one of the most eco-friendly window treatments available. If you're serious about saving energy, we recommend installing double or triple-paned windows and choosing a cellular shade with an inside mount and side panels. The inside mount and side panels create a tighter seal, making it difficult for heat to escape through your windows.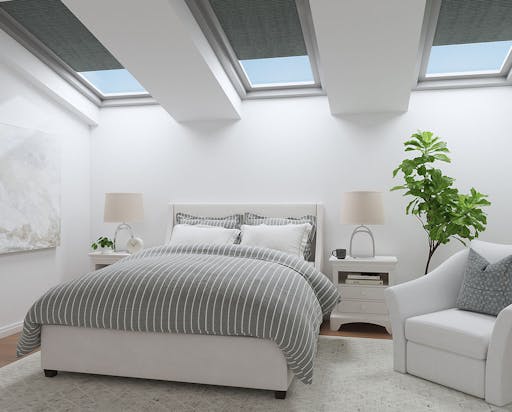 Pictured: Light Filtering Skylight Cellular Shade in Onyx.
Materials aren't the only thing that make a window treatment eco-friendly. Did you know it's possible to reap eco-friendly benefits from motorized blinds? We're sharing 5 ways motorized window treatments can help conserve energy.
1. Motorized Cellular Shades Help Regulate Temperature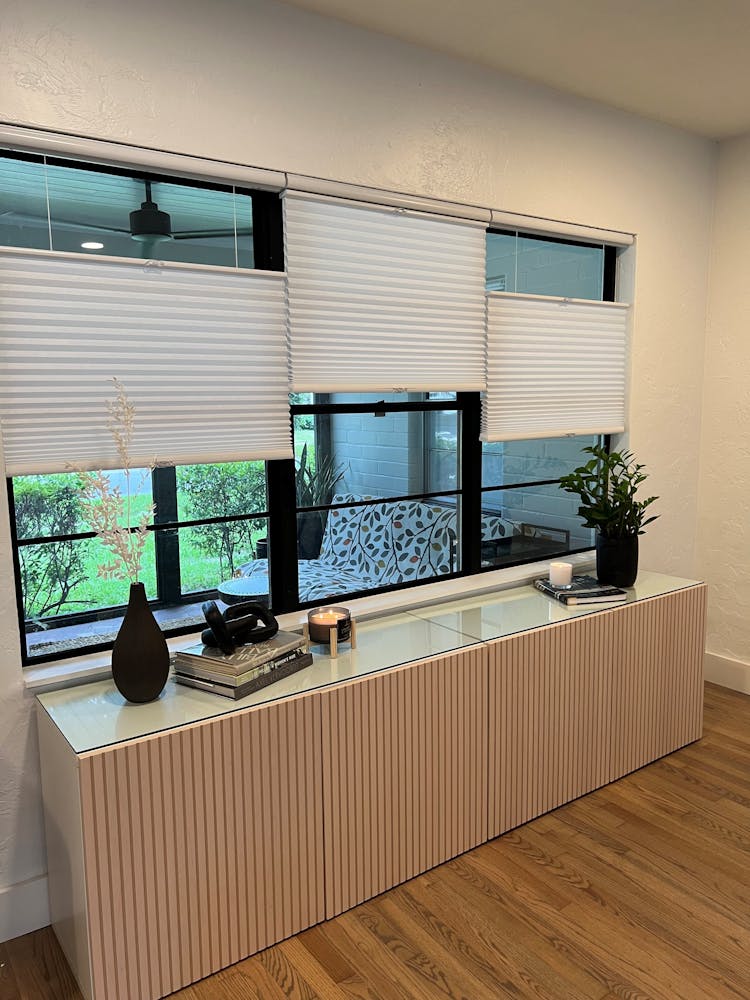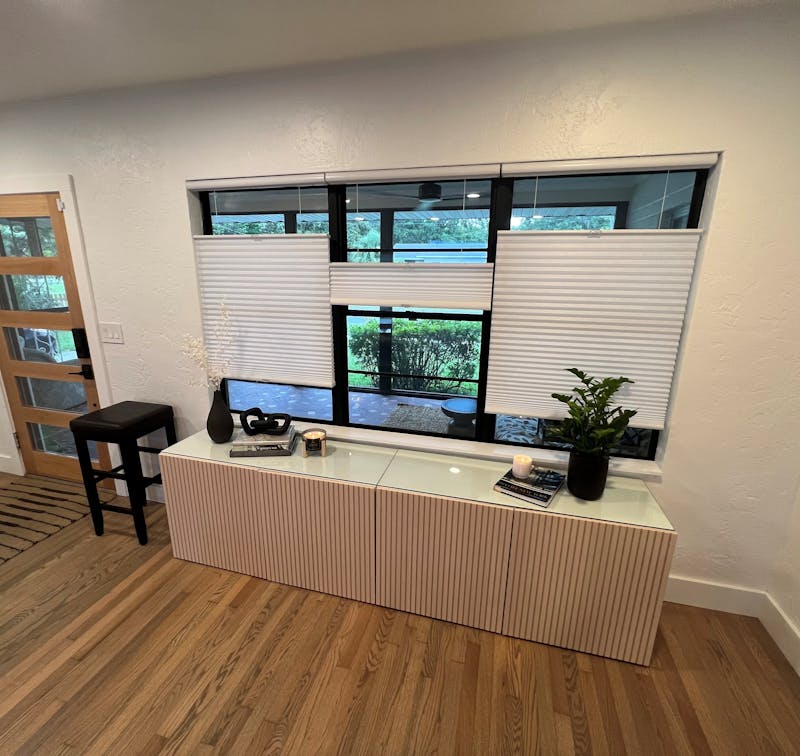 Pictured: Premium Light Filtering Cellular Shade in Igloo.
Cellular shades' pleated, honeycomb design helps filter light and block UV rays, keeping the home cooler in the summer and warmer during winter. The shade helps regulate the home's temperature, so your HVAC system doesn't have to work as hard.
2. Motorized Shades can be Voice Controlled and Smartphone Automated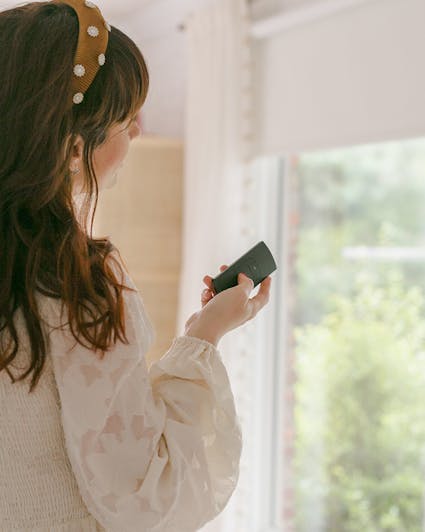 Pictured: Premium Blackout Roller Shades in Rainier Snowfall. Photo via: @abeautifulmess.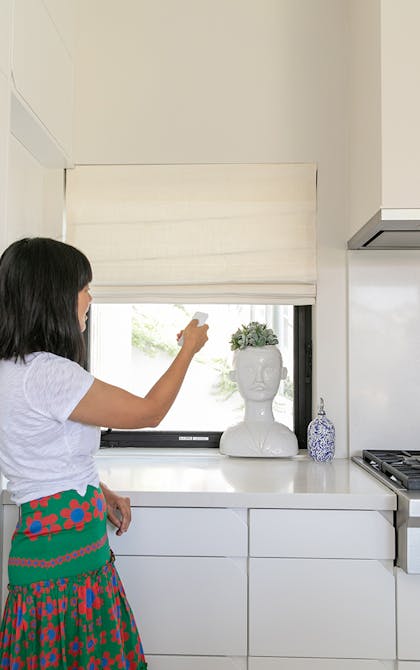 Pictured: Premium Roman Shades in Gent Bisque. Photo by: @ohjoy.
During the winter, motorized shades can be programmed to open and close when the sun rises and sets to get the most heat exposure from the sun, ultimately spending less on heating costs. Blinds.com offers motorized blinds and shades that are compatible with smartphone systems like Amazon Alexa, Google Home, Apple HomeKit, and more.
Shop Motorized Blinds and Shades
3. Smart Home Integration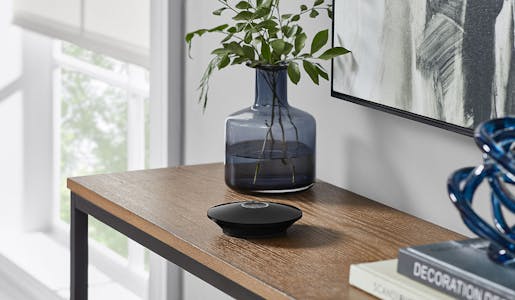 Pictured: Blinds.com SmartHub.
Motorized shades can be paired with other smart home devices to help lower energy use. For example, if a homeowner has a smart thermostat and motorized shades, they can pair the two devices to work together. Smart thermostats can sense when a room's temperature is getting too warm or cold and prompt the blinds to open or close, helping regulate temperature. This provides less strain on your HVAC, saving on energy costs.
Shop Smart Home Enabled Motorization
4. Solar-Powered Window Treatments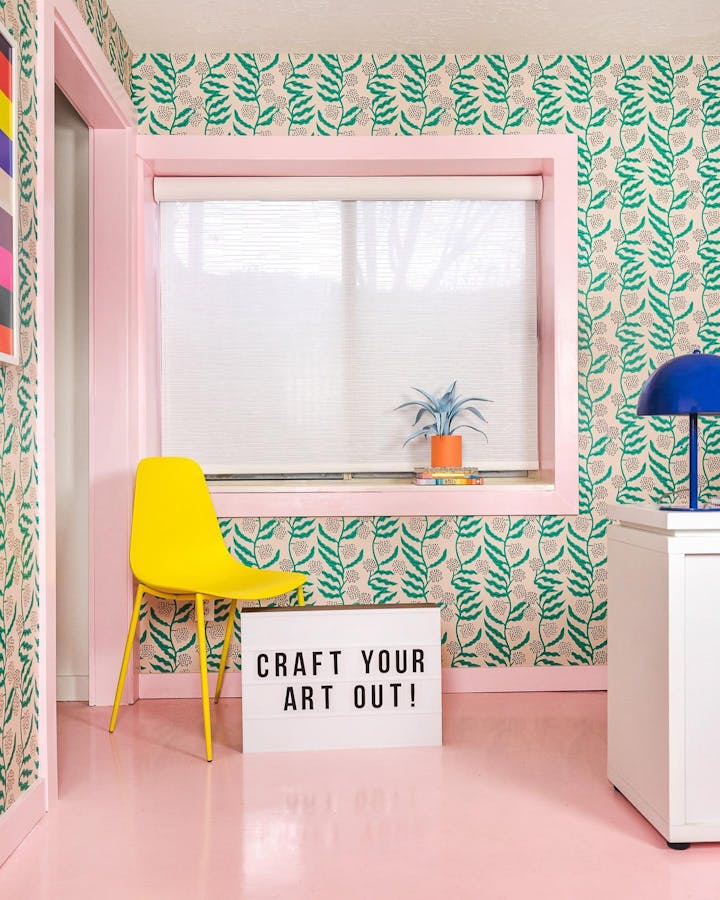 Pictured: Premium Natural Light Filtering Roller Shades in Savanna Mirage. Photo via: @houselarsbuilt.
Many of our indoor and outdoor window treatments, including SouthSeas Light Filtering Roller Shades and Coolaroo Outdoor Shades, are now either plug-in or rechargeable, eliminating the need for disposable batteries.
Blinds.com also offers motorized shades that are powered using a solar charging panel. "Instead of having a constant power drain like plug-ins, it's a great eco alternative," says Design Consultant Lydia Ortiz.
5. Outdoor Motorized Shades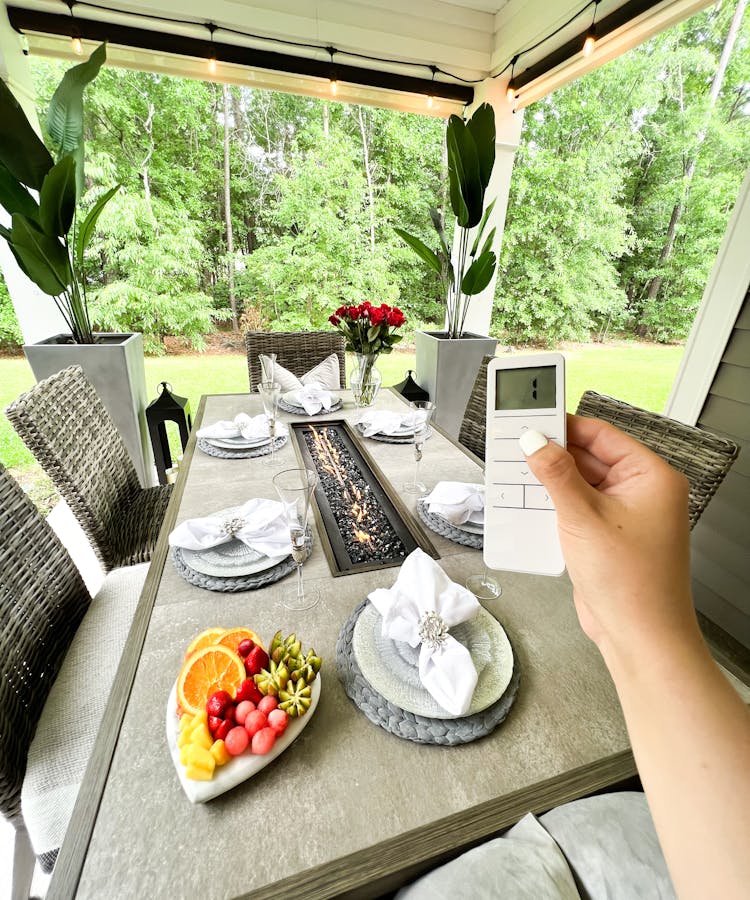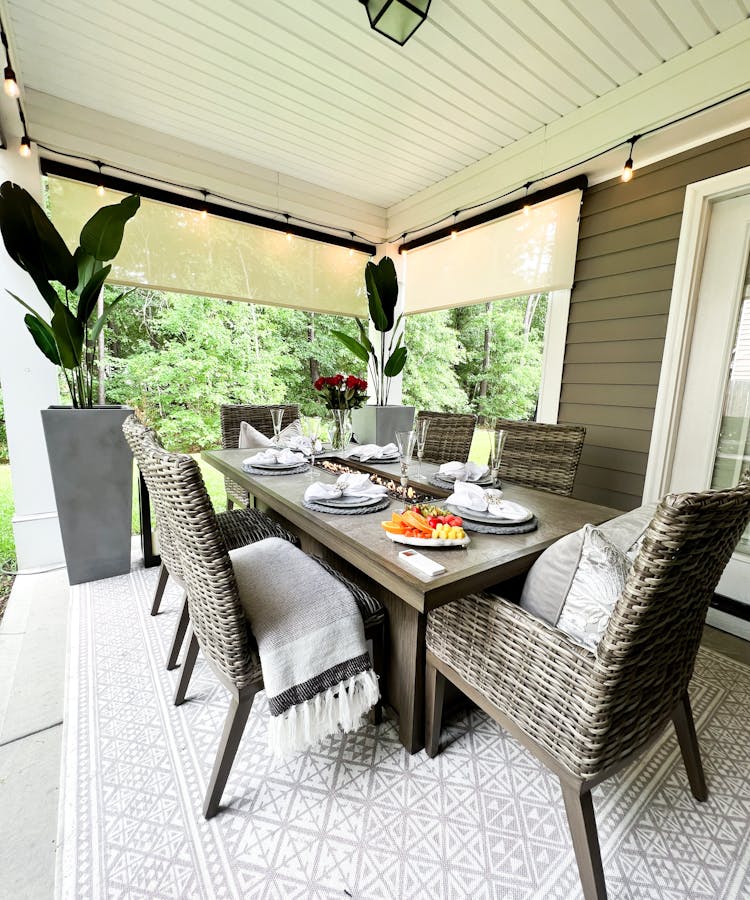 Pictured: Heavy Duty Outdoor Solar Shade in Capri 8% with Motorized Lift. Photo via: @LGQueenHomeDecor.
The energy-saving benefits of motorized window treatments are certainly not confined to a home's interior. In addition to reducing glare and protecting furniture from UV damage, outdoor shades lessen the need for AC. Motorized outdoor shades reduce heat transfer through a home's windows, making it cooler.
Still Have Questions?
Choosing the right motorized window treatment can feel daunting but our expert Design Consultants are ready to help answer any of your questions: 844-551-3769. They can also send you free sample swatches or help set up a Professional Measure and Install.
How are you planning to conserve energy on Earth Day? Join the eco-friendly home decor conversation on Instagram and Pinterest!
Want More Motorized Window Treatment Inspiration?
13 Best Window Coverings in 2023, Including Most Innovative, Eco-Friendly, and SouthSeas
How to Achieve Modern Design with Roller Shades
Read This Before You Buy Motorized Blinds