Brace Yourselves: The Guests are coming. The Holidays are right around the corner and with them come shorter days, longer shopping lists and guests with extended stays. So we're here with some suggestions to take your home from "lived in" to "lovely".
Dust Fixtures & Wipe Down Surfaces
It's very easy to get overwhelmed if you're on a timeline. Start by thinking about where guests will spend most of their time (living room, dining room, guest room). Make a quick run through with a damp cloth. Wipe down hard surfaces, vacuum in high traffic areas and dust fixtures like blinds or ceiling fans to make a room feel fresh.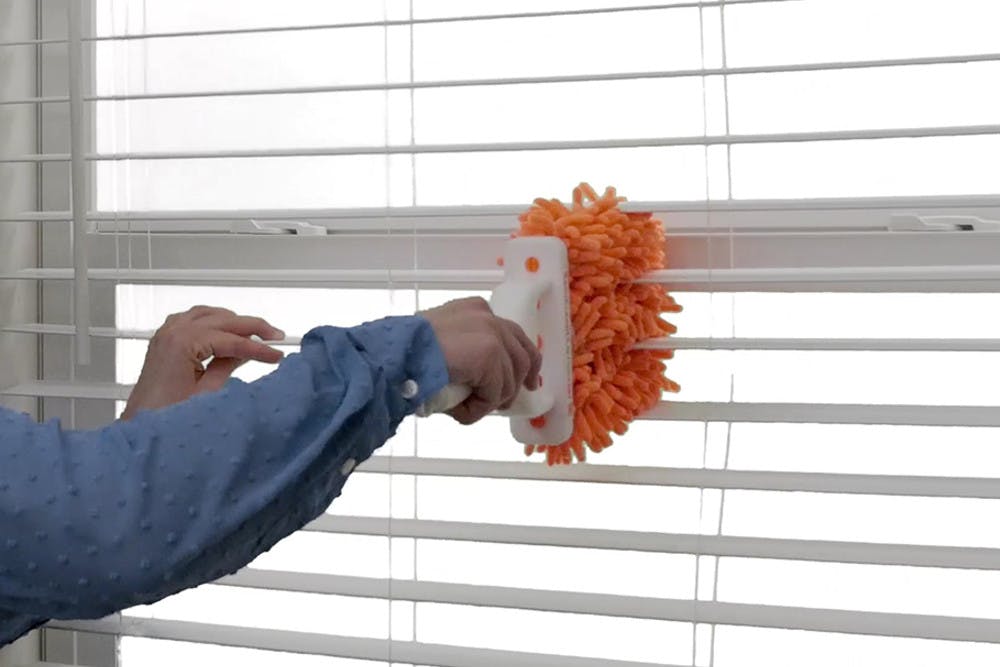 Wash Bedding and Create Storage
A freshly made bed that smells of fresh linen (or whatever your favorite laundry scent is) along with extra pillows and blankets can make your guest room feel hotel-level cozy.
Shop your home to find pieces to furnish the guest room. A small folding table and lamp placed next to the bed works as a makeshift nightstand.
If you use your guest room for storage, be sure to clean out a few drawers, have a bench for suitcases or install a few wall hooks so guests have a place for their stuff.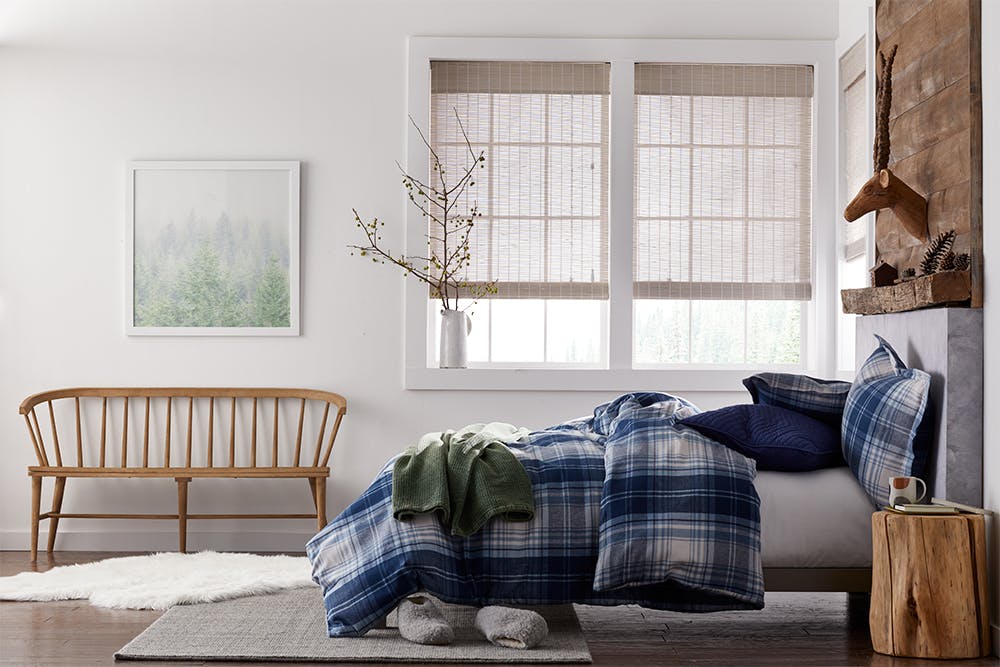 Pictured: Blinds.com Woven Wood Shade in Rustic White
Adequate Lighting
It can be difficult for anyone to adjust to sleeping in a new place, but a street light shining right in the window can make drifting off nearly impossible. Try sleeping in the guest room for a night to see how it feels. For guest rooms that have night-time light exposure or get a lot of early sun, blackout shades can help ensure guests get a good night sleep. Roman shades, like the Blinds.com Premium Roman Shade with a blackout liner, block light but add softness to a room. It's like a comforter for you windows!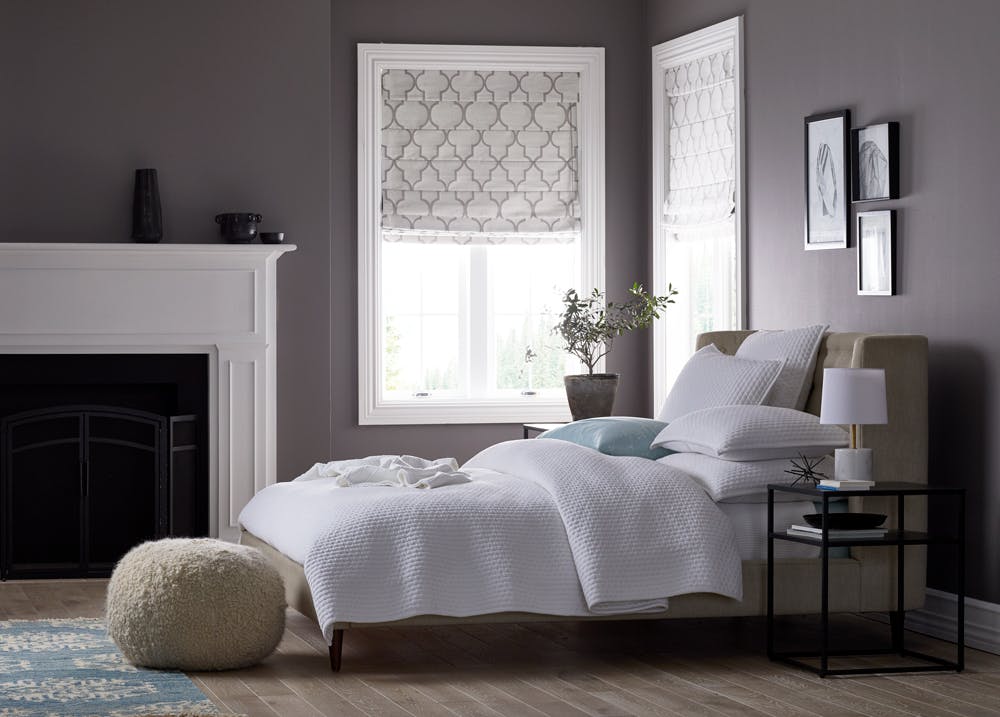 Pictured: Blinds.com Premium Roman Shades in Verona Dove
Also consider maximizing your window's natural light in gathering spaces. A light filtering shade like the Blinds.com Woven Wood Shade with will help maximize the amount of natural light coming into your living room, kitchen or dining room. Light and neutral colors on the windows make a space feel more open. Installing your blinds or shades higher, above your windows, prevents them from stacking or blocking the window when fully opened.
Need blinds ASAP? Check out our list of window treatments with short production times!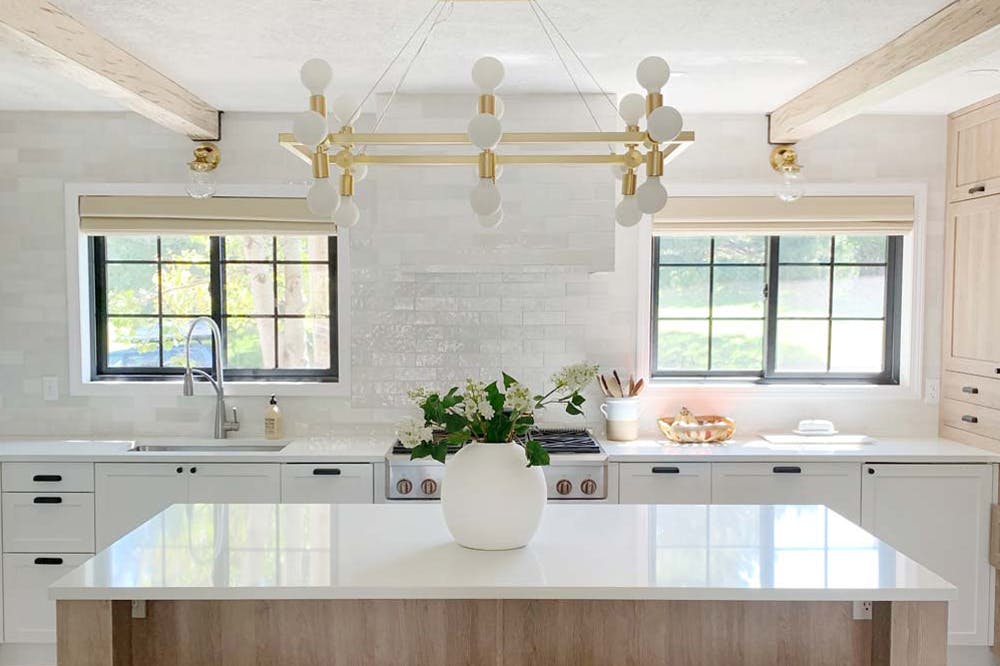 Pictured: Binds.com Deluxe Woven Wood Shades in Capri Natural
Stock Up on Niceties and Necessities
Be sure your guest bedroom and bath have the essentials: towels, toilet paper and the wifi password. Travel size extras like toothpaste, shampoo and conditioner are a nice touch. But you can go the extra mile and impress your guests with a phone charger, and extra tooth brush and fresh flowers. The little touches can sometimes feel like the most thoughtful.
Don't Stress!
Feeling the home preparation stress? Let us help! Window treatment measure & install is easy with our professional installer network. Check your area's availability or speak with a Design Consultant at 844-551-3769 to get started!
Also Check Out:
Four Holiday Decor Ideas to Make Your Guests Feel Welcome
Are Shutters Energy Efficient?
Is Your Bedroom Design Sabotaging Your Sleep?
When to Hire a Pro vs DIY for Window Treatments