As a Customer Service Representative here at Blinds.com, I love answering all the various questions that come my way - especially when the answers turn out to be surprisingly easy!
Here's one of the most frequently asked questions I get about window covering care:
Depending on the spill or stain, cleaning your cellular shades can be a fast and easy task!
Steps to follow to spot clean your cell window shades:
Grab a plain white wash cloth to clean with – colors on the towel might bleed onto the shade
Dampen the towel with warm water
Sprinkle a gentle detergent (same used on clothes is fine) on the towel - no colored or harsh cleaners, please! *Depending on the mess, you may be able to get by with just the warm water on the towel
Lightly scrub the cell shade to remove any dirt/stains
Regular dusting will help keep your shades happy and clean, try using a can of compressed air (like what you clean your computer keyboard with) to blast off extra dirt, or run over the shade with your vacuum's brush attachment.
You can find more information about cleaning all types of window treatments at Blinds.com.
Be gentle with your beautiful cellular shades and you will enjoy years of great coverage! Do you have a Window FAQ?  Leave it in the comments below!
Need more cellular window shades in your home?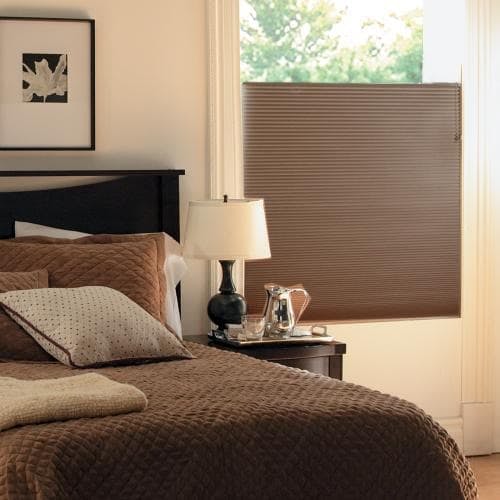 If you love your cell shades and would like to upgrade other windows in your home, you've got more options than you might realize.
Cell shades come in a huge variety of colors and can be ordered with the convenient cordless option (perfect for keeping kids and pets safe) and even our cool top down bottom up feature, giving you maximum privacy and light control.
Don't forget about our room darkening shades.  They not only darken your rooms by blocking 98% of the light, but are great window insulators too.  Pretty useful window treatments for any room in your home!