Roman Shades are an excellent alternative if you're looking to dress up your windows but don't want the bulky look of draperies. This soft, streamlined option is perfect for enhancing your windows without overpowering them. And they're so easy to operate — raise them when you want to brighten up your space and lower them for more privacy.
If you need help deciding on the ideal choice, we're happy to help. We'll guide you on how to measure and install your Roman shades. Not the DIY type? No problem. At Blinds.com, we offer consultations, measuring, and installation services for a perfectly polished presentation.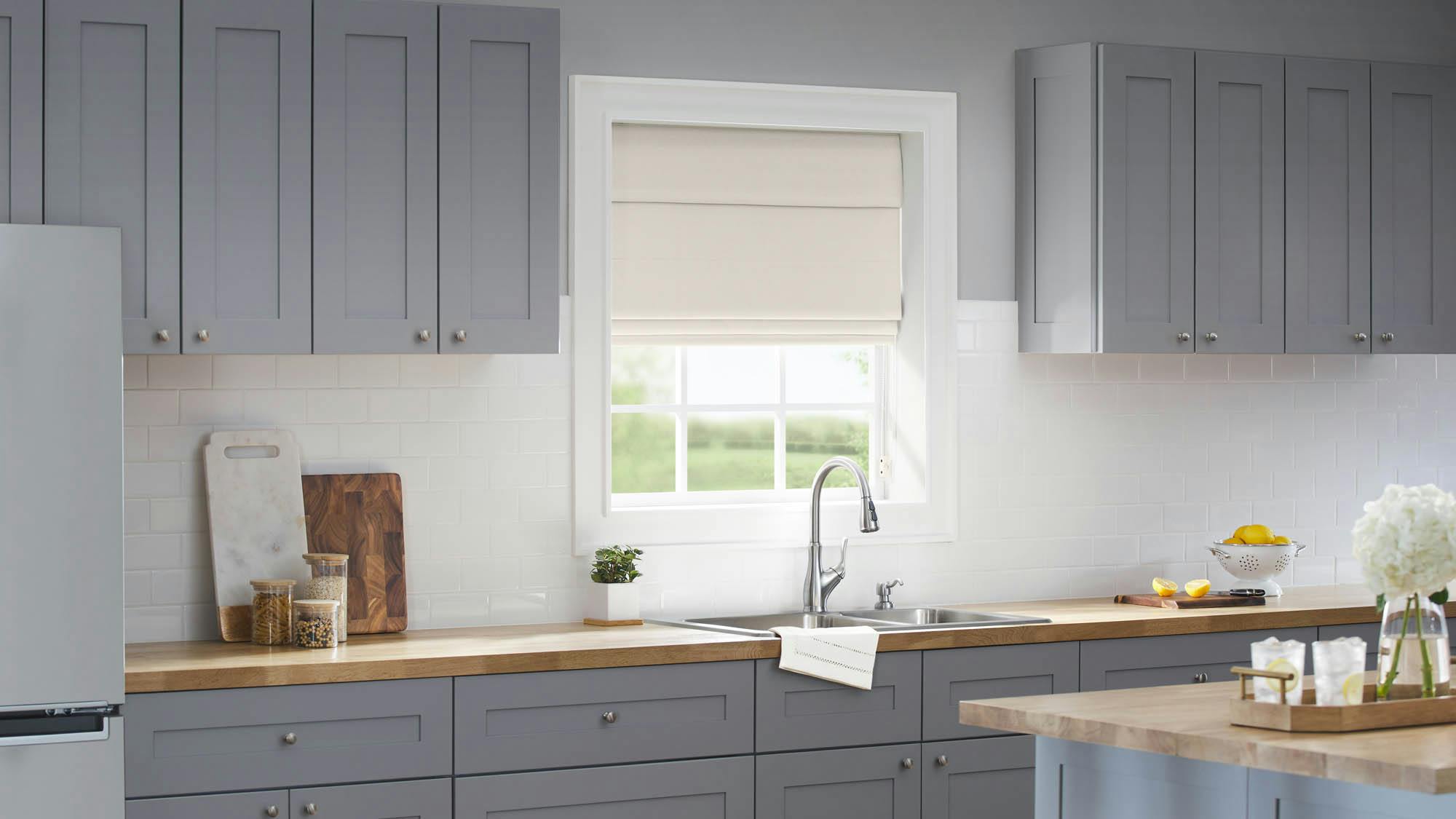 Selecting the Right Type of Roman Shades
There are different types of Roman shades to choose from, and with so many custom fabrics, colors, and patterns available, you'll find the look that elevates any room and complements your unique style. Explore your options to find the best fit for your décor.
Soft Fold/Hobbled Roman Shades
A soft fold Roman shade, also referred to as a hobbled Roman shade, is constructed with loops of fabric that create a soft, rippled effect down the length of the shade. Even when lowered, the material still has folds that give the window a voluminous look. Due to its rich display of fabric, this style is ideal for more formal areas of the home, such as a dining room, sitting room, or primary bedroom.
Benefits of a Hobbled Roman Shade:
Provides a full, elegant look even when fully lowered
Folds remain neat and uniform when the shade is raised
More layers of fabric provide extra room darkening properties
When fully raised, the shade creates a classic valance effect
What to Consider Before Choosing a Hobbled Fold Roman Shade:
Due to the extra volume, it may overpower smaller windows
More fabric means additional cost
Lighter weight fabrics won't hold their shape as well
Flat Fold Roman Shades
Another popular style is the flat fold Roman shade. This streamlined look features a solid piece of fabric that hangs flat against the window when lowered. If you're going with a bold or intricate fabric design, the flat fold style provides a flattering backdrop, as seams won't interrupt the pattern.
Benefits of a Flat Fold Roman Shade:
Fabric lays totally flat for a clean and minimalist look
No-seam design won't disrupt larger, bolder patterns
Slimmer profile is ideal for shallow windows and French doors
Folds look tailored and subtle when fully raised
What to Consider Before Choosing a Flat Fold Roman Shade:
When lowered, the shade may look a bit plain or casual
Less fabric makes it a more affordable option
When raised, adjustments may be needed to get the folds even and straight
Plain Fold Roman Shades
Like the flat fold Roman shade, a plain fold Roman shade offers a smooth, streamlined look. But unlike the seamless flat fold style, the plain fold design has seams running every few inches to help the fabric fold more uniformly. The plain fold style is an excellent choice for windows where the shades are opened and closed regularly.
Benefits of a Plain Fold Roman Shade:
The most popular choice among Blinds.com customers
Wider spaced seams add depth and visual interest to solid fabrics
Seams fold evenly, making frequent opening and closing easy and fluid
Slimmer, flatter profile lays flat when lowered, making it ideal for doors and shallower windows
What to Consider Before Choosing a Plain Fold Roman Shade:
Works best with solid fabrics, as the seams can interrupt intricate patterns
Relaxed Fold Roman Shades
Relaxed fold Roman shades, also referred to as European fold shades, hang with a soft, curved shape when the shade gets raised. This style can elevate higher-end brocade fabrics, or bring a casual, old-world feel when you choose a linen fabric.  
Benefits of a Relaxed Fold Roman Shade:
Flat profile leaves patterns uninterrupted
Combines refined elegance and a relaxed, casual look 
What to Consider Before Choosing a Relaxed Fold Roman Shade:
Not ideal for frequent raising and lowering
Requires additional shaping and adjusting
Have More Questions About Roman Shades?
Check out all Blinds.com has to offer. Browse our terrific assortment of Roman Shades and order your free fabric samples. Once you're ready to order, follow our guide on how to measure for roman shades. 
Want an expert to measure and install for you? Blinds.com offers professional window treatment services. Schedule an appointment today and enjoy the beauty of your new window shades for years to come.
Roman Shade Fold Styles Explained