Even though we're still on lockdown and missing some of the traditional spring events – graduations, Mother's Day, weddings – people are looking forward to getting outside and optimizing their outdoor spaces, both for now and when things return to something closer to normal. In fact, Google Trends  shows that interest has peaked for yard and patio searches in April and May of this year. Interest is about 50% higher this year than last year – a signal that people are looking toward getting outside and maximizing use of their outdoor space.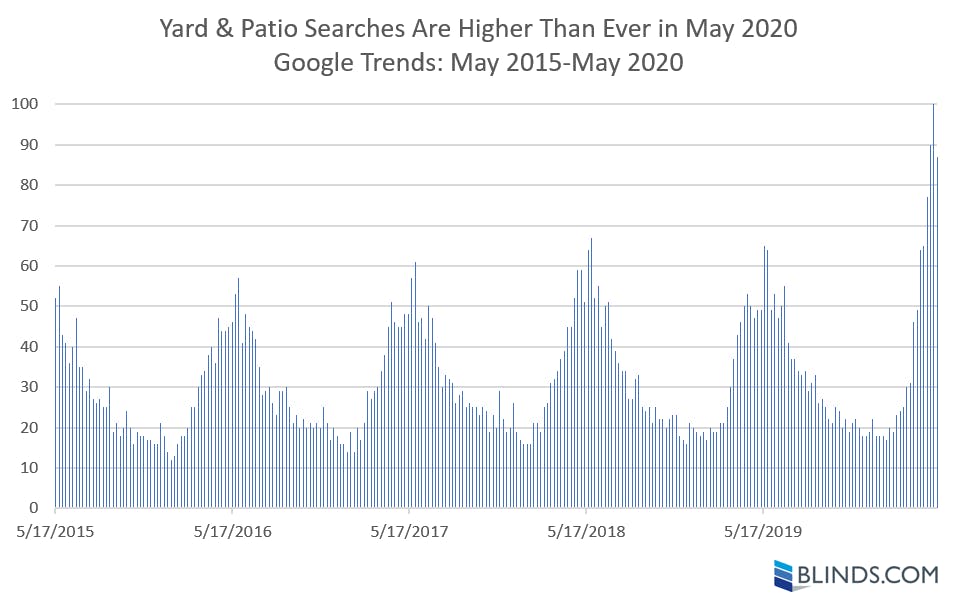 If you need a holiday from your own living room or home office, a beautiful, comfortable outdoor patio space is more easily attainable than you may think. Outdoor patios, decks, and balconies are becoming sanctuaries for people unable to leave their homes. Your outdoor space can be a personal oasis where you can enjoy the sunshine, recharge your senses, and enjoy moments of peace throughout the day.
"Interest in outdoor shades surges every spring, but the rise in popularity this year has been extraordinary," says Abigail Sawyer of Blinds.com. "Since we're all spending more time at home, people are looking to spruce up their backyards or balconies to break up the monotony and get a head start on enjoying the warm weather."
Outdoor shades can completely transform your patio space and give you light control, privacy, and the stylish wow-factor when you're finally able to host friends and family again.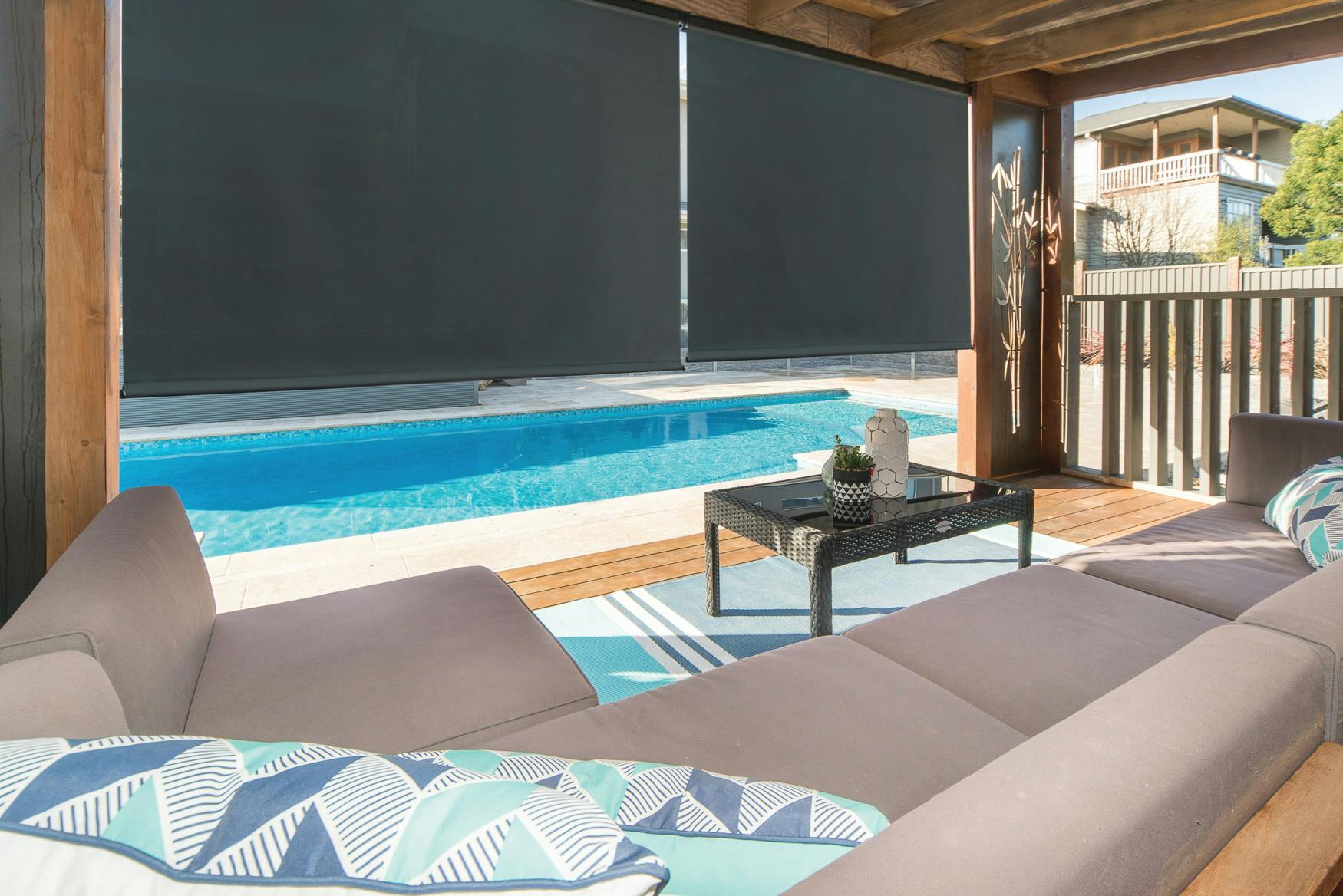 Outdoor Patio Shades for Your Workday
If you're working from home and hunched over a laptop most of the day, outdoor patio shades can dramatically improve your quality of work-from-home life. Working in a sunroom or outside in the sunshine can help improve your health and mood.
In a world of always-on email and push notifications, it can be difficult to ward off 'cabin fever' as the lockdown continues. Even just a few minutes outside each day can help fight feelings of isolation.
Hoping to take some of those conference calls from outside? Light control with outdoor patio shades can help improve your appearance on video calls – an experience many of us are much more familiar with as video conference calls have become the new normal. For the optimal outdoor video call experience, make sure the sunlight is shining on your face, instead of behind your back. If you're working from a laptop, make sure your camera is raised to eye level – a stack of books can create a makeshift pedestal for your computer.
Your outdoor patio can be an oasis from the hustle and bustle of electronic noise, so make your outdoor space as comfortable as you can to enjoy the time spent outside.
Outdoor Shades for Everyday
When the summer sunshine beckons you away from your home office, your outdoor patio shades can help you enjoy outdoor downtime with your family, spouse, or even by yourself. Outdoor shades can control the breeze and keep the bugs at bay during grilling season and provide the privacy of the indoors with the beauty of the outdoors during a garden feast with your family on balmy, summer evenings.
With summer just around the corner, you can keep the stifling temperatures away with light-filtering outdoor shades. Different opacity options give you control over how much sunlight can pass through your shades, lowering the temperature and blocking UV rays. With outdoor shades, a higher opacity percentage means a more open or "looser" fabric weave.
"You don't have to sacrifice your view for privacy or light control," says Sawyer. "Outdoor shades can give the best of both worlds."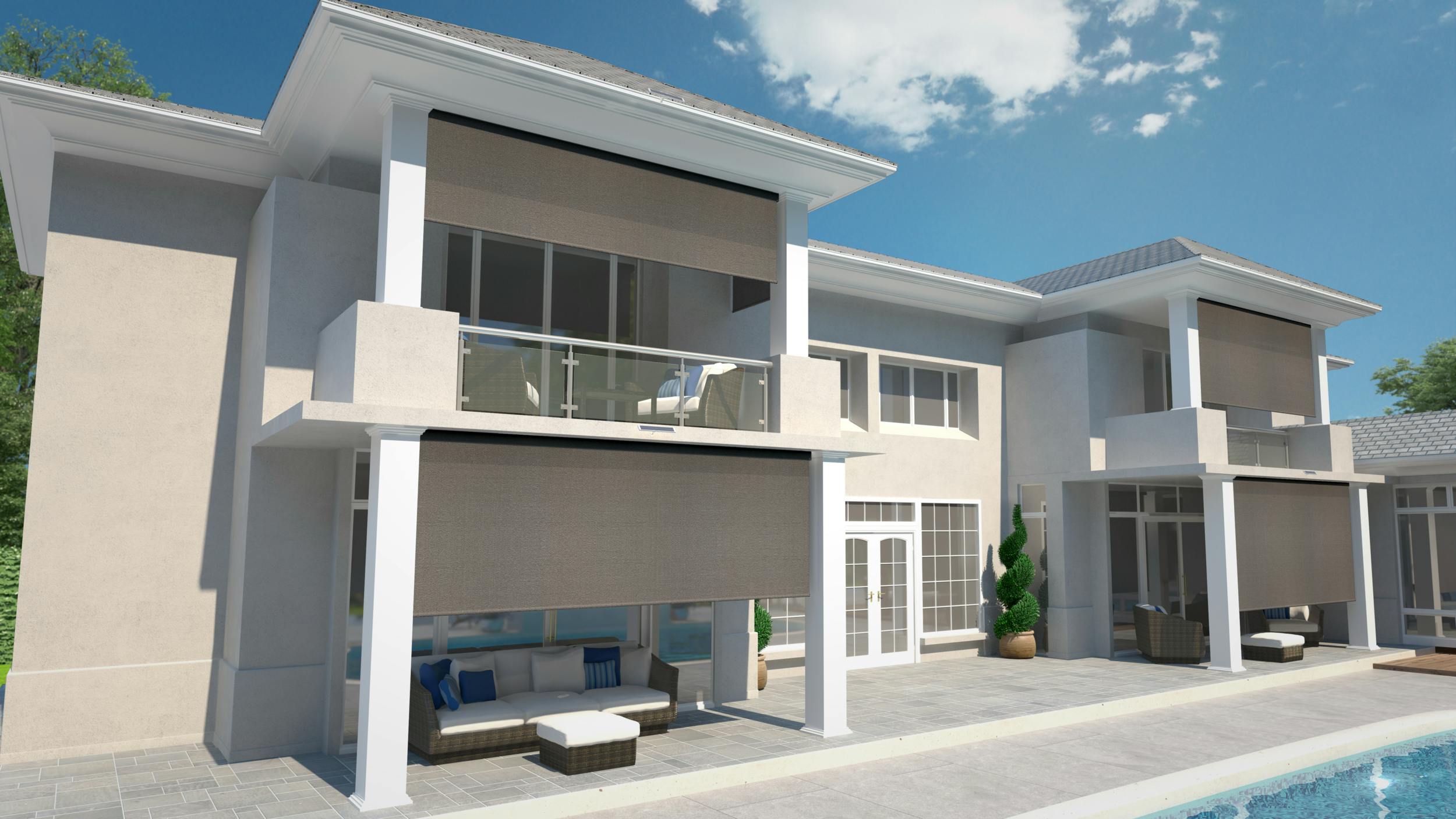 Outdoor Shades for Gatherings
When considering updates to your patio space, try to envision the beautiful parties you can host with friends and family when life gets to the new normal. Whether you're hosting an intimate garden cocktail party with string lights and soft music, or a family reunion barbecue with bonfires and board games, outdoor shades can make your patio feel as open or private as you want.
Looking to add some extra style to your outdoor space? Potted seasonal plants can add pops of color and fragrance, and new patio furniture can make a big statement when hosting a party. You can even update your patio furniture cushions and throw pillows to update your space without purchasing brand new furniture. String lights are easy to install and can help set the ambiance when after the sun sets, and a new outdoor rug can designate a dining space to make the space feel special.
Get the Look
Whether you're cooling your sunroom or creating a shady private oasis, Blinds.com makes it easy to achieve the perfect outdoor patio space. With a multitude of textures, colors, and styles to choose from, outdoor shades can transform your yard or balcony into a comfortable, functional getaway.
Click here to learn more about outdoor patio shades.