Patio season is here! Nationwide, temps are heating up and people are ready to get outside and enjoy the fresh air. But with all that summer sun comes blazing heat, which can make your patio, backyard or sunroom unbearable for even a few hours. Outdoor solar shades can fix that.
Outdoor shades are helpful, because they let you control the amount of sun beating down, giving you shade when you need it most. But how do you know if outdoor shades are the right fit for you? We're answering 6 of your outdoor shade FAQs.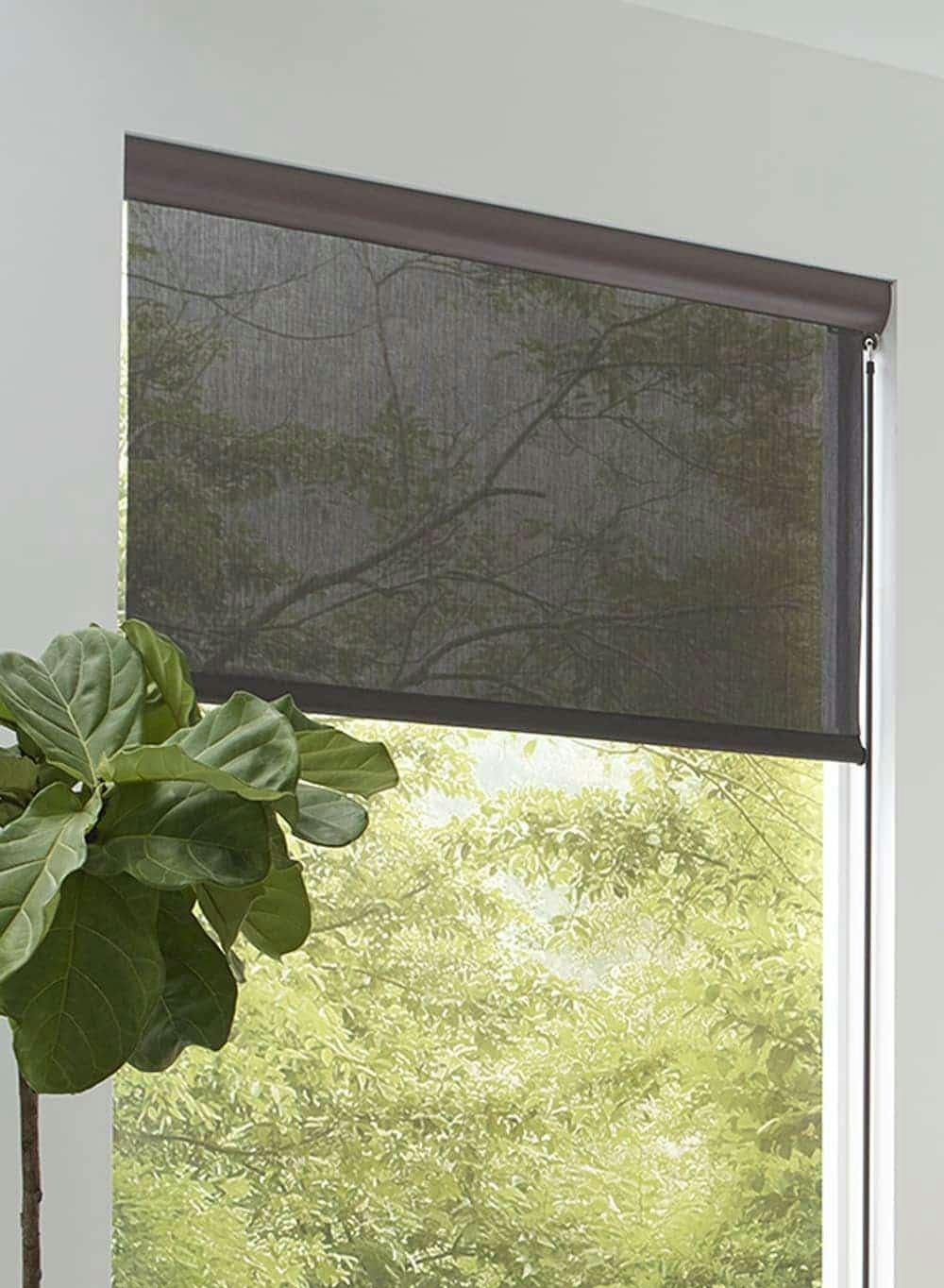 Pictured: Coolaroo Outdoor Solar Shade in 5% Bronze.
What Is An Outdoor Shade?
An outdoor shade (also known as exterior shades) is very similar to a traditional roller shade. The difference is that the shade is typically woven from PVC or HDPE material, creating a mesh-like fabric that allows more light to pass through. The internal mechanisms are typically made with heavier duty materials than indoor shades so they withstand the elements. They also resist fading, warping and mold.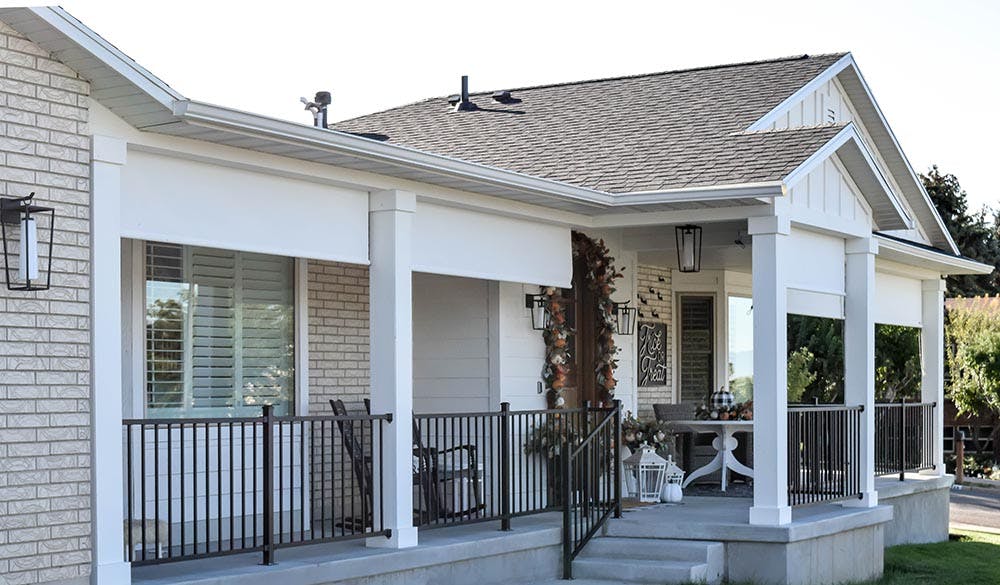 Pictured: Blinds.com Outdoor Solar Shades in 1% Palermo Frost. Photo via @vintagewhitefarmhouse.
Can You See Through Outdoor Shades?
Yes, you can see through outdoor solar shades. Though, the level of privacy they provide will depend on the openness rating of the fabric you choose. The smaller the percentage, the less you can see through. For example, a 1% solar shade blocks 99% of light while a 14% percent only blocks 86% of light. So you'll be able to see through a 14% solar shade much easier than a 1%. This makes outdoor solar shades great for cutting down on sun while still preserving your view.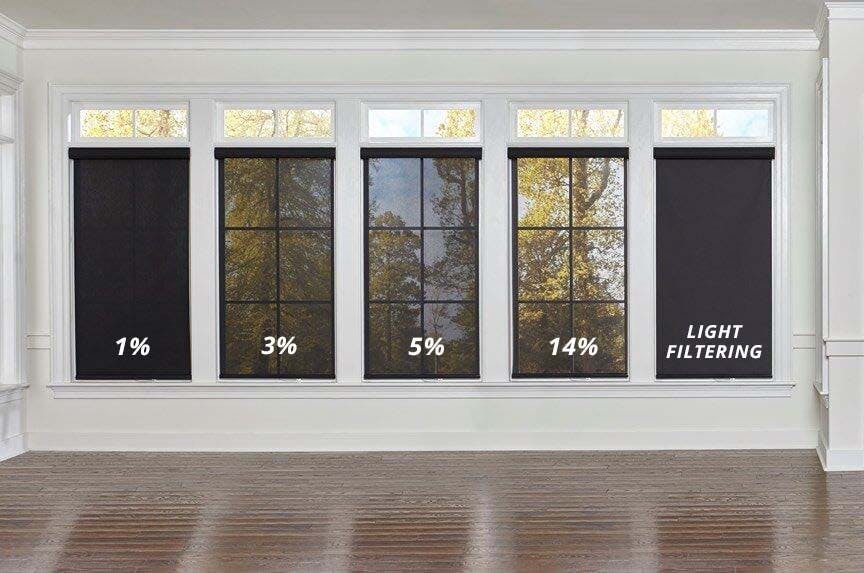 Pictured: Solar shade opacity percentages from left to right: 1%, 3%, 5%, 14% and a Light Filtering Roller Shade for comparison.
In general, a darker colored shade will be easier to see through than a light colored shade, as they do not reflect as much light. Also, be aware that others may be able to see through at night if you have patio lights turned on behind the shade.
Pictured: Blinds.com Premium Solar Shades in Verona Black (shown in the 10%, 5%, 3% and 1% opacities). Via @helmick_hacienda.
Do Outdoor Shades Keep Rain Out?
Outdoor Solar Shades may deflect rain water if it's only a light drizzle. However, due to their woven nature there are small holes that can let rain through, so they won't keep out the rain entirely. Additionally, they should always be rolled up during extreme weather events such as hurricanes.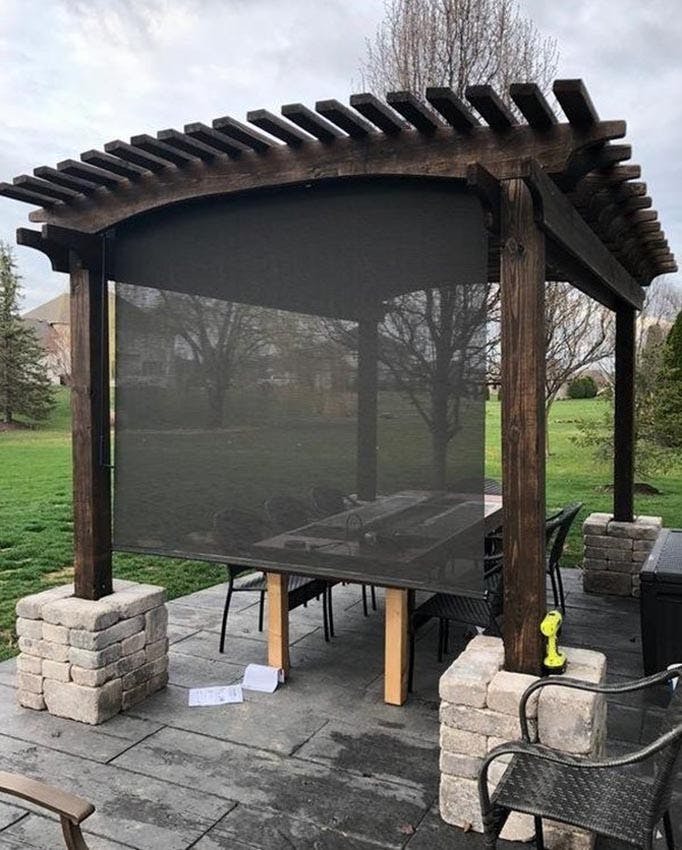 Pictured: Blinds.com Heavy Duty Outdoor Solar Shade in Kona 10%.
How To Keep Outdoor Shades From Blowing In The Wind?
Most Outdoor Shades are available with optional tie-downs than will stop the shade from flapping in the wind. Tie-downs may look like bungee cables looped on each side of the shade's bottom hem bar that attach to hooks on the wall. Tie downs are automatically included in some outdoor shades while others simply offer it as an option you can select. If you need tie-downs, be sure to check your specific shade's configuration options and specs prior to finalizing your order.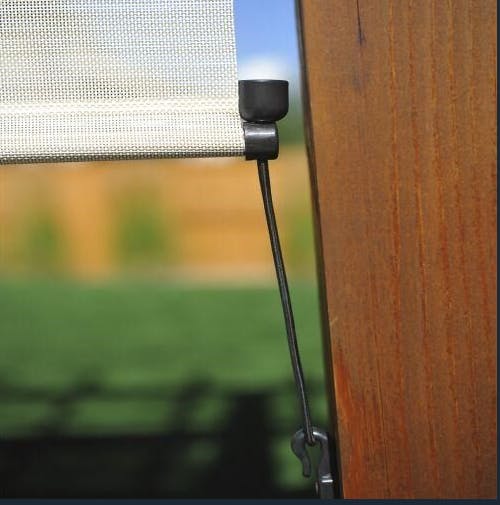 How To Clean Outdoor Shades
Outdoor shades are easy to clean. Since they are designed to hold up in rainy conditions you can gently hose them down to rinse off pollen, dust and minor debris. For tougher spots, a bit of diluted, mild dish soap and a soft sponge should do the trick. Do not use a power washer as this may cause the shade to rip or tear.
How To Install Outdoor Shades
Each brand of outdoor shades will have their own installation hardware and instructions, and most installs are very easy. Brackets and wood screws are included. Though depending on the type of surface you will be installing on (such as brick, stone or metal) you may need alternative screws like masonry or self-tapping screws. For large shades, you may also need an extra set of hands to help support the shade.
You can always preview the installation instructions prior to ordering by clicking "Measure and Install Instructions" on the specific product's page. Or check out our Youtube for helpful installation videos.
Want More Shade Inspiration?
Have More Questions?
Our Design Consultants are available to help answers all your questions, walk you through measuring and help you decide on a color or opacity level. Their help is always free: 844-551-3769.