For Immediate Release: 5.27.2020
Houston, TX. Google Trends data shows that interest has peaked for yard and patio searches in April and May of this year. Interest is about 50% higher this year than last year – a signal that people are looking toward getting outside and maximizing use of their outdoor space. Blinds.com has advice for those looking to work and live more comfortably in their outdoor spaces.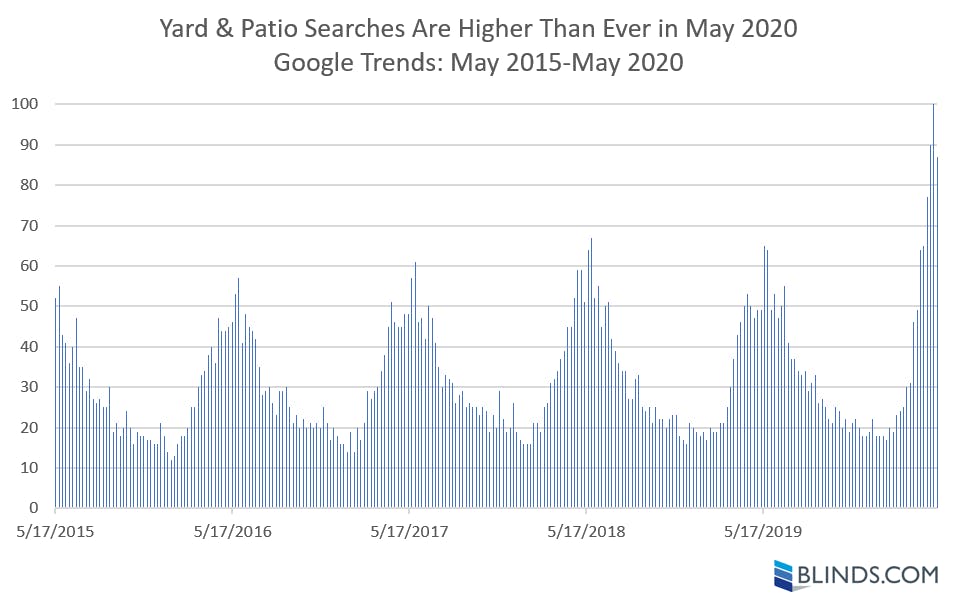 "Interest in outdoor shades surges every spring, but the rise in popularity this year has been extraordinary," says Abigail Sawyer of Blinds.com. "Since we're all spending more time at home, people are looking to spruce up their backyards or balconies to break up the monotony and get a head start on enjoying the warm weather."
While many miss some of the traditional spring events, people are looking forward to getting outside and optimizing their outdoor spaces, both for now and when things return to something closer to normal. Blinds.com has recommendations for:
Working. Reducing glare on screens and controlling your appearance on outdoor video calls dramatically improve your quality of work-from-home life.
Living. Outdoor downtime with your family, spouse, or even by yourself can be improved by controlling the breeze, keeping the bugs at bay, privacy, and managing UV exposure.
Gathering. When things get to the new normal, people will want to create the right environment for parties and family barbecues. Now is the time to plan ahead and decorate for the hopefully not-too-distant future.
About Blinds.com: Blinds.com is part of The Home Depot's industry-leading family of brands, and the largest eCommerce retailer of window coverings in the world – covering over a million windows a year since 1996. Blinds.com makes ordering custom blinds, shades, shutters and draperies surprisingly easy with over 30,000 five-star reviews, award-winning customer service, SureFit Guarantee and in-home measure and installation services. Shop online at Blinds.com or call 1-866-647-2526 to speak to one of 200+ blinds experts.
Contact: Abigail Sawyer
Blinds.com
(800) 505 - 1905
abigails@blinds.com