2019 is on pace to be the first-ever trillion-dollar holiday season, with eCommerce spending rising rapidly among consumers.
While overall spending is expected to grow by 3% to 4% this year, eCommerce spending is expected to increase by up to 18% over last year. According to Dixie Dalton, a top Design Consultant for Blinds.com, "The reason eCommerce shopping is going to be so big this year is due to a shorter shopping season. For the window coverings and home décor industry, this really lights a fire if you're getting your house ready for the holidays and want to change things up."
Plus, shopping online is more convenient, faster, and gets delivered right to your front door – that means no more lugging bags through the mall. Trends indicate many shoppers will start earlier than usual: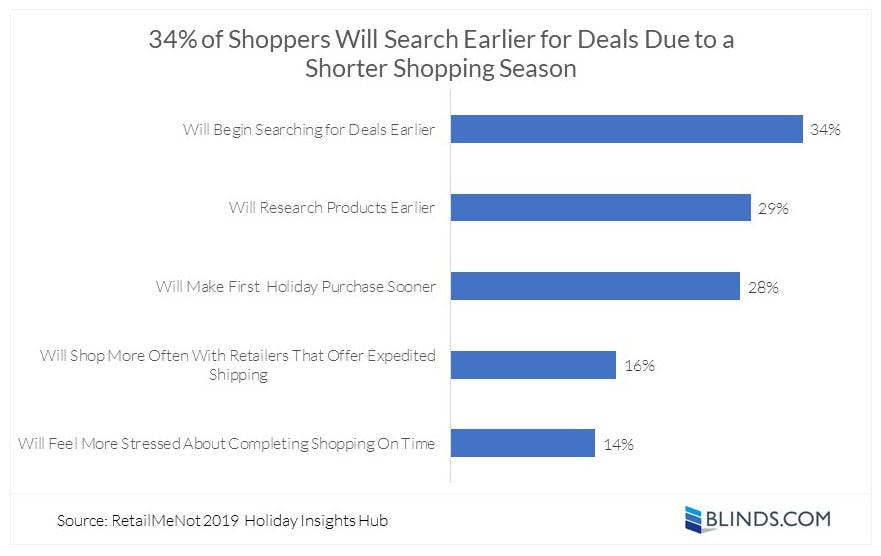 Many of the best holiday sales will begin on or before Thanksgiving Day, November 28th, and end on Cyber Monday, December 2nd. These five days of savings, including Thanksgiving, Black Friday and Cyber Monday, are referred to as the "Cyber Five."
While most Black Friday shopping focuses on new televisions, electronics, and clothing, the home décor category remains a best-kept-secret for amazing deals. eMarketer reports that, this year, 36% of surveyed shoppers indicated they'll seek Black Friday deals on home décor in addition to their other Black Friday purchases.
Black Friday Home Décor Buying Guide
Prepping the home for holiday guests is a huge driver for home décor shoppers on Black Friday. Whether your to-do list includes home improvement projects or refreshing the guest room, Black Friday offers unbeatable, once-a-year savings and a final opportunity to purchase home décor items in time for holiday entertaining.
Want to save time and money this holiday season? Blinds.com has some recommendations on how to shop for Black Friday deals online:
Cashing In – When thinking of things to buy on Black Friday, most people think electronics and high-tech gadgets. You'll find terrific deals on popular must-haves such as televisions, laptops and video game systems from Black Friday right through Cyber Monday. Other sought-after items this year are home assistants like Google Home or Amazon's Alexa, which make perfect stocking stuffers.
How you shop can also yield you better savings on Black Friday and Cyber Monday. For shoppers with membership services like Amazon Prime, free shipping is a strong incentive if you're shopping from the comfort of your own home. However, with a rise in shipping costs and "porch piracy," many shoppers opt for the "Buy Online, Pick-Up In-Store" option to ensure their purchases arrive safely at no extra cost.
Entertaining – When you're hosting for the holidays, an extravagant meal with everyone gathered around the table is always a highlight. It also involves days of preparation and culinary execution worthy of a 5-star restaurant. Look for some appetizing Black Friday deals on serving pieces, cutlery, and centerpiece decorations that will help you make a memorable presentation.
Along with the cooking comes the cleanup. Want to spend less time cleaning and more time entertaining friends and family? For easy tips on how to clean your house for the holidays, look to Black Friday deals. In 2018, two of the best-selling Black Friday and Cyber Monday items involved cleaning and cooking. The iRobot Roomba is a robotic vacuum cleaner that cleans your floors for you. For cooking ease, the Instant Pot, a multipurpose kitchen appliance with a true "set it and forget it" simplicity, lets you deliver delicious meals without spending hours in the kitchen. When looking for what to buy on Black Friday, look to the things that'll allow you to enjoy the holidays to the fullest.
Refreshing – Is your guest room holiday-ready? Black Friday is a great time to make your guest room ideas a reality. Invest in some fresh new linens, bedding, and towels for your guests. They'll feel pampered and will appreciate your special touches and extra effort. According to Dalton, "Holidays are an excellent time to invest in window treatments and home décor updates because you'll get better deals and will still have time to pull it all together before your guests arrive."
The Company Store frequently reports their flannel bedsheets as favorites for guest room updates – they even have holiday prints to add some extra cheer to your guest room. After a long day of travel and late-night catching up with the family, your guests will welcome a fresh set of sheets and will thank you in the morning!
In addition to your guest room décor, consider refreshing the furniture in other areas of your home as you're getting ready for the holidays. In 2018, big-box retailers such as The Home Depot, Target, Walmart and Macy's offered furniture discounts of up to 80% off. Take advantage of these savings by upgrading your rugs, shelves, sofas and light fixtures to create an inviting holiday atmosphere at a fraction of the cost.
Buyer Beware: Not Everyone Joins the Party
Black Friday shopping can yield some incredible deals, but not everyone participates in the biggest sale of the year. Be smart when seeking Black Friday deals on:
Clothing – Most department stores and clothing retailers will offer Black Friday savings, but the biggest clothing deals still occur off-season. You'll find the best prices on winter coats and jackets in the summer, while shorts and T-shirts offer everything-must-go prices in the winter.
Travel – Most travel sites and airlines stay grounded on Black Friday, while their best deals take off on Cyber Monday, according to BlackFriday.com. Most travel deals are restricted to certain weekends and destinations, so be diligent when planning your next getaway.
Jewelry – Jewelry is a timeless gift for the holidays, but you won't find any gem of a deal on Black Friday. Most jewelry retailers slash their prices immediately after Valentine's Day to make room for new seasonal spring merchandise.
Black Friday Buying Tips: Your Window of Opportunity
Since window treatments are our forte, we've compiled our best Black Friday tips to navigate the biggest sale day of the year. Get your home and guest room décor holiday-ready with stylish, affordable window treatments. Keep these tips in mind:
Order Ahead of Time – Be sure to give yourself plenty of time to take the proper measurements and browse our wide selection of window treatments. Production and delivery can take a few weeks, so order during the Black Friday sale to ensure your new window treatments arrive before the December holiday season.
Short on time or tools but still want to get your home and guest room ready with beautiful new window treatments? Blinds.com features a Professional Measure and Install service that covers it all, from measuring for the perfect fit to professional installation. A licensed technician from The Home Depot will come to your home and do all the hard work for you. This top-notch service is a valuable time saver when tackling a DIY project is not on your to-do list before your guests roll into town.
Dalton, our Design Consultant, says plantation shutters, an often-desired yet notoriously expensive window treatment option, will be a top seller this Black Friday. "The Blinds.com products that are going to be the most popular for Black Friday 2019 will no doubt be sheer shades and plantation shutters. Both of these looks can be super modern or traditional, depending on which direction you're taking your room. If you're thinking of going with shutters, the timing is perfect as they hardly ever go on sale."
Clean or Update Your Window Treatments Before Your Guests Arrive – Proper window treatments are guest room essentials. If what you currently have are in good condition, give them a quick cleaning to remove dust and dirt. Is it time to replace those guest room window treatments? Dalton recommends light-filtering or blackout shades. "They're ideal for guest rooms, especially if your guests want to sleep late!"
Preparing for the holidays is hectic enough – but there are steps you can take to avoid unnecessary stress. Getting the house ready for guests and tackling that gift list can mean a lot of running around. This year, escape the crowds, skip the long lines, and make more time for family and friends by shopping Black Friday deals online. Stay home and save big – for a stress-free holiday season.
ABOUT BLINDS.COM
Blinds.com is part of The Home Depot's industry-leading family of brands, and the largest eCommerce retailer of window coverings in the world – covering over a million windows a year since 1996. Blinds.com makes ordering custom blinds, shades, shutters and draperies surprisingly easy with over 30,000 five-star reviews, award-winning customer service, SureFit Guarantee and in-home measure and installation services. Shop online at Blinds.com or call 1-800-505-1905 to speak to one of 200+ blinds experts.