Classic 1 Inch Cordless Vinyl Blind
25% OFF WITH CODE "GETSTARTED" ENDS 6/14
The Blinds.com Classic 1" Cordless Vinyl Blinds show that a simple, streamlined design and easy operation can make a beautiful addition to your home.
Read More.
Estimated Ship Date:

06/28/2021
Want Professional Measuring & Installation?
Find a Pro
Select a color to see the preview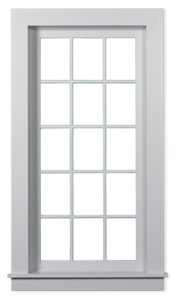 Roll over image to zoom in
Description
The Blinds.com Classic 1" Cordless Vinyl Blinds show that a simple, streamlined design and easy operation can make a beautiful addition to your home.
Completely cordless, with an easy push-up, pull-down clear, and sturdy PVC handle, these blinds offer a color-coordinated 1 ½" sleek, steel headrail for superior durability – no valance required. The clear lift and tilt wand and hidden steel mounting brackets were designed for easy installation and a sought-after clean look. The tilt wand also provides a safer-for-kids option as there are no hanging cords.
The moisture-resistant 1" vinyl slats can filter light with a turn of the wand and are easy to maintain and clean – a definite benefit for any room including bathrooms and kitchens. Offered soft, refined neutral colors, you'll find these blinds to be pleasing to the eye and your budget.
The low profile, slim slats and hidden mounting hardware make these 1" Vinyl Blinds a great match for contemporary décor and more traditional design themes alike - in bedrooms, bathrooms, common areas, offices and more. Hold downs available.
Install time: 10 minutes
Considerations:
Ideal for high humidity areas such as kitchens and bathrooms
Available in a single-blind up to 72" wide and 84" in height
Child Safety: This product does not have accessible cords, and therefore is safer for places where children or pets may be present.
Surefit™ Guarantee
With SureFit™, a Blinds.com exclusive, we make sure you have complete peace measuring for any product we offer. If you made a mistake measuring your blind, we'll remake it at no cost to you. * You don't even pay for the return shipping of your old blind!
*You only pay if there's a price difference between your old and new blind, or if the new blind requires a shipping fee (generally, this applies when it's over 94" wide).
Important Disclaimer:
Limit 1 remake per item; 4 item remakes per household per lifetime (unless the error is ours, in which case, we'll make it right!).
Same-product exchanges only, within 30 calendar days of receipt of package.
Changes are restricted to size and mount only.
Refunds are not offered under this guarantee.
Not Covered Under This Guarantee:
Commercial orders: any order containing 25 or more of the same product, of tax exempt status, or containing any Blinds.com Commercial brand product.
Any product ordered outside our recommended sizes or specifications, which can be found on the product page.
Standard Specifications
Minimum Width: 16"
Minimum Width Inside Mount: 16 1/2"
Maximum Width: 72"
Minimum Height: 24"
Maximum Height: 84"
A 1/2" deduction is taken on all inside mount blinds
Mounting Requirements
Minimum Inside Depth: 3/4"
Minimum Fully Recessed: 1 3/4"
Minimum Outside: 1"
Standard Options
Cordless Lift (with clear handle)
Wand TIlt on Left
Previously Viewed Products