When searching for Halloween decoration ideas, it's important to always remember to decorate your windows. They are one of the first things trick-or-treaters will notice when approaching your front door. In honor of Halloween approaching, we're sharing 12 incredibly creepy window decorating ideas that will frighten even the bravest trick-or-treaters.
Read on to see spooky silhouettes, moving images (You've got to see the projector trick in #12!), and more.
1. Condemned Creepiness Window
Board up windows with faux-painted foam boards for a run-down haunted house look.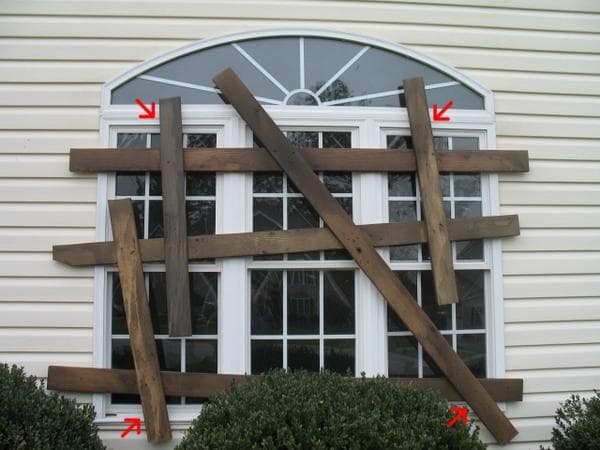 Via Halloween Forum
2. Spiderweb Sidelight Window
This easy-to-make yarn cobweb will give your front door a spooky look when trick-or-treaters come to ring your doorbell.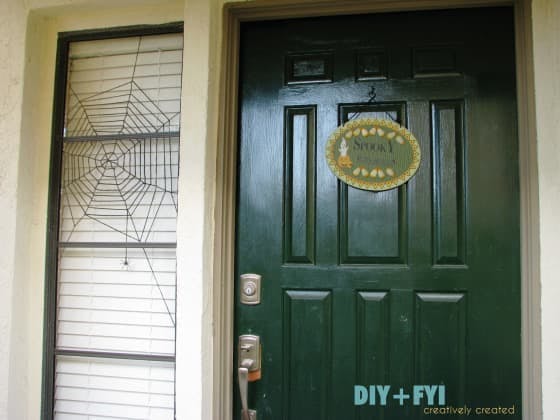 Via DIY and FYI.
3. Haunted Castle Windows
Turn your house into a creepy castle with cathedral window silhouettes made of construction foam.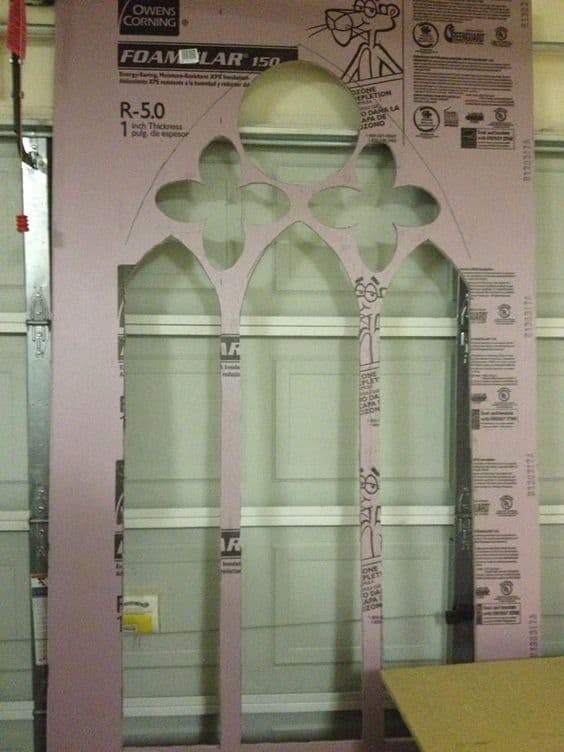 Via Halloween Forum.
4. The Bat Cave Window
This simple display with purple plastic table cloths and paper bat silhouettes gives your windows a 2-for-1 effect. Shine lights from the outside to illuminate windows for your Halloween party, or turn on the lights inside to cast fluttering silhouettes that trick-or-treaters will see from the street.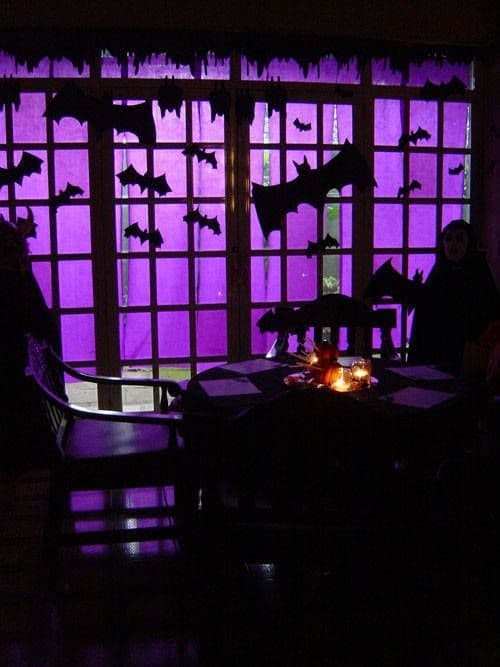 Via Digs Digs.
5. Deadly Draperies
Layer sheer drapes with black cheesecloth and an ominous floating skull to make your house look like something dark is lurking inside.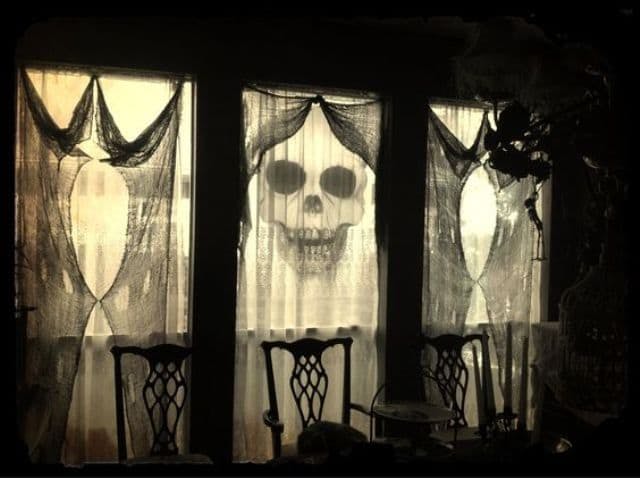 Via Digs Digs.
6. Peek a Boo Spooks Window
Cut out cute ghost shapes to peek out behind curtains and surprise little ones at your kids halloween party.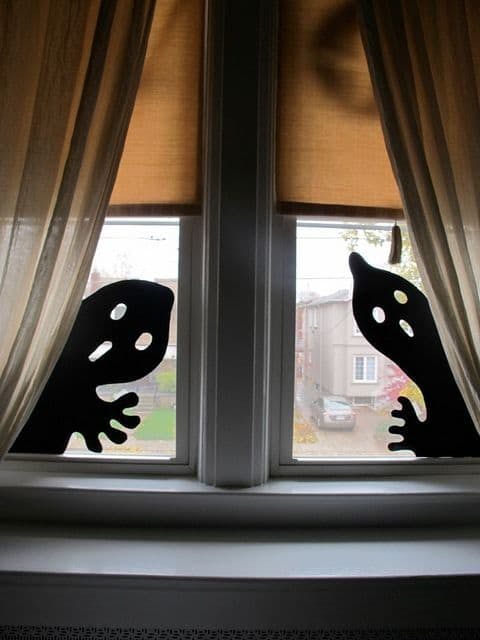 Via Digs Digs.
7. A Horrifying Haunting Window
Give passers by a real fright with ghastly figures from your favorite horror movies perched in the window. Make the illusion complete with sheer drapes behind and colored lighting in red shining on the character.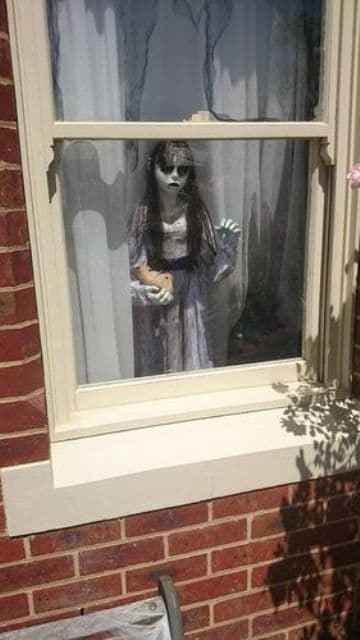 Via Halloween Forum.
8. Faux Broken Glass Window
Create an realistic abandoned house look by cutting frosted glass window film into shard shapes. Just make sure your windows are extra clean so that the illusion isn't ruined.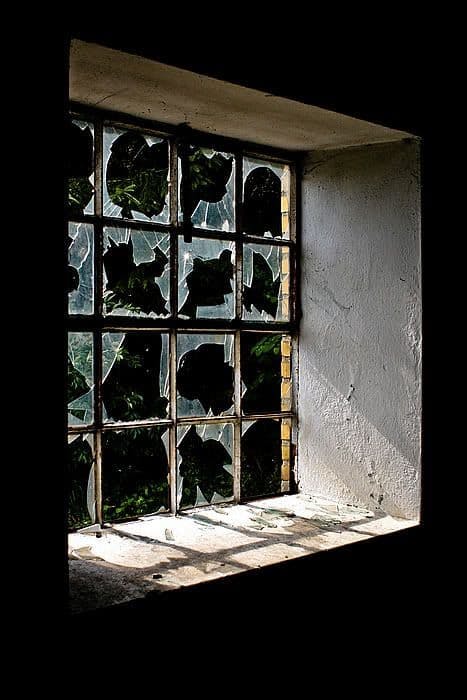 Via Halloween Forum.
9. Something to Crow About Window
Download and print these eerie crows on window cling paper to give your windows a halloween look.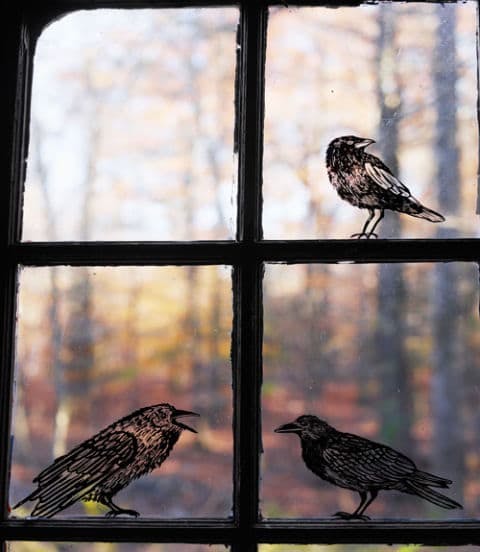 Via Country Living.
10. Nancy Drew Boo Window
Create a throwback window silhouette that book lovers will love with this ode to Nancy Drew Book Covers.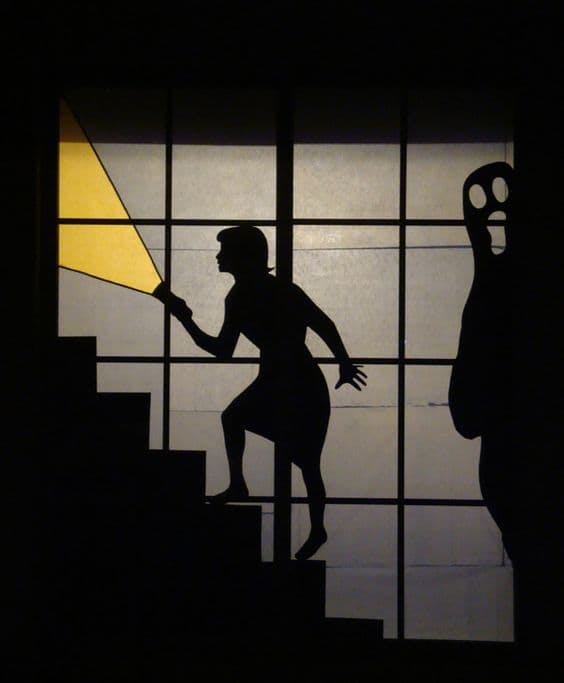 Via Vintage Halloween Collector.
11. Ghostly Glam Window
Give the inside of your windows a haunted mansion look with elaborate draperies and candelabras all covered with cobwebs and paper bats.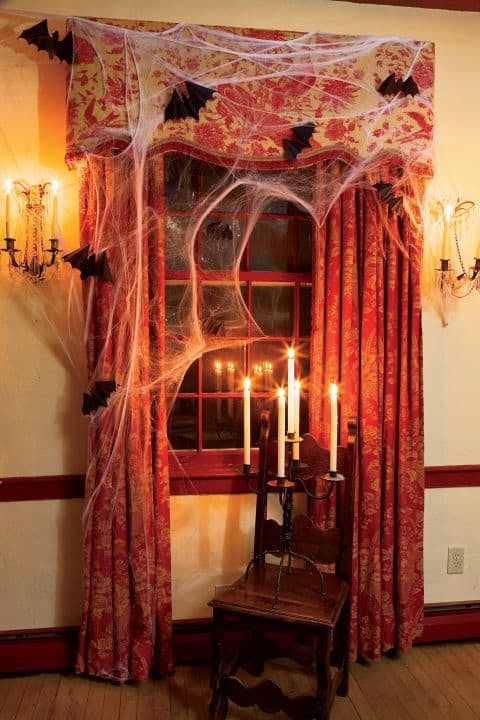 Via Good Housekeeping.
12. Projector Tricks for Window Haunting in Motion
All you need is white drapes, a cheap projector and one of these effects DVDs to turn the windows of your home into a realistic haunting show.
Want More Halloween Window Decorating Ideas?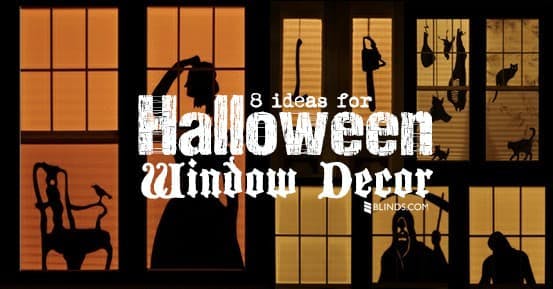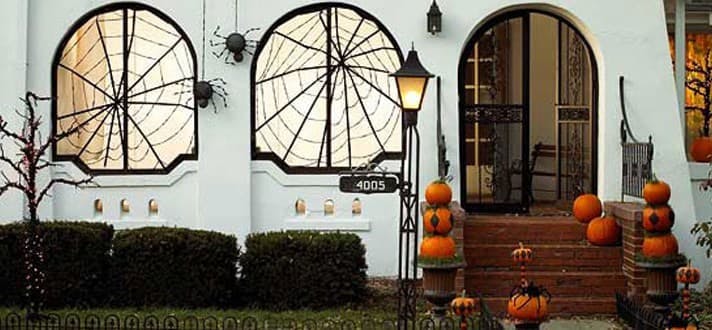 More Halloween Window Inspiration:
Take Your Home Decor to the Dark Side this Halloween
3 Last-Minute Halloween Window Decorations