Is it just us or does it feel like we were just celebrating the Fourth of July? As Halloween gets closer, it feels like our to-do list is only getting longer: carve pumpkins, find costumes, haunt houses, pick up candy (try not to eat the candy)...
If Halloween snuck up on you this year, and you want to give your home a spooky vibe but are running out of time - we're sharing 5 last-minute window decorating projects to trick out your windows for a special treat.
1. Creepy Creatures
For quick and easy Halloween decor, take a trip to a craft or thrift store and find 3 spooky objects that are about the same size. You can even replicate this look by using a skull, a blackbird, and a black candle like in the photo above. These are your 3 main pieces to decorate a table or any surface near your window. You can even DIY objects for a fun Halloween activity.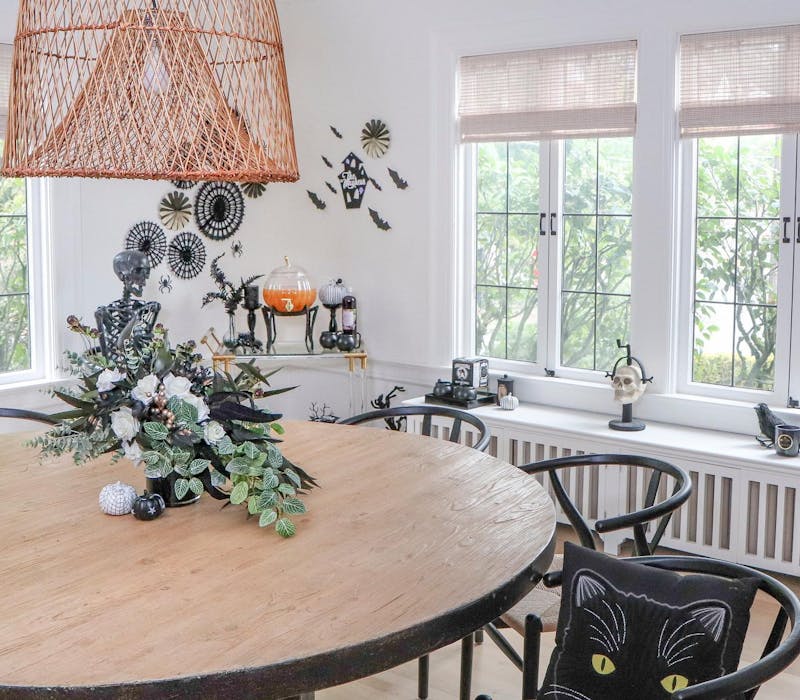 Pictured: Natural Woven Shade in Arbor Eggshell. Photos via: @fernandmaplestyle.
2. Pumpkins Galore
This last-minute Halloween display can be made into a fun activity for the entire family. Spend a day at a local pumpkin patch picking 3-4 small pumpkins. Head to the craft store and find orange, yellow, and black leaves and Halloween decals. Pick up a small green plant and a lantern if you don't have any around the house. Arrange your pumpkins and other decorations and the result is a mini indoor pumpkin patch that glows in the window as trick-or-treaters pass by.
3. Spooky Silhouettes
Black poster board is perfect for creating creepy creatures that watch you. Print out and trace ghastly creature with our free template download or get crafty and freehand your own!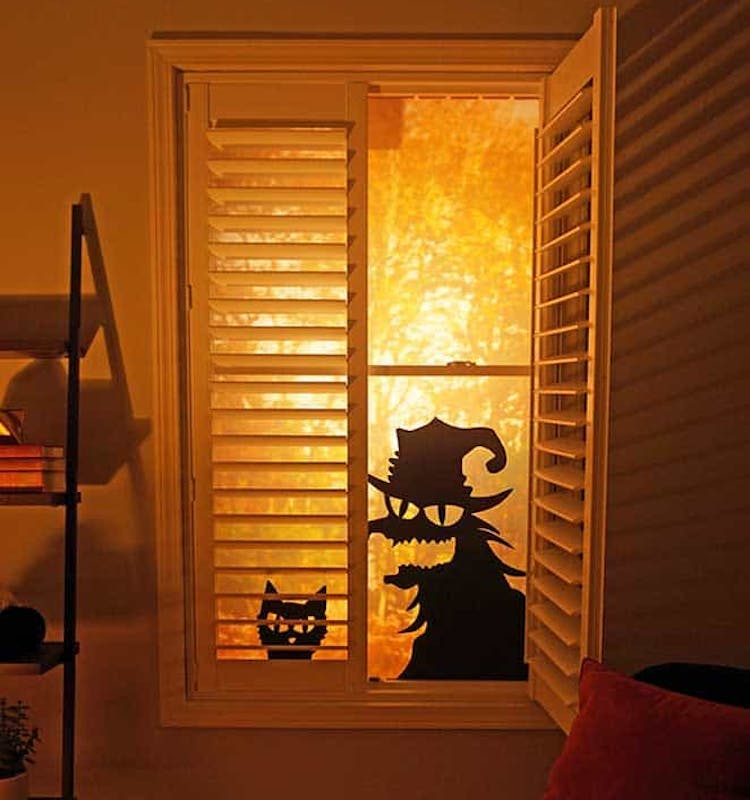 Pictured: Blinds.com Faux Wood Shutter in White
This Halloween project can be visible inside and outside the windows depending on the time of day. It works best with light-filtering shades or blinds with slats tilted open so light can shine through in either direction.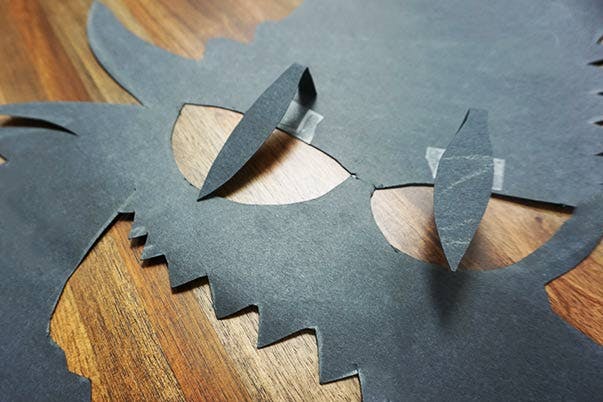 Floating "pupils" behind eye-shaped cutouts will create the illusion that they are following you around the room. The trick is in the depth! Suspending the pupils a half inch from the eye cutouts gives it this unique perspective for a spooky Halloween window display.
Neighborhood watch takes on a whole new meaning...
4. Petrified Pom Poms
Halloween decor doesn't have to be limited to pumpkins and scarecrows. Pom poms strung along a thin thread and hung vertically in the window are perfect Halloween decorations that still give you full control of your window treatments. Choose a fresh color palette, like yellow ochre, black, and cream. The trick to a more sophisticated look is limiting the number of colors you use. We recommend keeping it to 3 colors max. Consider coordinating or contrasting the colors with your window treatments!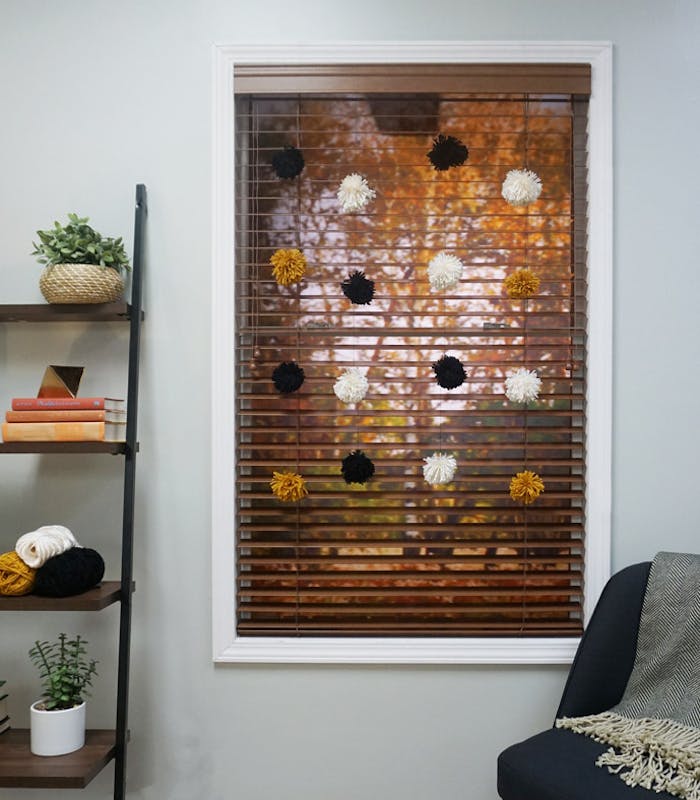 Pictured: Blinds.com 2" Deluxe Wood Blind in Lite Walnut
Simply tape the pom pom strands to the headrail of the blind or your window frame. We don't recommend attaching it to the valance (the decorative molding piece at the top of your blinds) due to the extra weight that could cause the valance to break or fall. For outside mount blinds, try hanging strands within the window frame so the blinds slide over them but are still visible when tilted open!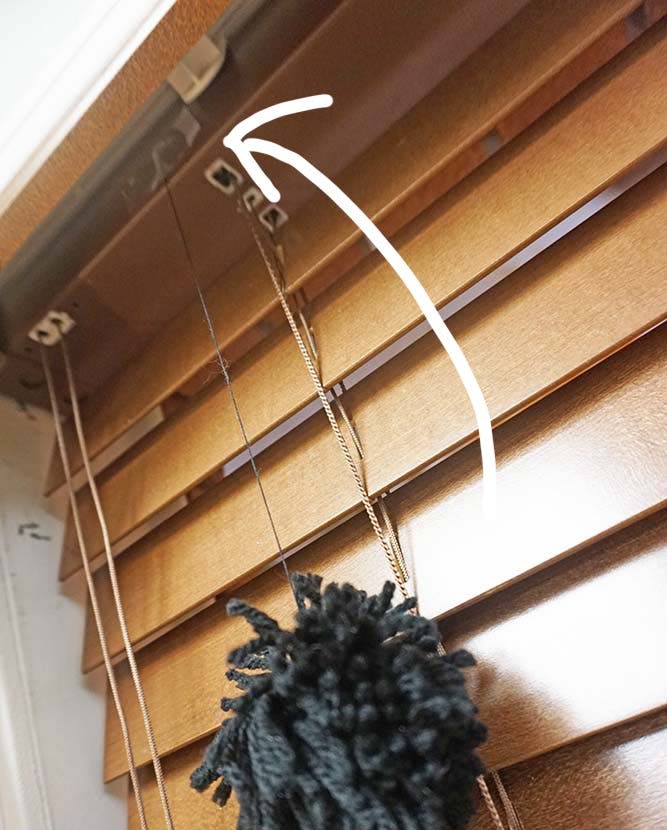 5. Frightening Foliage
Leaf it alone! Try hanging leafy strands vertically in your window for a less spooky and more seasonal. A dab of hot glue or a needle and thread is all you need to string the leaves. If you opt to use a needle and thread a tiny knot will stop the leaf from sliding up or coming off the thread.
Pictured: Blinds.com 2" Deluxe Wood Blind in Lite Walnut
Spread them out on the strands for a look that feels light and airy. Hang these in the window just like you would the pom poms.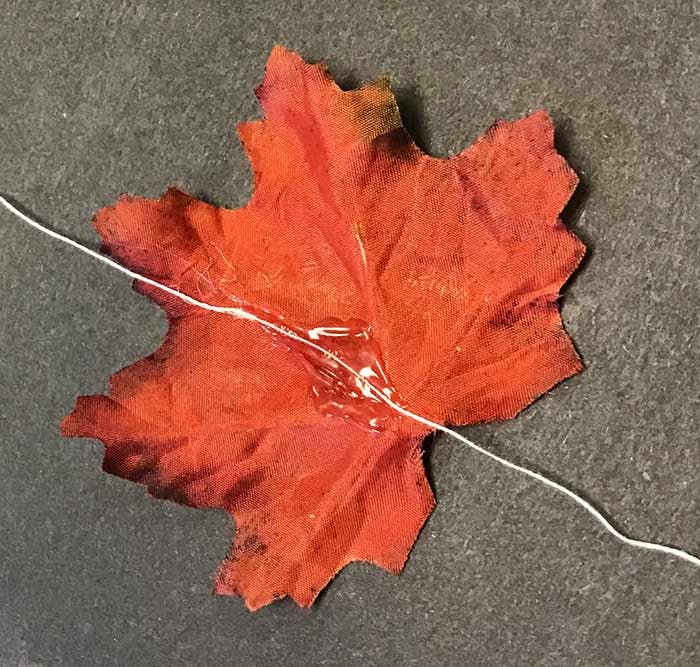 This look would be especially cute with rustic or farmhouse-influenced decor styles. Plus it transitions into the Thanksgiving season nicely so you don't have to worry about leaving it up a little longer!
Hey! Leaf that alone! Pictured: Blinds.com 2" Premium Wood Blind in White
Try these projects on your windows and tag us in your photos on Instagram @blindsdotcom. We hope you have a happy and safe Halloween!
For More Halloween Decorating Ideas:
Follow us on Pinterest!
Modern Farmhouse Amplifies Natural Light (Just in Time for the Shorter Days)
Get Guest Room Ready: Preparing for Holiday Company
Take The Quiz: Which Decor Style Are You?