Being a mom is a lifetime commitment. Moms are constantly juggling multiple things at once, sometimes with little to no help. With Mother's Day quickly approaching, now is the perfect time to show our moms how much we truly appreciate them.
This year, skip the flowers and chocolate, and celebrate Mom by creating an at-home oasis where she can really relax and unwind. We're sharing 3 unique Mother's Day gift ideas she'll be able to enjoy without ever leaving home.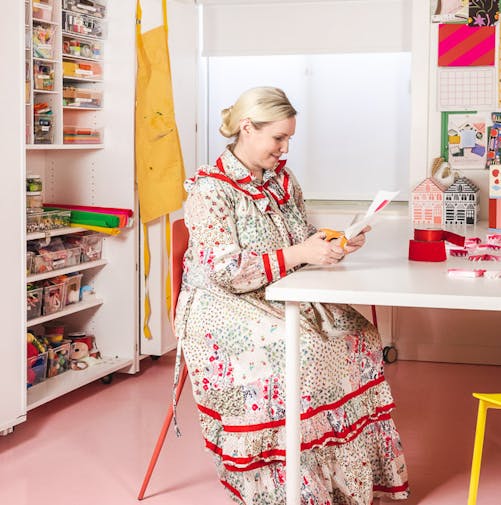 Pictured: Blackout Roller Shade in Splendor White and Premium Natural Light Filtering Roller Shade in Savannah Mirage. Photo via: @houselarsbuilt.
Backyard Brunch
Have mom kick up her feet and soak up the sun, without the crowded airports and travel headache. Create a serene brunch retreat in the backyard or patio with a few comfy chairs, a decorative table, and all of her favorite breakfast treats. Try shopping your home for existing furniture - maybe you have a bench or table that you keep shuffling around.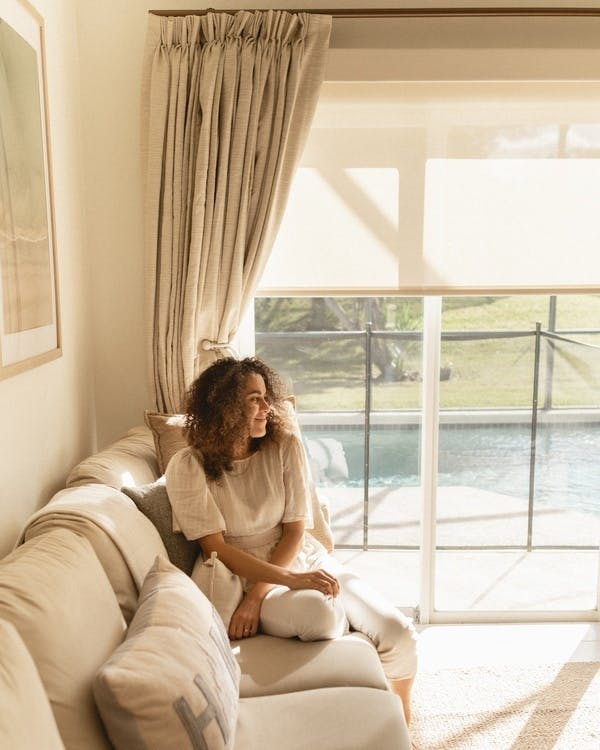 Pictured: Premium Solar Roller Shades in Verona 5% Off White and French Pleat Drapery in Geneva Terra. Photo via: @aliviafields.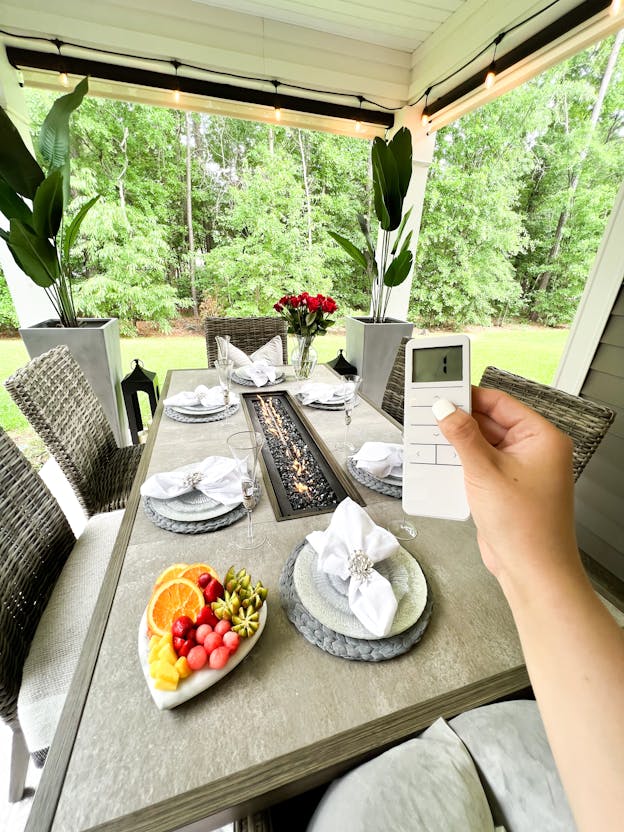 Pictured: Blinds.com Heavy Duty Outdoor Solar Shade in Capri 8%. Photo via: @lgqueenhomedecor.
But what to serve? @SmittenKitchen's crepe-like Swiss Chard pancakes are quick, easy and on the healthy side. @Christinatosi's baking club is filled with new, family-friendly recipes, daily. She lets you know what ingredients you'll need the day before so you can cook along to her livestream. @Damn_delicious also shared her secret trick to the fluffiest scrambled eggs you've ever tasted.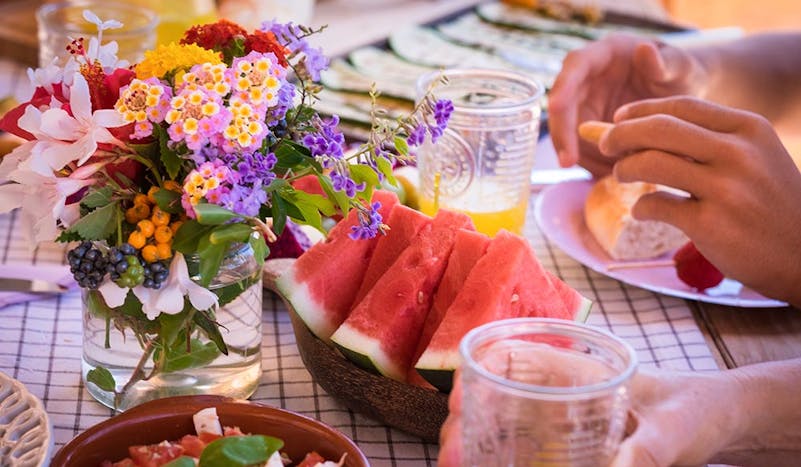 Now for the fun part: decorate the space! Colorful place mats are easy to diy and bring extra color to the table. Skip the paper plates and plastic cups. Set out real ceramic dishes, glassware, and silverware to make things feel more classy and eco-friendly. The sound of ice cubes clinking in a cool glass is so much nicer than the crinkle of a plastic cup (ASMR, anyone?).
During peak daylight hours, an outdoor solar shade can give you major cabana vibes while shielding you from the sun's harsh glare. They also can help cut down on heat without interrupting your view. Once the sun sets, light citronella candles for bug-free ambience. Light strands can also illuminate the space and create a romantic glow in the evening hours.
A Breakfast Nook
No space outside? A cozy breakfast nook corner inside can do the trick (and serve a function year round)! Breakfast nooks are great because they are so informal and take very little effort to set up. It's as easy as finding a bright window and pulling up a small table and a few chairs. Open up the blinds to let the sun shine in. Even if you don't have a picturesque view, natural sunlight makes a simple tablescape feel bright and welcoming.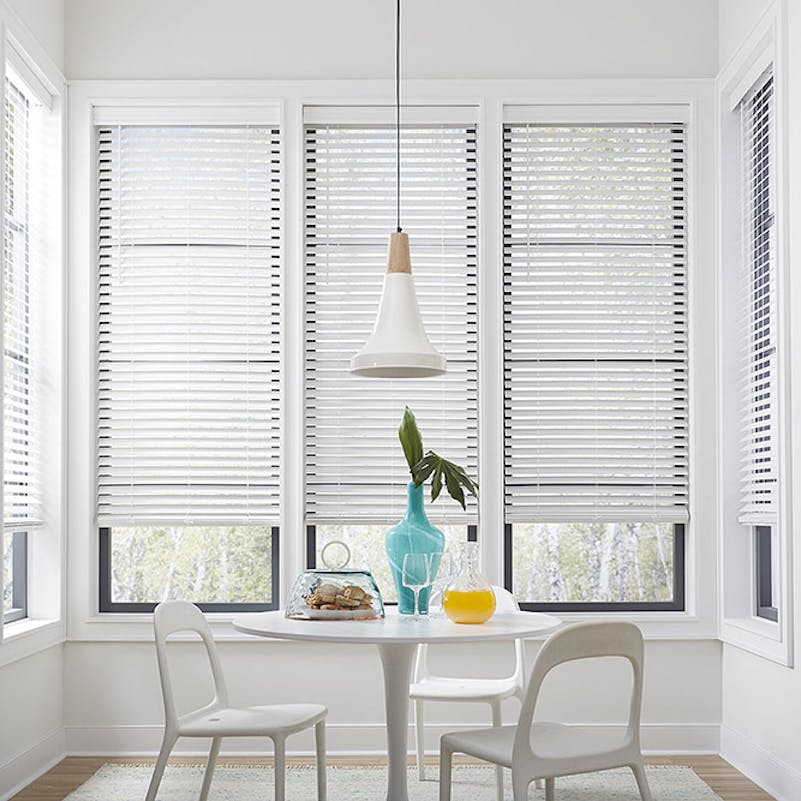 Pictured: Blinds.com Economy 2 Inch Cordless Faux Wood Blind in White.
Simple changes like pouring orange juice from a glass pitcher (instead of a cardboard carton) can give the sense of dining in a swanky cafe. For an extra special experience, have the kids help create a menu letting mom know what you're serving.
Pictured: Blinds.com Premium Roman Shades in Gent Vanilla. Photo via: @hartley_home.
Top off your table setting with a few flowers arranged delicately in a vase (the kids can even help pick these on a family walk). Or bring in a little extra greenery with a few potted plants or hanging planters. For advice on low maintenance houseplants, check out of Houseplants for Beginners Guide!
Bathroom Oasis
Every bathroom should feel like a private spa getaway! What's more luxurious than a long soak with a cup of tea or that creamy whipped coffee drink (Dalgona!) everyone's trying? Set mom up with a book from her favorite author to read as she floats the day away.
In a small room like the bathroom, the little touches go a long way to creating the right atmosphere. To get that day spa vibe, set out a gorgeous smelling candle, freshly folded towels and a houseplant or two (aloe vera does well in humid environments!).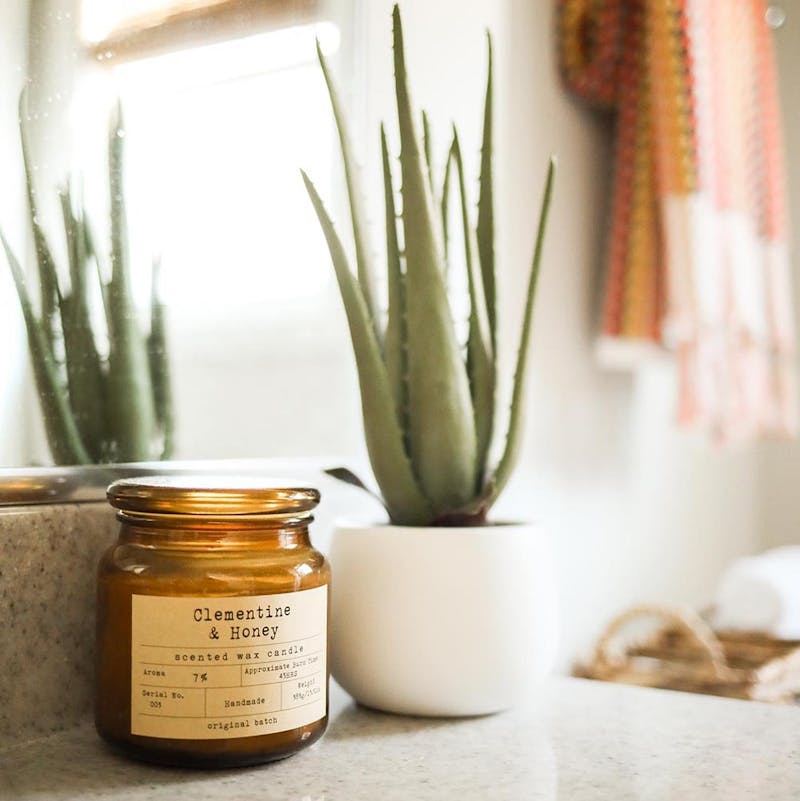 Picture courtesy of @heyherridge.
Privacy is important too. If your bathroom has a window consider a shade that has a top down, bottom up lift option like the Blinds.com Woven Wood (shown below in color Penang Walnut). This way light can filter in from the top while maintaining privacy in the bottom portion of the window. You can also try adding a privacy liner for a woven or fabric treatment (woven wood shades, roman shades, draperies).
Could your bathroom windows use some more privacy or an updated look? Woven wood shades or roman shades are our favorite styles!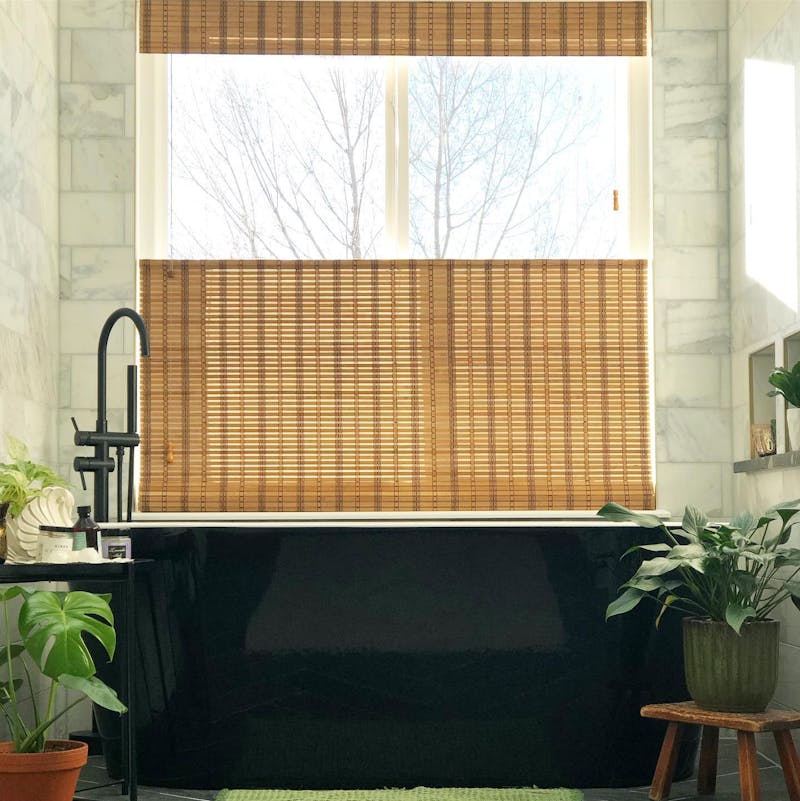 Pictured: Blinds.com Woven Wood in Penang Walnut.
The Smallest Gestures Mean The Most
It does not take a lot of energy or resources to show someone how much you care. However you choose to celebrate this mother's day, it's the little gestures that usually mean the most.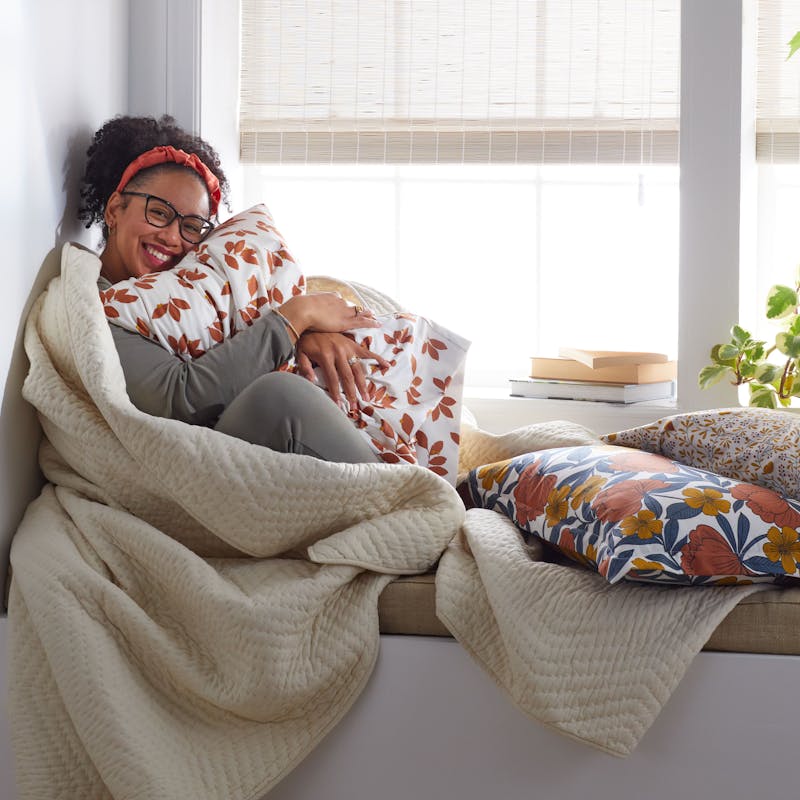 Pictured: Blinds.com Woven Wood Shades in Rustic Jute.
Read More: