If you're buying or selling a house, you may be wondering whether blinds are considered personal property, or if they're included in the house sale. If you're a first-time home buyer, we'll explain what you need to know during the home-buying process.
Are Blinds Considered a Fixture When Selling a House?
Regulations vary by state, but generally, anything that's permanently affixed to the house with nails, glue, cement, pipes, or screws is considered part of the house and "conveys" with the sale. This includes blinds, interior shutters, and shades, which are screwed into the window frame.
The only exception to this is when an item has been outlined in the seller's property disclosure that it does not convey. Be sure to clearly define what "window treatments" you're referring to in the disclosure, including blinds, shades, curtains, and even curtain rods. Read on for more details about curtains.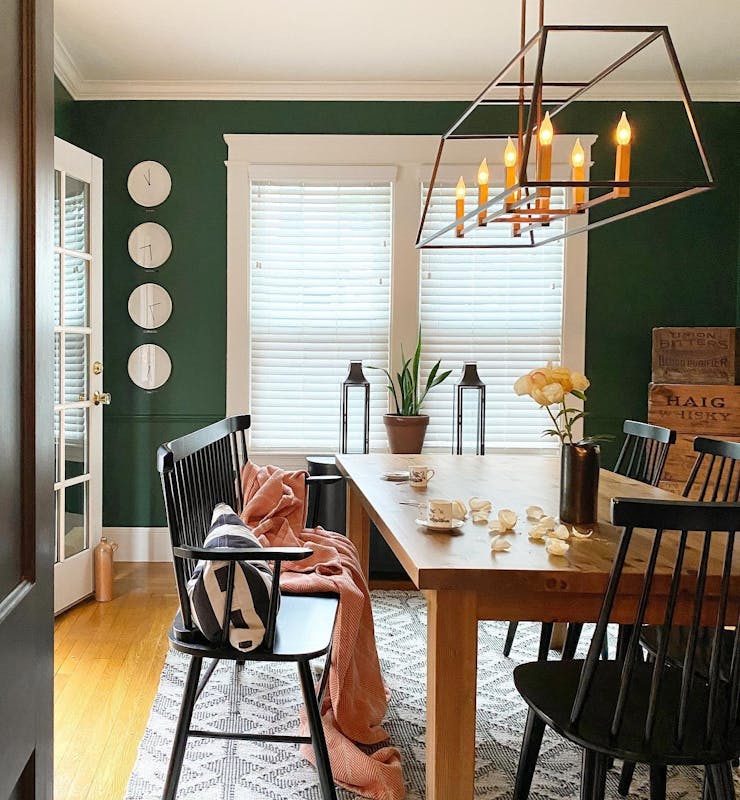 Pictured: 2-inch Faux Wood Blind in White Sandblast. Photo via: @oreandbosk.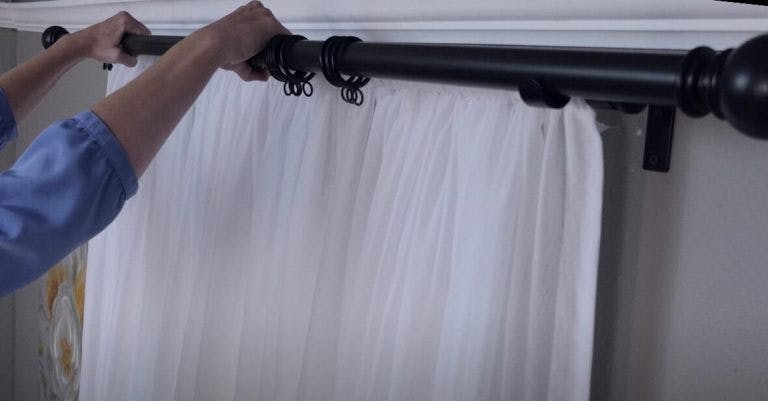 Are Curtains and Curtain Rods Included in the Sale of a House?
Curtains fall inside a grey area when it comes to buying a house, so it's always best to ask for clarification. Traditionally, curtain rods are considered fixtures because they are anchored to the wall. However, the curtains themselves are usually seen as personal property because they can be slid off the rod. Some buyers assume that custom drapes are included in the sale because they were made for the room, but this is not always the case.
Be sure to verify whether curtains and rods are included in the sale and record any answers in writing as part of your contract. It's always safer to over-communicate early and avoid conflict over small details when negotiations are underway.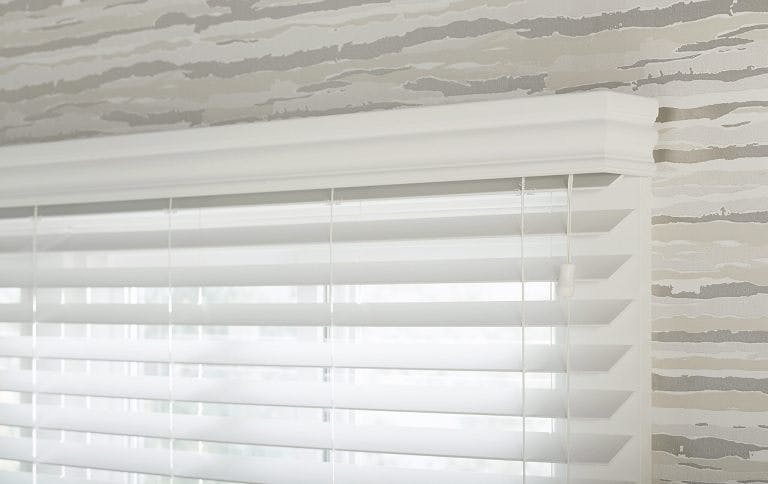 How to Negotiate Window Treatments into the Sale or Purchase of a House
If You're Selling:
If you want to take your window treatments with you when you move, the best course of action is to remove them and/or replace them with a cheaper version before you list your house. If you're not able to do this, be sure to clearly outline what stays and what goes in the seller disclosure and all marketing materials. This way, buyers will be clear about what's included when they make an offer.
If you decide you want to keep your treatments when you're further along in the selling process, discuss your options with your realtor and the buyer. Some homeowners may want to buy their own window treatments. However, if they are interested in keeping the existing window treatments, you may have to leave them behind or negotiate this into your sale. Whatever you work out, be sure to get it in writing as part of your contract.
The worst thing you can do is take all the blinds when you move out and hope the buyer doesn't notice. Swapping them for a cheaper version secretly isn't a good idea either. You may be forced to bring the blinds back or give the buyer credit for their value. This could lead to the sale falling through or a case in small claims court.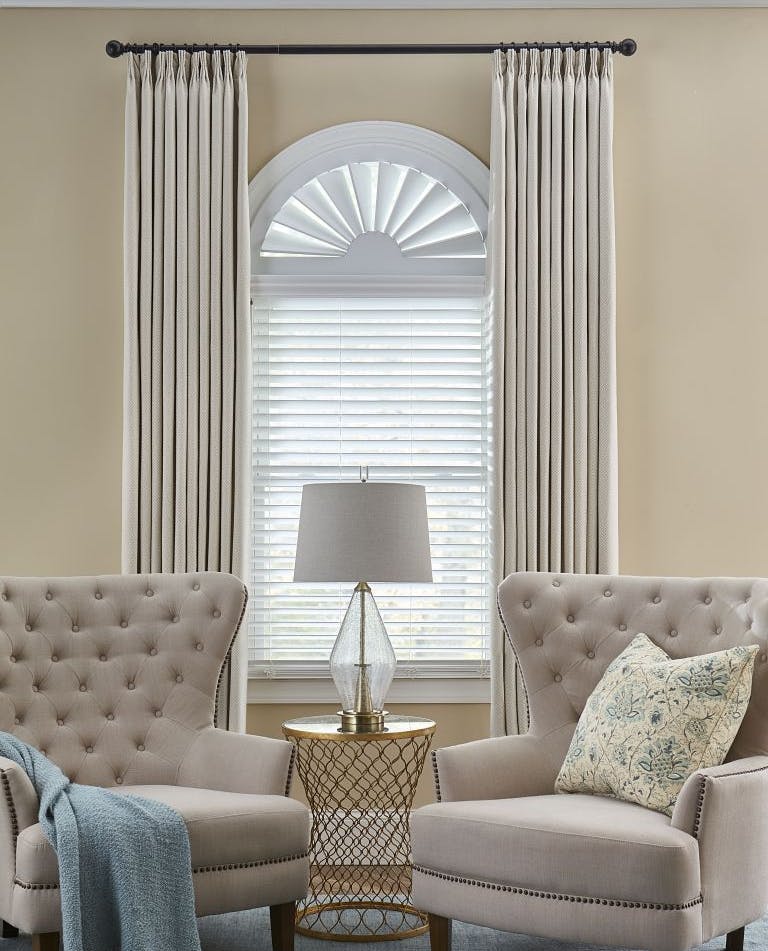 Before you fight tooth and nail for your window treatments, remember there is no "standard window size," and your current blinds probably won't fit the windows in your new home. You won't exactly be giving off a polished look with windows that aren't fully covered or blinds that are too short. It's often better to start fresh and give your windows a new look.
One exception to making window treatments fit different windows is curtains, which can sometimes be hemmed or hung at a different height. Just be sure to notify the buyer that you're taking the curtains with you. See our section on curtains above for more details.
If you need help getting started with new window coverings - take our BlindFinder quiz or talk to a Blinds.com Designer. If your home improvement to-do list is already a mile long, simplify the process with a professional install.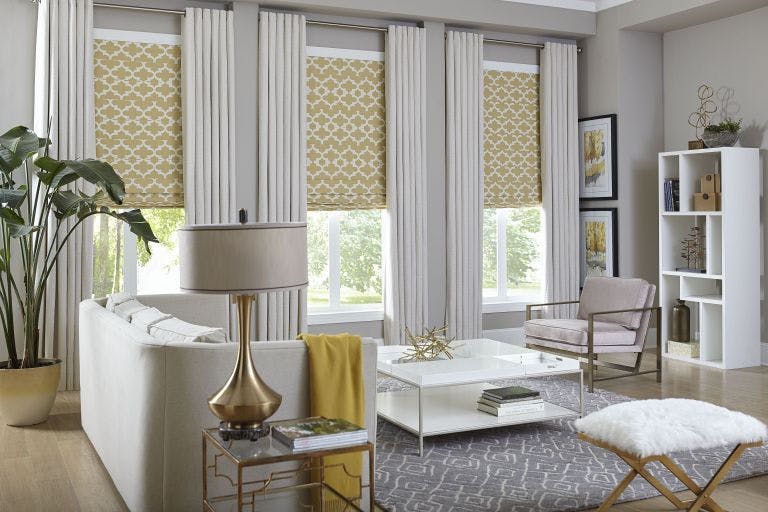 What Do I Need to Buy a House?
If you want to ensure that window treatments are included in your home purchase, look over your contract to see if they're specifically mentioned. If not, have your realtor ask the seller and update the contract in writing. Everything is negotiable, but it's best to start these discussions early so they don't hinder the sale.
Before you negotiate to keep window treatments, especially curtains, be sure that they match the furniture you'll be using in that room. You don't want to fight for something and find out later that it doesn't work.
If you end up without any window treatments, it's not the end of the world. You have the opportunity to customize your windows to your style, rather than settling for what was already there.
If you are a first-time home buyer who needs help getting started, try taking our BlindFinder quiz or speaking to one of our expert Blinds.com Designers. If your home improvement to-do list is already a mile long, simplify the process with a professional install.
Want More Home Buying Inspiration?
Blinds vs. Shades - How to Make the Right Choice
11 Window Measuring Mistakes + How to Avoid Them
The House that Lars Built Gets Major Studio Upgrade with Blackout Roller Shades