All window treatments can fall victim to dust, stains and general griminess. Because cellular shades are made of fabric, they can be especially susceptible to dirt in high traffic areas.
Here are the most common cellular shade cleaning issues and how to remedy them.
Help! I've got dead bugs in my cell shades.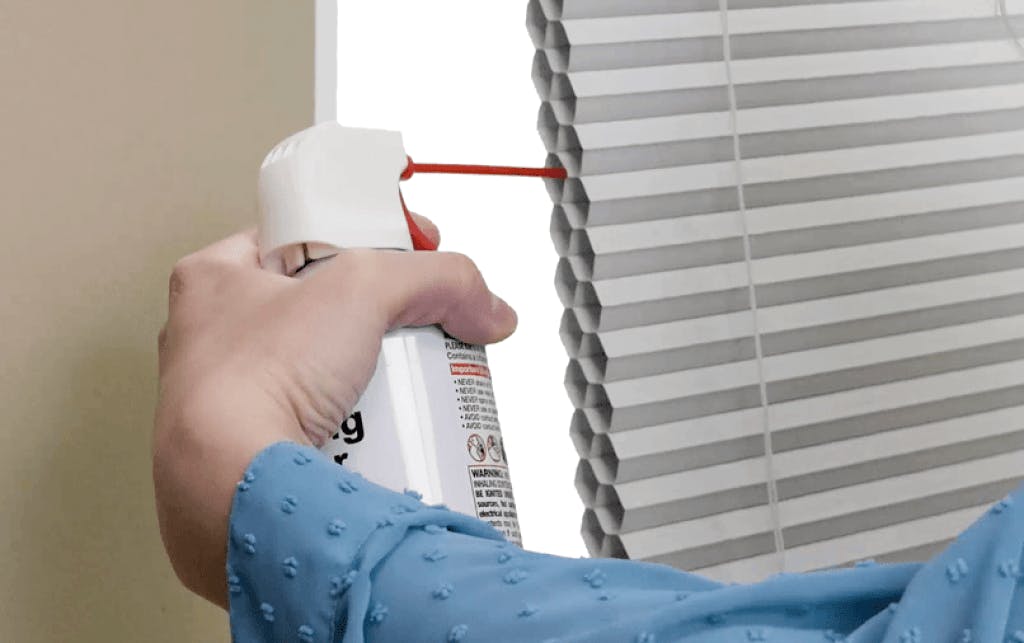 As much as we don't want to think about it, bugs can occasionally crawl into cellular shade pockets and get stuck there.
Never fear! It's an easy fix. You can blow dirt, debris and departed arachnids out of cells with a can of compressed air. Just put the straw into the cell and spray out anything inside!
A hairdryer on cool may also work, but we like compressed air for more precision.
My cellular shades are dusty and turning grey.
Removing dust from cellular shades is easy! Just grab your vacuum and the hose brush attachment. Swipe across the cell fabric in horizontal strokes following the pleats. It will gently loosen dust and dirt, and prevent fabric from being sucked up and crumpled out of shape.
For stubborn dust, you can also carefully swipe across the pleats with a lint roller.
My cell shades have stains and dirt on them. Can they be washed?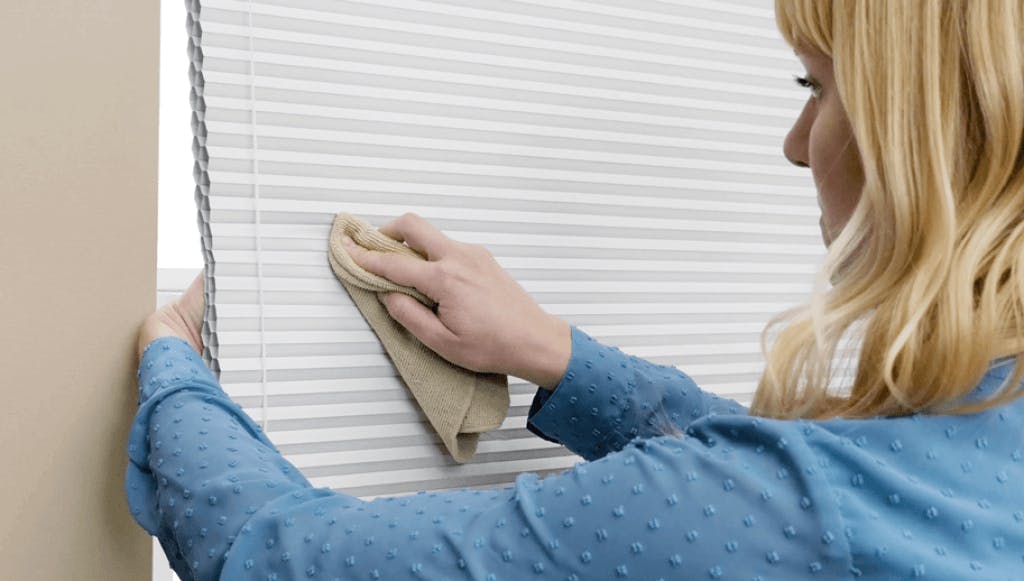 Always try dusting your shades with the methods above and save cleaning with water as a last resort. Getting your shade fabric wet frequently can cause the pleats to lose their shape.
If dusting hasn't helped, stains blotted clean with a damp cloth, warm water and a mild detergent like dish soap. Blot the affected area until the stain is gone, then blot dry with another clean cloth.
Do not scrub the fabric as this can cause pilling or damage. Never submerge shades in water or get them overly wet. The fabric will lose its shape and metal components can rust or deteriorate.
Once shades are mostly dry, leave them raised for a few hours to re-train the pleats.
Need More Help?
If the methods above haven't helped and your shades are super grimy, you might try ultrasonic cleaning. With this method a professional service will come to your home with a large tank of cleaning solution. They will dip your blinds into the solution and high frequency sound waves will create millions of microscopic bubbles that implode and remove dust, dirt and bacteria safely. This method can clean inside of cell pockets, where other methods can't reach.
Find more information in our cleaning guide, the helpful posts below, or speak with one of our window treatment experts at 800-505-1905.
How Do You Clean Cellular Shades?
How to Clean Window Treatments of all Styles and Sizes
Window FAQ: How to Clean Cellular Shades
Submit Your Own Cleaning Questions!
Have a cleaning query about cell shades or another window treatment? Tweet them to us @BlindsDotCom and maybe we'll cover them in a future post!