We've pretty much heard it all when it comes to blinds that are the victim of animal destruction. There are cats who bend and break aluminum blinds trying to squeeze behind them and cats who love blinds cords more that catnip.
My Cat Will Do Anything to Get Access to the Window
Cats are natural observers who find the world of birds and squirrels much more interesting than you sitting like a lump on the couch. They also love to sunbathe. When blinds are closed they wiggle behind to get to the warm sunshine.
If cats are bending and breaking your blinds to get to the window, keep the blinds raised where they can see out. If you need to maintain privacy, raise blinds part way and install a cat-sized curtain with a tension rod.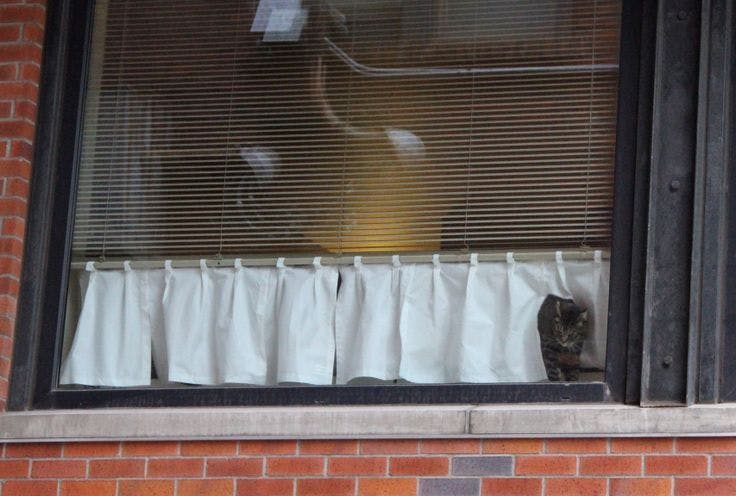 My Cat Won't Leave the Blinds Cords Alone
What could be more tantalizing to a cat than dangling cords just waiting to be pawed at? As tempting as they are, blinds cords can be harmful to kitties.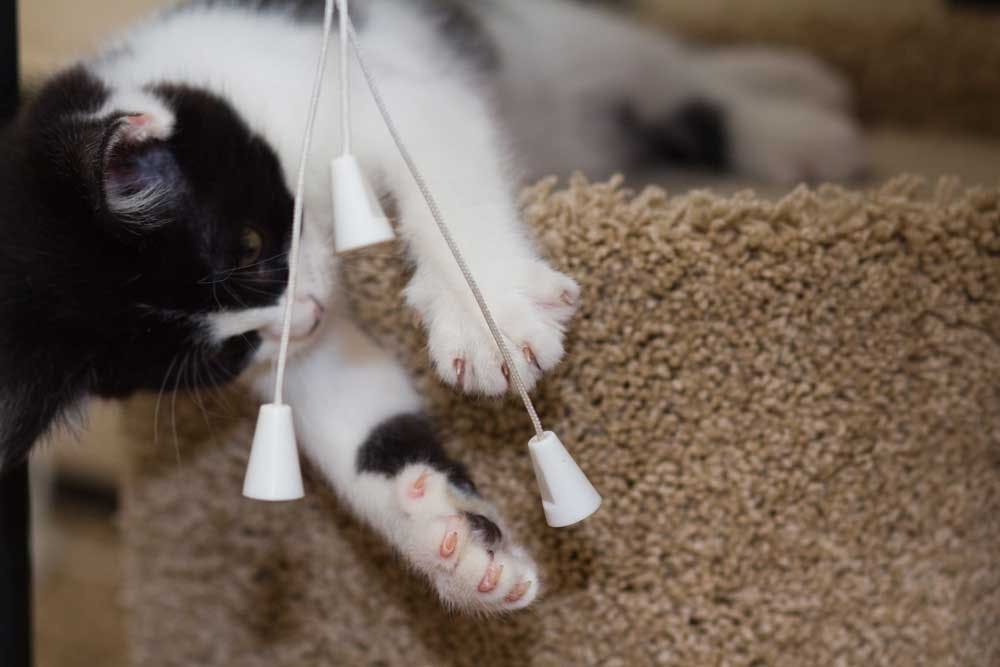 Keep cords wrapped out of kitten's reach with a cord cleat or tied up in a bundle.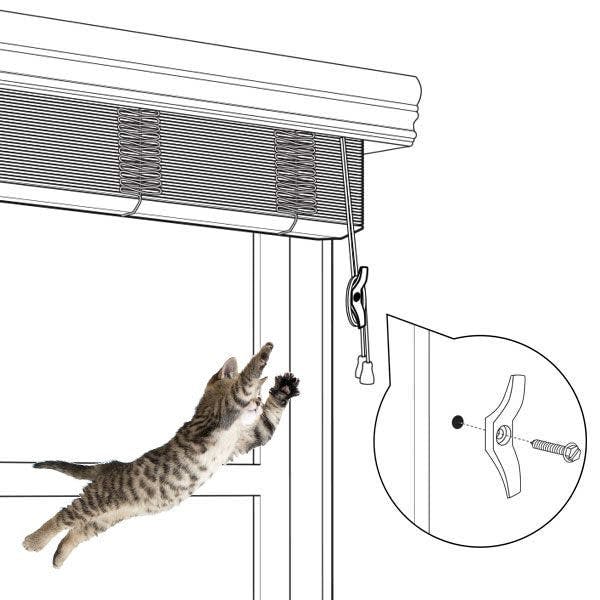 My Cat Climbs and Claws at the Curtains
This behavior is a combination of several strong cat instincts - scratching and climbing to high places. Cats have a natural instinct to climb so that they can tower above the room. Unfortunately drapes can be a casualty of failed climbing attempts.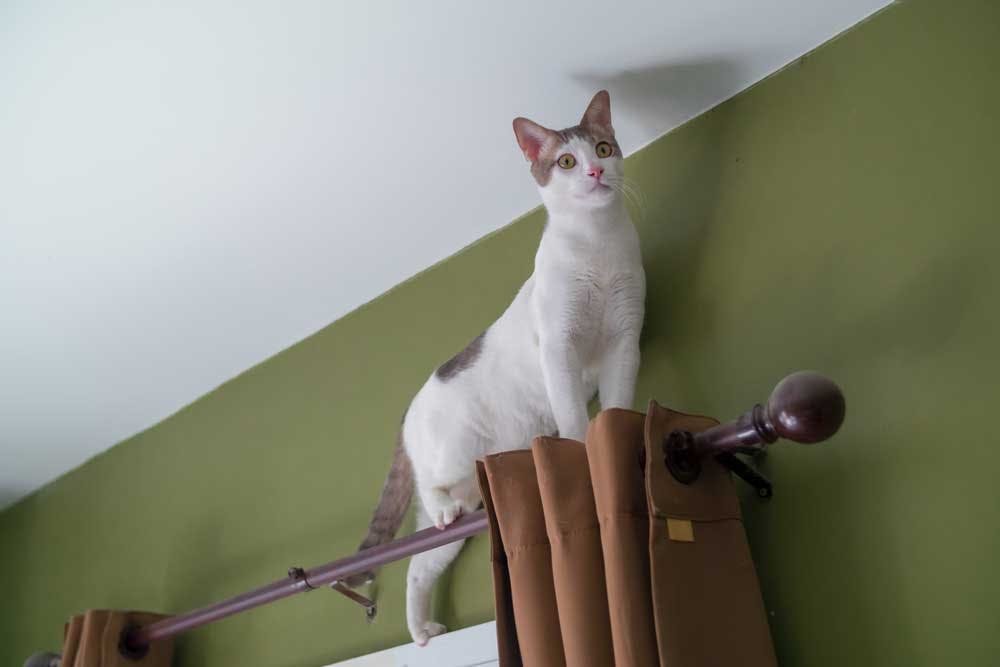 Scratching is an important part of your cat's health, but can wreak havoc on your furniture. When cats are excited or scared, scratching allows them to release some of this energy. It's also a way for them to stretch shoulder muscles and mark their territory.
Allow your cat to fulfill their climbing need in a positive way by providing them with a cat tower that they can climb. Scratching can also be controlled with an appropriate place to express this behavior like a scratching post. Special double stick tape sold at pet stores will keep cats from scratching furniture and catnip spray will encourage your cat to use the scratching post instead.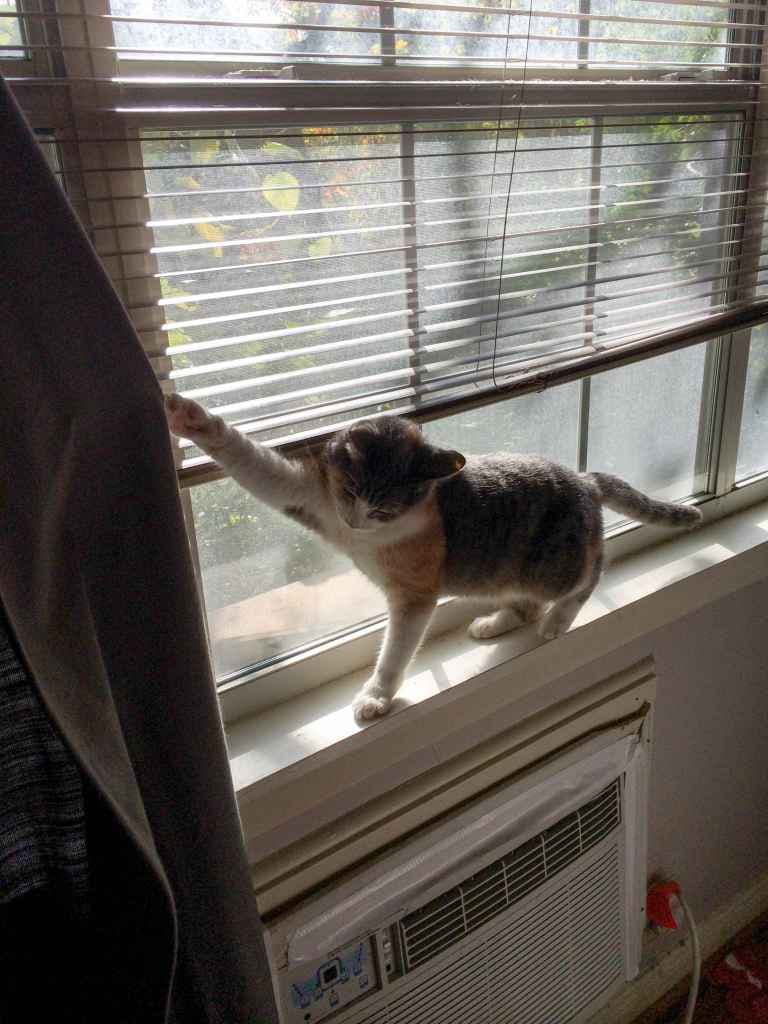 Best Window Treatments for Cats
With this wide array of pet window covering issues, there really are no completely cat proof blinds. But we do have a few helpful suggestions.
First off, with pets or small children, it's always safer to choose cordless window treatments. Playful critters can easily get tangled up in dangling cords and hurt themselves.
Have a kitty who bends blinds to get behind them? Try verticals blinds. Cats can slip behind slats easily and they'll fall right back into place. If your cat chews on louvers, you can order individual replacements instead of getting all new blinds. If pet hair and grime are a problem, just wipe the PVC louvers clean with soap and water.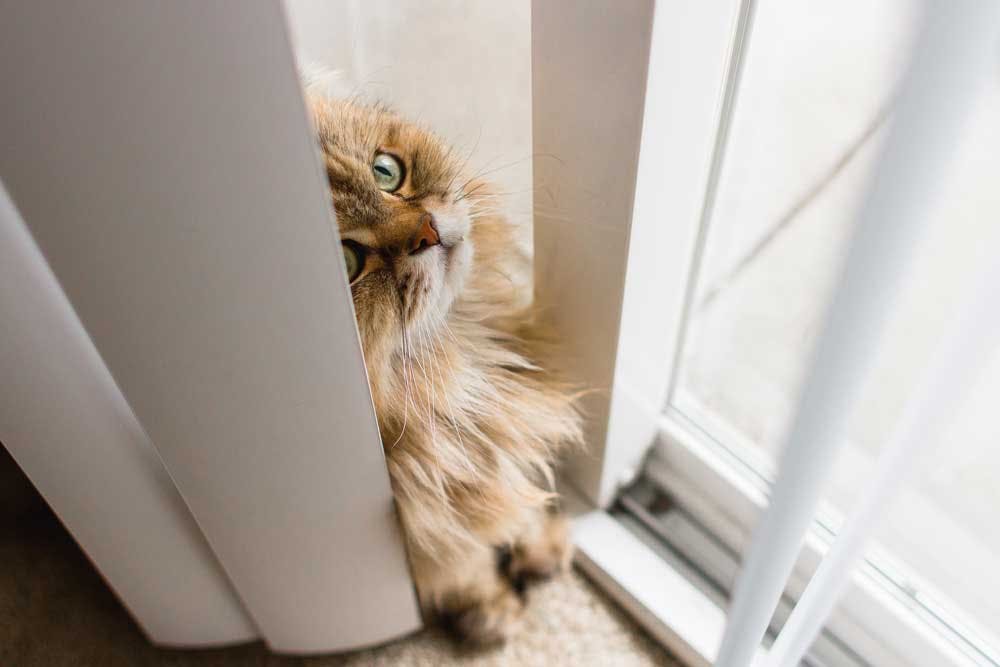 You may remember these shades as the ones that rocket up if you let go too quickly. The modern versions are much more smooth and controlled. Pets can easily slip behind without damaging the shade. Roller shades don't collect dust and pet hair like mini blinds. Just wipe clean when needed.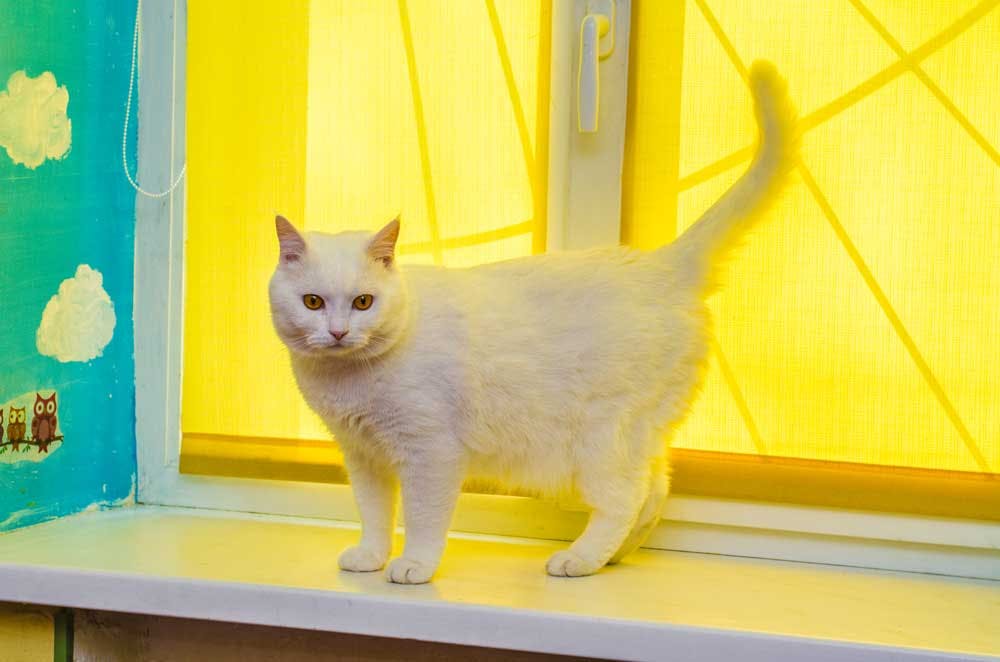 Shutters are durable enough to stand up to curious pets who just want to see out, especially in faux wood. But if you have a pet with a chewing problem, these can be damaged are expensive to replace.
Some cats can even open shutters on their own!
Just like shutters, Faux Wood Blinds with wide slats (like 2.5" blinds) allow pets to see out easily. If slats are damaged, replacements can be ordered and inserted.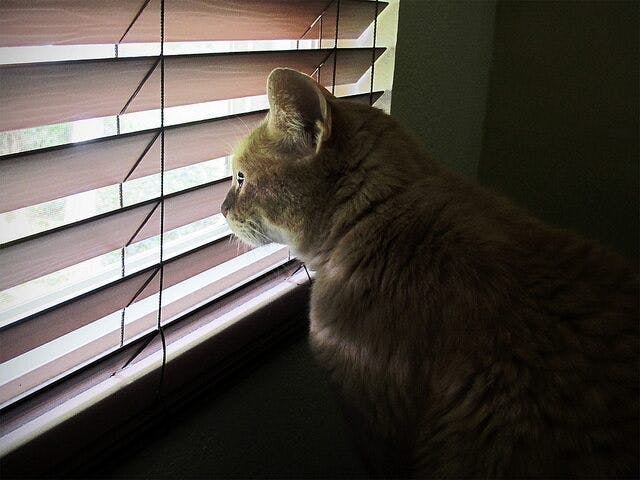 Photo via flickr user Anita Hart
Curtains allow cats to pass behind easily, even when they're closed. But, they can be magnets for hair and dirt. If you go this route, choose inexpensive curtains that are machine washable and can be easily replaced.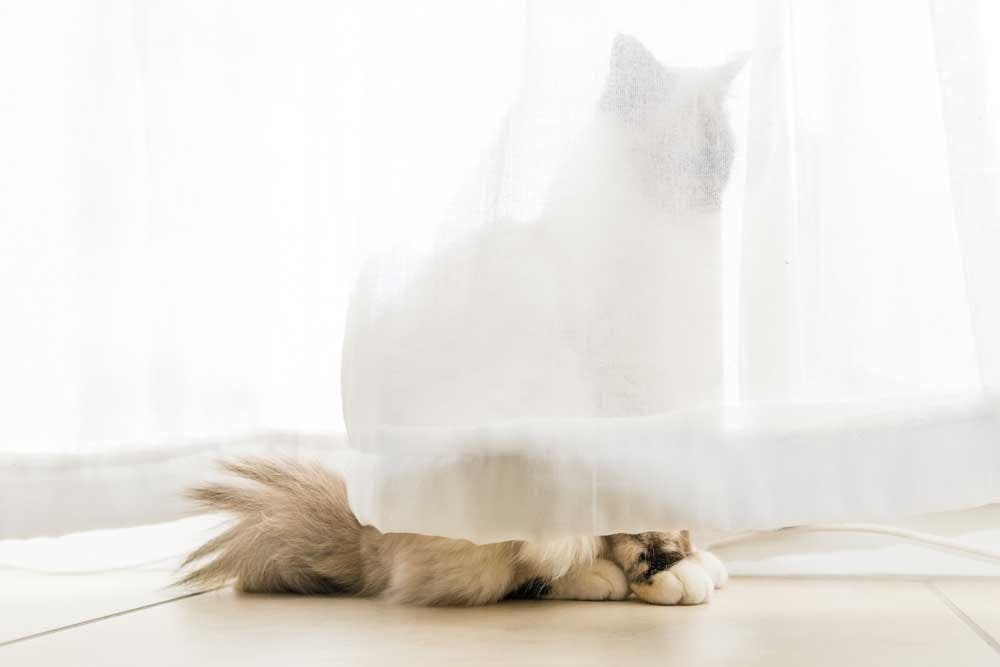 Worst Window Treatments for Cats
Bent slats. Nuf said.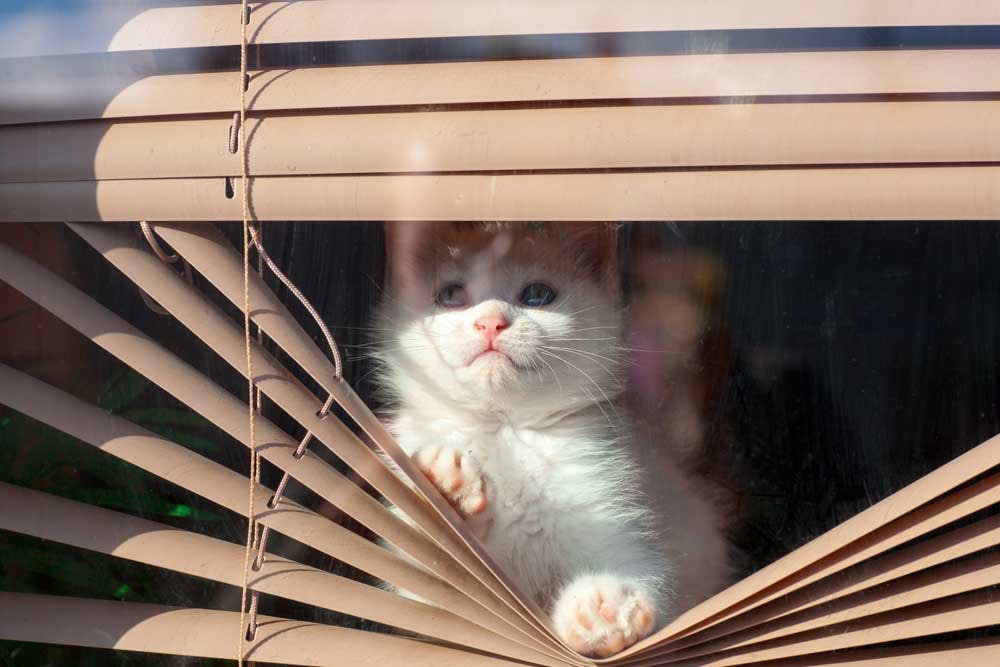 Kitties won't be able to see through and will bend slats out of the way.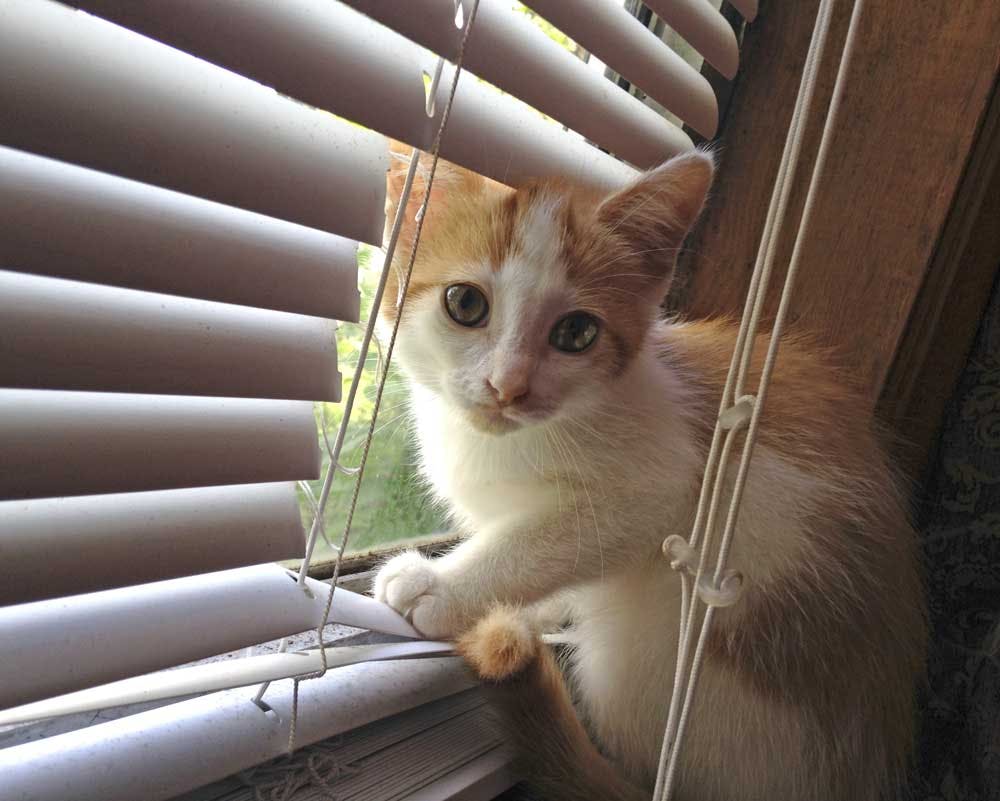 Don't let curious cats get tangled up and hurt.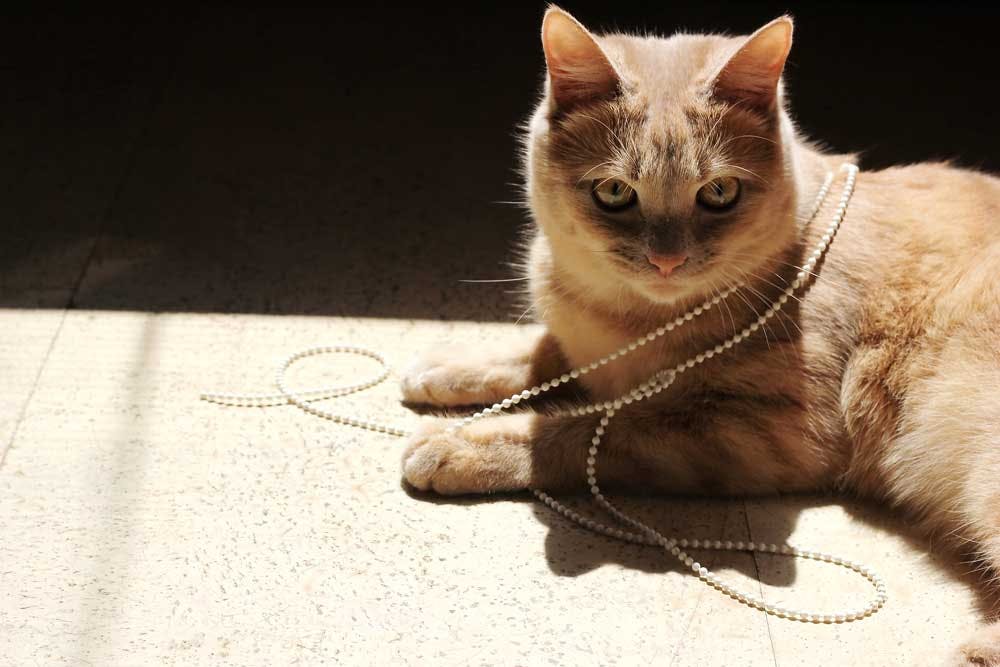 Cellular shades and other fabric shades aren't the best fit for cats. Kittens can make a habit of climbing up the fabric, and they're not as easy to replace as drapes.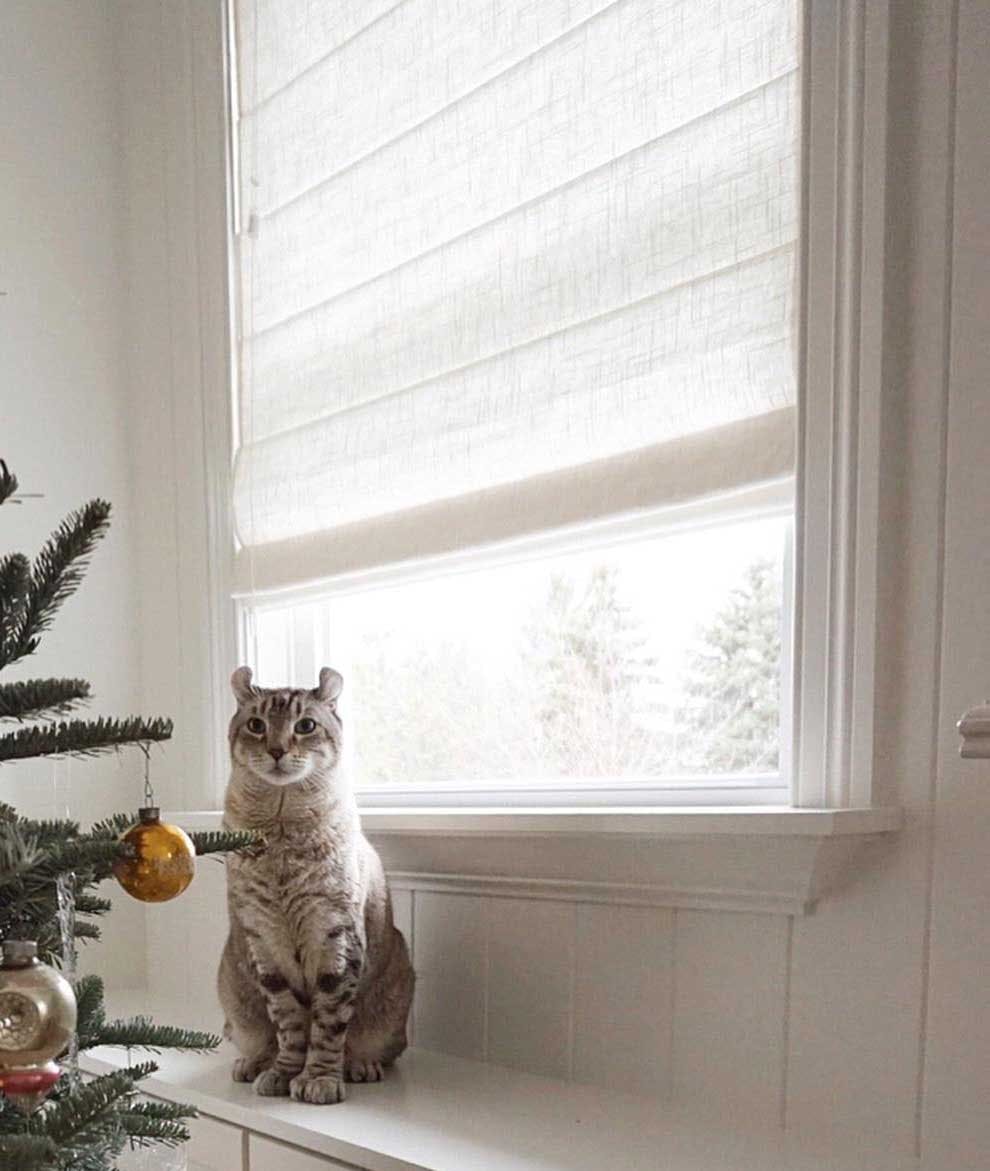 When drapes drag on the floor it's impossible to keep them clean and free of pet hair.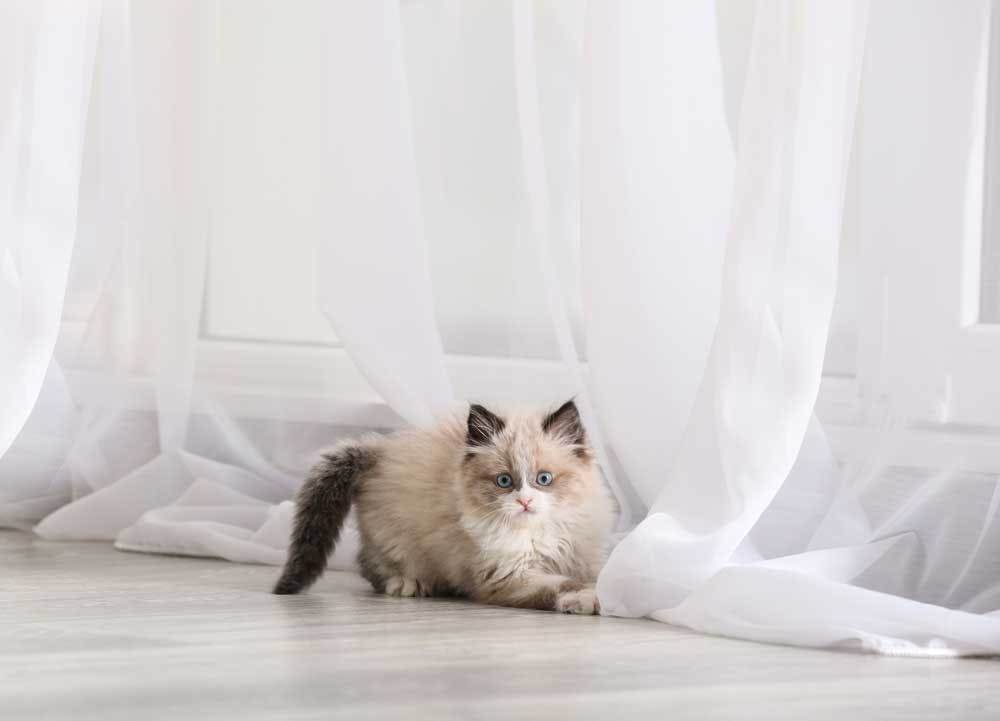 Like drapes, fabric tapes are a magnet for hair.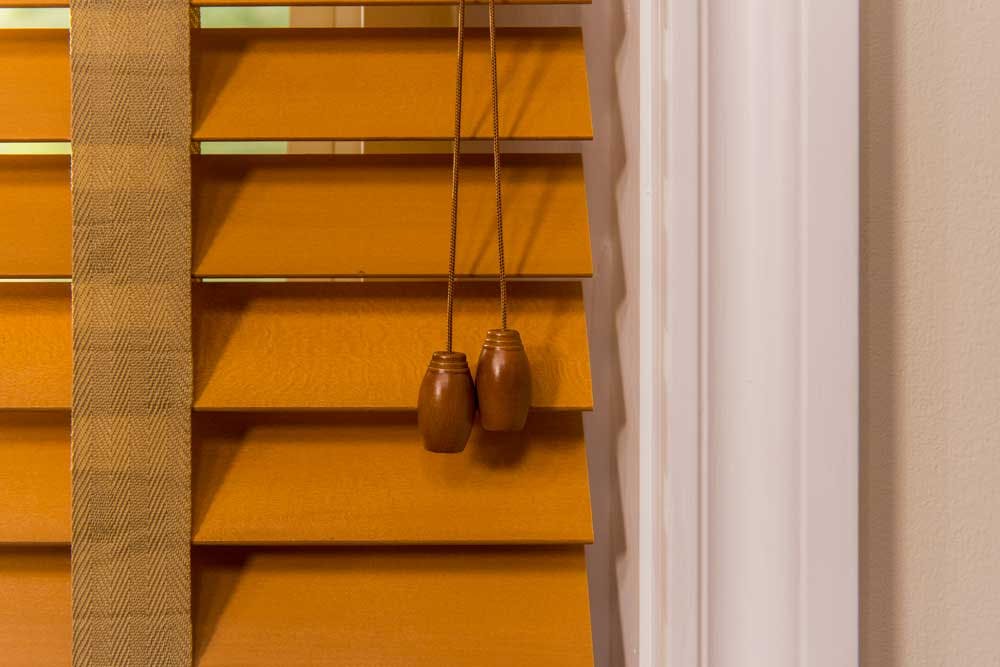 Can you say scratching post?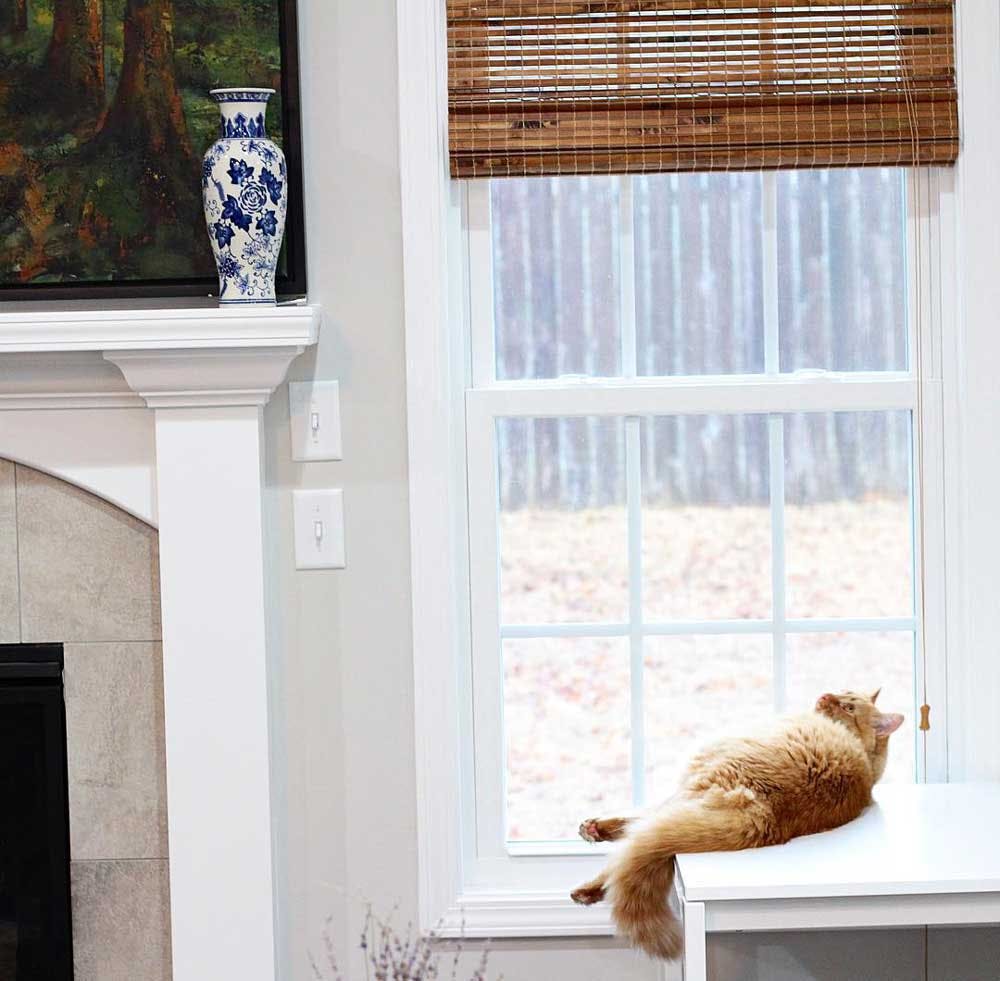 How to Fix Blinds After Pet Damage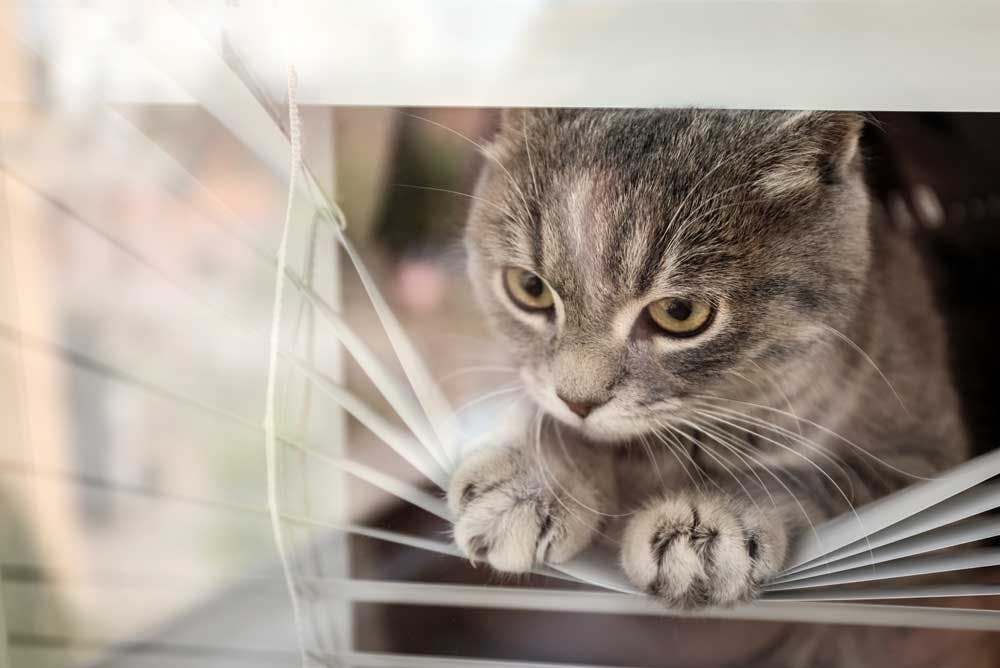 This advice is well and good, but what do you do right after your blinds have been destroyed? Don't fret, paying full price for a replacement isn't always the only answer.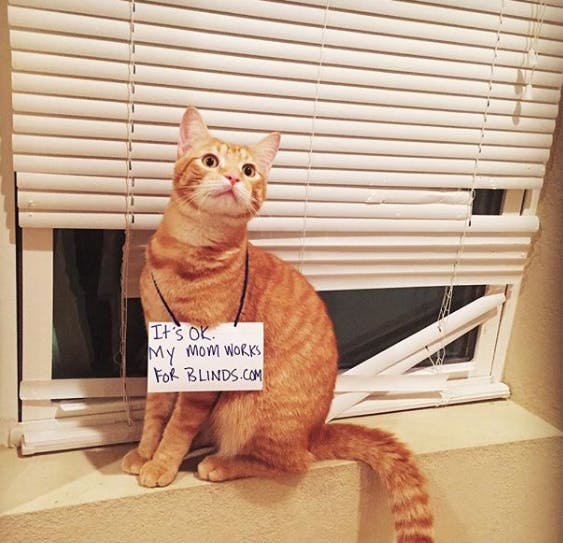 If you purchased your window treatments from Blinds.com, give us a call at 800-505-1905. We can often give you a discount to order a replacement. Plus, we'll make sure you're getting the right color to match the rest of the room.
If you have slatted blinds, vertical blinds or shutters and there's only partial damage, we can get you replacement louvers to get your blinds back in tip-top shape.
If you do need to order something new, be sure to read our recommendations above.