Brittni Mehlhoff is the creative force behind the powerhouse blog Paper & Stitch. The former high school art teacher took her side gig full time and has been inspiring her readers with modern DIY projects, home makeovers and travel guides ever since.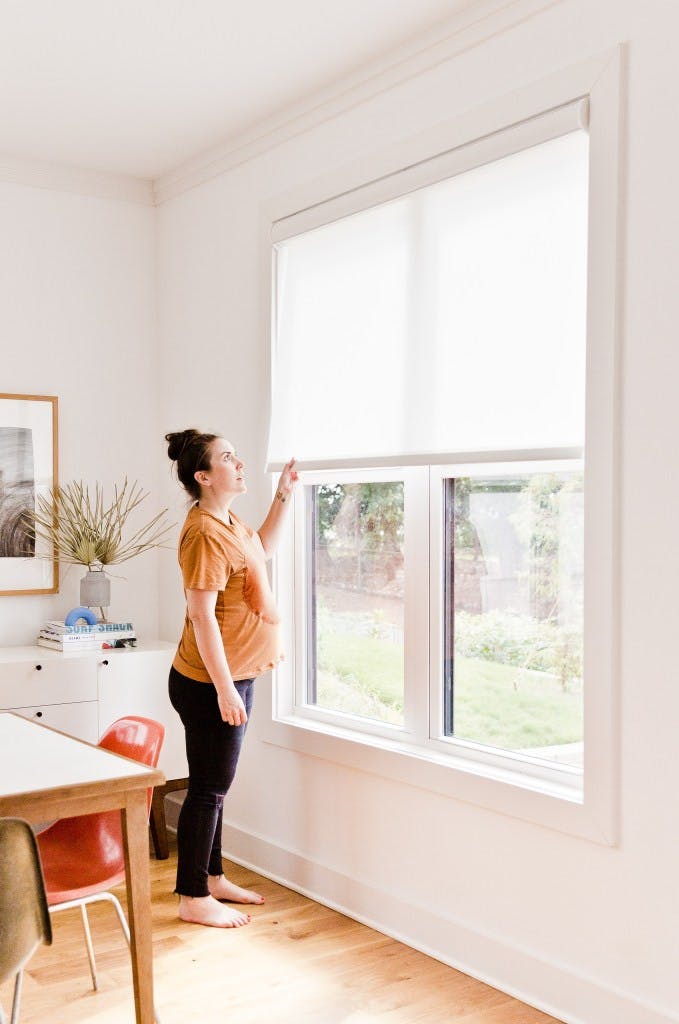 One thing she's known for is pushing herself to meet audacious goals. In 2017 she committed to 12 trips in 12 months to create a habit of exploration and inspiration.
In 2018 she moved into a new home, and has committed to 12 rooms in 12 months. So far she's revealed her studio, main bedroom, balcony and front porch. Phew, we're tired just thinking about it, but having putting something out there to all of your blog readers is a sure-fire way to hold yourself accountable.
Modern Dining Room Gets a Sleek Look With Roller Shades
For August's project, Brittni debuted her simple and stunning dining room.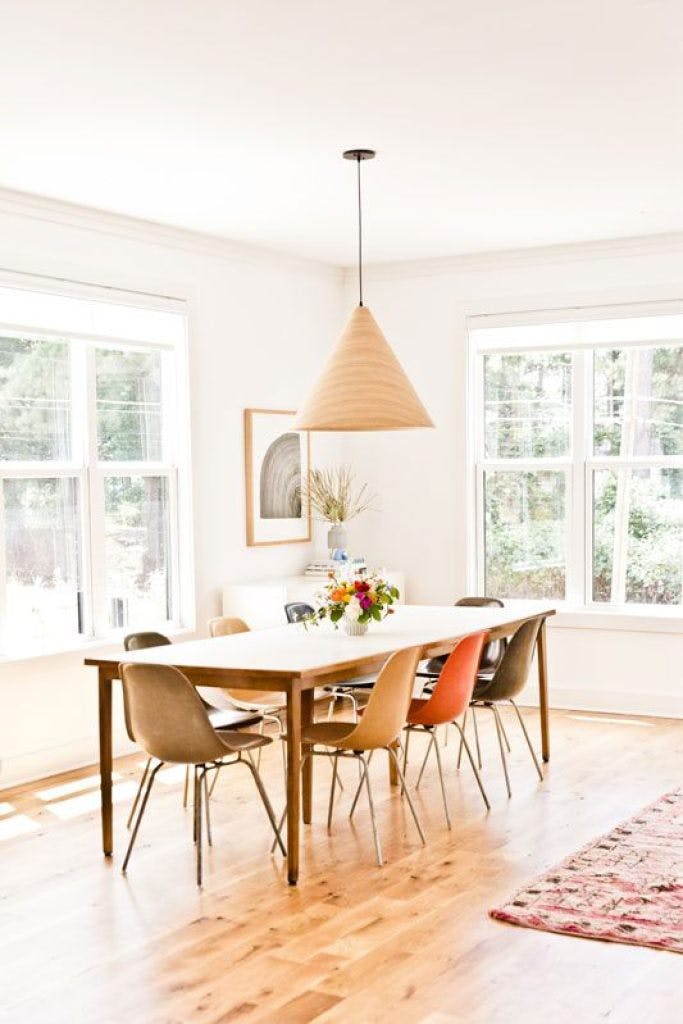 The dining room doubles as an entryway, so it was important for this space to make a good first impression. When Brittni moved in, the room was a blank canvas with good bones and lots of natural light. However, the yellow-hued beige walls and industrial light fixture had to go.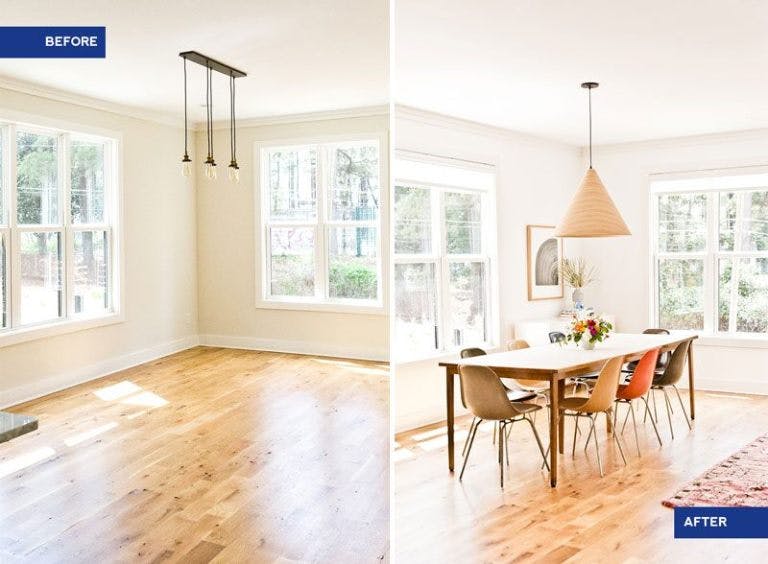 With all the natural light, Brittni and her husband Jeff wanted a window treatment that would keep the room feeling bright while gaining a little privacy.
Brittni Says
"Jeff and I both love the amount of light that comes into this front room throughout the day. But since we are so close to our neighbor's house on one side and the other windows face the street, we really needed something that allowed for privacy that wouldn't make us miss all the natural light we loved."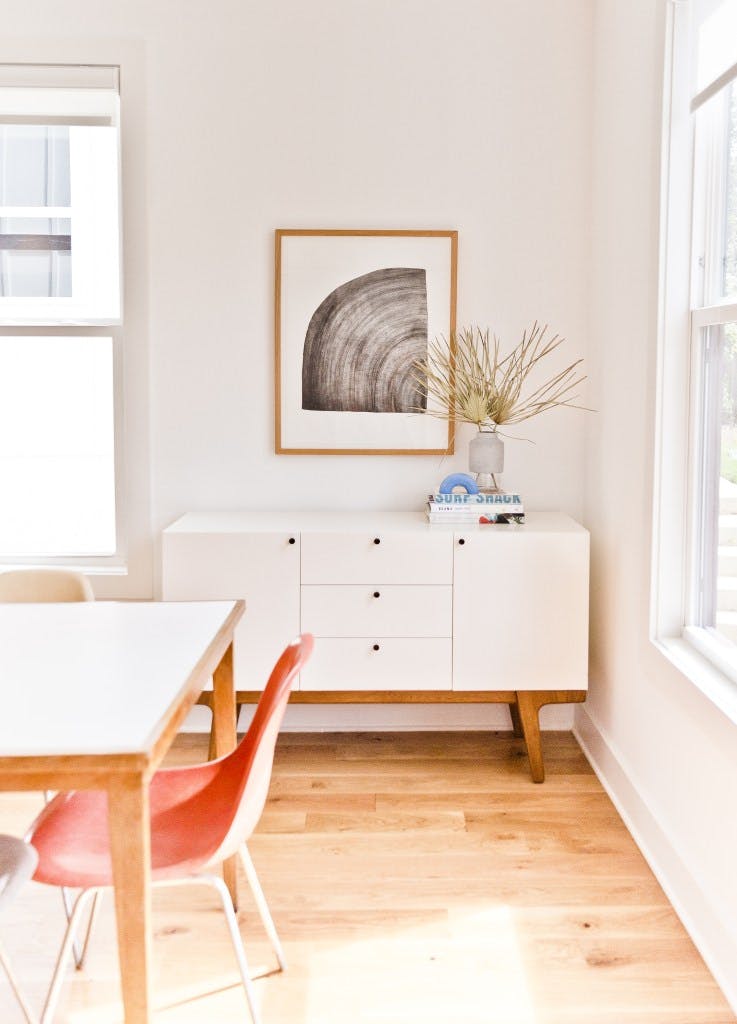 Brittni Says:
"After browsing Blinds.com and chatting with one of their design consultants about what we were looking for, we selected a window treatment and ordered some samples to determine the color we wanted. We went with the Light Filtering Roller Shade in Interlude Canvas and we're both so happy with these particular shade, we may end up ordering them for the entire house."
Blinds.com Light Filtering Roller Shades with a modern valance are perfect for Brittni's clean-lined style. The Interlude Canvas fabric has a crisp woven texture and gives windows a soft glow.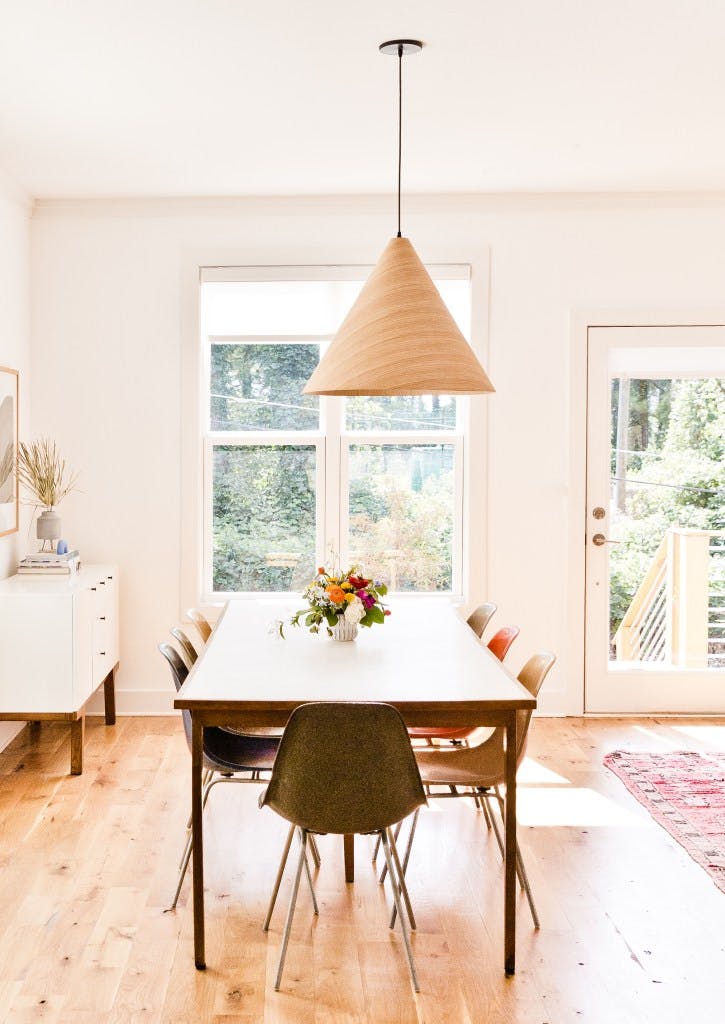 Brittni Says:
"The install was easy too, in case you're wondering. When the blinds arrived, all Jeff and I had to do was install a few of brackets before clicking the blinds into place. If you've ever done any small home improvements on your own, you can absolutely tackle the install of these roller shades."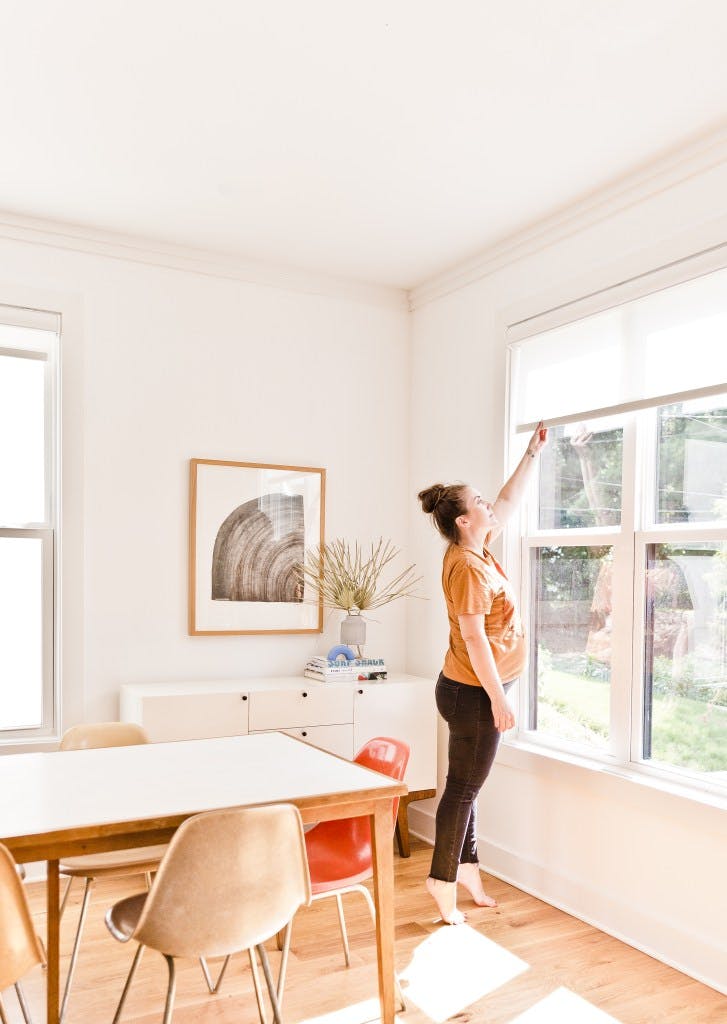 Brittni and Jeff opted for cordless lift, which gives the shades a clean look and allows the shade to practically disappear when raised. They're also expecting their first child, so choosing an option without hazardous cords hanging within reach of a little one was important. Learn more about window coverings and child safety.
Brittni Says:
"The roller shade is super minimal, which was important to us, and functionally very easy to pull up and down / readjust. AND because they're light filtering, even if we have the shade pulled all the way down during the day, it still lets plenty of light in."
Finishing Touches for a Modern Dining Room
Brittni finished off the space with a fresh coat of white paint, a sculptural light fixture she picked up in Amsterdam, and a vintage dining table from the home of an architect student of Frank Lloyd Wright. Read her post to hear the fascinating story of how they came across this antique gem.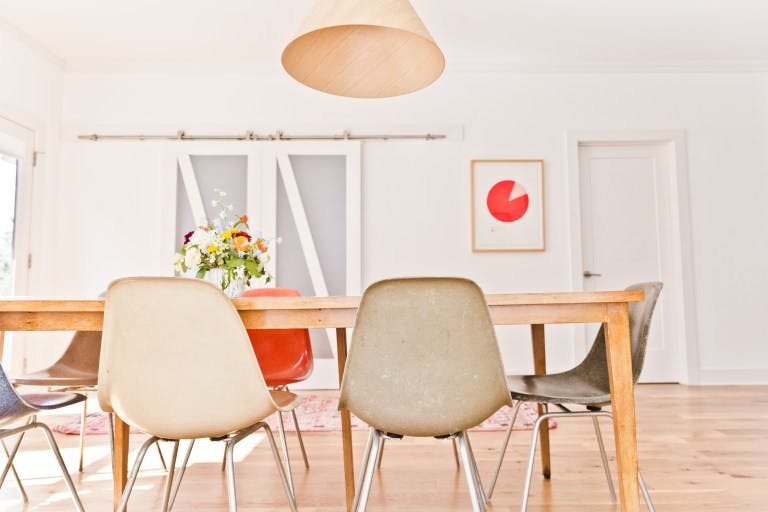 Vintage Hermann Miller chairs in mismatched colors add some color and fit perfectly with the mid-century table.
See more of this space!
For more details on Brittni's Dining Room Makeover (and a special reader discount!), check out her post: 12 Rooms in 12 Months: My Dining Room Makeover Reveal
Get the look:
Brittni's windows are covered with Blinds.com Light Filtering Roller Shades in Interlude Canvas with a cordless lift. These shades are also available in blackout if you'd like to darken your space.