Crafty, color-loving blogger Brittany Jepsen is not new to the creative space. Brittany, who's been carefully curating "colorfully clever DIY since 2008," is the founder and creative director of The House That Lars Built. You may have stumbled across her colorful Instagram feed, watched one of her DIY reels, or seen her recent collab with Casetify.
We've had the pleasure of partnering with Brittany since 2016 on her stunning nursery reveal and her glam, geometric-inspired office makeover.
Recently, her studio was desperately in need of window treatments (she was using butcher paper to manage), so we stepped in to help her find the best custom window covering for her specific needs.
Make a Statement with Roller Shades
Earlier this year, she was in the midst of renovating her studio at her home in Provo, Utah. Her studio is full of craft and sewing supplies, retro fabrics, and colorful backdrops. Jepsen opted for two separate roller shades: a Blackout Roller Shade in Splendor White as her back shade and a Premium Natural Light Filtering Roller Shade in Savannah Mirage as her front shade.
"We're still drooling over these fresh, new blinds that Blinds.com recently installed in our studio! We were so excited about the prospect of blackout liners - I mean, it's truly a nightmare trying to photograph without them handy," says Jepsen.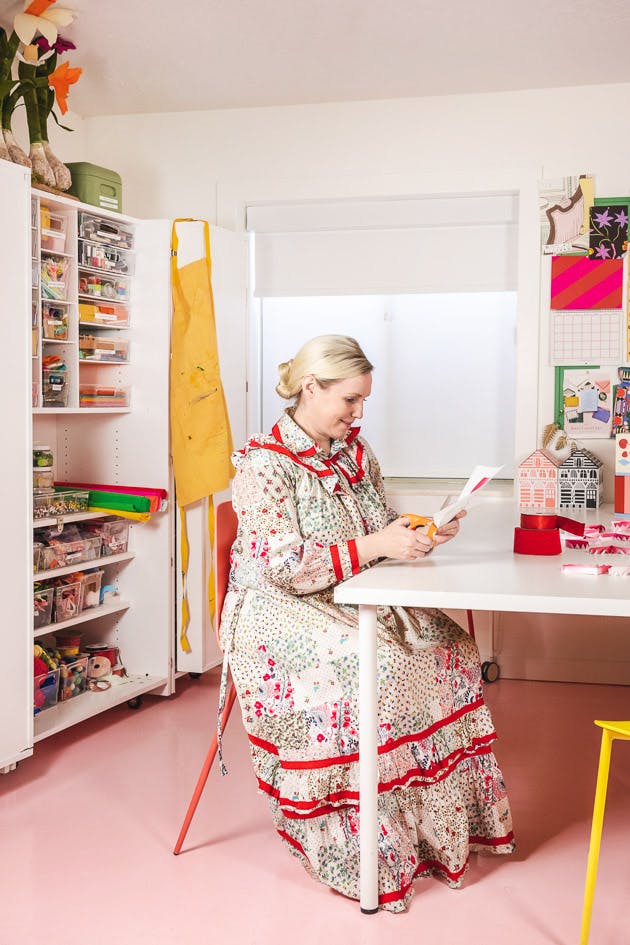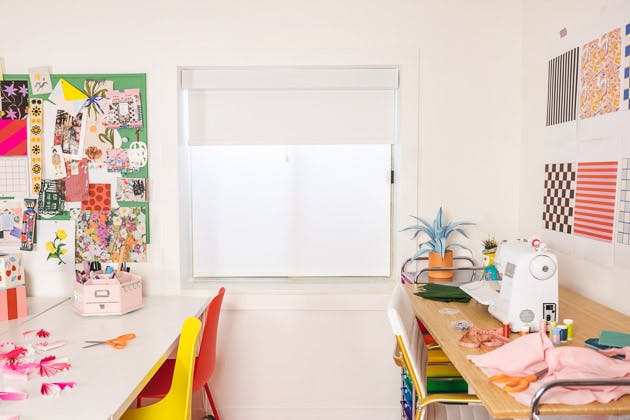 The roller shade's sleek, modern design fits perfectly in Brittany's freshly renovated studio, adding the right amount of structure to the space. With a number of custom options available, she got help from our expert design team to help her choose the best window treatment for her studio.
"We were also able to order samples ahead of time, just to make sure we liked them before ordering the actual blinds. And to say we were happy with the results would be an understatement!"
Get Your Glow On
Brittany is known for her colorful, eye-catching photography. Any good photographer knows, it's all about the lighting. Roller shades make a great addition to her studio space, because the soft, diffused light entering through the windows will enhance her natural light photography.
"They let in the perfect amount of light for our photography and projects, not to mention privacy."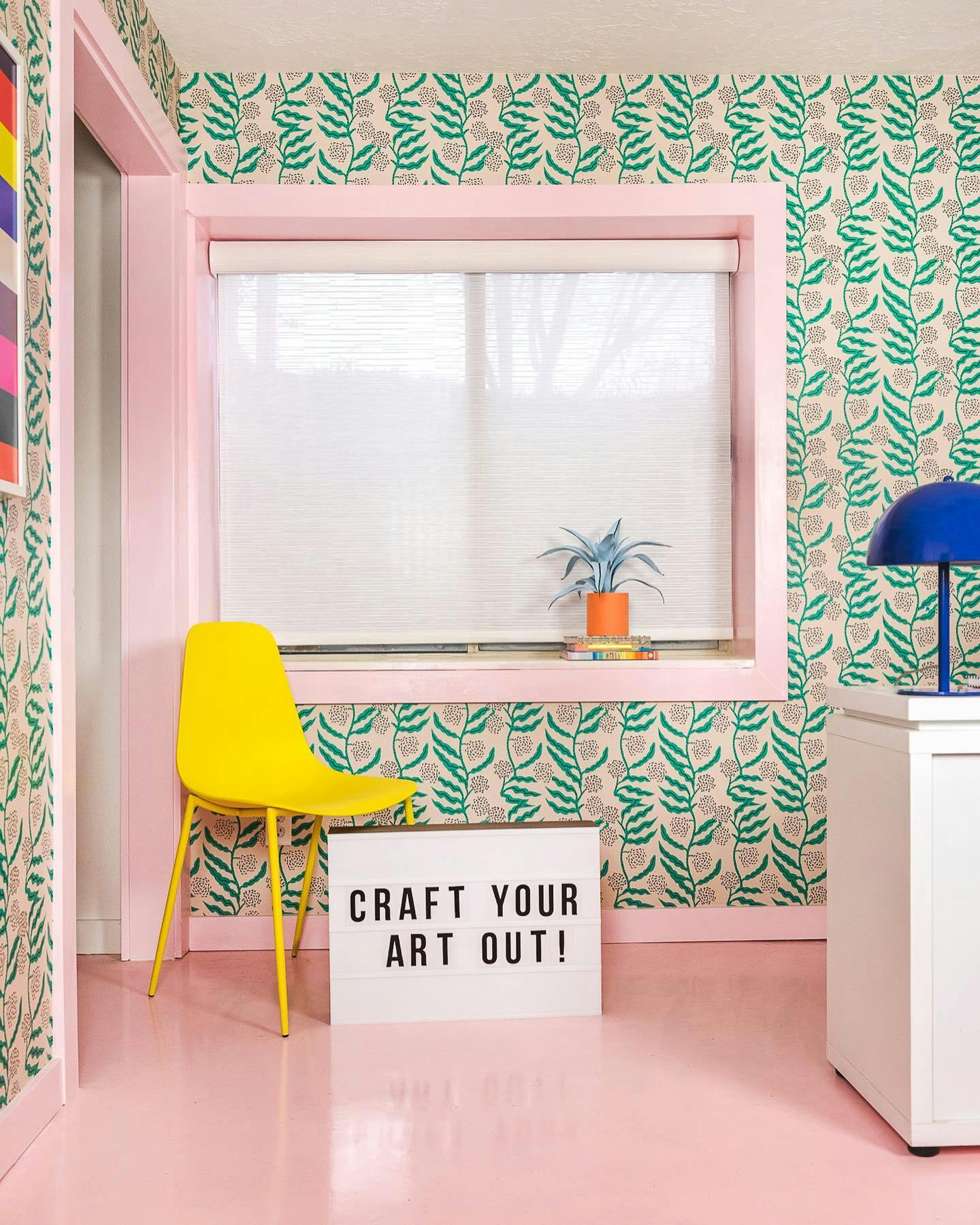 Brittany added bright, colorful chairs with contrasting white tables to add to the room's vibrant, cheerful design.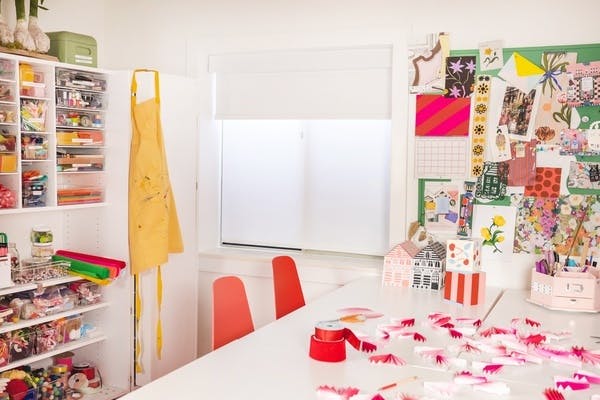 Mix Up Your Lighting
The Blackout and Light Filtering Roller Shades give Brittany versatility in her photography. She can easily switch from flat light, broad light, or semi-silhouette photography to fit her needs.
The light filtering roller shade will illuminate her studio with a gentle glow so her subjects aren't photographed in harsh light. On the other hand, if Brittany wants to completely block out natural light, she can easily do that by pulling down her blackout roller shade.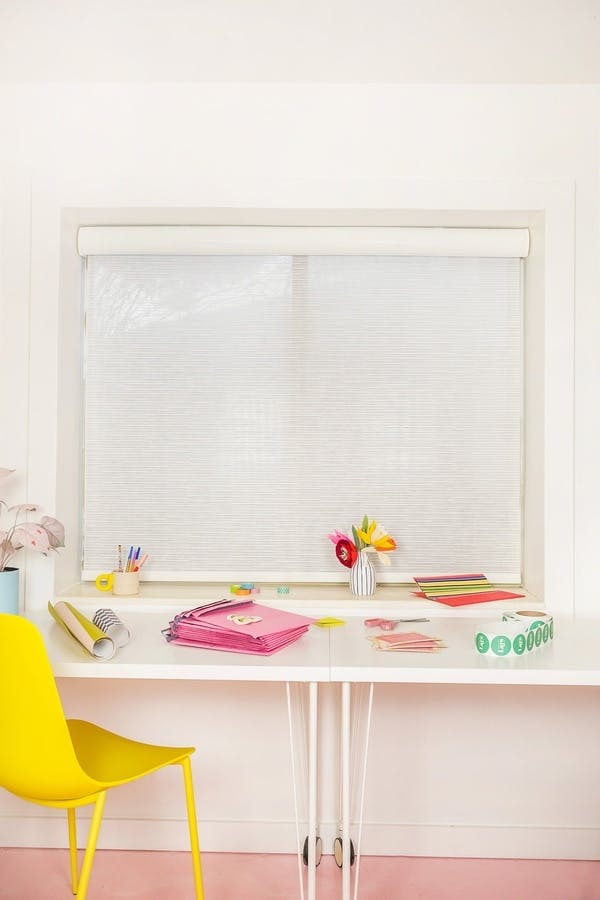 Shop This Look!
If you're looking to give your room a refresh and want to try custom window treatments, Brittany renovated her studio with our Blackout Roller Shades in Splendor White and Premium Natural Light Filtering Roller Shades in Savanna Mirage. If you have specific lighting needs, our design consultants can help you find the best custom window treatment for your space at 800-505-1905.
Want More Design Inspiration?
Upscale Office Makeover with Modern Roller Shades from The House that Lars Built
Botanical Nursery with Embellished Draperies from the House that Lars Built
The House that Lars Built Studio Gets Light (and Shade!) with 2-in-1 Motorized Shades