With fall weather comes warm, fuzzy sweaters; cozy throw blankets on every chair; and the willpower to keep the heat turned off until you just can't stand the chill. Staying comfortable in your home as the temperature dips can be an exercise in stamina, but you can take steps to maximize comfort without touching the thermostat. Choosing the right window treatments can help make your home more comfortable and efficient.
The Best Insulating Window Coverings
The right window coverings not only make your room look more comfortable, but they can also affect the temperature in your house, since windows are a major cause of heat loss. Here are the three best ways to dress your windows so you can stay warm and green at the same time this fall.
1. Cellular Shades
Cellular shades are made up of "cells" that resemble a honeycomb. These cells trap the air to insulate your home and keep it comfortable in every season. They vary in size and are available in single, double or triple cell construction.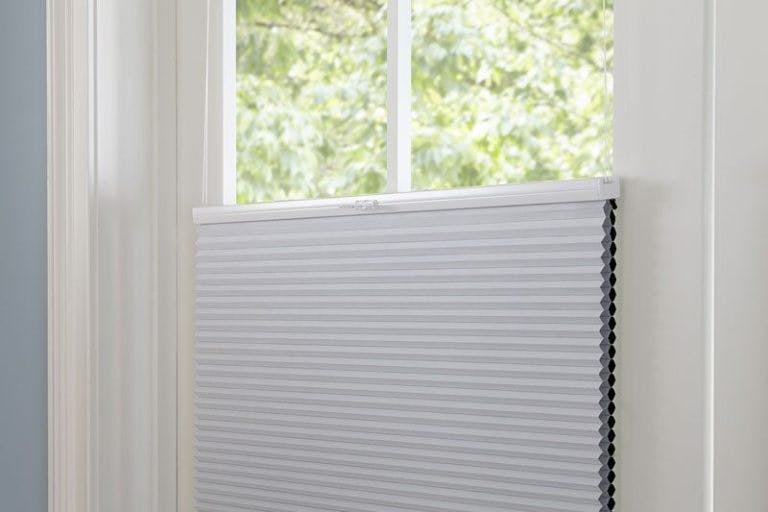 Blackout Cellular Shades in Glacier with Cordless Top Down Bottom Up Lift.
Installing them inside your window frame closest to the window glass will minimize heat loss, so make sure to measure carefully and avoid gaps on the sides of the shade. Cellular shades come in a wide variety of colors and fabric choices, so you won't sacrifice style for comfort.
2. Drapery Panels
There is no better way to add the feeling of warmth, texture and coziness to a room than with fabric draperies. There are several ways to make them both beautiful and energy efficient as well.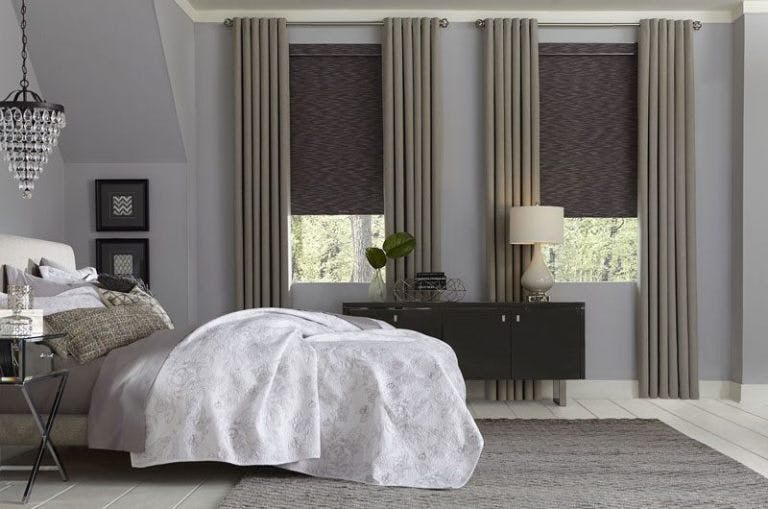 Premium Natural Blackout Roller Shades in Cascade Graphite with Easy Grommet Draperies in Rio Stone.
Here are tips for maximizing the warming potential of your curtains:
Choose floor-length panels.
Extend draperies beyond the width of the window if possible. Wide panels help prevent heat loss at the sides, and you can take advantage of a full view when they're open.
A tight, woven fabric is best for efficiency when combined with a white or light-colored lining. Add a thermal interlining for maximum benefit in cold climates.
3. Shutters
Shutters are often overlooked, but they're a great window covering option. They fit tightly in the window frame and when the louvers are closed, they create a pocket of air that insulates your windows.
Premium Wood Shutters in Bright White.
Wood louvers allow you to control light and privacy. With a divider rail, you can open and close the top and bottom louvers separately. Shutters are energy efficient and add a traditional elegance and value to any home.
Bonus: Layer Up!
Finally, to have the greatest impact on saving energy, think layers. Hang drapery panels with cellular shades to have greater control over light and privacy, as well as to create an additional barrier that will help to reduce your heating bill. Top shades with cornices bring a polished look, while helping to prevent heat from escaping at the top.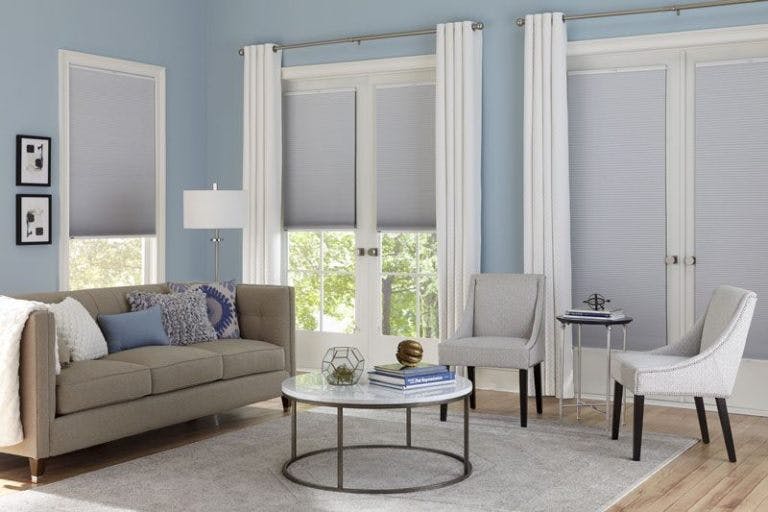 Blackout Cellular Shades in Glacier with Easy Grommet Draperies in Riga Ocean Foam.
Before you touch that thermostat this fall, consider investing in energy efficient window treatments. It's like a two-for-one deal: Not only will you save money on your heating and cooling bills, but your home will get a brand-new look.
Bundle up your windows!
Want help ordering energy efficient window coverings for your home? Blinds.com designers are ready to help at 800-505-1905.