With back-to-school around the corner, now is a great time to start getting children in the habit of waking up early. Chelsea Foy from Lovely Indeed decked out the cutest window seat in her main bedroom, and now she's back with a window makeover in the most adorable kids' bedrooms we've ever seen!
Motorized window treatments are an effective way of training a child to wake up in the morning. They can be programmed to raise and lower at certain times, letting your child know when it is time to go to bed and time to wake up. Motorized blinds can also help give children a sense of independence because they can control the shade themselves with a remote, smartphone, or voice control.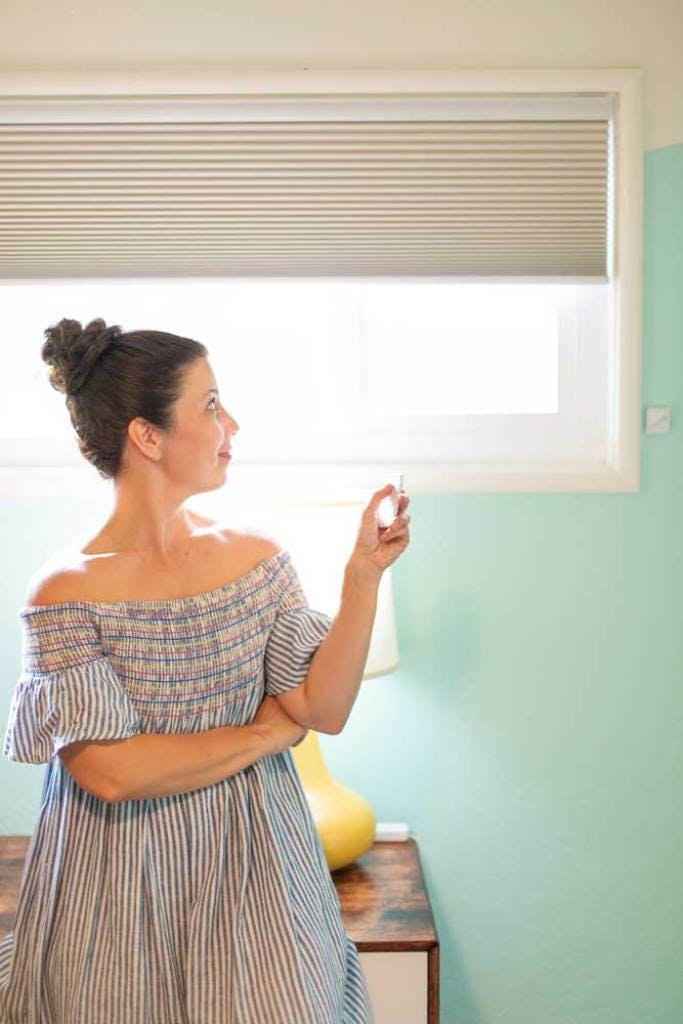 Kids' Bedroom Window Shades Children Can Operate
Chelsea's two kiddos have bedrooms that are cute as can be, but crummy roller shades in the windows stuck out like a sore thumb. She wanted a sleeker look and to upgrade to something her kids could control on their own without any hazardous cords.
Chelsea Says:
"When the kids were babies, we outfitted both of their rooms with these plain, ugly roller shades. They functioned sort of okay, but were flimsy and the material was really easily bent and stained. Not exactly ideal for a kids' room. Not to mention the fact that it would be years until they could raise or lower them on their own, and even then it would be kind of dangerous."
Did You Know?
Window covering cords can be a strangulation hazard to small kids and pets. If you have little ones at home, we recommend upgrading to safer options without accessible cords. Learn more about recommended products and other safety tips.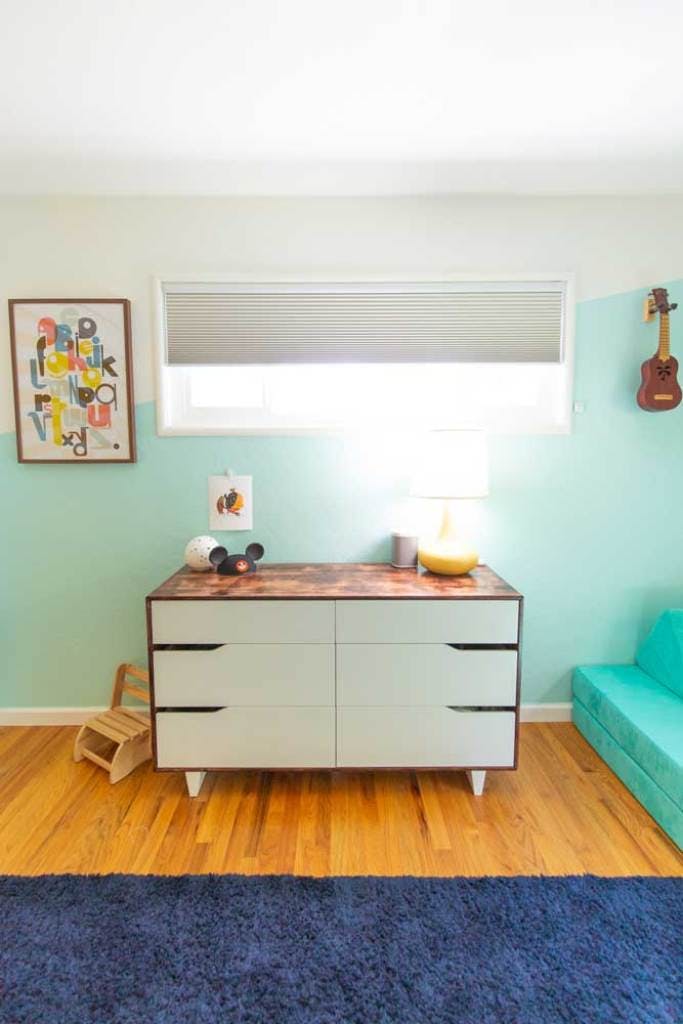 Chelsea worked with her Blinds.com designer to find the best cord-free window covering and settled on Cellular Shades with a motorized lift.
Chelsea Says:
"We looked through [Blinds.com's] offerings and realized that there are so many great child-safe options! I was really excited to find out that there are actually cordless, motorized options (hello, 21st century!) so that all the kids would have to do is press a button in the morning and their blackout shades would lift easily. No worrying about them standing on something too tall while trying to reach the blinds, or getting tangled in dangerous cords. So awesome."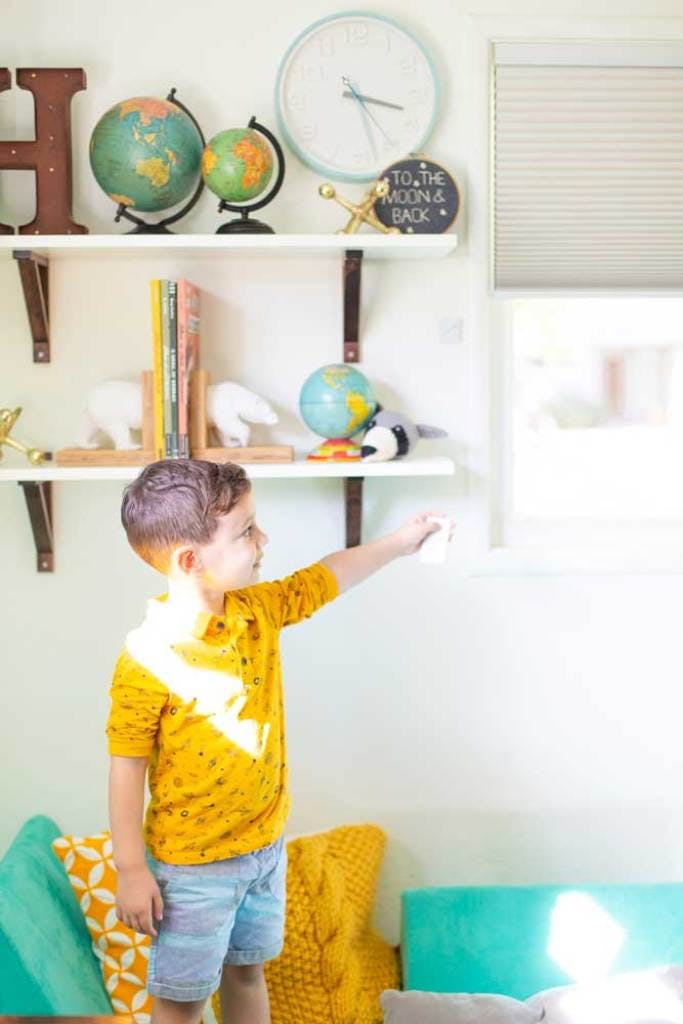 In keeping with her home's clean white palette with pops of bright accents, Chelsea went with a neutral shade fabric to blend in with the walls.
Chelsea Says:
"After reviewing a few choices, we settled on the Blinds.com Premium Blackout Cellular Shades in Crisp Cotton. The Crisp Cotton color was a near-perfect match to our wall color, which was my hope. You know we love a white palette in our house! "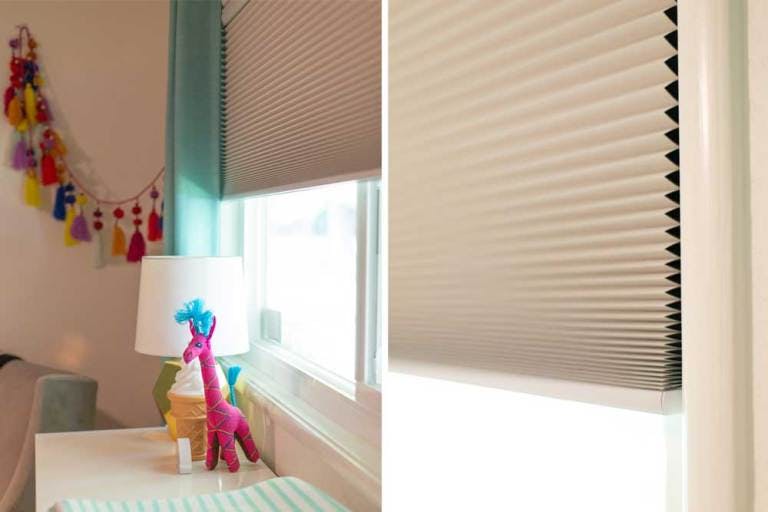 The convenient motorized lift is not only a safer choice, but it's fun for kids (and adults!) to use.
Chelsea Says:
"Each kid has a remote in their room mounted on the wall that they can take off, so that they can easily and safely raise and lower their own shades when they need to. They are both super pumped about that part. There are also a couple of extra buttons that you can hang on the wall elsewhere, so you can control them from multiple points in the room."
Installation is a snap as well. To put these shades in, all you do is insert a few screws, snap in the shade, and the remote comes pre-programmed, so you're ready to roll!
Chelsea Says:
"As Ryan was installing them, he was nerding out on the fact that the remotes for the shades came pre-programmed. So there's no programming or pairing involved, you just plug them in and they magically work! Sometimes installing motorized pieces like these can get tricky or super technical, but the installation was a total snap."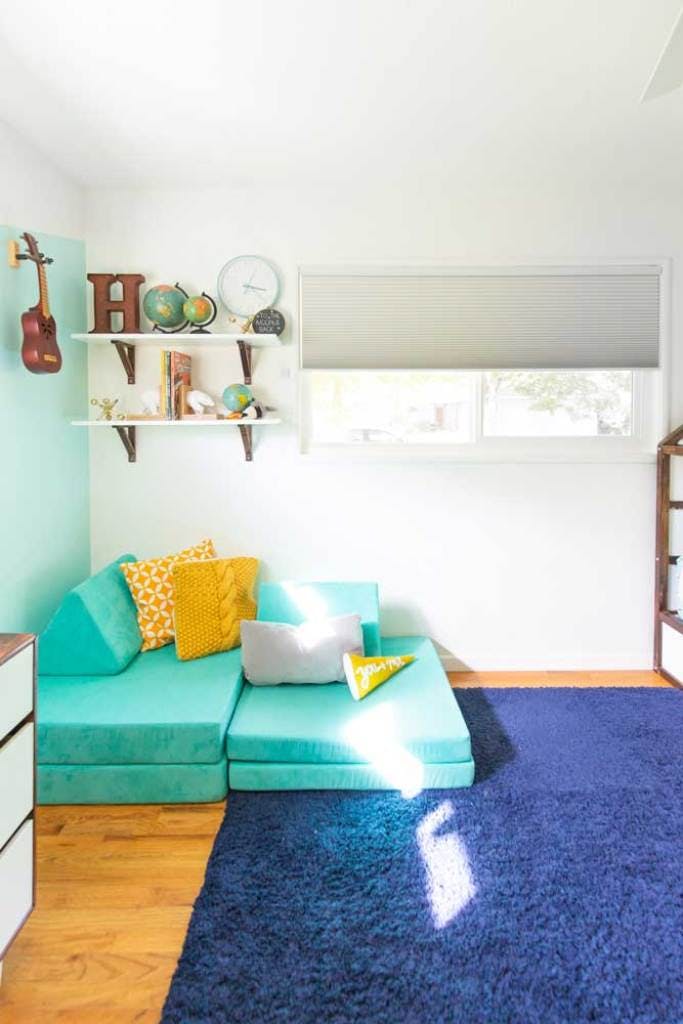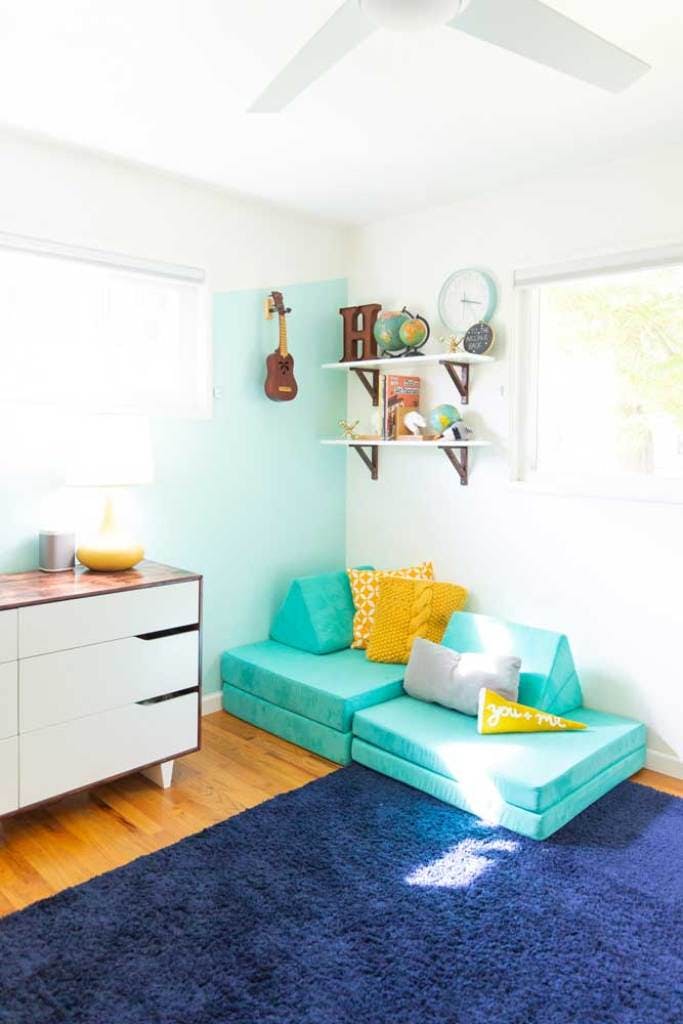 Cellular shades are not only versatile in their look and operation. They also are great at blocking light. Chelsea opted for a blackout fabric which helps keep the kids in bed longer in the morning and makes mid-day naps easier.
Chelsea Says:
"I really love what they add to the kids' rooms! And the blackout function, by the way, is vastly better than those old roller shades we had. The rooms stay nice and dark, even in mid-day. "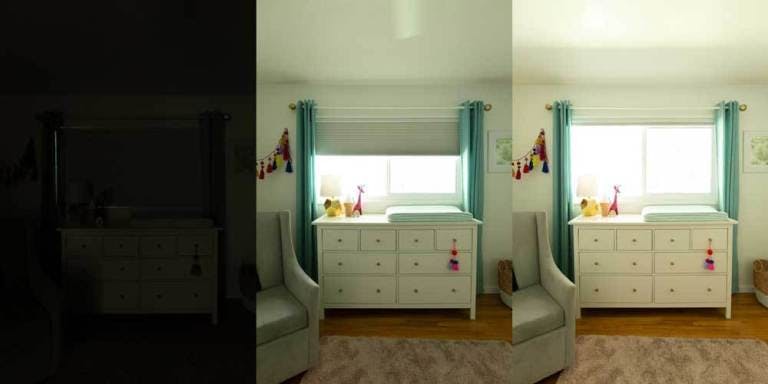 Get the Look!
Chelsea selected Blinds.com Premium Blackout Cellular Shades in Crisp Cotton with a Motorized Lift. If you need help customizing your order, Blinds.com designers are available to guide you through the process for free. Reach them at 800-505-1905.
Want More?
To see more of these adorable bedrooms and get Chelsea's take on her ordering experience, read her post: Safer Window Coverings for the Kids' Rooms
If you have small kids at home and want to upgrade to safer window coverings, learn more about your options in our Guide to Safer for Kids Window Treatments.