Classic 2" Faux Wood Blind
30% OFF WITH CODE "HAPPYHOME" ENDS 8/19
Enjoy the beautiful look of wood blinds with Classic 2" Faux Wood Blinds.
Read More.
Estimated Ship Date:

09/16/2020
Want Professional Measuring & Installation?
Find a Pro
Select a color to see the preview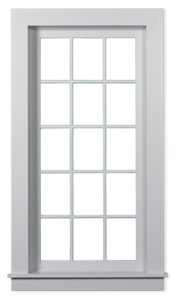 Roll over image to zoom in
Classic 2" Faux Wood Blind Colors

White F630

Embossed White FE299

Antique White F058

Embossed Antique White FE304

Alabaster F078

Embossed Alabaster FE953

1 1/2" Cloth Tape Colors

White 2005

Duck White 2136

White Smoke 2617

Beige 2011

Medallion Flax F541

Taupe 2659

Dew Alabaster N112

Variegated Taupe Q659

Toffee 2296

Moss 2500

Medallion Taupe F659

Medallion Toffee F296

Navy 2369

Cocoa 2297

Chocolate 2353

Black 2033
Description
Enjoy the beautiful look of wood blinds Classic 2" Faux Wood Blinds. These chic blinds provide all the benefits of genuine wood in addition to the added durability of polymer construction. They are easy to clean and resist moisture, warping, chipping and peeling—making them ideal for high-humidity areas such as bathrooms, kitchens and garages. A 3" decorative valance is included to complete the look of this stylish blind. Lighter colors resist high temperatures better, so we recommend you do not place dark-stained blinds in windows that can reach up to 115 degrees Fahrenheit or are in constant direct sunlight from the south or west.
Installation Time: 10-15 minutes
We Recommend:
Upgrade your blind with routeless slats which will eliminate route holes providing more privacy and light blockage.
Add style to your blinds and upgrade with a variety of decorative cloth tapes.
Considerations:
Heavier than wood blinds, this product is not recommended for large windows if you plan to raise and lower these blinds frequently.
When raised fully, faux wood blinds tend to have a thicker stack, blocking more of your view.
Warranty:
With the assurance of the Blinds.com Warranty, you can trust that this product will last and provide added value and beauty to your home.
Child Safety: This product has exposed cords and is not recommended for homes where children or pets may be present.
Surefit™ Guarantee
With SureFit™, a Blinds.com exclusive, we make sure you have complete peace measuring for any product we offer. If you made a mistake measuring your blind, we'll remake it at no cost to you. * You don't even pay for the return shipping of your old blind!
*You only pay if there's a price difference between your old and new blind, or if the new blind requires a shipping fee (generally, this applies when it's over 94" wide).
Important Disclaimer:
Limit 1 remake per item; 4 item remakes per household per lifetime (unless the error is ours, in which case, we'll make it right!).
Same-product exchanges only, within 30 calendar days of receipt of package.
Changes are restricted to size and mount only.
Refunds are not offered under this guarantee.
Not Covered Under This Guarantee:
Commercial orders: any order containing 25 or more of the same product, of tax exempt status, or containing any Blinds.com Commercial brand product.
Any product ordered outside our recommended sizes or specifications, which can be found on the product page.
Standard Blind Specifications
Minimum Width: 7"
Maximum Width (As a Single Headrail): 96"
Maximum Width (As 2 on 1 Headrail): 108"
Minimum Height: 12"
Maximum Height: 120"
Approximate Inside Mount Deduction: 1/2"
Mounting Requirements
Minimum Inside Mount Depth: 3/4"
Minimum Inside Mount Depth (fully recessed): 4 1/4"
Minimum Outside Mounting Surface: 2 1/4"