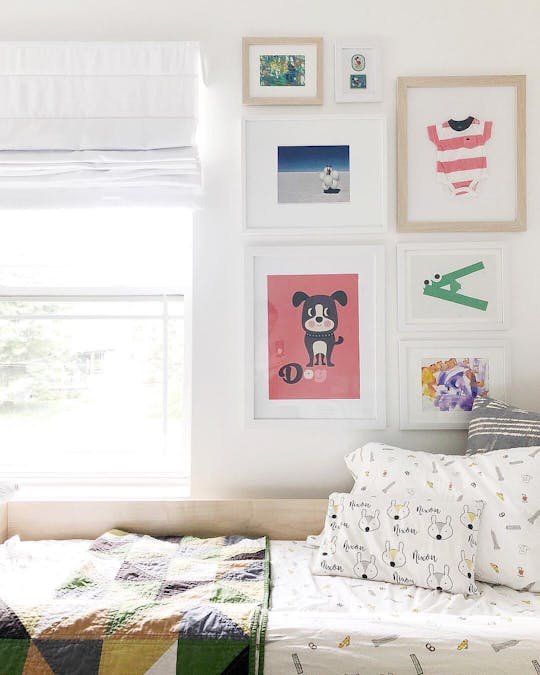 Designing and decorating your child's bedroom is a fun and exciting project. And depending on your child's age, involving them in the process is a terrific bonding experience and allows their unique personality and taste to shine through. Explore how to choose the best kids' window treatments for your child — from style and color to safety and convenience features.
What to Consider When Choosing Curtains for a Kid's Room
Safety is the top priority when designing and furnishing a kid's room. That includes the type of children's bedroom window treatments you choose. But there are other considerations you need to keep in mind. Light control is essential to help your child get the rest they need. Durability and ease of cleaning are also crucial because, as any parent will tell you, kids can be rough and messy. And keep in mind that kids outgrow things quickly, so selecting kids' blinds, curtains, or window shades that are more timeless and flexible is practical and cost-effective.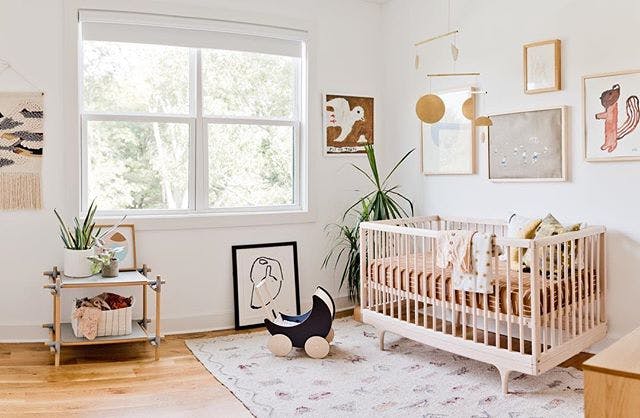 Safety First
It's essential to look for child-safe window coverings when choosing blinds, shutters, or curtains for children's rooms. Any young boys' or girls' bedroom curtains with a cord pose a serious strangulation hazard. And if the cord has a small bead at the end, it also creates a choking hazard for curious youngsters. Look for child-friendly window treatments with a cordless closure to minimize the risk. Kid's window shades featuring a motorized opening mechanism are a safe choice since it allows your child to adjust the shades themselves with the push of a button.
Light Control & Privacy
You want your child to develop a consistent sleep pattern, and they'll sleep better in a darkened room. That's why light control is critical when choosing kids' bedroom curtains or shades. Window treatments featuring blackout material help young children sleep soundly, even during mid-afternoon naps. Blinds.com has a great selection of children's blackout blinds and shades that are completely opaque. That makes them ideal for blocking out sunlight and offering privacy for bedrooms on the ground floor or with a view of a shared space.
Cleaning & Durability
Kids can be messy and hard on their belongings, so durability and ease of cleaning are important factors to consider when buying children's room curtains. Durable, long-lasting window treatments such as faux wood shutters or vinyl roller shades make excellent choices, as they can be easily wiped clean with soap and water.
Color & Style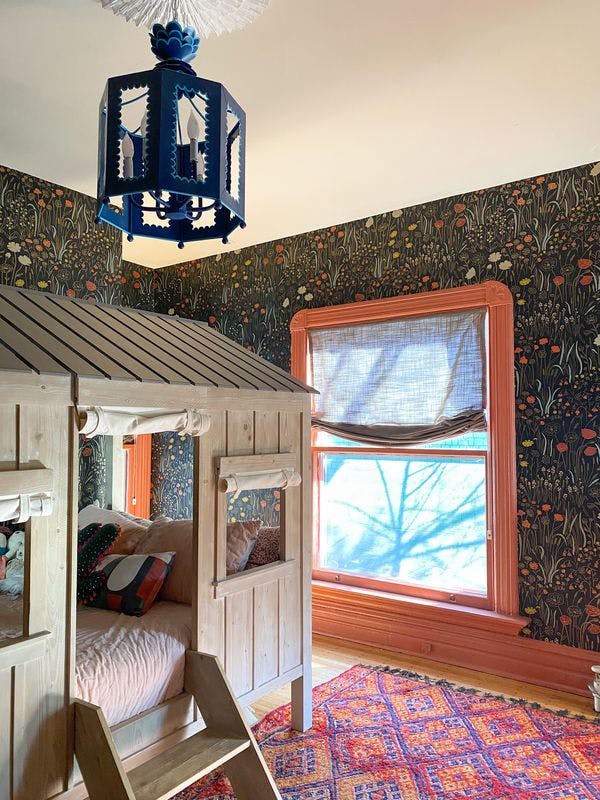 Your child's room should reflect their personality. When choosing kids' window treatments, involve them in the process by reviewing colors and patterns with them and asking what they like and dislike. Giving them too many choices can be overwhelming, so narrow the options first. Take into consideration that your child's tastes change as they grow. Look for timeless options that can grow with your child, so you don't have to change their bedroom window treatments as often as you buy them new clothes. Start by choosing a practical style that's safe and durable. Then give them a range of colors or patterns to choose from that they won't grow out of quickly. Your child's favorite color of the moment might be bright pink, but will that be the case in a year or two?
Best Types of Kids' Window Treatments
Taking safety, durability, convenience, and longevity into consideration, you need to decide which style of curtains, blinds, or shades works best for your child. Blinds.com offers a broad spectrum of options for children of all ages.
Cordless or Motorized Cellular Shades
Cellular shades are one of the best choices for kids' window treatments. They're available in cordless and motorized versions, and blackout options to totally darken a room at bedtime or during daytime naps. You'll find cellular shades in a terrific selection of colors and patterns, so it's easy to get the right look to fit your child's unique personality.
Cordless or Motorized Roller Shades
Vinyl roller shades are classic window treatments for any room. However, they make excellent choices for kids' window shades because the material is long-lasting and cleans easily with soap and water. Choosing a cordless or motorized lift system ensures a child-safe window treatment. Like cellular shades, roller shades can achieve a total blackout effect for easy napping and increased privacy.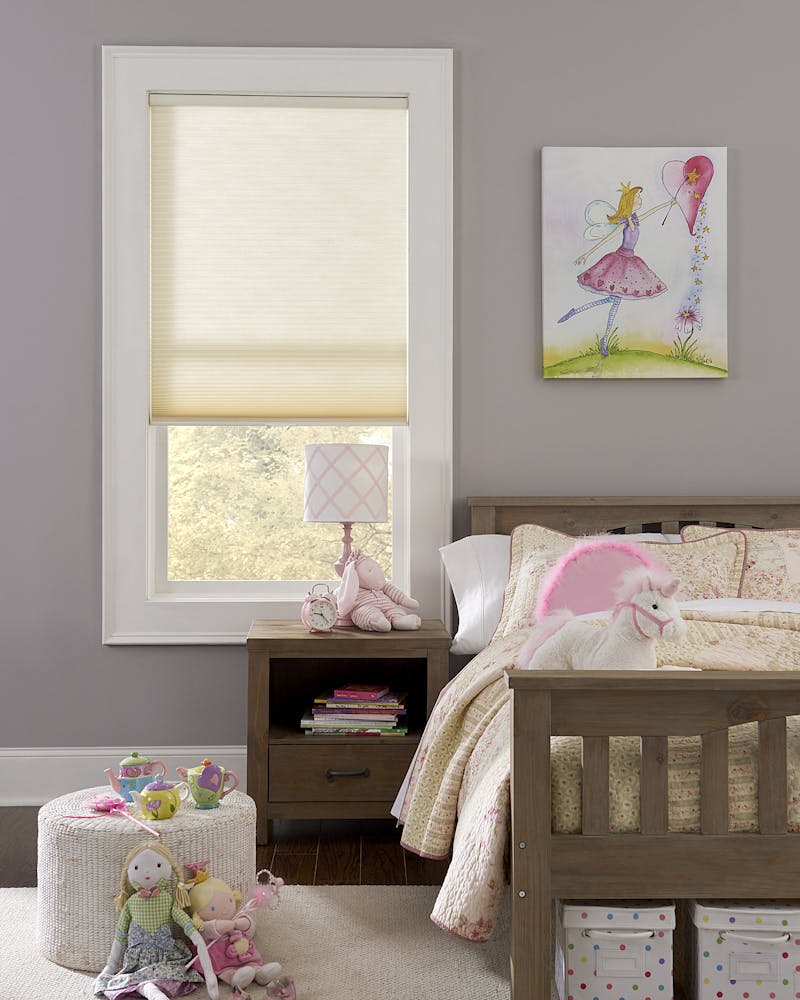 Curtains & Drapes
Children's bedroom curtains allow for greater customization than other window treatments. You can choose the color, fabric, and hardware to suit your child. They're also safe and easy for kids to open and close on their own — without any cords or climbing needed. Machine washable fabrics and blackout options make curtains for toddlers' rooms especially popular.
Shutters
Shutters, especially those made of faux wood, are some of the safest, most durable, easiest-to-clean window treatments available. They come in various colors and finishes, so they fit any décor. You can repaint wood shutters to grow with your child as their tastes change. Window shutters allow your child to safely open and close them and adjust the amount of light and privacy. Shutters alone won't provide a blackout effect, so if you want both, consider pairing shutters with blackout curtains.
Related Articles:
FAQ
We recommend cordless cellular shades, cordless roller shades, shutter and draperies.

We recommend cordless cellular shades due to their tight stacking for good view, customizability, insulation feature and its durability making it low maintenance. Being cordless means there is no choking or strangulation hazards from conventional cordless, a must have feature for any kids room.

We recommend shutters as they have no cords and are operated by hand, there is no choking hazard and requires strength/height that young children do not possess to operate.

We recommend draperies as they rest on the sides of window so there is no tool to move them, eliminating the choking or strangulation hazards. Further, since the material is malleable, young children cannot hurt themselves.

We recommend roller shades due custom opacity for sunlight, full roll up, easy customizability and its durability in conjunction with its ease of cleaning. Being cordless means there is no choking or strangulation hazards from conventional cordless, a must have feature for any kids room.