Whether your home experiences chilly northern winters or sizzling southern summers, energy efficiency will be on your mind at some point during the year. According to energy.gov, windows are responsible for 30% of a home's heating and cooling energy loss. They're also one of the easiest, most accessible places to focus your energy conservation efforts.
But how can you insulate your windows without sacrificing style or functionality? By installing energy efficient window coverings like shutters!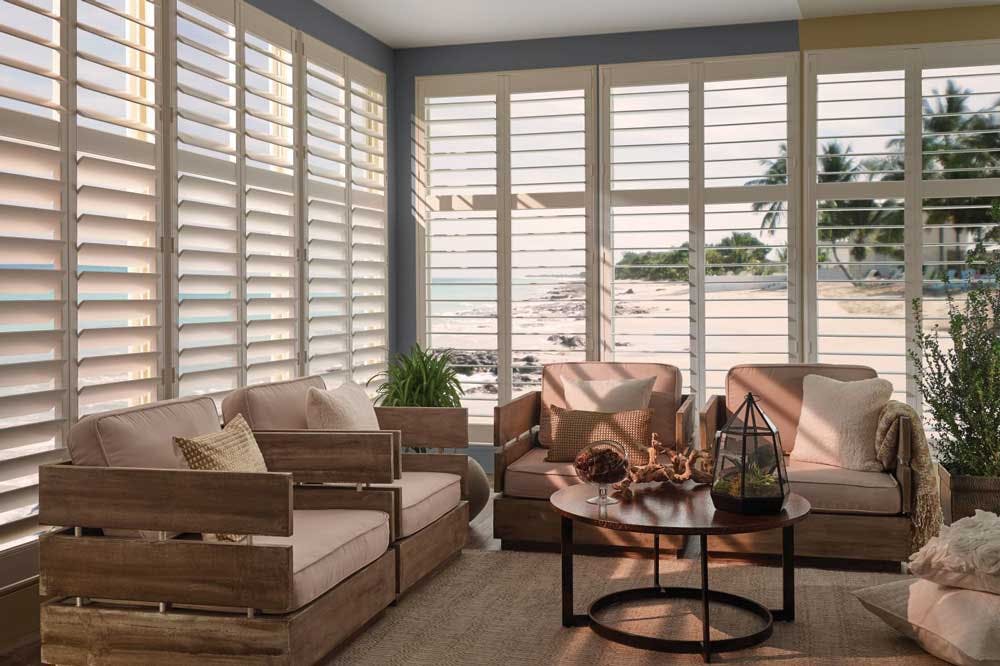 Pictured: Levolor Traditional Shutters in White.
How Do Shutters Insulate Windows?
Shutters are excellent insulators because they enclose the window frame and create a "sealed" effect. Their construction resists heat transfer better than traditional blinds. Specific R-Values will vary depending on your window's construction and shutter configuration.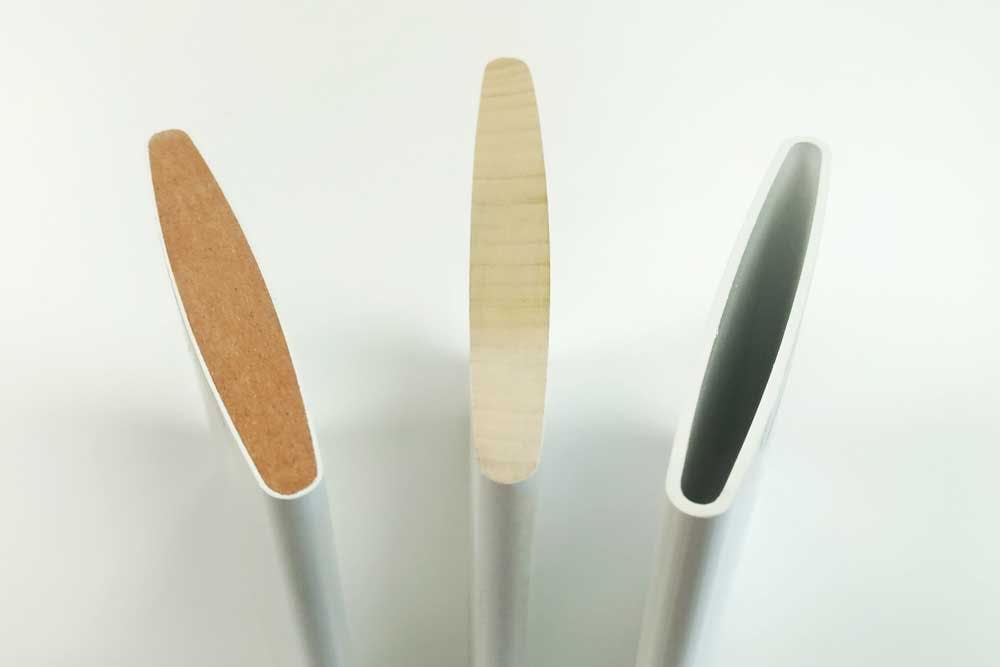 Pictured: Cross section of Composite Shutter, Premium Wood Shutter and Economy Faux Wood Shutter louvers.
What Does R-Value Mean?
R-Value measures how much a material slows heat movement from one side to the other. The higher the R-Value number the more insulating the material is, and the more you could save on your energy bills. Horizontal blinds will have a typical R-Value between 1 and 2. Shutters typically have an R-value between 3 and 6.
Which Shutters are the Most Energy Efficient?
Faux Wood Shutters
Faux Wood Shutters are the most energy efficient shutter option. They are made of PVC or vinyl with a hollow core, which creates an air pocket that resists heat transfer. The insulating effect is like covering your window openings with plastic wrap to create a "bubble" that blocks outside temperatures. But luckily, shutters are much more attractive than plastic wrap!
Although they insulate well, hollow faux wood shutter frames aren't quite as rigid as wood frames. This will limit how large a single shutter frame can be made.
Choose faux wood shutters if you need the best in insulation for small to medium sized windows.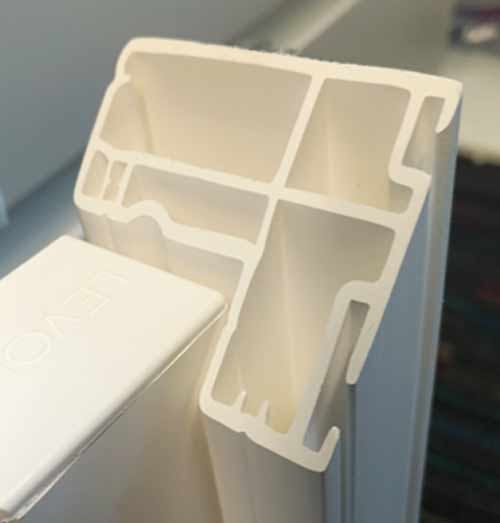 Pictured: A cross section showing a faux wood shutter frame's interior construction is hollow.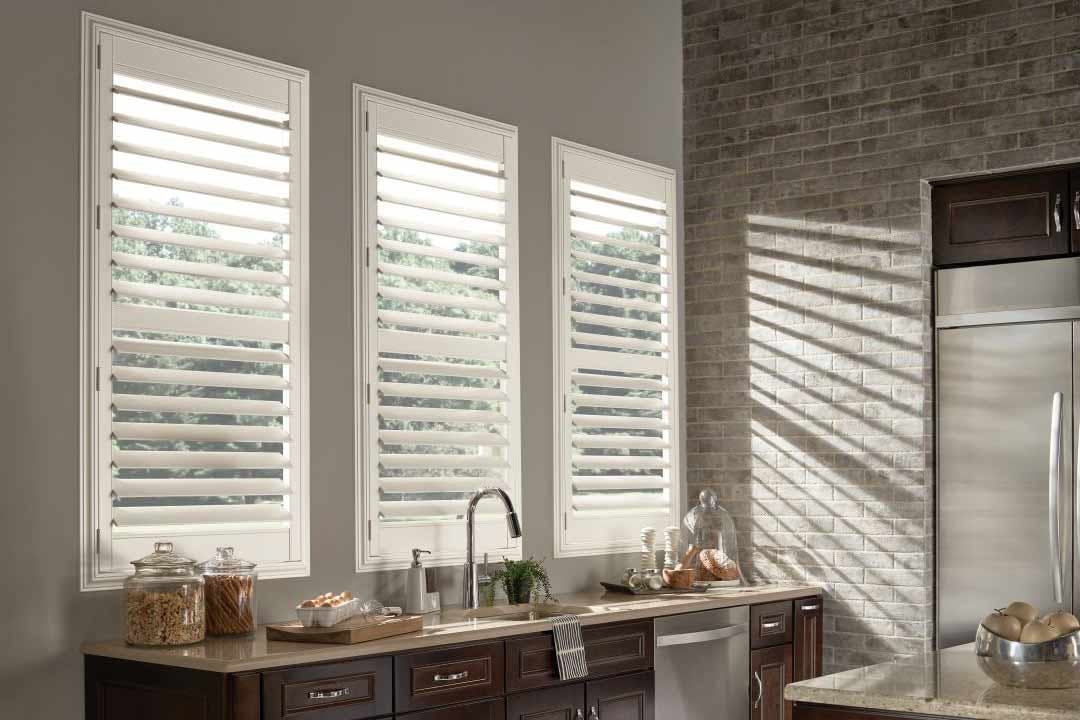 Pictured: Levolor Traditional Shutters in White.
Woodcore Faux Wood Shutters
Woodcore Faux Wood Shutters are also made from PVC or vinyl with hollow louvers but have a wooden core within the frame that improves stability. This MDF core allows you to order faux wood shutters at wider widths, and while it reduces insulation slightly, you'll still get some added efficiency with hollow louvers.
Choose Woodcore Faux Wood Shutters if you need to insulate large windows but still want a low-maintenance shutter.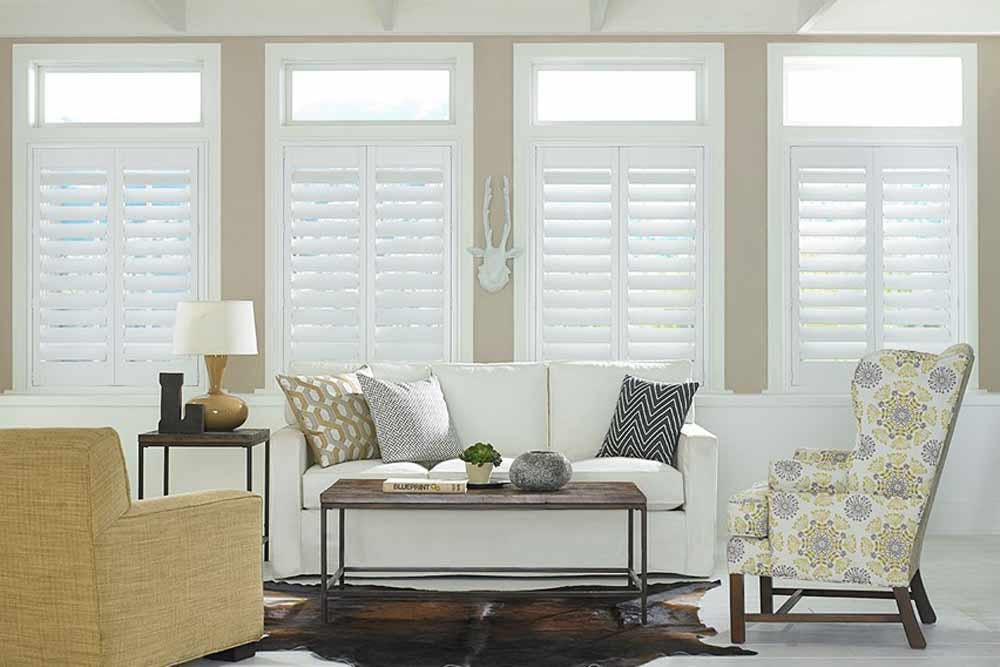 Pictured: Blinds.com Woodcore Shutter in White.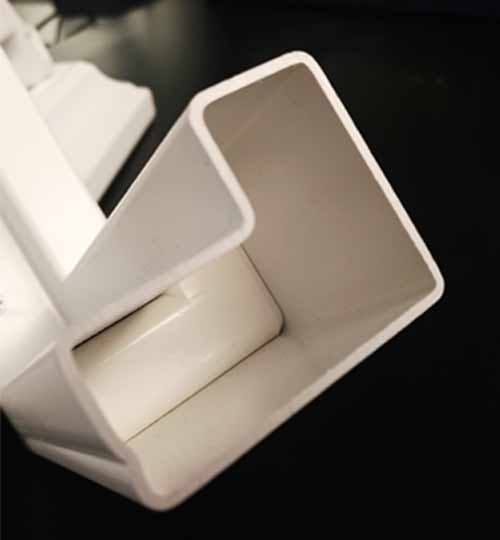 Pictured: A cross-section showing the rigid core inside a woodcore shutter frame.
Composite Shutters
Composite Shutters are manufactured with a solid MDF core wrapped in a hard polypropylene coating for both the louver and frame. The rigid construction offers wider sizing options and more panel layout configurations (like bi-folding panels, cafe heights, etc). But what you gain in construction strength leads to a slight dip in insulation. Since the louvers and frame are not hollow, you won't get quite as much temperature control, but they're a great improvement from bare windows.
Choose Composite Shutters if you need a hard to find configuration at an affordable price but can sacrifice some insulation.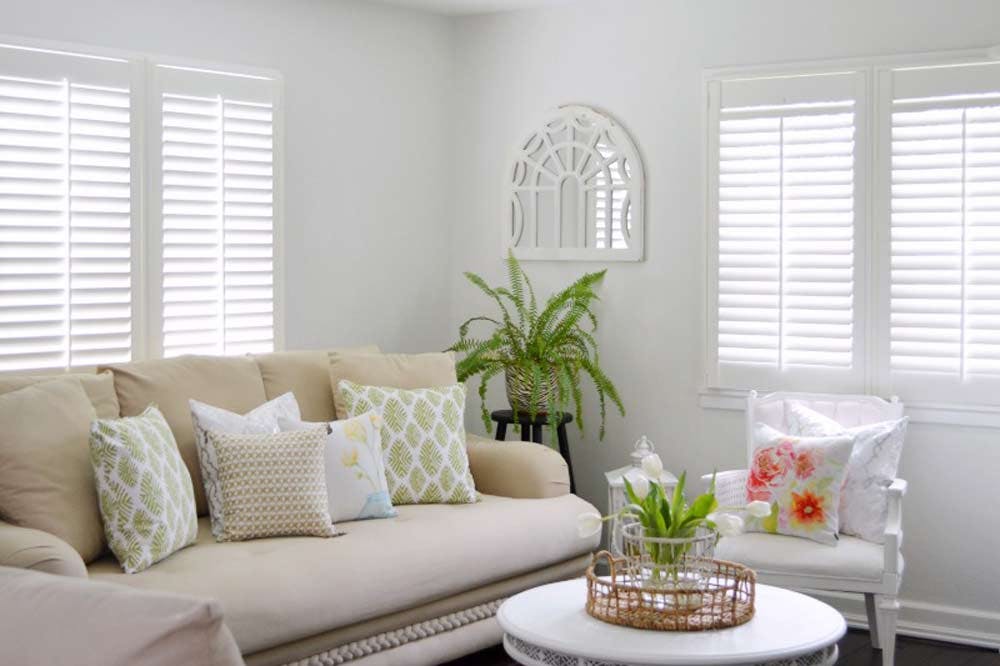 Pictured: The Blinds.com Composite Shutters in Snow.
Wood Shutters
Wood Shutters are solid like composite shutters and made with natural wood from well managed forests. They are less insulating than faux wood shutters but do still insulate naturally due to tiny air pockets within wood's cellular structure. They're a good choice if you have large windows as wood frames are much stronger and can span wider widths as single panels. Wood also stands the test of time and is less likely to become brittle under sun exposure.
A wider selection of colors and stains make it easier to coordinate wood shutters with wood floors, trims and furniture. Faux Wood Colors are limited and do not offer stains.
Choose wood shutters if you need to insulate large windows and are looking for the ultimate in durability and style.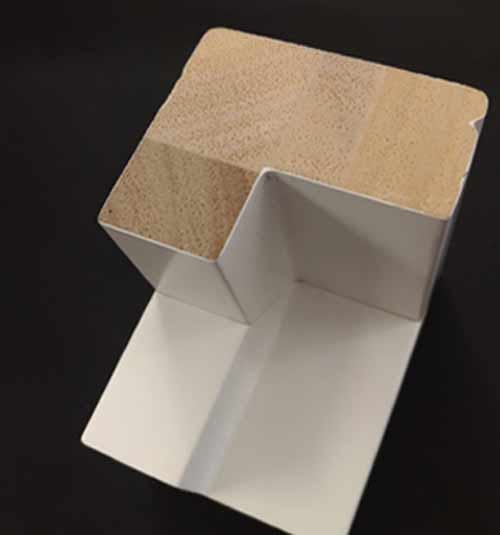 Pictured: A cross-section of a wood shutter's solid frame construction.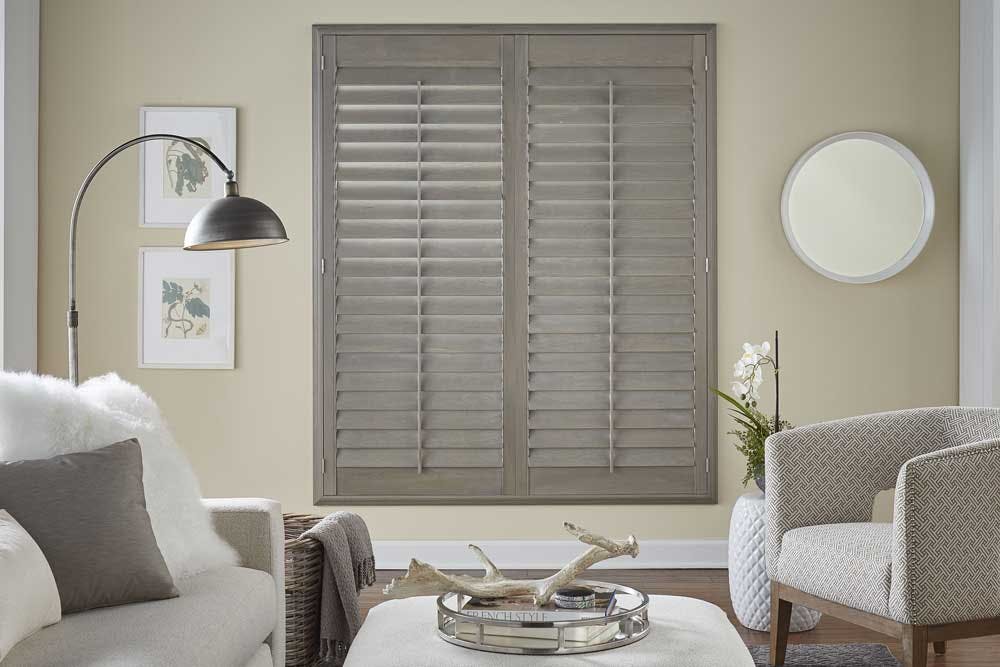 Pictured: Premium Wood Shutter in color Gauntlet.
Extra Insulation Precautions
Inside mount shutters may have gaps around the frame that lets light and air pass through. Sealing the gaps will improve your energy efficiency. Small gaps can be sealed with household caulk. If your windows are out of square, you may have larger gaps which can be sealed with wood shims or furring strips that are painted to match your shutter.
Have Shutter Questions?
Give Danielle a call at 844-551-3769 ext. 6118 or speak with any of our Design Experts seven days a week. Design assistance is always complimentary! Let us send you free samples, help with measuring and installation or build a quote!
More Shutter Resources:
4 Decision To Make Before Buying Interior Shutters
Tips for Installing Shutters (Even In Non-Square Windows!)
This Colorful Basement Apartment Transformation is MUST SEE
The Best Vertical Blind Alternatives for Sliding Glass Doors