The Goodnight House is a mother-daughter team of sleep consultants who help parents with the many challenges that come with babies and sleeping. We asked them to share their nursery setup tips and other strategies that help babies sleep better.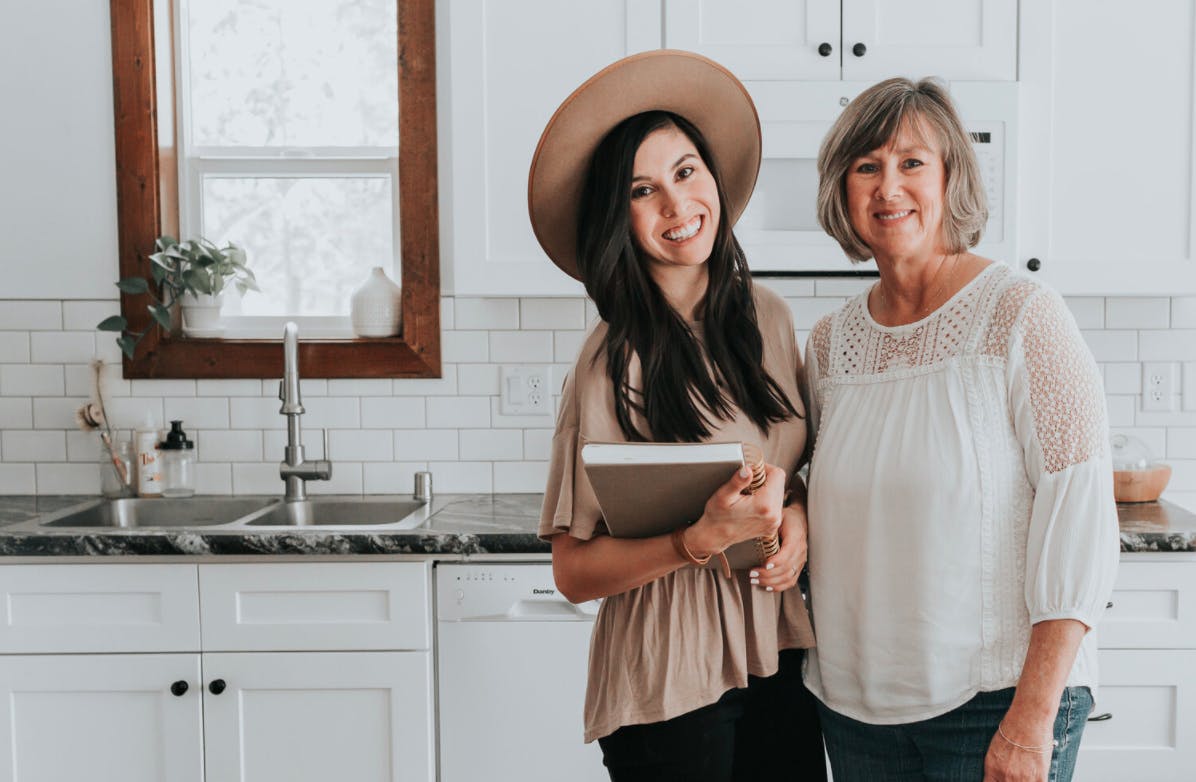 But first, let's talk about what sleep training is. Jessie of The Goodnight House explained it this way:
"Sleep training looks different at different ages. We all sleep in cycles, and when we transition through sleep cycles, we all experience little mini awakenings. This happens several times a night. As adults, we're able to go back to sleep and usually don't remember all of these wakings.
However, babies don't know how to put themselves back to sleep, and are often startled if they wake up in a different place than where they went to sleep. So rather than having parents help babies fall back asleep every time, sleep training teaches babies how to fall asleep and transition through these sleep cycles unassisted."
Formal sleep training doesn't typically begin until after your baby is about 4 months old, but if you have a newborn, there are several things you can do right from day one to help establish healthy sleep habits from the very beginning.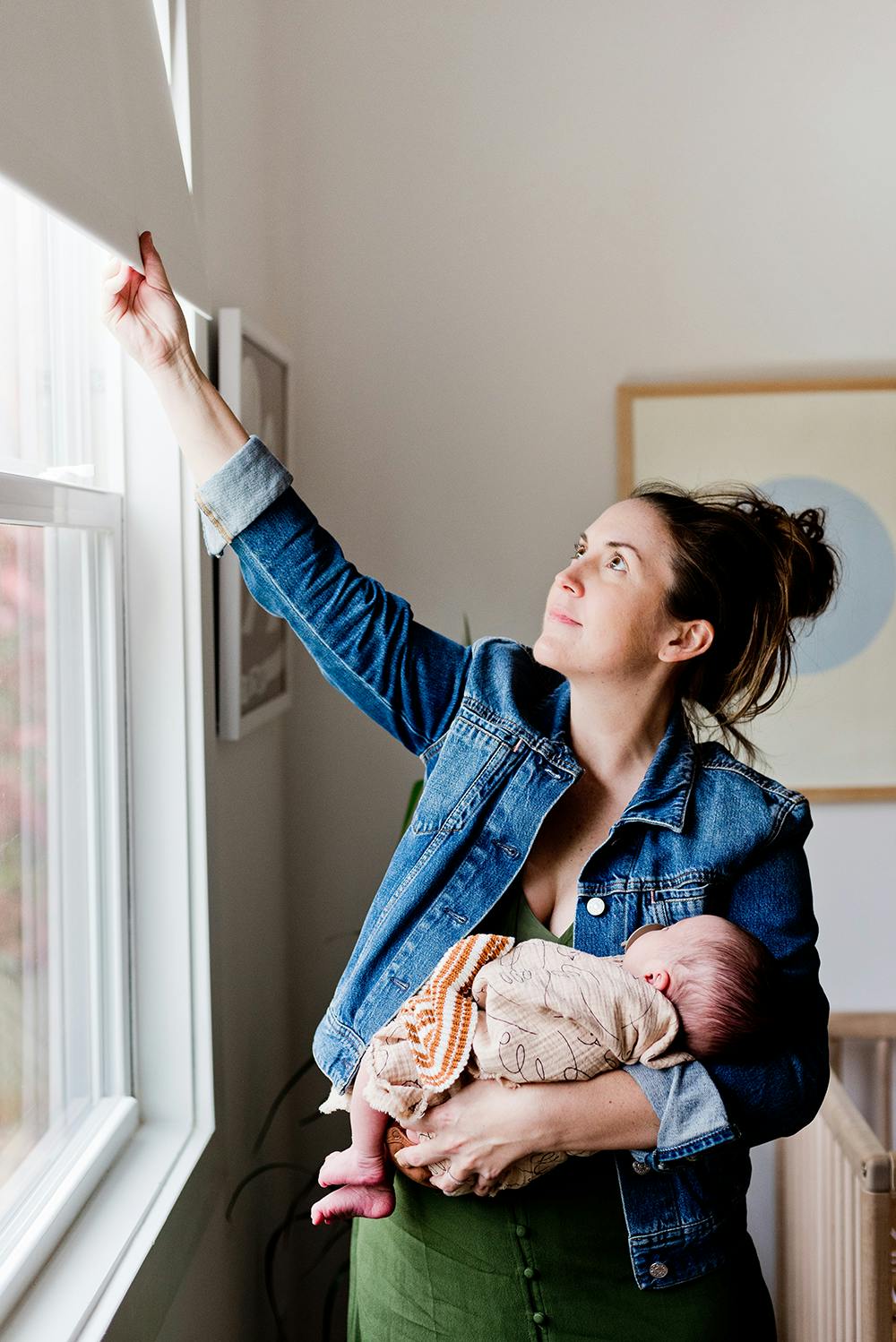 Sleep Strategy: Block Light
The first thing to think about when setting up your nursery for optimal sleep is light. Light and dark play a huge role in sleep for infants (and adults!). Light coming into a room tells babies it's time to wake up, and darkness helps their brain know it's time for sleep.
Jessie recommends making the nursery as dark as possible. She says it should be dark enough that you can't see your hand in front of your face. In order to get your room this dark, she recommends blackout shades. They're not only great during the night, but are especially helpful during daylight savings or summer months where it's still light out during bedtime.
Best Blackout Shades for Nurseries
The first thing to think about when choosing window treatments for a nursery is cord safety. Window treatment cords can be a strangulation hazard, so we always recommend choosing a safer option than typical lift cords. Often, this means choosing a cordless or motorized lift, or a product made without cords like shutters or curtains. However, safer options can vary by product type, so be sure to read our safer window treatments guide or speak with a Blinds.com designer.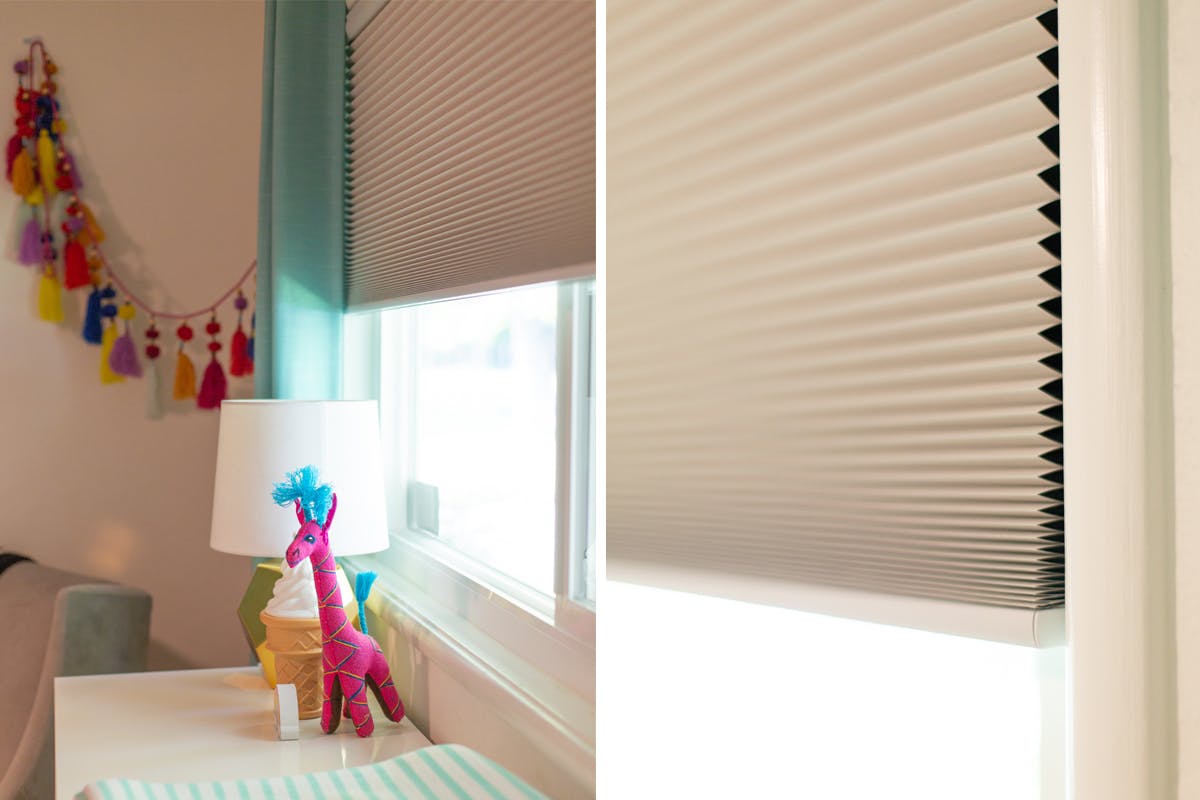 1. Cordless Blackout Cellular Shades
In terms of safety and blocking light, our top nursery window treatments pick is Blackout Cellular Shades with a cordless lift. Cellular shades fit tight to the sides of your window opening for maximum light control. With a cordless lift, these shades are a breeze to open and have no accessible cords.
In addition to blocking light, cellular shades are made with a honeycomb fabric that insulates windows against outside temperatures and sound. Read more about temperature and sound recommendations below.
For even more light control, The Goodnight House team recommends mounting shades on the wall above the window and wider than the window frame opening (also known as an outside mount).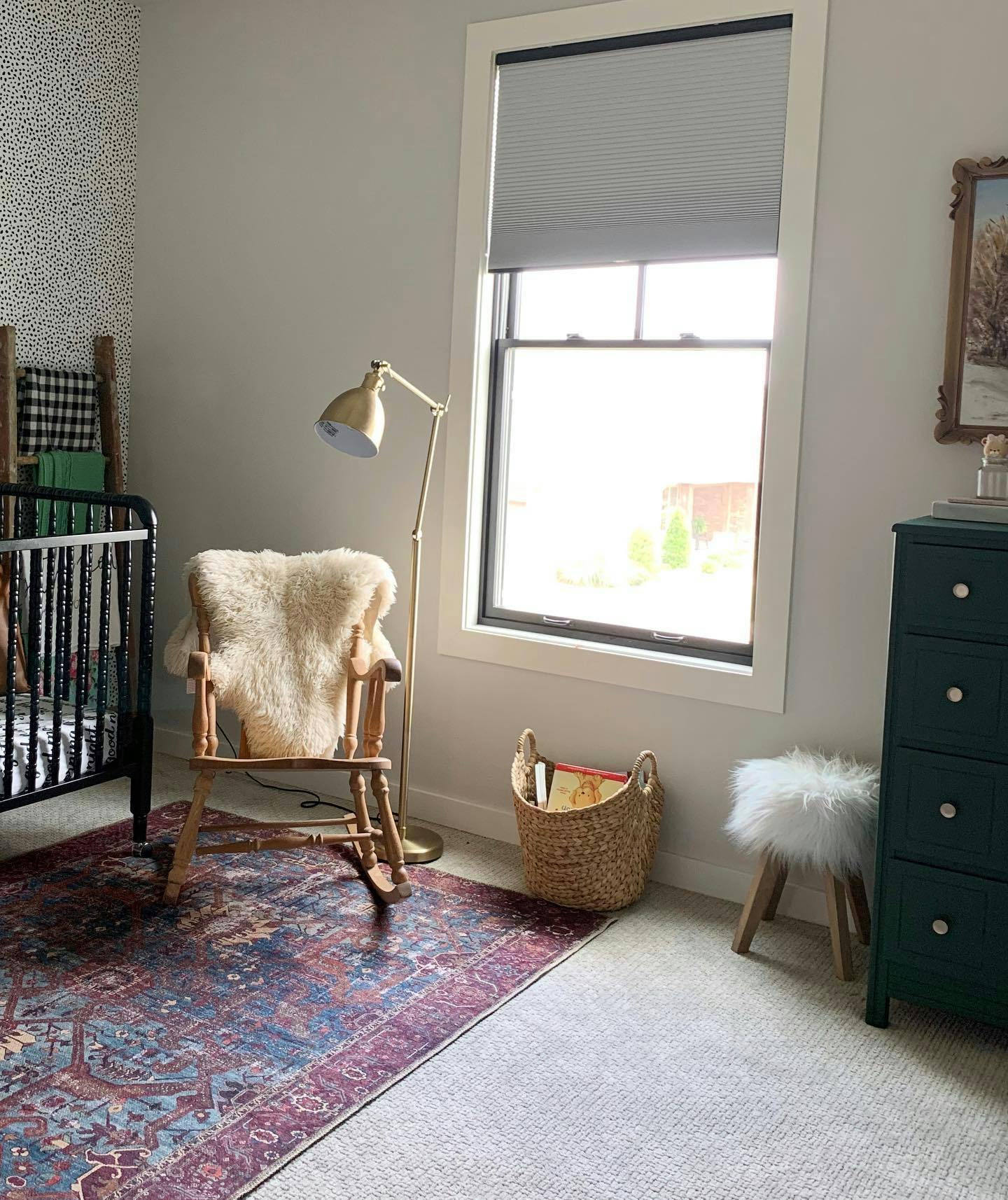 Stacey of The Goodnight House says,
"Blinds.com is a company that has been around for a long time and has excellent customer service. I have installed the blackout shades in every bedroom of our home and we love how they also add an additional layer of insulation. They have child-safe blinds and hundreds of colors to choose from."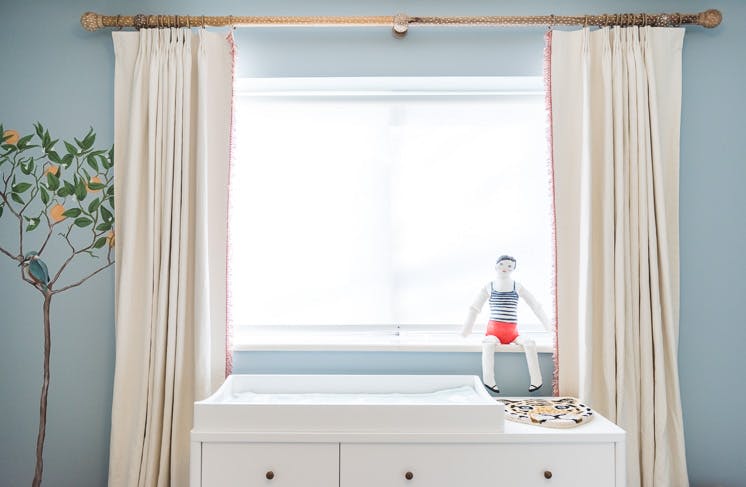 2. Blackout Curtains
Another great choice for blocking light in nurseries is blackout curtains. They can be used alone, or layered on top of existing blinds or shades that are not blackout. You could even layer them on top of other blackout shades for double the light control. For safety, be sure that curtain rods are installed securely with drywall anchors or into studs, in case little ones decide to pull on curtains.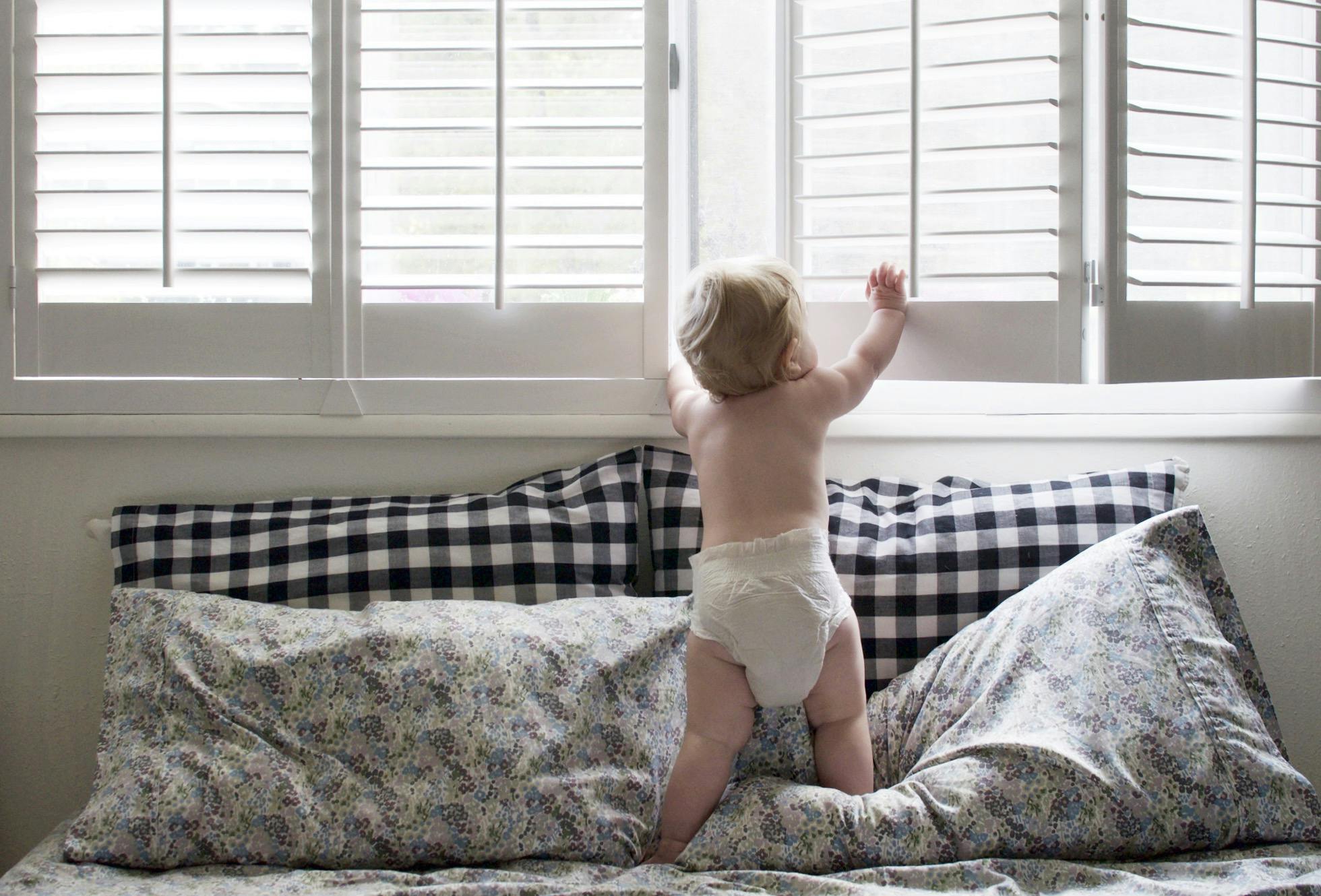 3. Shutters
Shutters won't give you can't-see-your-hand blackout, but when all of the louvers are closed tightly, they significantly darken a room. Shutters are great for homes with kids because they're durable, have no cords, and the faux wood version is super easy to clean. If you want to block more light, consider layering blackout draperies on top. This gives windows a high-end layered look and allows for light flexibility.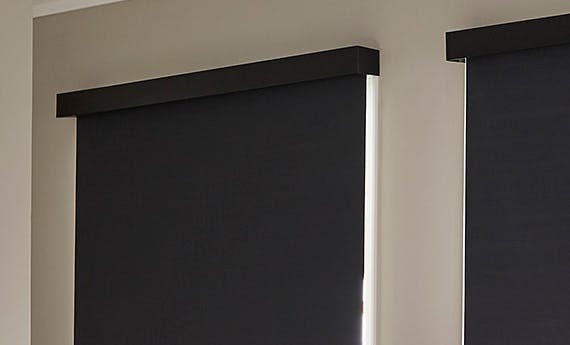 Not Best for Blackout: Roller Shades
When many people think of blackout shades, roller shades are what they picture. Roller shades have a sleek look and the cordless version is a safer choice and easy to raise. However, all roller shades have gaps on the sides of the shade that can let in beams of light. So, you'll never get complete blackout unless you layer blackout curtains on top.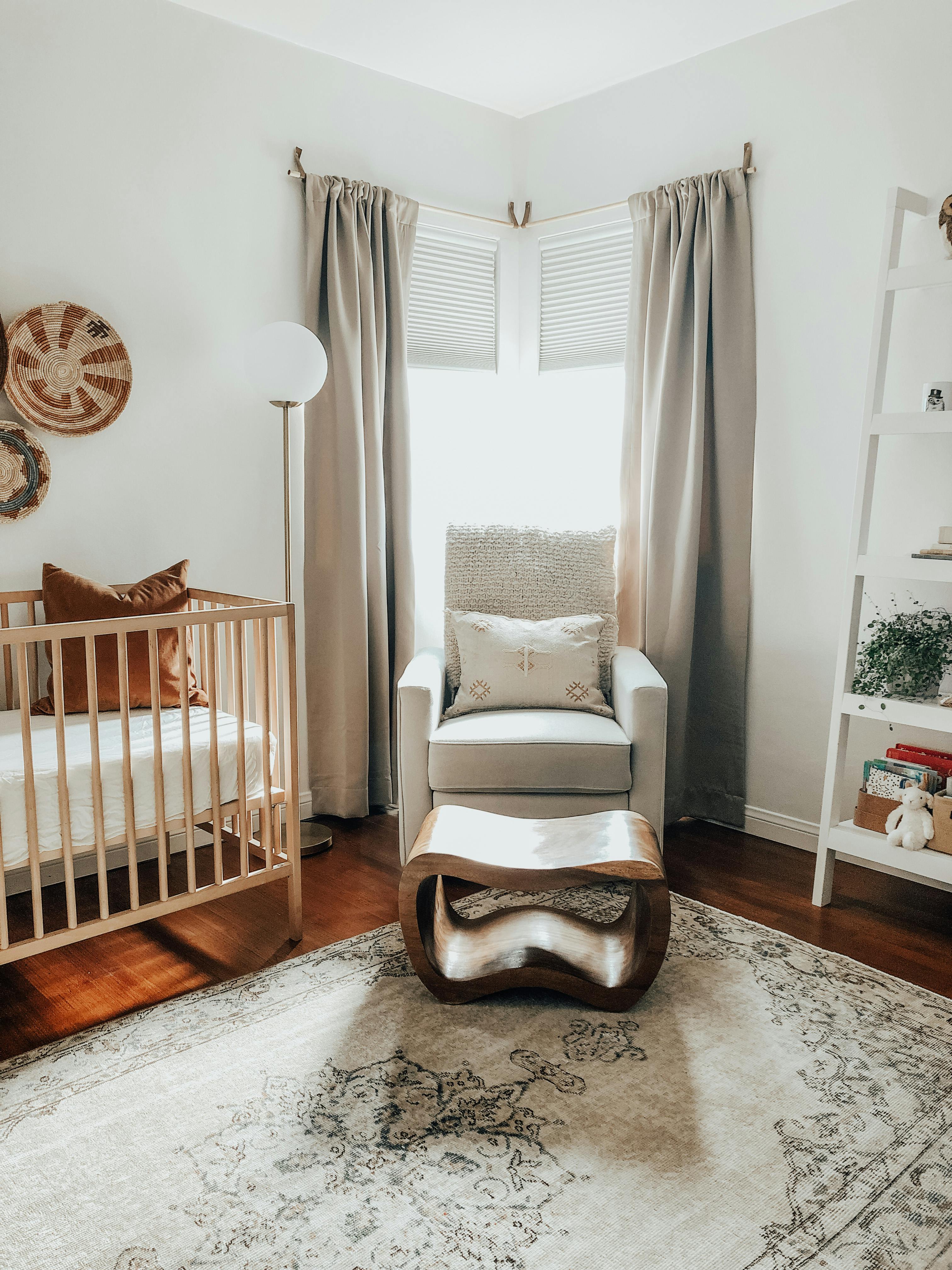 Sleep Strategy: Control Sound
Another nursery hack for better sleep is to muffle sound so babies aren't jolted awake by noises elsewhere in the house. Jessie highly recommends using a sound machine. She says, "Believe it or not, when babies are in the womb, they hear loud ambient noise, and complete silence is something they are not used to." White noise from a sound machine recreates the feeling of being in the womb while also drowning out external noise so babies can move through sleep cycles more easily.
If you have cellular shades installed for light control, you're in luck on the sound front as well. The honeycomb fabric material that cellular shades are made with has air pockets that dampen outside noise.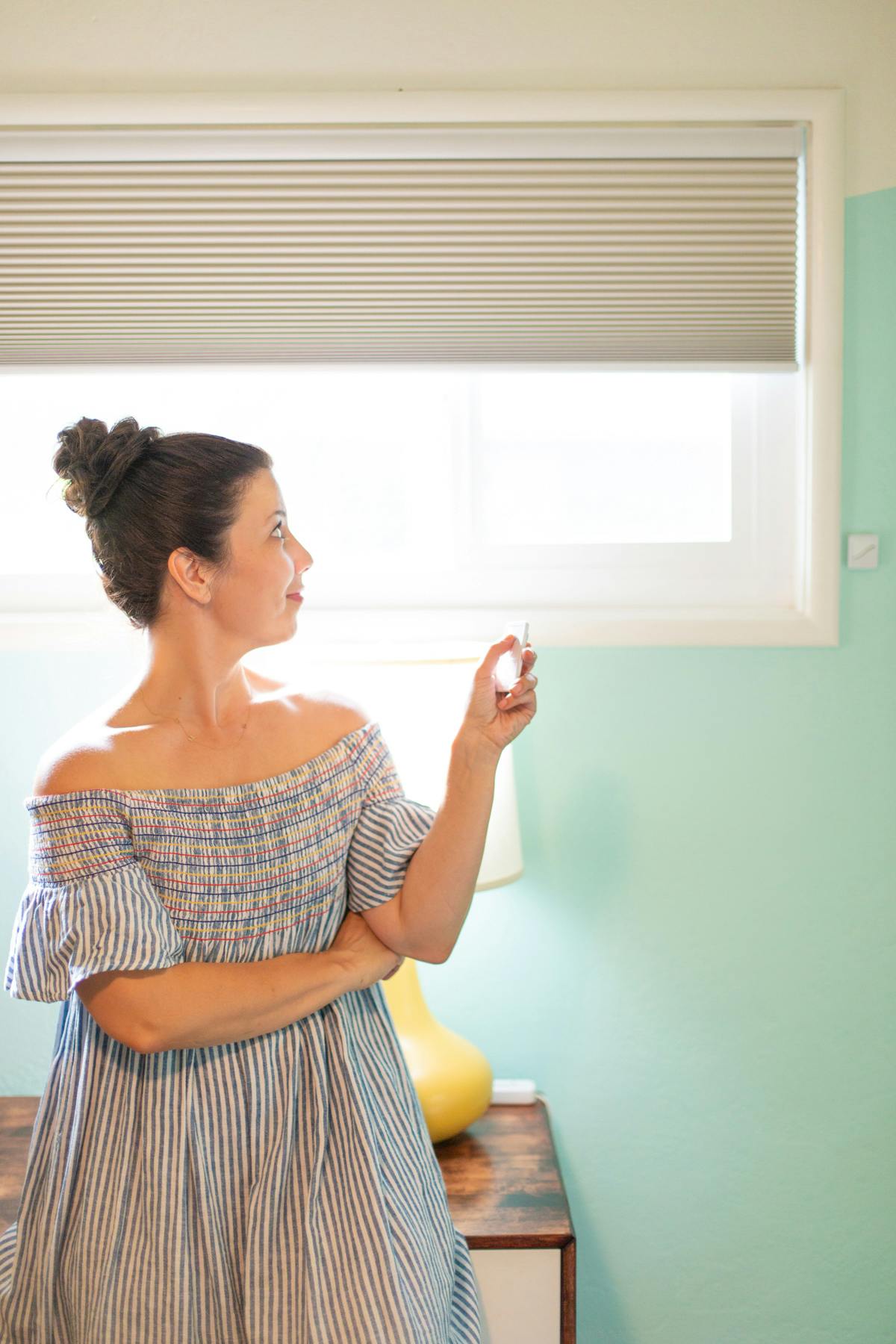 Sleep Strategy: Dial-In Room Temperature
When setting up your nursery, you should also think about room temperature. Jessie says that the optimal temperature for sleeping babies is 68-72 degrees. However, keeping your nursery at the right temperature goes beyond just adjusting the thermostat.
If you have a hard time keeping a room cool in the summer or warm in the winter, consider adding insulating window treatments. In this case, blackout cellular shades are the winner again with their air-trapping honeycomb fabric. Other insulating window treatments to consider are faux wood shutters or draperies with a blackout or thermal lining.
Sleep Strategy: Reduce Distractions
Jessie's last tip for creating a nursery that's the perfect sleep environment is to eliminate anything that could distract your baby while they're drifting off at night. Many parents try to make the nursery a fun environment by putting toys in the crib, hanging mobiles for babies to look at or even using light projectors that shine on the ceiling. However, all of these things can stimulate your baby and keep them awake longer rather than allowing them to go to sleep.
Jessie says, "It's important to set up your nursery so that it's only for sleep. If you want to use a mobile in the nursery, consider hanging them over the changing table instead to entertain babies when you change them."
Want More Sleep Tips?
Head over to The Goodnight House's blog or Instagram for more tips about nursery setup, sleep training strategies, and answers to tons of baby FAQs. And don't miss their newborn course and one-on-one sleep consultations.
Get more nursery decor inspiration in our Pinterest board: Window Treatments for Kids Bedrooms.