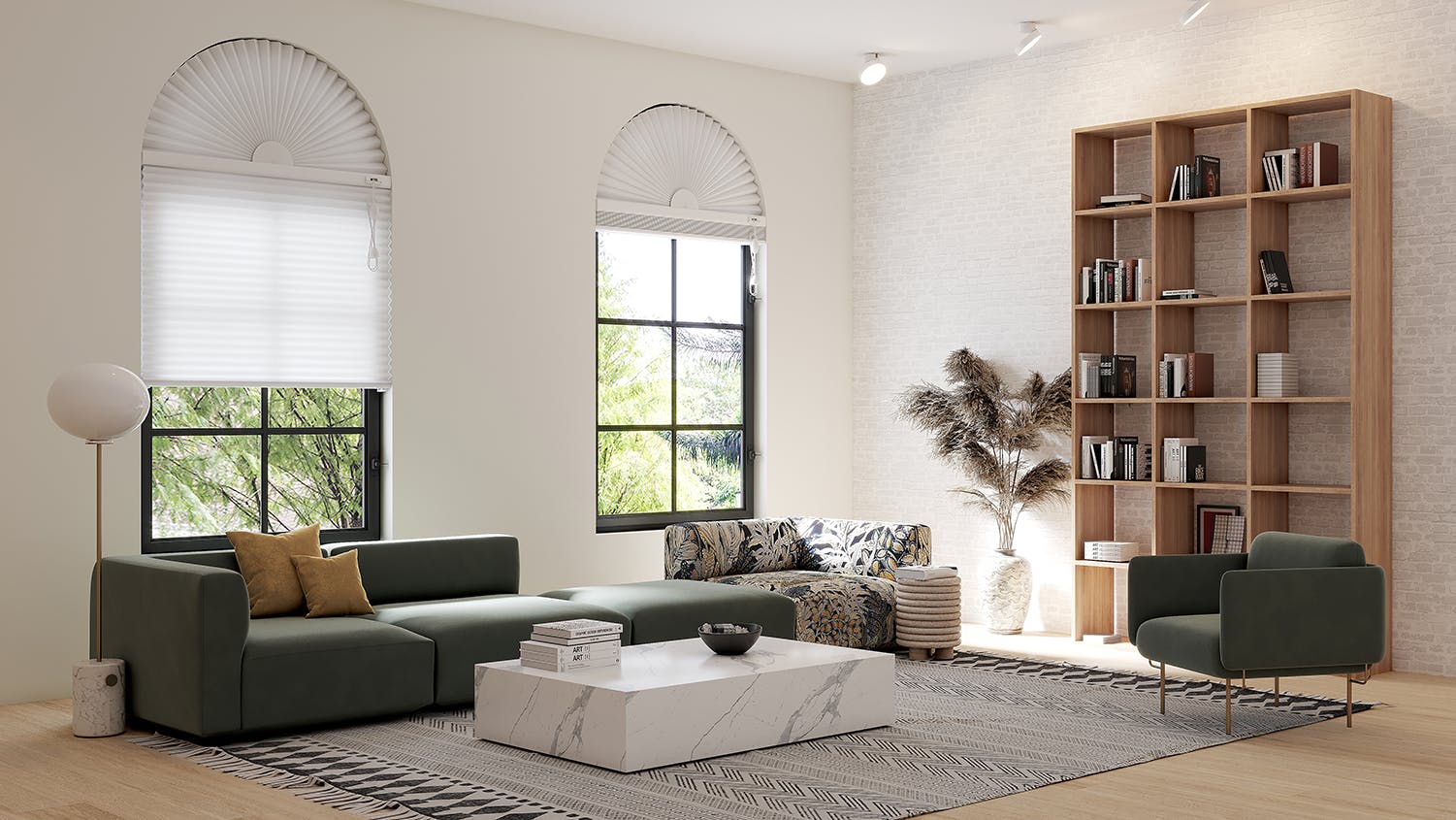 The elegant curves and unique shape of arched windows make them one of the most eye-catching types of windows. However, their unusual design also means you need to be more thoughtful about selecting a window covering. If you want to know how to cover half-circle windows, check out these handy tips!
Which Window Coverings Work for Arched Windows?
One of the most popular options for an arched window is a cellular arch. This style of covering uses soft-spun material that fans out into a graceful arched shape. Just like rectangular cellular shades, cellular arches contain rows of honeycomb-shaped cells. These little interior pockets gently filter light and provide you with extra insulation. Another traditional option is composite wood arches. These are a shutter made out of sturdy, warp-resistant composite material. Some people pick a sunburst arch style with angled slats that bring light into the room. You can also pick arches with horizontal slats or select styles that block out most exterior light. If you love the colors and textures of fabric, a final option to consider is curtains or drapes. You can put this style of window treatment over other window coverings to add a little extra flair to your windows. Solid drapes block light and look especially elegant while sheers give an open, airy feel.
How to Measure Arched Windows Correctly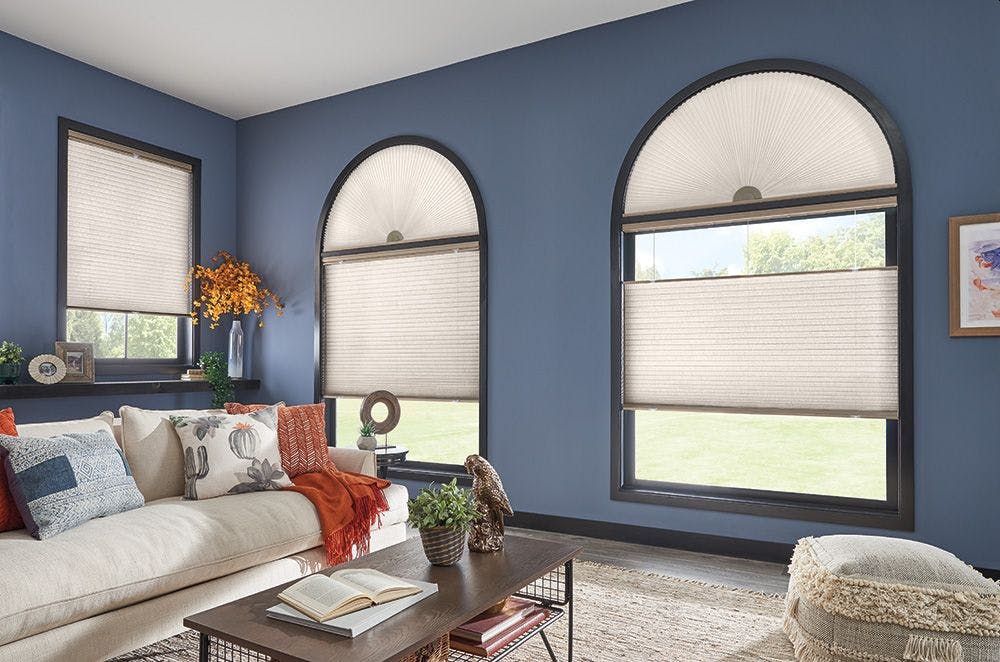 Before you purchase any arched window treatments, you need to make sure you have your measurements right. Due to their unusual shape, measuring these windows isn't as simple as just looking at their length and width. You'll also need to take into account the type of curve your arched window has.
Perfect Arch: These windows are often called a half-circle or half-moon window due to their shape. The highest part of the window is exactly half the width of the window.
Palladian Arch: The arch on this style will look steeper than a perfect arch. When you measure it, you will find the tallest part of the arch is more than half the overall width of the window.
Eyebrow Arch: These arches look short and wide compared to the rounded shape of a perfect arch. The height of the arch will be less than half of the window's overall width.
Quarter Arch: Not all arches are some type of half circle or half oval. Some are roughly the shape of a quarter circle instead. These windows will have a straight bottom, a straight side, and a curved side.
For more information on how to measure correctly, check out our arch measuring guide or give our Blinds.com design consultants a call at 1 (800) 505-1905. And remember, you can always schedule a professional consultation to get your windows measured.
How Do You Upgrade Your Arched Window Treatments?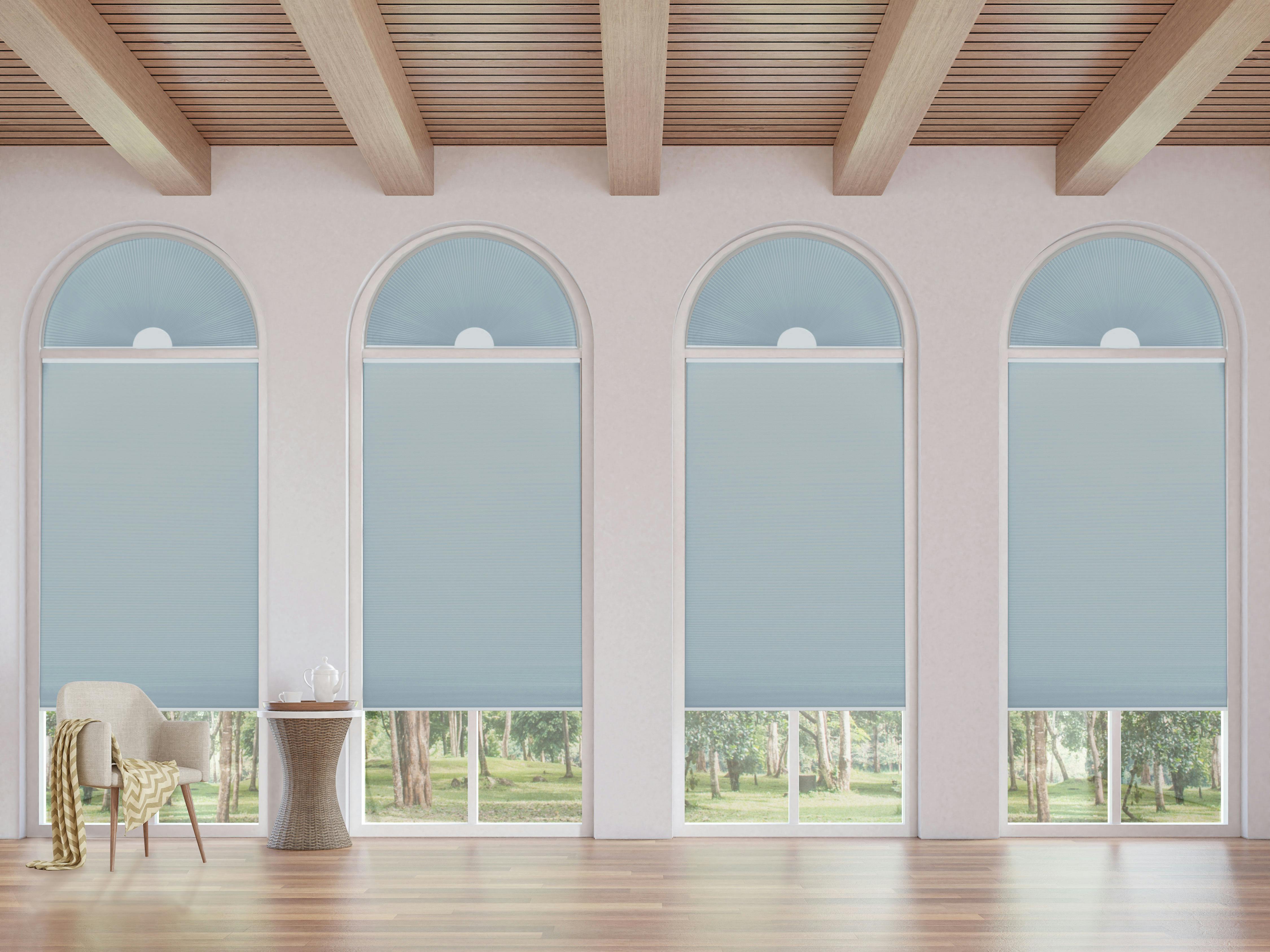 Even the simplest window treatments from Blinds.com are enough to make your arched windows look stunning. However, if you want even more functionality, we also have some great upgrades. Start by considering how much light you want in your room. Blackout cellular shades have an interior lining that blocks the sun's rays. This makes it easy to darken your room for sleep or keep glare away from your electronics. Furthermore, the exterior coating comes in multiple colors to match your décor. Some of our cellular shade styles are also insulating. If you need to save energy on heating and cooling, these are a great option. Their ability to trap air inside the honeycomb cells keeps your home at a more comfortable temperature. If you plan on going with composite wood arches, you have the option of upgrading to movable arches. These arches have slats that you can open and close. They allow you to customize how much light you get. You can block out most of the sun or let light stream in.
Full Treatments for Arched Windows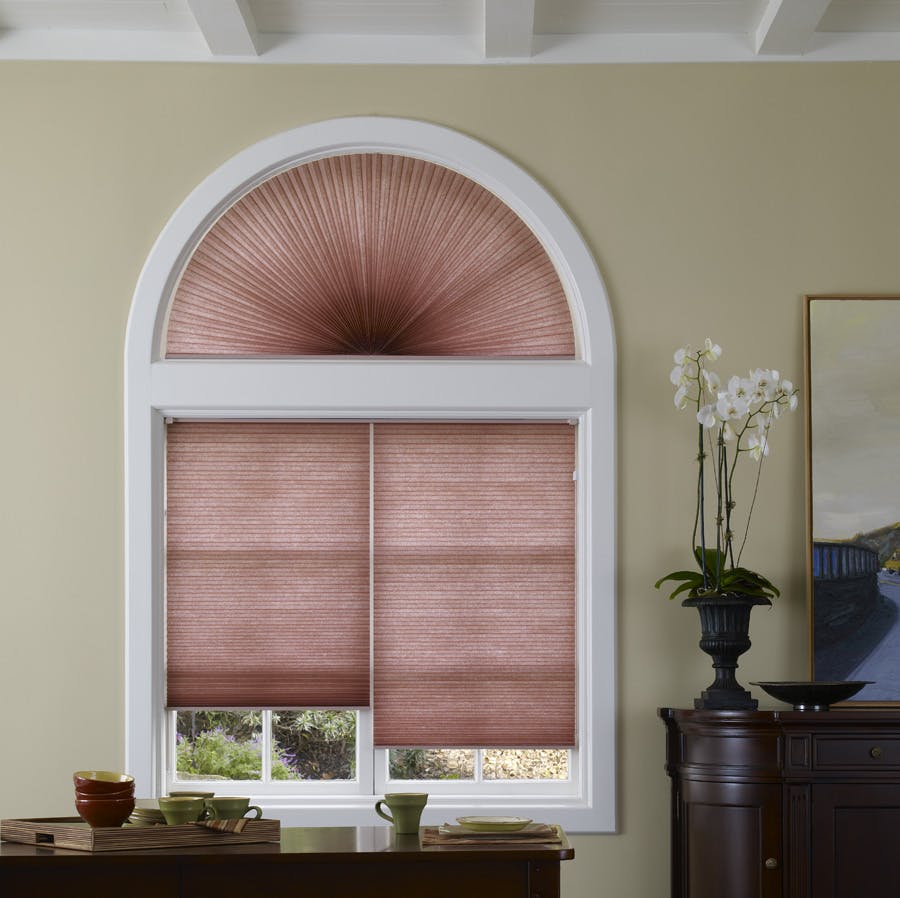 It's rare for an arched window to be a stand-alone window. Typically, they are part of a unit with rectangular windows below. For a cohesive look, you need to take these nearby windows into account, too. This is why it's a good idea to plan all your window treatments at once. The cellular shades and composite wood shade finishes at Blinds.com are also available on our standard window treatments. You can get arched window shades that perfectly match the surrounding shades. This creates a sleek, seamless look that lets your windows be the star of the show. Curtains and drapes can also be a stylish way of complementing your arched windows. Even if you don't use curtains along the arch, you might want to consider layering them over the shades on surrounding windows. This multi-textural approach really helps highlight your unique architectural features. As you can see, there's lots of great window treatments that work with arched windows. Now that you know how to cover arched windows, it's time to pick out the perfect design for your home. For more information, visit our How to Measure for Arched Window Treatments Guide.