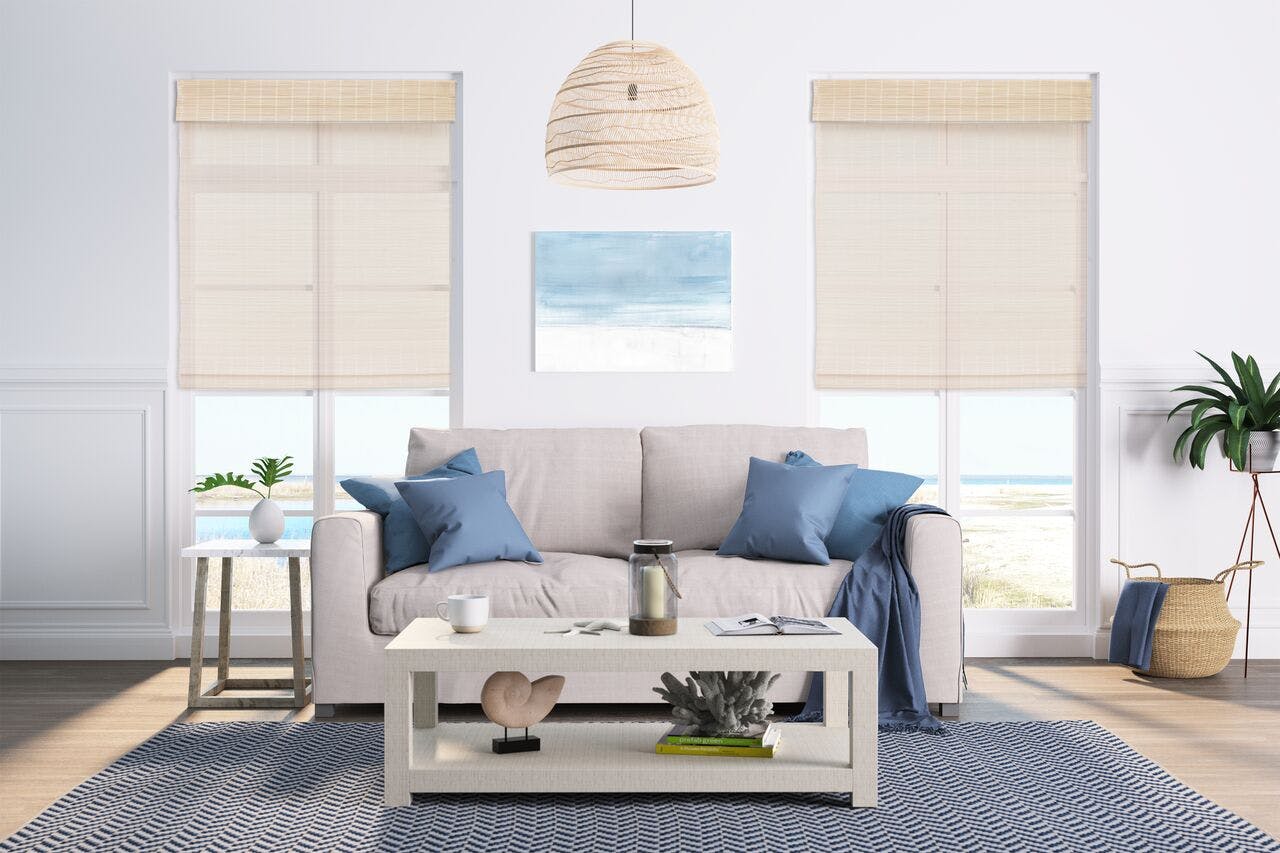 Cordless Woven Wood Shades in Whitewash
Bamboo shades are popular for their versatility and their elegant, natural appeal. Though many people love bamboo shades' ability to provide filtered light, the plain ones can leave you feeling exposed. Fortunately, there are plenty of easy ways to adjust your privacy levels. With these simple adjustments, you can enjoy the benefits of bamboo window blinds and shades while still protecting your solitude.
The Perks of Bamboo Blinds
If your main priority is privacy, bamboo window blinds might not be the first choice on your list. Due to their unique design, there can be tiny gaps between individual slats of wood. However, these blinds come with some unique benefits that make them worthwhile. People love bamboo and woven wood shades for these reasons:
The woven texture of bamboo window shades brings natural beauty and warmth into a home.
Bamboo is an eco-friendly material, so these shades are renewable and biodegradable.
Small strips of light come through the blinds, filling the home with natural light.
The bamboo material is entirely unique, so no two shades are the same.
This versatile material is easy to upgrade with options like motorized lifts or cordless technology.
Bamboo shades come in a variety of subtle neutrals, eye-catching patterns, and striking colors, so they can effortlessly complement your décor.
As you can see, there are plenty of major reasons to accent your home with woven wood shades. And if you like privacy, there's no reason to switch to a different shade. You can easily boost your privacy levels with a few simple tricks.
Add a Liner to Bamboo Blinds and Shades for More Privacy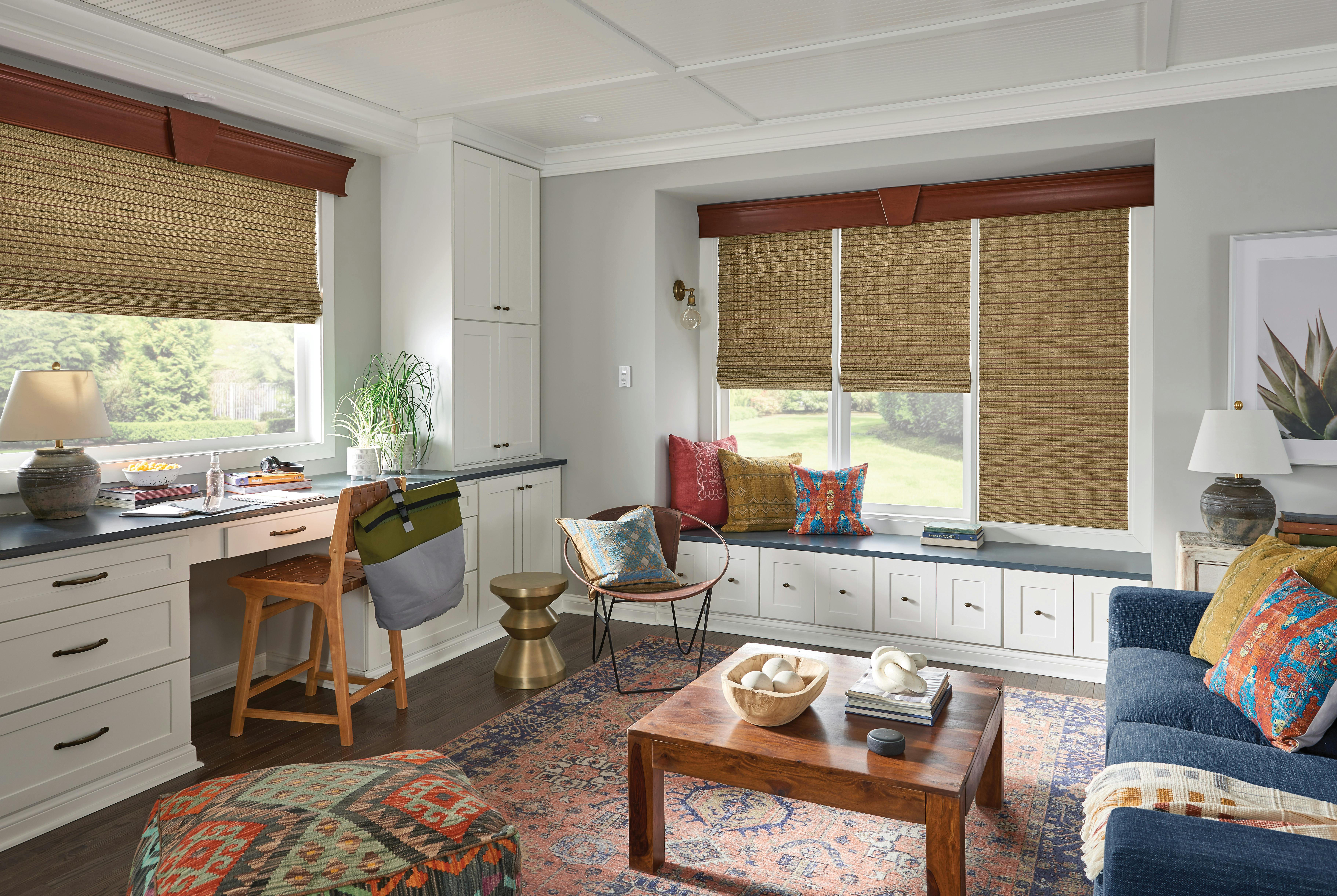 Bali Natural Woven Wood Shades with Blackout Liners
The first and simplest option is getting a lining for your shades. Window blind linings come in many styles. Light-filtering liners let in some light while keeping people from being able to clearly look inside your home. There are also blackout ones that block the sun entirely. These liners are ideal for bedrooms or other areas where you need complete light control. As you shop for bamboo shade liners, you'll need to decide whether you want an unattached or a movable liner. Attached ones allow you to get a single, classic shade without layering. They will have the same great bamboo look from the front, yet the liner will cover any gaps. This is the easy, no-fuss option.
Another choice is a separate lining layer that lies behind your bamboo blinds. This gives you a little more versatility. You can raise the lining and let the sun shine through your bamboo window blinds. When you want privacy, you can lower the lining to add an extra layer of protection behind your blinds.
Layer Your Shades With Curtains and Drapes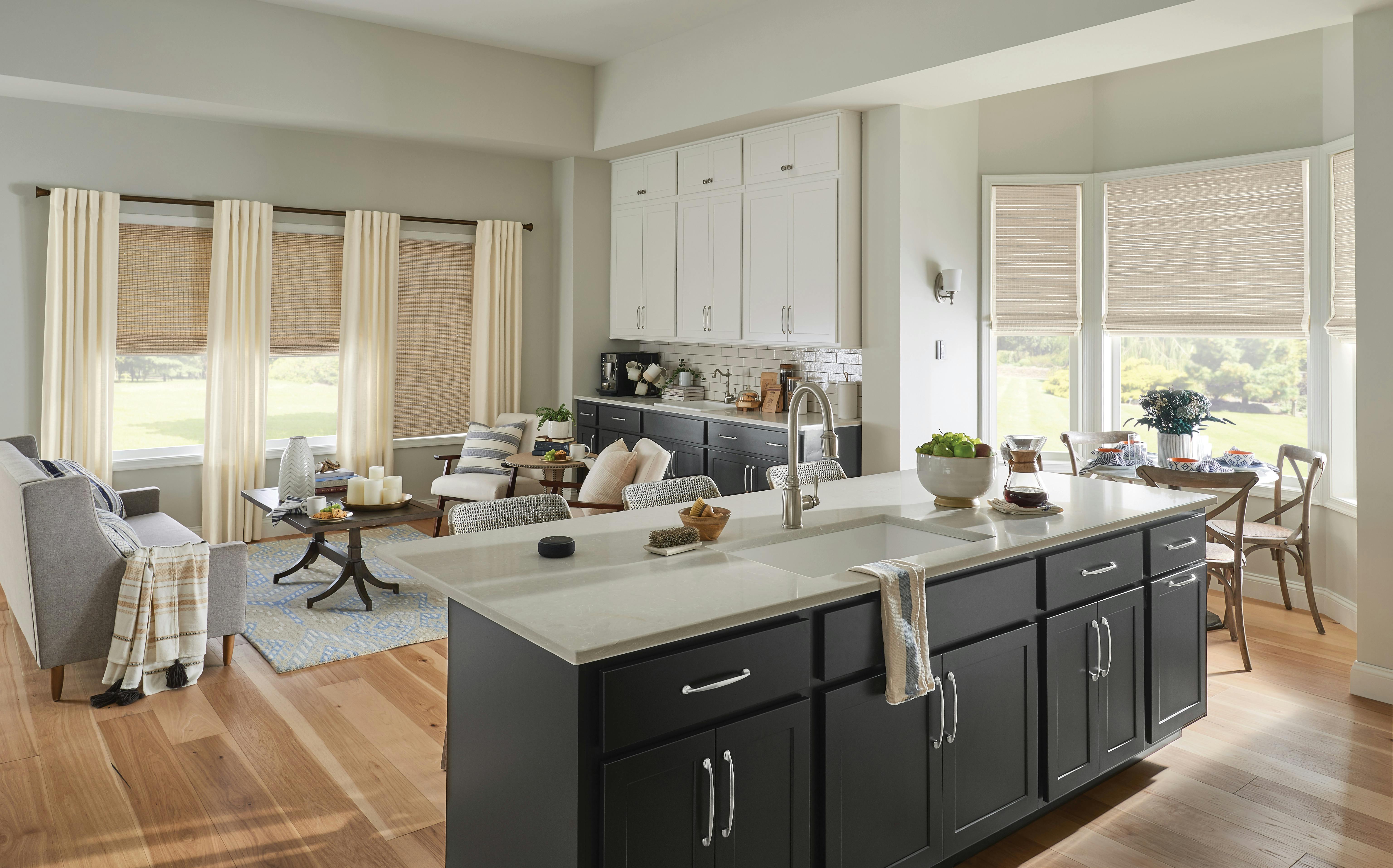 Bali Natural Woven Wood Shades with Curtain Layering
Matchstick blinds can also work well as the bottom layer of a window treatment. Many homeowners like to mount blinds on the window and then add a set of curtains or drapes on top. This layered look adds plenty of drama and elegance to your windows. The softness of billowing fabric pairs very nicely with the linear textures on bamboo window treatments. Whether you want breezy linen or crisp cotton, there's a bamboo blind style that matches your curtains. Layering your treatments also has the benefit of letting you adjust privacy levels as needed. You can draw the curtains over your lowered blinds when you want total privacy. If you're in the mood for more natural light, you can pull back the curtains and leave your shades down.
Upgrade Shades With Top-Down/Bottom-Up Controls
Sometimes, people's issue with bamboo window blinds isn't that they have small gaps between the slats. Instead, the privacy problem can just be due to the blind's location. Top-Down/Bottom-Up controls let you rethink your blinds' positioning. Instead of just raising from the bottom, this control lets you lower blinds from the top. You can adjust the blinds to cover the whole window, the middle, or only the bottom or top. Many people like using these controls to uncover the top half of their window while keeping the lower half shaded. This allows you to keep your windows covered at eye-level but let in sunlight along the top. You can also tweak the blind positioning to block second-story windows or other privacy concerns. As you can see, it's easy to adjust the privacy and light levels of your bamboo window blinds and shades. The right window treatment lets you enjoy the natural beauty of bamboo and woven wood while also getting plenty of privacy.