We continue to be amazed by the commitment behind Brittni Mehlhoff's 12 rooms in 12 months project. On her blog, Paper and Stitch, Brittni has pushed herself to design her new home by decorating one room per month. Her latest project was to finish off the nursery - just in time for the arrival of her new baby boy, Hayes.
After partnering with Brittni on her Dining Room Makeover, Blinds.com is thrilled to help out with another room.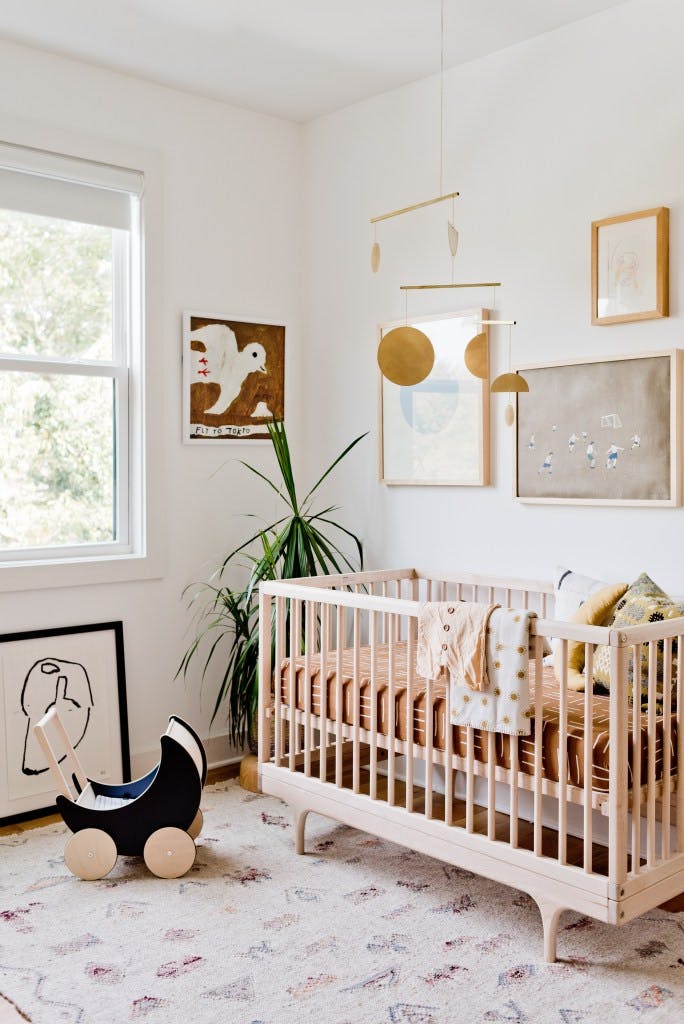 Scandi-Minimalist Nursery Gets Blackout Roller Shades To Help with Naptime
When planning the design for the nursery, Brittni couldn't decide whether to keep the space neutral like the rest of her house, or to go with something more colorful and youthful. She settled on a look that's right in between.
This room flows perfectly with the pared-down style of the entire home but has some unexpected colorful accents that little Hayes will be sure to love.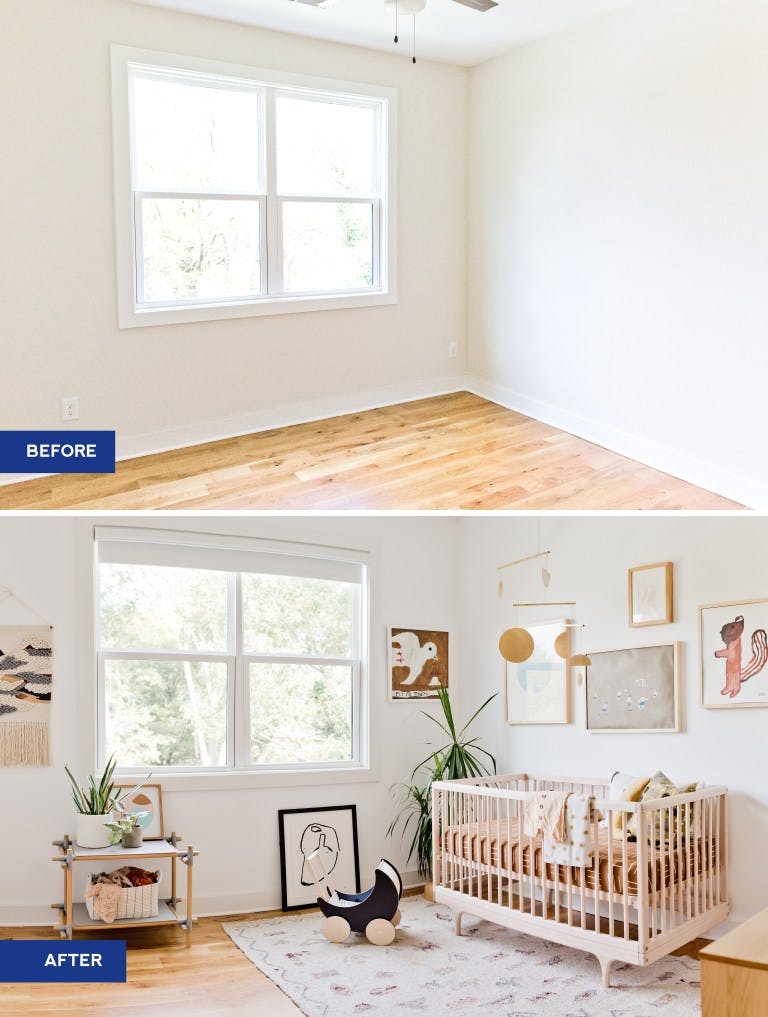 After getting some advice from friends who are parents, Brittni knew that the first order of business was to outfit the room's large window with a blackout shade.
Brittni Says:
"When I first started planning the nursery, I asked a few friends with kids what their practical must-haves were, since Jeff and I had no experience in that department.
Almost all of them specifically mentioned that blackout shades were a must-have item for helping with sleep training, so I listened! When it comes to things that might help Hayes (and me for that matter) sleep better, I'm all about it!"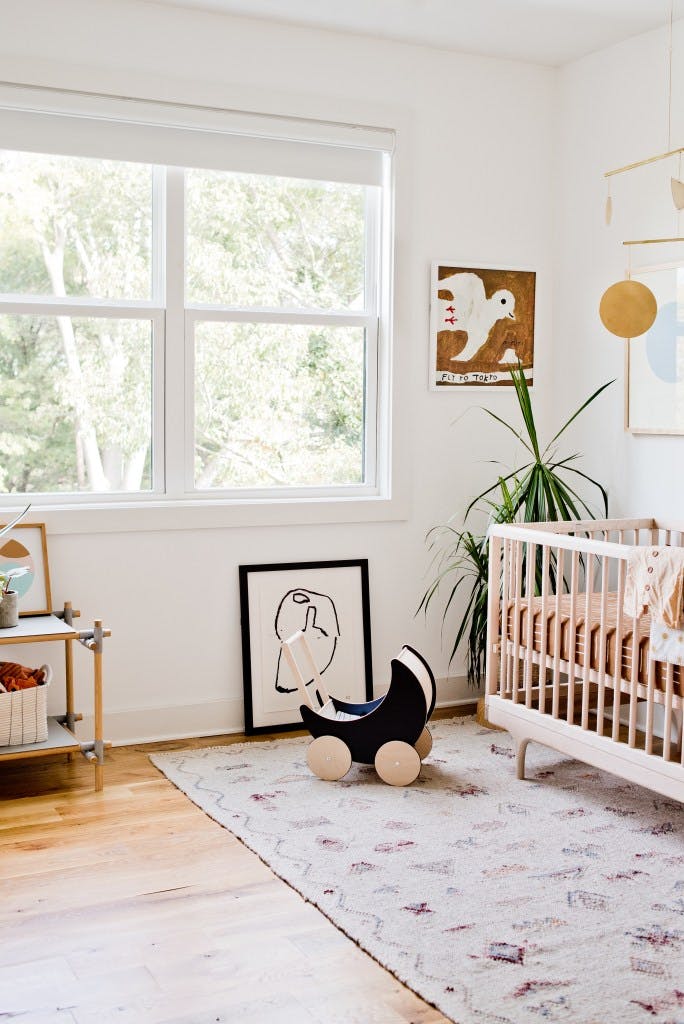 Brittni loved the clean look of the Blinds.com Roller Shades she had used in the rest of the house, so she decided to just opt for the blackout version of the same fabric - Interlude Canvas.
Brittni Says:
"I went with a Blinds.com blackout roller shade which blends in with the rest of the house, is safe for the baby (and as he gets older), and blocks out the light when we need it. We were actually able to get the exact same roller shade as the ones we have downstairs in the dining room – just in a blackout version. They're the same color (Interlude Canvas) and have the same look when they're opened so it's totally cohesive with the rest of the house. The only difference is that it's not light filtering, so when the shade is rolled all the way down, it's nice and dark in the room."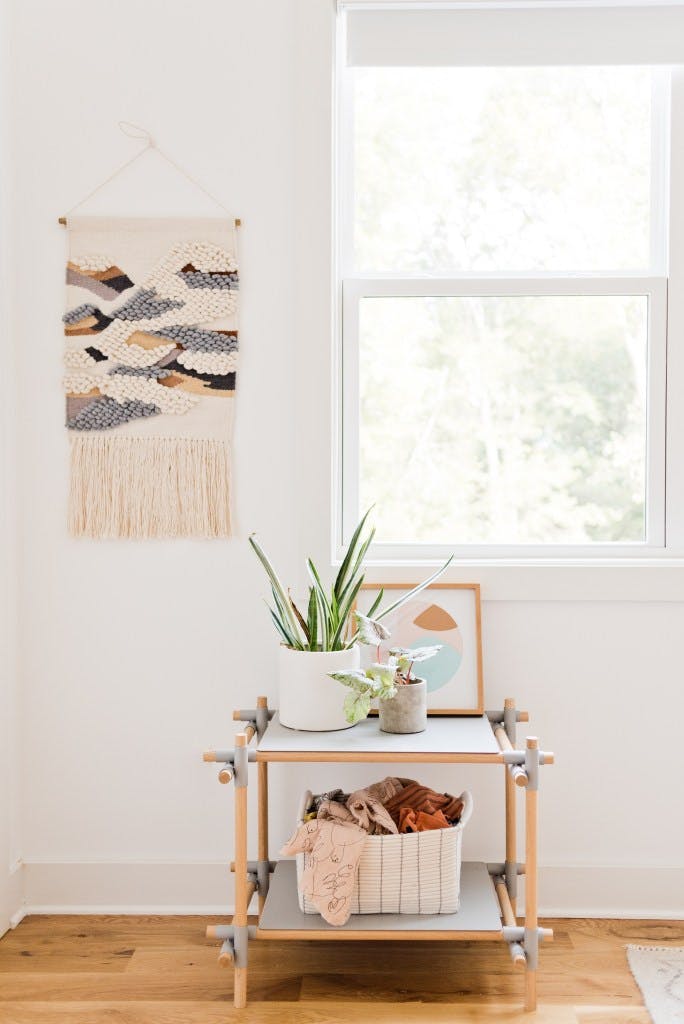 Brittni Says:
"Just like last time, the roller shade is extremely easy to install yourself. And since we had installed them in another room already, the process was even quicker than the first time around…took less than 10 minutes!"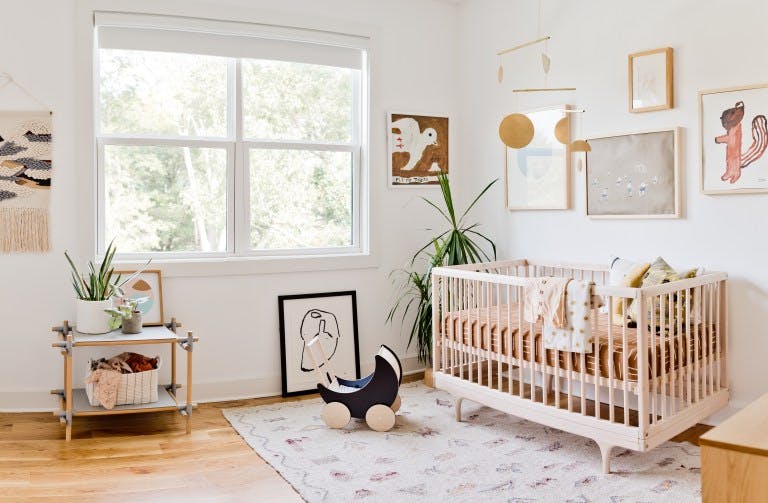 Since this is a nursery, choosing a window covering without accessible cords was important to Brittni. She chose a cordless lift that can be adjusted by tugging on the bottom of the fabric.
Learn more about safer window covering choices in this post.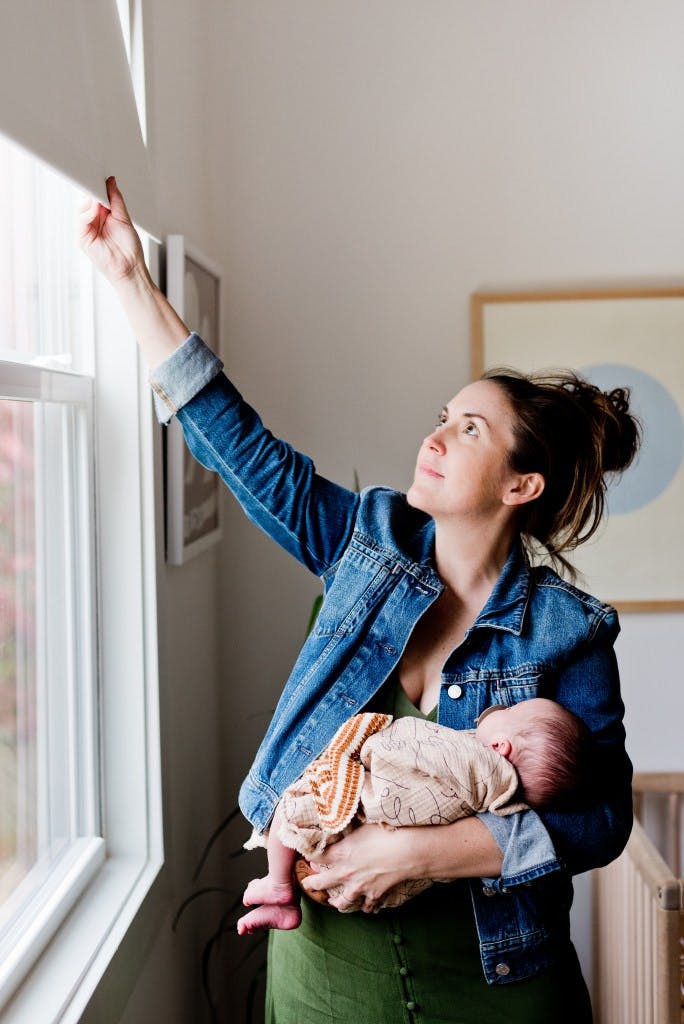 Brittni Says:
"The other great thing about these roller shades is the safety benefit. Childproofing this space has been a lot to think about / worry about to be honest. But knowing that this window covering is a safer choice for my kid (because it's completely cordless) really helps ease all those crazy things that go through my mind."
Brittni finished off the room with raw wood furniture, clean-lined accessories, and plenty of natural greenery.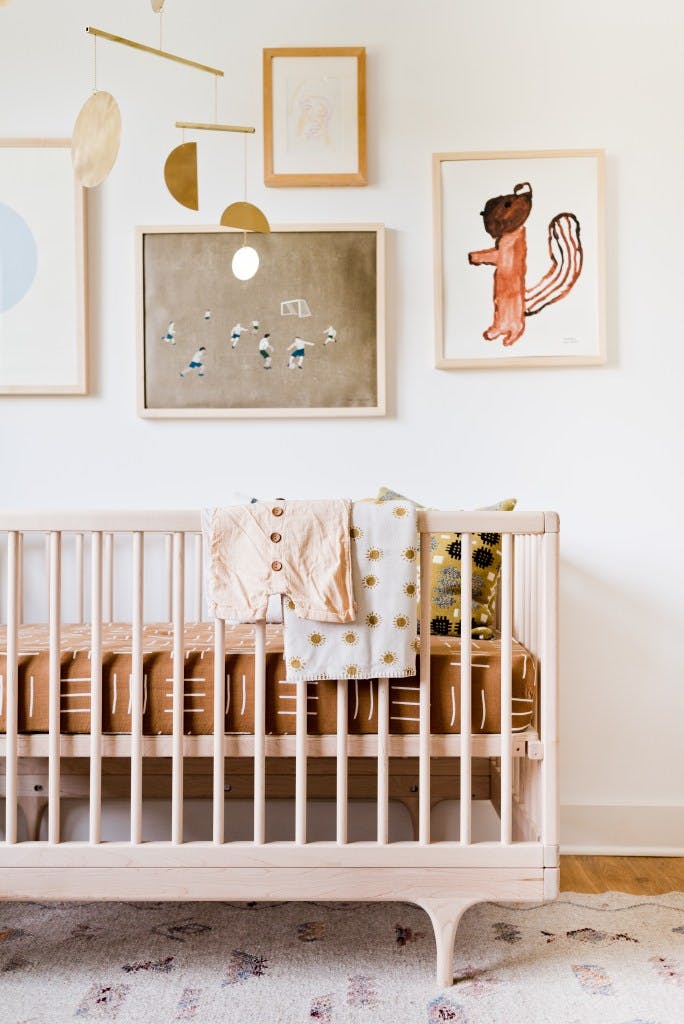 The Scandinavian-boho look gets a touch of childhood whimsy with art inspired by kids drawings.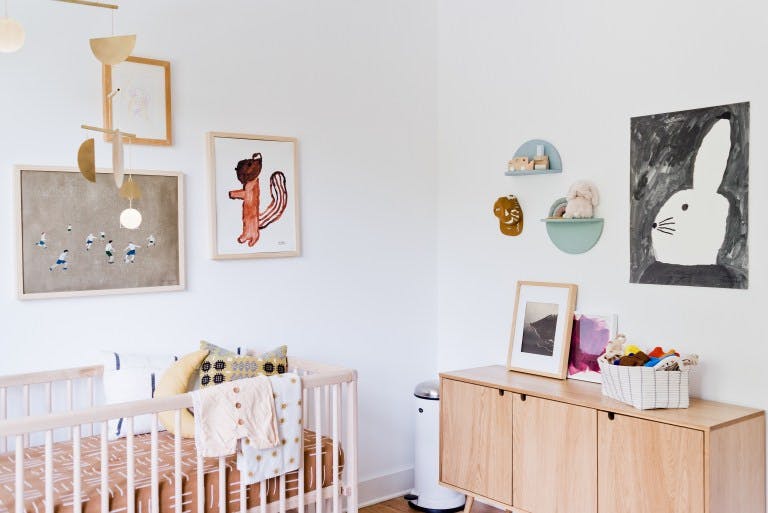 Don't miss Brittni's tip for choosing a credenza over a traditional changing table:
Brittni Says:
"The changing table is a credenza that I got on mega sale. And it's so much cuter than any actual changing tables I've seen, especially for the price. If you want to go the dresser or credenza route instead of a traditional changing table, just make sure the piece is deep enough to safely fit your baby on a changing mat on top and that it's tall enough that you won't have to bend down too far to use it."
To add a little color to the neutral space, Brittni added some geometric shelves and used picture ledges to hold and display books. This "flat library" allows the covers of the books to be visible so a kiddo can select one more easily than a traditional bookshelf which only shows the spines.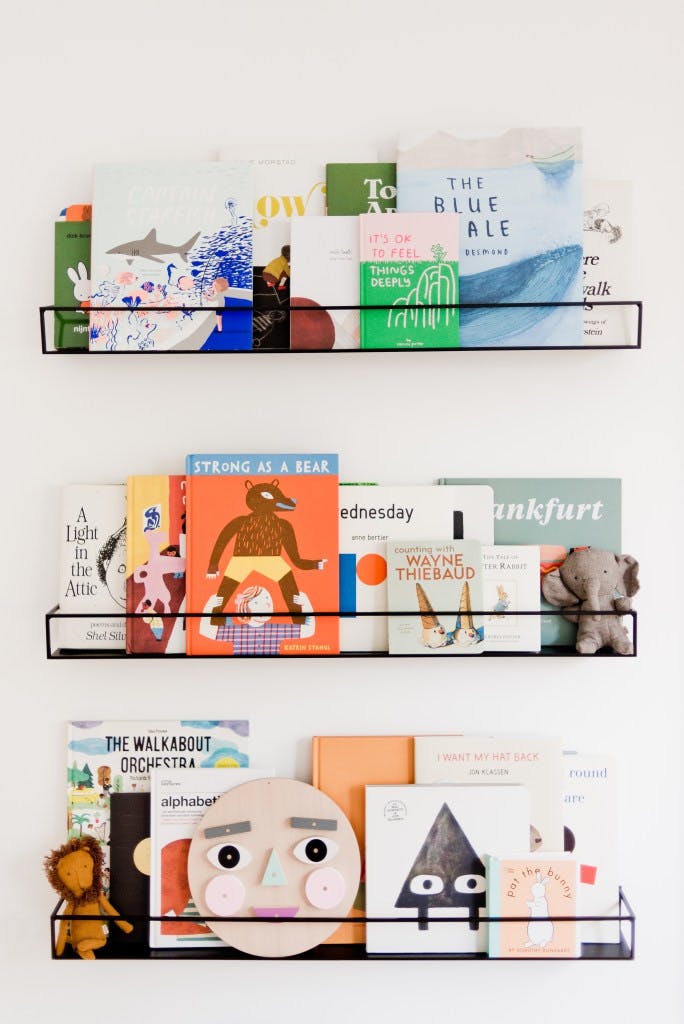 A large scale brass mobile adds some glam and draws the eye up to highlight the room's high ceilings.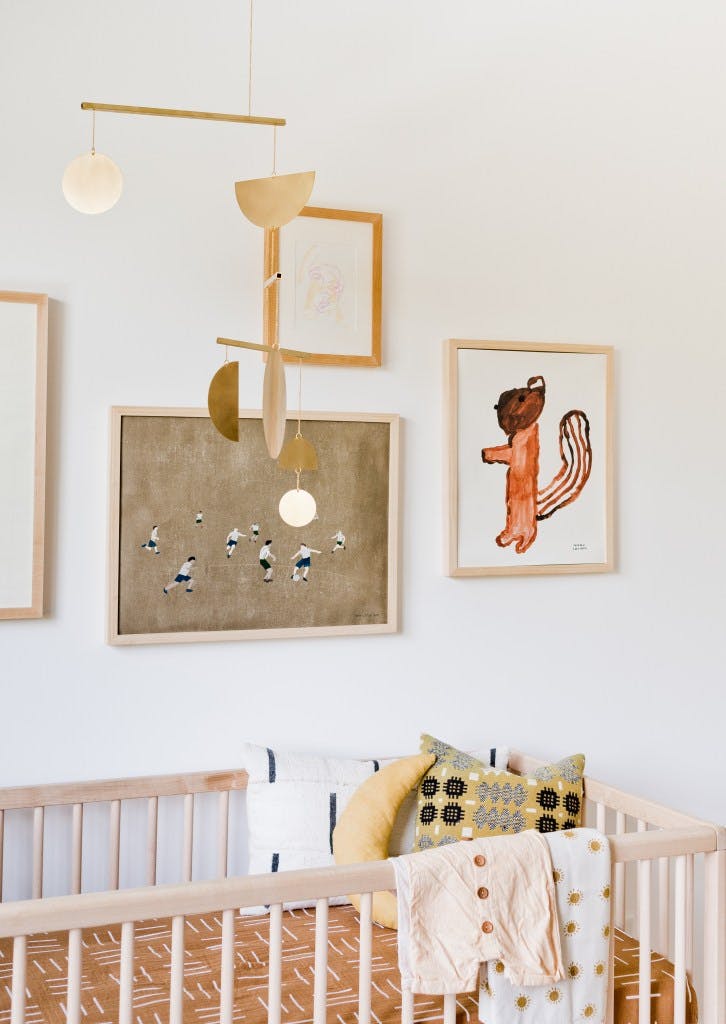 Get the Look!
Brittni dressed the windows with Blackout Roller Shades in Interlude Canvas with a cordless lift.
See More Of This Space
For all the details on Brittni's modern nursery makeover and a bonus promo code for her readers, check out her post: 12 Rooms in 12 Months: Hayes' Nursery Reveal.
If you liked this post, you'll love her dining room makeover:
Minimalist Mid Century Dining Room Makeover with Paper and Stitch
More Design Inspiration:
2 Nursery Window Treatment Features You Definitely Need
Mom of Two Finds a Sleek Solution to Cover a Large Window
Kids' Bedroom Shades That Are Safer + They Can Open On Their Own