If you're new to buying window treatments, one decision you'll need to make before measuring or placing your order is inside mount vs outside mount. Read on to find out what these mount styles are and when to use them.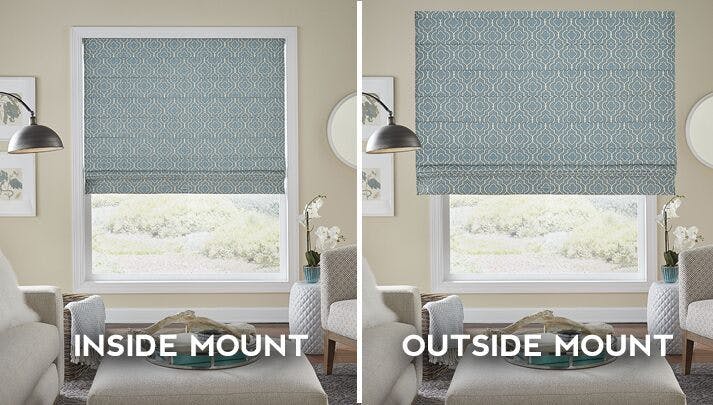 Should I Install My Blinds as Inside Mount or Outside Mount?
As long as your window frame has enough depth to mount blinds inside the opening, we almost always recommend an inside mount. An outside mount (installing the blinds on the wall or trim above the window) is usually just recommended when windows are too shallow to mount inside or when there are obstructions like a window crank.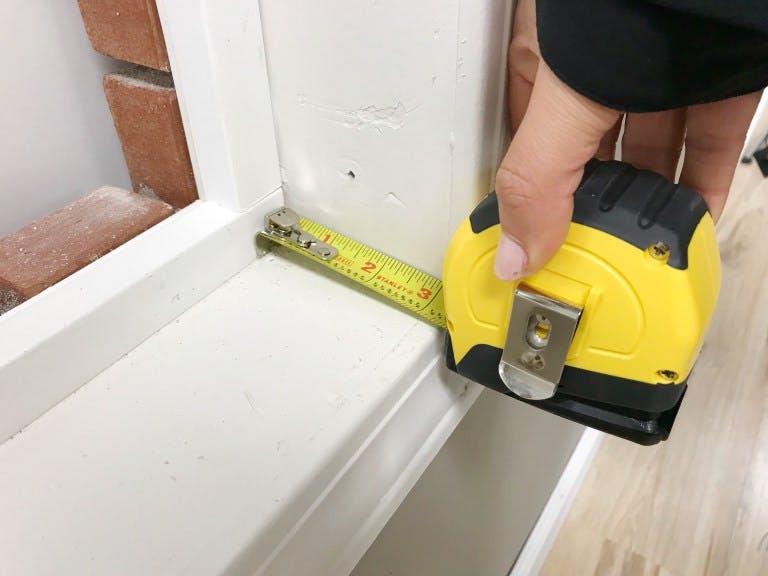 When deciding inside mount vs. outside mount, the first thing you should do is measure the depth of your window frame. This must be the unobstructed depth. Check your window for obstructions like cranks, handles, alarm sensors, and tile or trim that wraps into the window opening.
Measure from where these obstructions stop to the edge of the window molding or drywall. For double hung windows, be sure that you measure from the farthest protruding pane to the edge of the trim. Check the product specifications for the blinds or shades you'd like to order to find out if you have enough unobstructed depth to use an inside mount.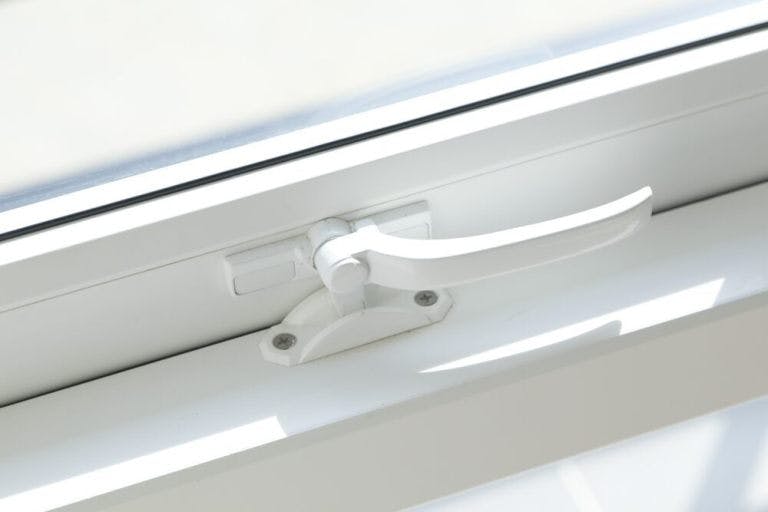 If you have tile that wraps from the wall into your window opening and forms an obstruction, talk to a Blinds.com designer about how to order your treatments with a tile cut out.
What is an Inside Mount?
An inside mount is when blinds or shades are installed inside the top of the window frame. The window treatment brackets are either screwed into the 'ceiling' of the window opening or sides.
Installing window treatments as an inside mount gives your windows a clean, finished look, allows blinds or shades to be flush with the trim or wall, and doesn't cover decorative molding.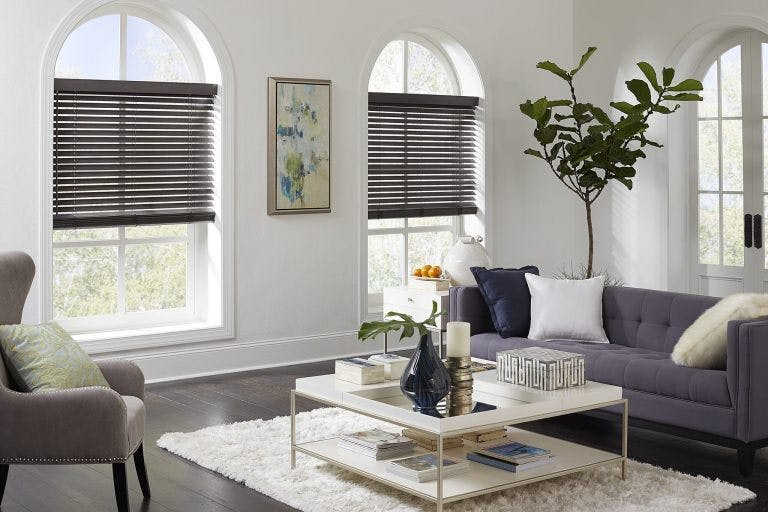 When Should You Install Blinds with an Inside Mount?
We recommend choosing an inside mount for 95% of our customers unless window depth or obstructions prevent them from doing so. Most inside mounts require a few inches of window depth to anchor the brackets on. Check the specification section on your particular product for the exact depth required. This section will list minimum depth and fully recessed depth requirements.
If your windows only have the minimum depth, you can install your treatments, but the headrail may stick out slightly beyond the trim. If your windows have the fully recessed depth, you'll be able to set your blinds back far enough so the headrail is flush with the wall or trim.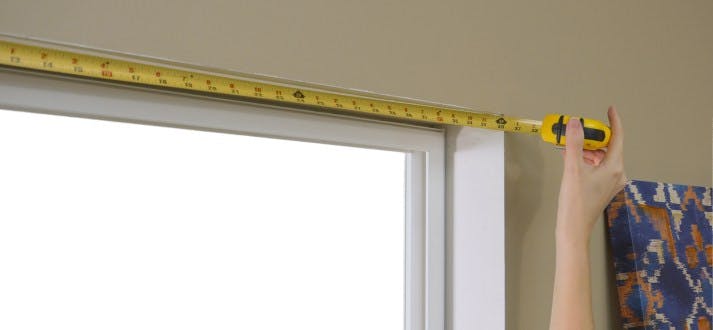 How to Measure for Inside Mount Blinds
If you've decided that an inside mount is right for your window, measure the exact size of the window opening from edge to edge, with the instructions for your treatment style in our measuring guide. Do not subtract from the size of your window opening when placing your order. We'll make any necessary deductions at the factory to make sure your blinds can raise and lower without rubbing the sides of the window.
Would you rather leave the measuring to a pro? Learn more about our professional measure and install services. 
What is an Outside Mount?
An outside mount is when blinds or shades are installed on the wall above the window or directly on the window trim. Blinds or shades are made larger than the window opening for complete coverage. This mount style may be selected when there's not enough window depth to mount inside, or when you want more coverage to darken a room.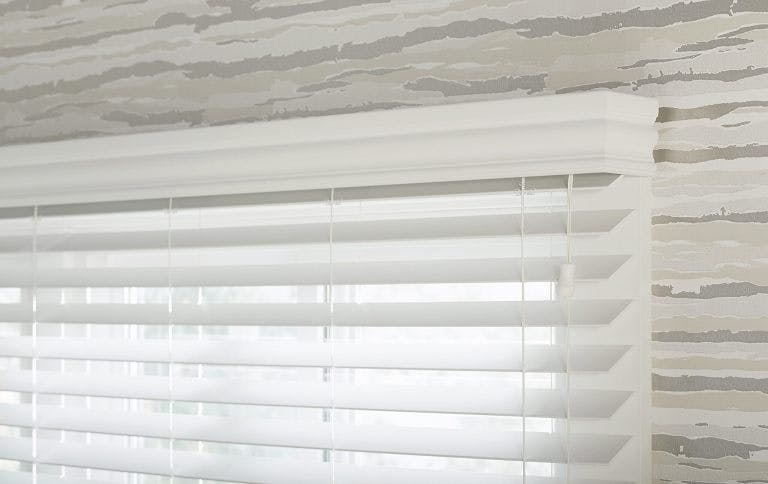 When Should You Install Blinds with an Outside Mount?
An outside mount is recommended when window frames are too shallow for mounting hardware to be installed, or when there are obstructions like window cranks, security sensors, tile or trim that prevent your treatments from lowering all the way.
Some customers also choose an outside mount if they want to block more light. Inside mounted blinds and shades can have small gaps on the side that let some light in. Making the blinds larger than the window covering and mounting on the wall above can provide more complete coverage. This is a great solution for nurseries, bedrooms, or media rooms. For more information about how to block light, read our post: How to Block Light From The Sides of Blinds.
An outside mounted shade can be used to camouflage odd-shaped or off-center windows. Some even mount their shades higher than window opening to give the illusion of taller windows and draw the eye up. This trick works especially well when draperies are layered on top of shades.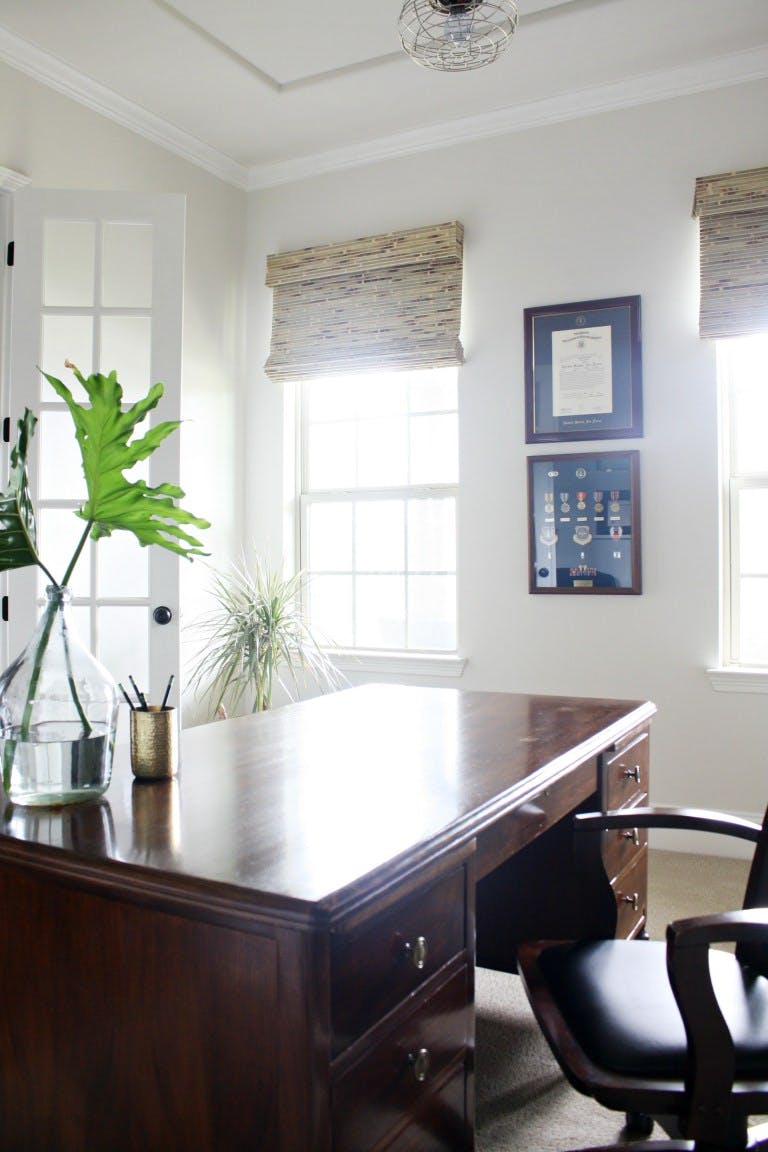 This mount is also a great solution if you'd like to conceal windows without decorative molding or cover molding you don't like.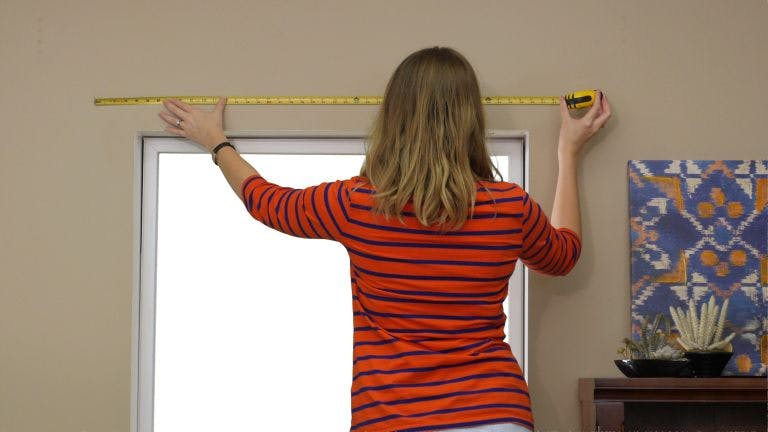 How to Measure for Outside Mount Blinds
In order to get full coverage, outside mount window treatments are made several inches larger than the window opening on all sides. We recommend adding about 2″ on all sides, but be sure to follow the outside mount measuring instructions in our guide when placing your order.
Unlike inside mount measurements, for an outside mount, you provide the exact dimensions you want your blinds or shades to be. We do not take any deductions at the factory.
Would you rather leave the measuring to a pro? Learn more about our professional measure and install services. 
Why Not Try Both? Inside and Outside Mount Shades for a Layered Look
Some customers want to give windows versatility by layering two window treatments. In order to get this look, you can install the base treatment as an inside mount and the top as an outside mount.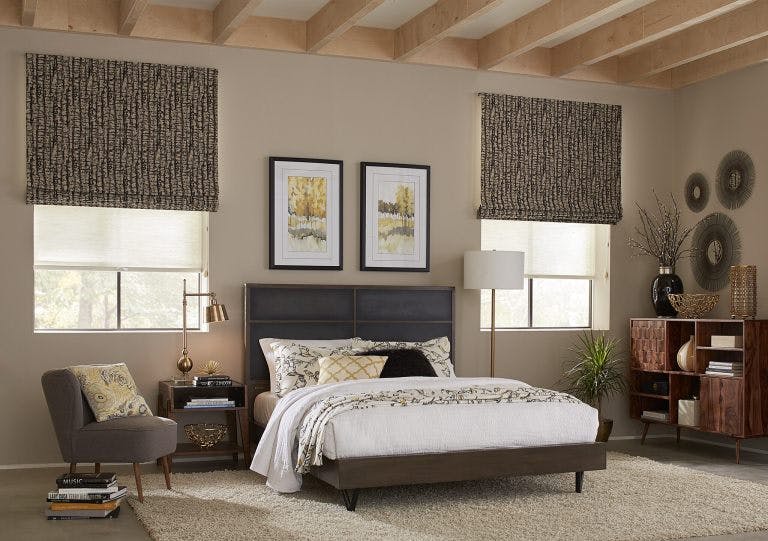 For your base layer, you can use sheer roller shades as pictured above, or blackout shades as seen below.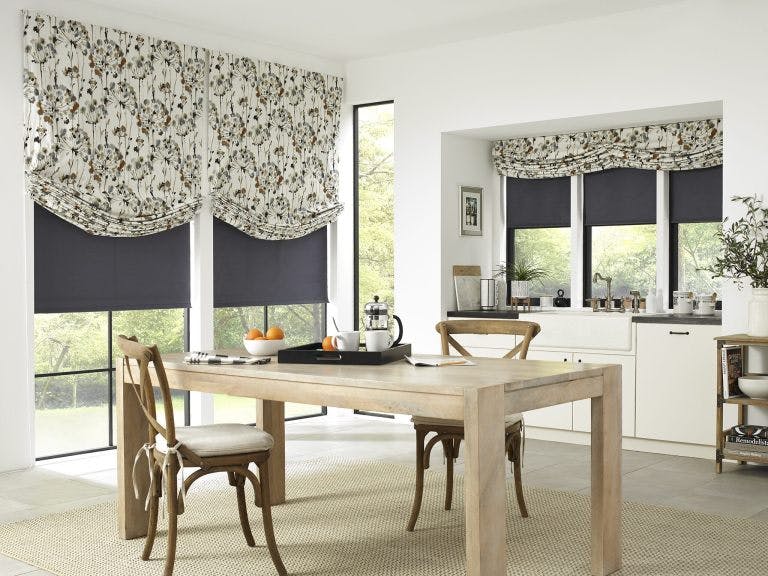 Have More Questions About How to Mount your Blinds?
Our design team can help you determine which option is best for your style and window specifications. Reach them at 866-781-9161 or by email and live chat.