When searching for window treatments for the home or office, you'll often see the terms "curtains" and "draperies" used interchangeably. Both serve the purpose of providing style and privacy to windows. But curtains are typically more casual and made with a single layer of fabric while draperies are more formal and made with heavier fabric and a liner (think a high-end hotel or restaurant). Regardless of the look you're going for, Blinds.com has a wide range of drapery and curtain styles in various materials, sizes, colors, and style options.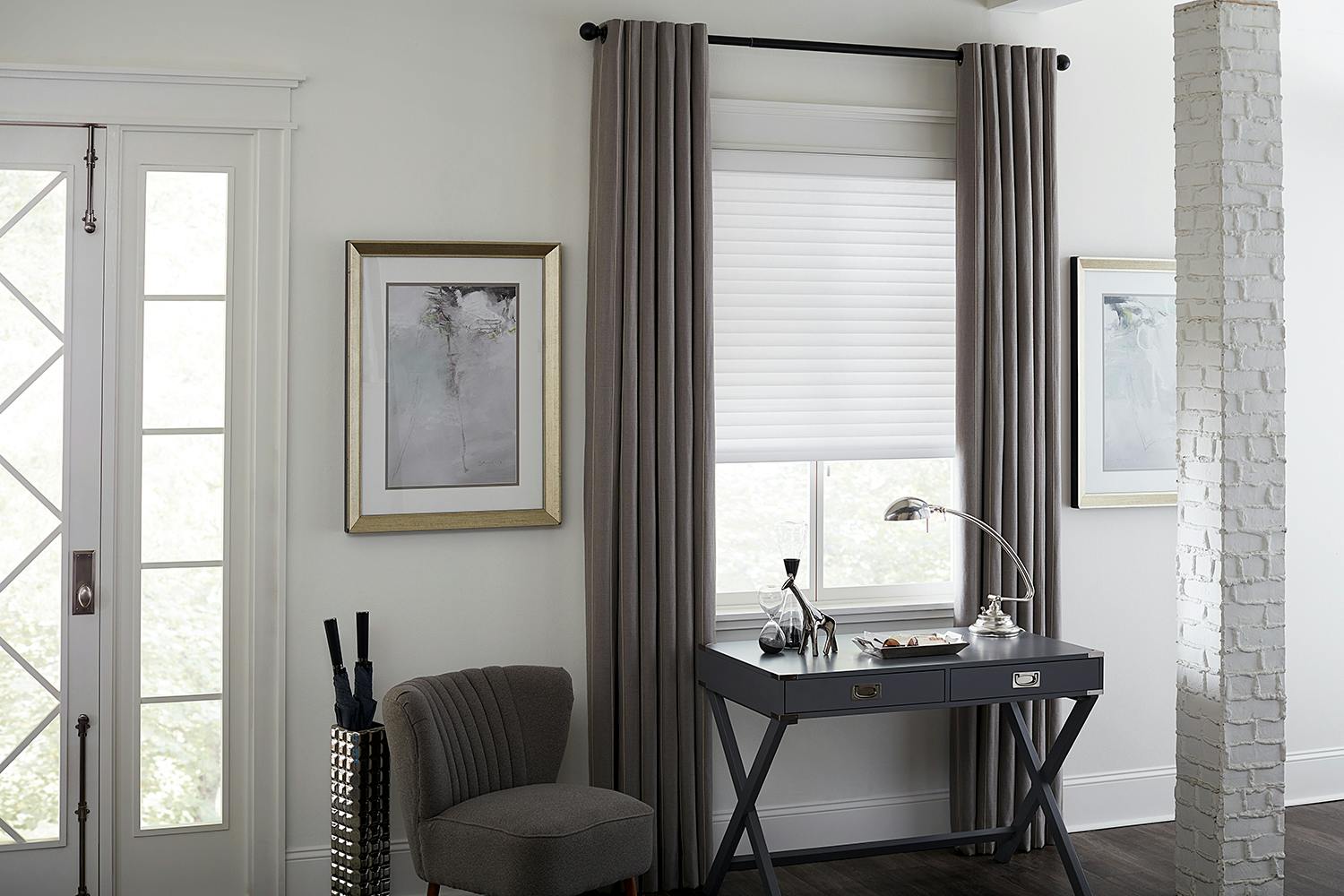 Different Curtain Styles to Consider
When thinking about which curtain style to choose, ask yourself a few questions, like:
How large is the window?
Do I want room-darkening coverings or sheer curtains that let in more light?
What are the weather conditions? Do I need to keep out cold or heat?
What is the style of the room the window treatments will be part of?
You also want to consider what length you want the drapes to be. Curtains sold in stores typically come in 63", 84," 96" and 108" lengths. However, custom curtains can be made to the 1/8" to accommodate the precise size of the window and the aesthetic you're looking to achieve.
With so many options available — from single and double panel styles to pinch-pleat and grommet looks — it mainly depends on your personal taste and the look you're going for. Let's look at some of the most popular styles.
Single Panel
Single panel (or one-panel) curtains are just that — a window treatment that only hangs on one side of the door or window, not both sides. This style is ideal for sliding glass doors or smaller windows that may be overpowered by a double curtain look.  
Double Panel
Double panel (or two-panel) curtains are a traditional look for many windows. The drapes fall on either side of the window, providing balance and the illusion of a wider window. Many people layer these with a sheer panel for added drama.
Decorative Side Panels
Also referred to as stationary panels, these drapes beautifully accent your windows, but are made to stay put, not be pulled to cover the window. They're available in various widths from 18" to 40" and a wide range of lengths. Incorporate blinds or shades or let them stand alone for a clean, refined look.
Door Panels
These panel curtains dress up and provide privacy for a variety of door styles. Add sheers or sold fabrics to French doors or sidelights for elegance and a little or a lot of privacy. Door panels typically feature rods on the top and bottom.
Sheer Curtains
Sheer curtains are made of translucent fabric that lets light into your room while maintaining a little privacy during the day. To choose this option, look for sheer fabric collections when shopping.
Light Filtering Curtains
Light-filtering curtains are made with opaque fabrics with no liner or a light filtering liner that protects from sun damage but doesn't darken the room.
Blackout Curtains
For blackout curtains, choose any top fabric and then add a blackout lining. They will significantly darken a room, but may need to be combined with a blackout shade installed in the window opening for complete blackout (we recommend blackout cellular shades).
Popular Types of Curtain Styles
Choosing your curtain style and construction depends on your home's style and the functionality you need. They can be both formal or casual, depending on your room's décor. Three of the most popular curtain styles are grommet, rod pocket, and pinch pleat curtains.
Grommet Curtains
Curtains with a grommet top have feature metal open rings punched into the fabric at the top of the panels that allow them to slide along the rod easily.
Their easy operation makes Grommet Curtains the perfect fit choice for draperies you want to open and close regularly. They're especially good for wide windows or sliding glass doors where heavy fabric can be difficult to open.
The grommet rings allow parts of the rod to show for a striking look and create a rippled effect fold when you feed them on to the rod, so they forming uniform pleats without training your drapes.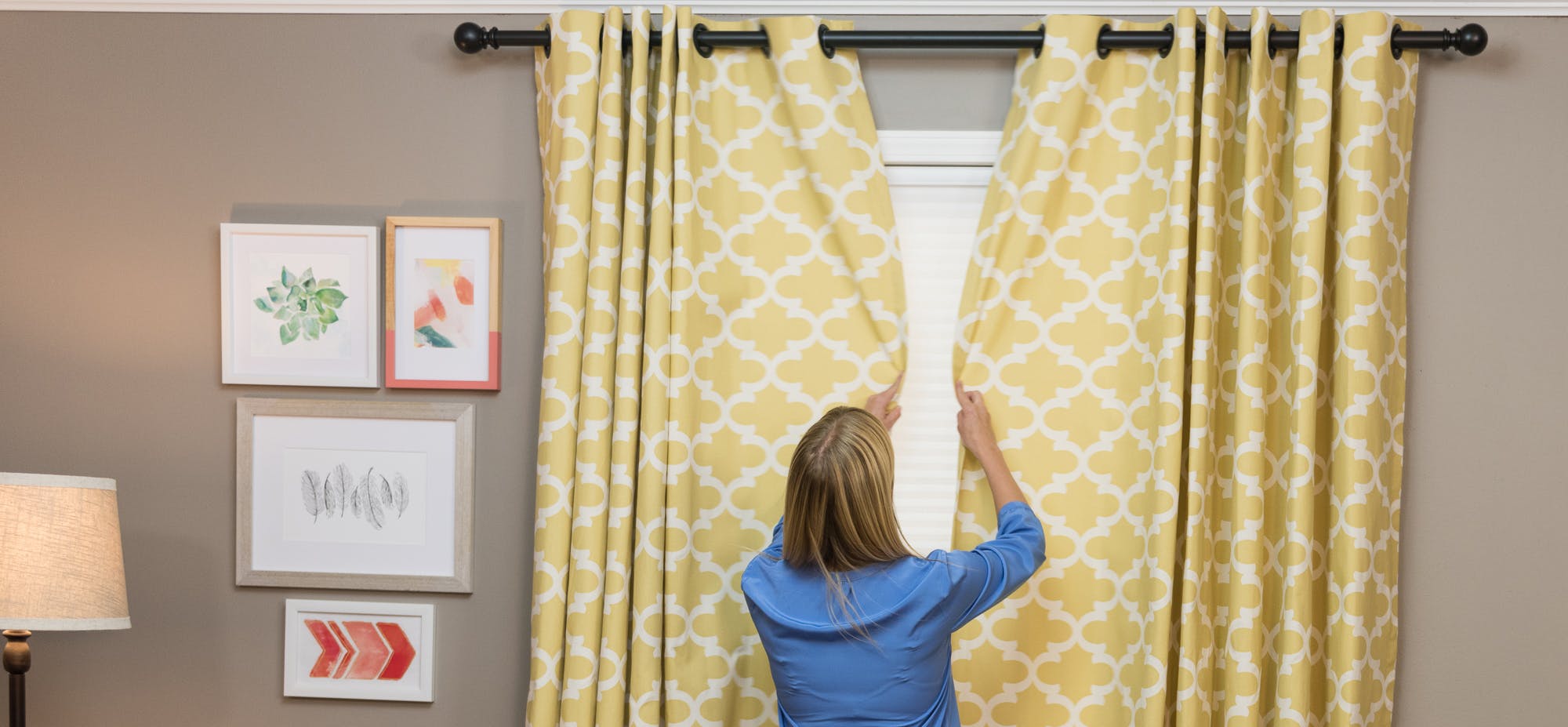 Grommet drapes look great with solid fabrics or geometric patterns. They have tend to be more a contemporary look modern in style, so they may not be the best choice if your décor is very traditional, you may want to consider a rod pocket or pinch pleat curtain. They look great with solid fabrics or geometric patterns.
Rod Pocket Curtains
Rod pocket curtains are one of the most common styles types of window treatment. you'll see when shopping for curtains. The top of the panel has features a fabric pocket that slides onto the curtain rod. But unlike a grommet curtain, the rod pocket style covers the entire rod.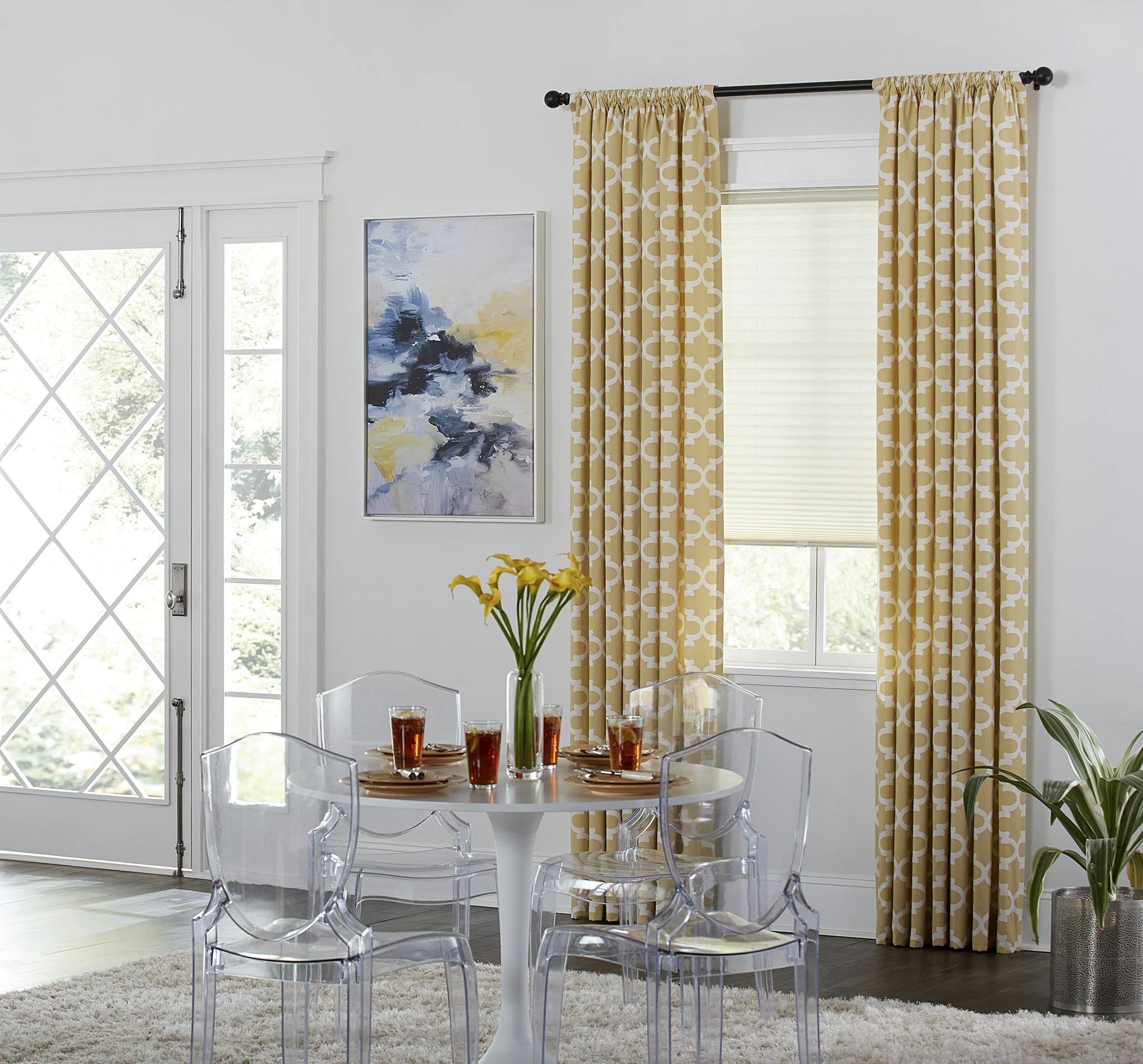 The pocket is designed to fit tightly on the curtain rod, so it's not meant to be opened and closed. However, it does create folds in the fabric that you can adjust to your liking. If you want a style you can open and close, try a grommet or pinch pleat look instead.so it can be scrunched to create folds and volume.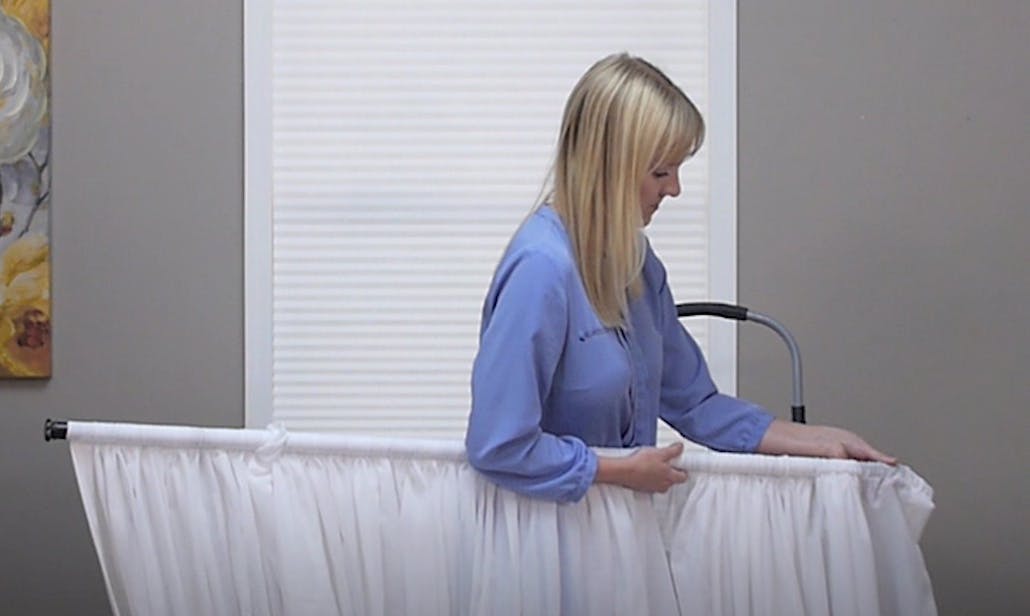 Because of the flexibility in the fabric, rod pocket curtains are easy to arrange and require little to no styling or steaming.
Pinch Pleat Curtains
Pinch pleat curtains are typically paired with more traditional or upscale décor. But at Blinds.com, you can get a professional look at an affordable price. Pleats give your curtains uniform volume and folds without fussy arranging.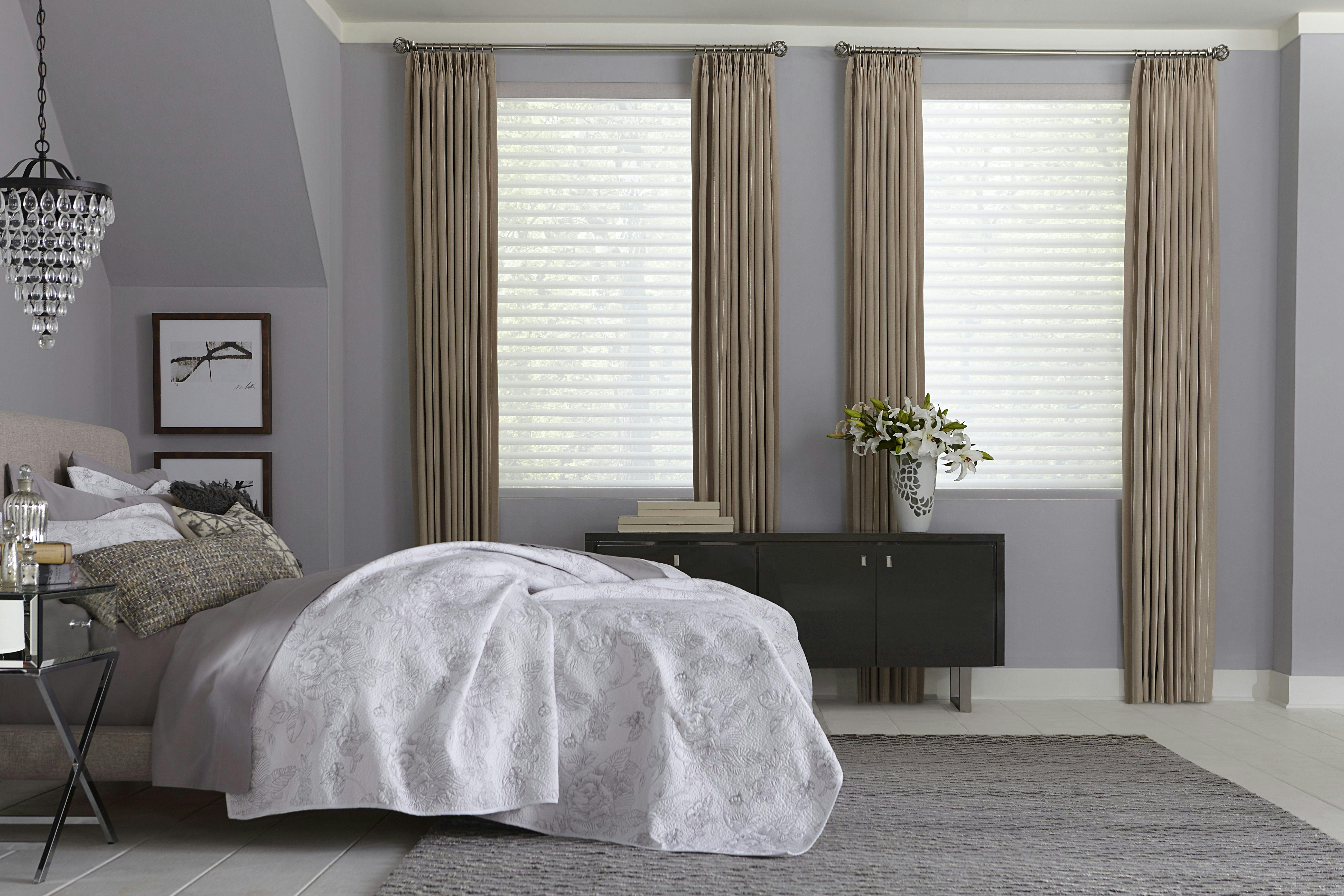 Pleated draperies have drapery pins or hooks on the back that attach to drapery rings and let you adjust the height. This style creates a uniform look that allows you to arrange the folds for as much volume as you want.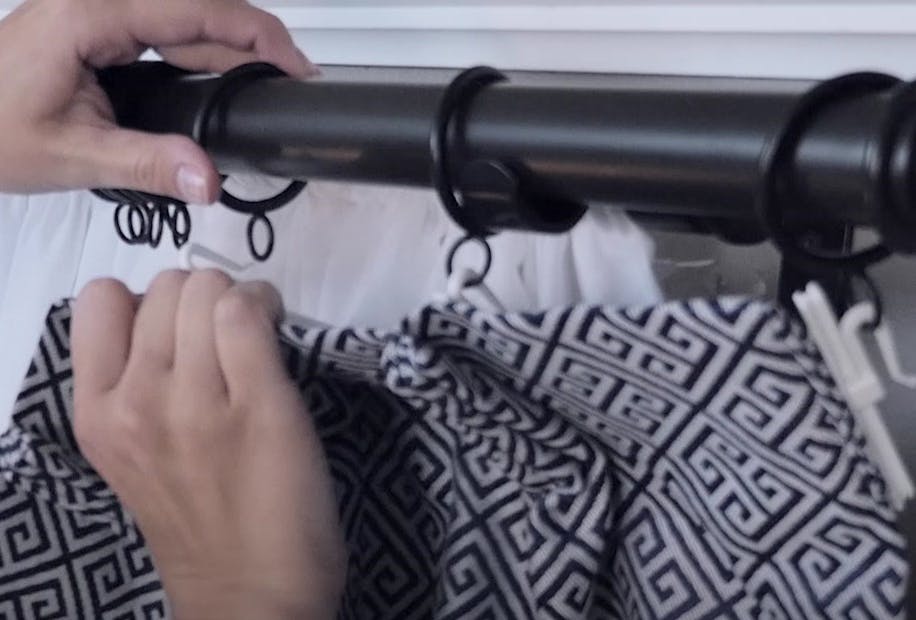 Rings The rings slide easily across the drapery rod, so pleated drapes are a perfect choice for windows that get opened and closed daily.
Need Help Choosing?
With so many different curtain styles available, finding the best match for your décor can be daunting. If you're unsure about which style, or fabric material, or color is right for your space, the expert designers at Blinds.com designers are ready to help with free decorating advice. You can call 800-505-1905.
Learn more about how to measure for draperies and find inspiration from the hundreds of ideas pinned to our Draperies Board on Pinterest.