Save 15% on select products! Use code "SUPERSALE" at checkout. Sale ends 4/23.
Perfect for top-angled or sloping, cathedral-like windows and sliding glass doors, Angle Top Vertical Blinds by Bali present a clean visual line through a combination of a contemporary square-corner valance and dust cover.
Read More
.
SureFit™ Guaranteed to Fit!
Normally made in

15

business days
Measure Instructions and Specifications
Change size below to see your price
Want Professional Measuring & Installation?
Find a Pro
Product Primary Options
Colors

Curved PVC Colors

Parisian White 3412

Americana White 3973

Foundations Snow 9306

Stucco Brisk 6585

Sequoia Faded Birch 3612

Foundations Fog 9312

Estate Paper 6790

Americana Butter 3972

Stucco Invitation 6587

Alexandria Platinum 3792

Stucco Seaside 6586

Parisian Cilantro 3415

Foundations Foam 9303

Foundations Classic 9307

Foundations Sand 9308

Quinn Wonton 3893

Parisian Caravan 3410

Foundations Cocoa 9317

Quinn February 3890

Nevada Khaki 9011

Premium Faux Wood Natural 3773

Stucco Sidewalk 6584

Sequoia Cardamom 3610

Quinn Tumbled Stone 3892

Quinn Irish Oats 3897

Quinn Silver Fox 3895

Parisian Jardin 3418

Parisian Louvre 3417

Parisian Patisserie 3416

Nevada Patio 9020

Nevada Dolphin 9021

Nevada Walnut 9014

Laguna Drift 6950

Laguna Windsurf 6953

Laguna Balsam 6951

Estate Light Sand 6791

Estate Gossamer 6798

Dazzle Marine 3183

Americana Memorial 3090

Americana Oceanfront 3091

Americana Khaki 3970

Dazzle Snowfall 3185

Dazzle Angora 3184

Dazzle Midas 3187

Alexandria Lamplight 3791

Dorado Mantilla 3131

Dorado Agave 3134

Dorado Tequila 3132

Dorado Hacienda 3130

Alexandria Mink 3790

Dorado Maize 3133

Laguna Castle 6952

Estate Doubloon 6799

Quinn Couscous 3896

Sequoia Windmill 3614

Foundations Hopscotch 9300

Nevada Drawbridge 9022

Premium Faux Wood Wheat 3770

Premium Faux Wood Regal Oak 3772

Premium Faux Wood Congac 3771

Estate Frosted Grape 6800

Estate Cutlass 6801

Americana Fig 3977

Estate Hot Cocoa 6796

Americana Jet Black 3974

More Rows of Colors

S-Shaped PVC Colors

Lighthouse White 3330

Quatico Ricotta 3396

Presidential Washington 6698

Lighthouse Misty White 3331

Presidential Chalk 6691

Lighthouse Bella 3580

Quatico Cream 3391

Quatico Model 3395

Quatico Wishing Well 3397

Lighthouse Tan 3334

Pembroke Arcade 9681

Pembroke Classic Ivory 9682

Presidential Embassy 6693

Pembroke Driftwood 9683

Presidential Jefferson 6700

Presidential Fog 6697

Presidential Roosevelt 6699

Buckskin Natural 6643

Buckskin Footbridge 6647

Pembroke Carbo 9684

Buckskin Thistle 6646

Buckskin Creek 6648

Buckskin Espresso 6640

More Rows of Colors

Fabric Colors

Spencer Cottonball 4201

Shoreline Ice Shelf 0233

Spencer Crystal 4219

Tufte Panna Cotta 0441

Monroe Blonde 0430

Linen II Natural 1710

Spencer Alabaster 4222

Keepsake Heirloom 0171

Linen II Oak 1712

Linen II Pecan 1711

Cascade Raffia 0204

Keepsake Golden Years 0172

Fiddlestix Birch 2510

Cascade Ocean Reef 0205

Keepsake Tintype 0170

Linen II Walnut 1713

Panorama Vista 0071

Panorama Open Sky 0072

Panorama Overlook 0070

Runway Ecco 512

Tufte Cream Soda 0440

Spencer Buttered Rum 4202

Thatch Sage 1561

Thatch Natural 1560

Thatch Toffee 1563

Spencer Granite 4250

Spencer Frappuccino 4282

Cascade Riverbank 0206

Cascade Loden 0207

Thatch Almond 1562

Shoreline Moccasin 0231

Runway Concord 0511

Monroe Green Tea 0432

Spencer Outback 4203

Shorline Teak 0230

Runway Imperial 0513

Fiddlestix Oak Bark 2512

Shoreline Gray Cliff 0232

Thatch Coffee 1565

Fiddlestix Tree Trunk 2513

Monroe Icon 0431

Spencer Mocha 4205

Monroe Bramble 0433

Runway Pepper 0510

Fiddlestix Nutmeg 2504

Tufte Tiramisu 0442

More Rows of Colors

View our Color Accuracy Policy.
Product Details
Description
Perfect for top-angled or sloping, cathedral-like windows and sliding glass doors, Angle Top Vertical Blinds by Bali present a clean visual line through a combination of a contemporary square-corner valance and dust cover. Featuring strong and durable vertical slats designed to stand the test of time, these blinds are an ideal choice for cabins or cottages. Includes a cord control and a continuous loop chain for tilt. Available in a wide range of colors, including neutral accent colors and textures.
Install Time: 20 - 25 minutes
We Recommend:
Includes standard curved slats or your choice of either S-shaped slats for better light control or fabric slats for a softer look.

Choose the optional valance to give a well-finished look—and to help control dust!
Considerations:
Slat stack and cord control are located at the highest point of the window.

Vertical blinds have a deeper mounting depth than most other products.
Coordinating Products:
Click here to see other products that are available in many of the same materials.
Child Safety Information:
This product has accessible cords and is not recommended for windows where children or pets may be present.
Warranty:
With the assurance of the Blinds.com Warranty, you can trust that this product will last and provide added value and beauty to your home.
Surefit™ Guarantee
With SureFit™, a Blinds.com exclusive, we make sure you have complete peace of mind when measuring for any product we offer.
If you made a mistake measuring your blind, we'll remake it at no cost to you. You don't even pay for the return shipping of your old blind! You only pay if there's a difference in price between your old and new blind, or if the new blind requires a shipping fee (generally, this applies when it's over 94" wide).
Important Disclaimer:
Limit 1 remake per item; 4 item remakes per household per lifetime (unless the error is ours, in which case, we'll make it right!).
Same-product exchanges only, within 30 calendar days of receipt of package.
Changes are restricted to size and mount only.
Refunds are not offered under this guarantee.
Not Covered Under This Guarantee:
Commercial orders: any order containing 25 or more of the same product, of tax exempt status, or containing any Blinds.com Commercial brand product.
Any product ordered outside our recommended sizes or specifications, which can be found on the product page.
Product Specifications
Standard Blind Specifications
Minimum Width: 7"
Maximum Width: 144"
Minimum Height: 6"
Maximum Height: 144"
Approximate Inside Mount Deduction: 1/4"
Mounting Requirements
Minimum Inside Mount Depth: 2 3/8"
Minimum Inside Mount Depth (fully recessed): 3 3/4" without valance
Minimum Inside Mount Depth (fully recessed): 4 5/8" with valance
Minimum Outside Mounting Surface: 1 1/2"
Standard Options
Left and Right Angle
Stack is always on tallest side
Square Corner Valance option
Related Products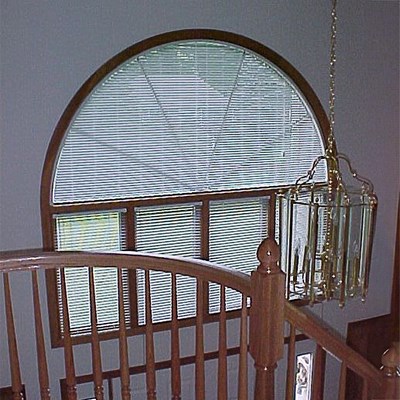 Description:
Get exceptional and affordable coverage with 1" Arch Mini Blinds by Bali, which are designed to add modern flair to your arch-shaped windows. Featuring thicker and more numerous slats, along with light pollution-reducing LightBlock technology.Get exceptional coverage with 1" Arch ...
Description:
Give large picture windows and sliding glass doors a designer appeal with Bali Fabric Vertical Blinds. These blinds are perfect product for creating a varied ambiance by playing off the sun's changing angles, while also providing exceptional light control.Give large ...
Description:
Woven Wood Draperies bring the natural beauty of bamboo, jute, grasses and woven wood to wide windows and patio doors. Their nature-derived palette, spanning from soft sandy shades to dark earthy tones, makes them a perfect complement to hardwood floors ...
Description:
Blinds.com's 1" Signature Wood Blinds bring the beauty of a wood blind to shallow windows and French doors for an incredible price. These real-wood blinds are made from genuine basswood and feature rich grain that's been enhanced with a protective ...