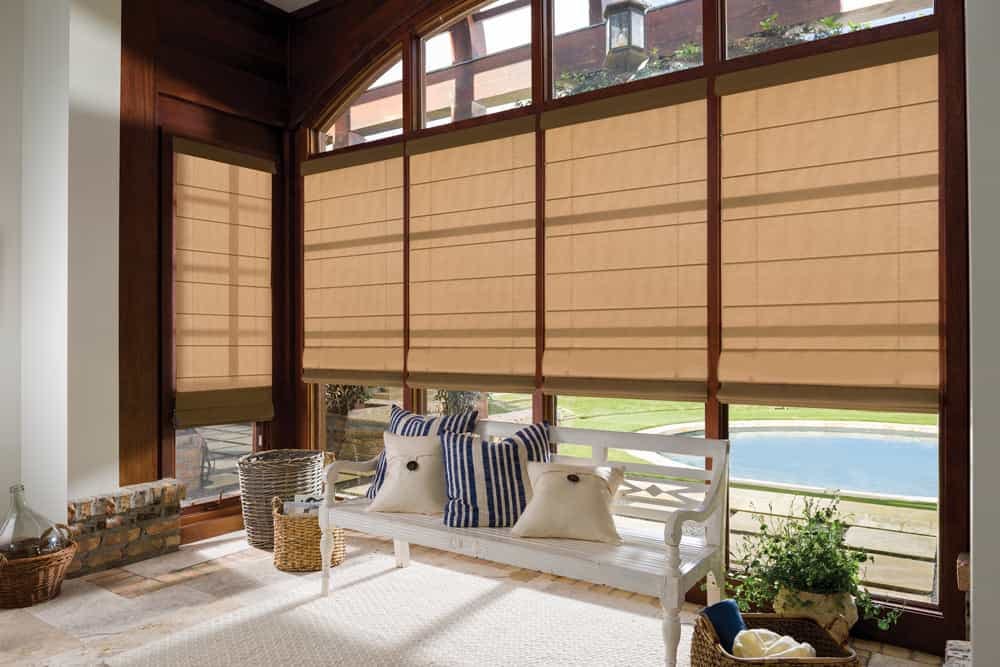 Your sunroom is your happy place. It's a room to relax, read a book, or host visitors. Sunrooms are designed to be filled with natural light, so choosing sunroom window treatments requires special consideration. Your sunroom shades need to filter sunlight and be able to withstand constant UV rays. You may also want to consider motorized sunroom blinds to simplify the raising and lowering process. Read on for expert insight and sunroom window treatment ideas. 
Key Considerations for Covering Sunroom Windows
Sunrooms are meant to capture light. But if the room gets too hot, or the light is too direct or harsh, you won't use your sunroom as often as you might like. Fortunately, the solution is as simple as finding the right sunroom window coverings.
Material
Unless you use your sunroom as a sleeping area, this is likely not the space for heavy cotton curtains or room darkening shades. Instead, opt for light filtering window coverings for sunrooms that block glare but still allow the sun's natural light to fill the room. If you use your room at night, and it's viewable from the sidewalk or a neighbor's house, consider a thicker material that won't leave you on display when lit from inside. And if you choose shutters over curtains or roller shades, avoid real wood—it can be vulnerable to warping and cracking in hot spaces subject to constant direct sunlight. Faux wood options will last much longer.
Insulation
Because they soak up the sun's energy all day, sunrooms can be difficult to keep cool. They're often an addition to a house or an enclosed former porch that may not be connected to your central cooling system. The right shades for sunroom windows make all the difference in keeping this area of your house comfortable. Solar shades are specifically designed to block UV rays without blocking your view. Cellular shades are another option. You'll give up your view when they're lowered, but they up the energy efficiency by creating pockets of air that slow the transfer of heat/cold between inside and outside.
View Obstruction
Our sunrooms often look out on a garden or our children playing the backyard. Sunroom blinds may be the right choice for insulation, but consider the line of sight to your key outdoor areas. Blinds are bulkier when they're raised, while roller shades and cellular shades may leave more of your outdoor view visible.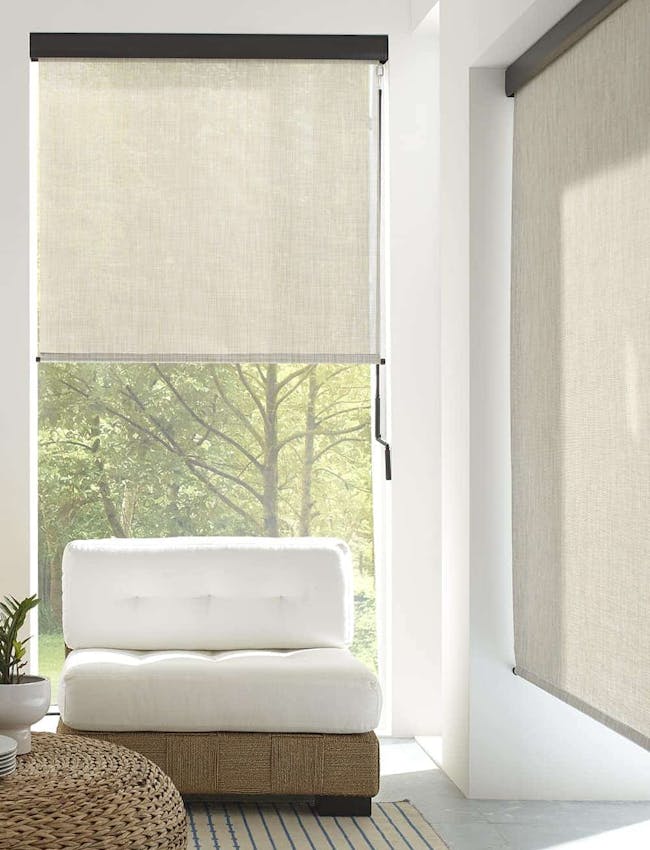 Lift Options
Your sunroom may have more windows than any other room in your house. When you consider how to cover sunroom windows, think about the ease of opening and closing your blinds or curtains. Sunrooms are a logical place to invest in motorized blinds that can be raised and lowered all at once. At the very least, choose a cordless option that's simple and fast to pull up or down.
Colors
In a sunroom, the focus is on light. This is a room to fill with plants and comfortable furniture, steering attention toward the outdoors. Shades for your sun porch should complement the room without becoming the focal point. The best blinds for a sunroom should have light, solid colors, and any patterns should be simple and subdued.
Maintenance
Does your sunroom open to the outdoors? If so, consider the extra dirt and dust that may make its way inside. Sunroom drapes and curtains are usually the easiest to clean. If you choose shutters, opt for interior shutters with wide slats that can easily be wiped off. Also, consider the effects of direct sun. Darker colored blinds may fade over time. Likewise, choose faux wood for shutters to prevent the aging effects of the sun on real wood.
Best Types of Window Treatments for Sunrooms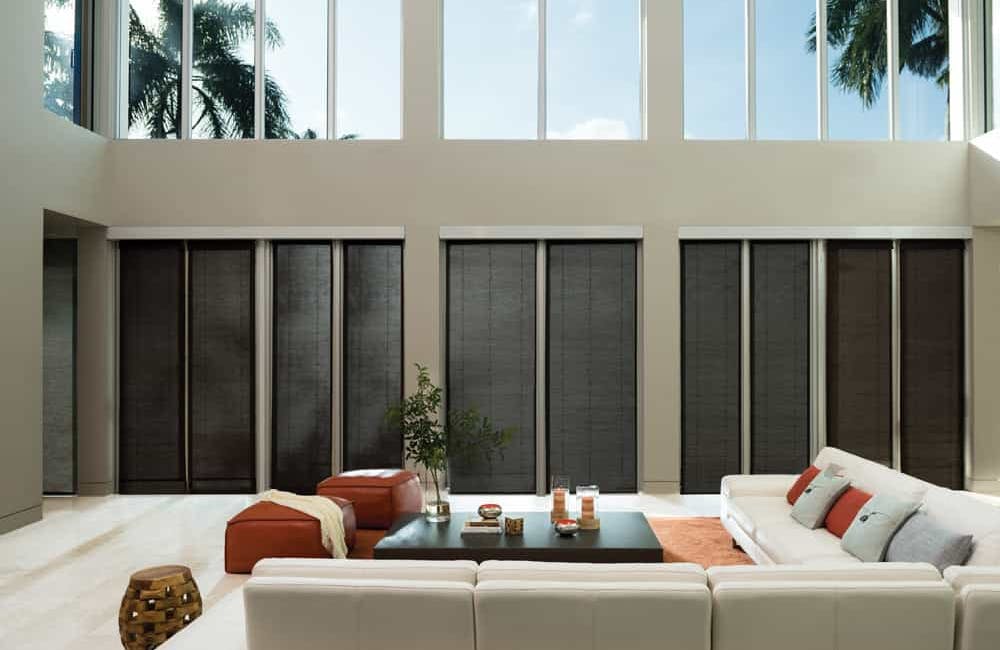 Solar Shades
Solar shades are a logical first consideration for sunroom window coverings. These retractable roller shades are designed to block UV rays and filter the sun's calming light throughout your room. They're available in muted patterns, light-colored solids, and a variety of classic and modern designs. If you have a beautiful view but need to block glare and keep your sunroom cooler, consider solar shades.
Roman Shades
A perennial favorite, Roman shades provide a traditional look that gives the appearance of a fabric valance when raised at the top of your windows. Consider roman shades for sunroom window coverings if you have tall windows where the raised shades won't block the view to the outside. Roman shades are available in light-filtering, room-darkening and UV-blocking materials.
Cellular Shades
In addition to their light-filtering and privacy benefits, the honeycomb design of cellular shades provides insulation. The air pockets within the shades trap hot air at the window, keeping your sunroom cooler. Cordless cellular shades are also fast and easy to raise and lower, and their small profile preserves your view to the outside when they're raised.
Blinds
Blinds offer the ultimate flexibility in sunroom window treatments. Even when lowered, you can open them to enjoy your view while blocking harsh, direct light from entering the room. Sunroom blinds also provide the option of darkening the room and blocking the sun's heat during the afternoon. Choose faux wood blinds for your sunroom — direct sunlight can lead to cracking and warping in real wood blinds.
Curtains
Sunroom curtains are a final option that's suitable if you have the space to open and close them without catching on furniture. Curtains can be sheer or solid, offering flexibility for UV-filtering and light blocking, but you'll need to carefully consider placement of your seating, especially if your sunroom is small.
Related Articles:
·      https://www.blinds.com/blog/home-office-set-ups-to-inspire-you
·      https://www.blinds.com/blog/tips-for-working-from-home-to-keep-you-productive
·      https://www.blinds.com/newsroom/natural-light-is-best-for-video-conferencing
FAQ
We recommend roller shades, cellular shades, bamboo shades and sun shades.

We recommend roller shades because they have a clean minimalist look for a room full of windows. Choose a motorized lift to open or close shades with the press of a button. 

We recommend cellular shades because they collapse to just a few inches at the top of the window for an unobstructed view. They also insulate against heat and cold to keep your sunroom comfortable in any season. 

We recommend woven wood shades  because they add natural texture to elevate the style of your windows. Choose from light filtering or blackout liner options. 

We recommend solar shades as they can withstand temperature change, are easy to clean, durable and inexpensive.