As Zoom meetings and working from home are slowly becoming our new normal, we're rounding up a few of our favorite workspaces to keep you inspired while you're out of the office.
An aesthetically pleasing, yet functional work space may be exactly what you're missing when it comes to staying productive. Because let's be honest, virtual backgrounds aren't cutting it.
Check out 10 of our favorite home offices to inspire your next room refresh.
1. The Perfect Conference Room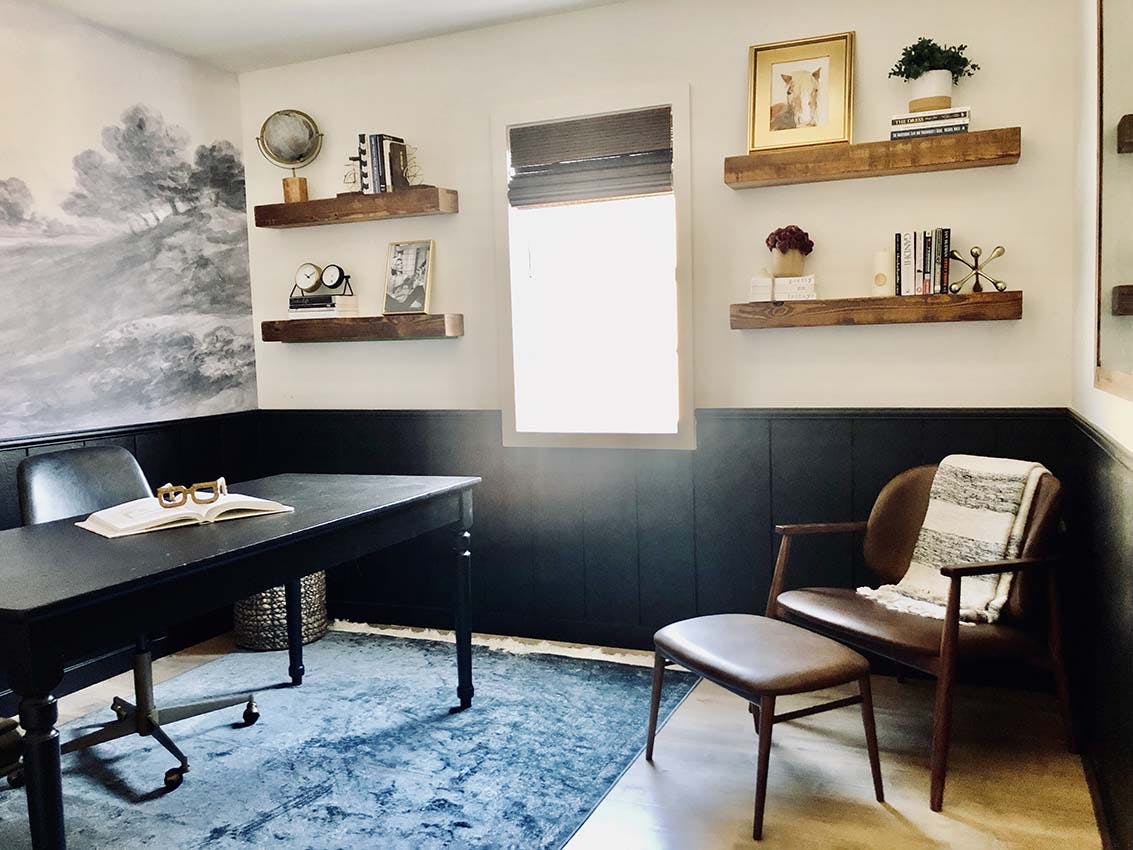 Pictured: Blinds.com Woven Wood Shades in Tibet Walnut. Photo via @prettyonfridays.
Mural, mural on the wall, who has the fairest office of them all? We love this office from @prettyonfridays because it's the perfect set up for video conferences. It has a scenic and professional backdrop, plenty of natural light and a big desk so you can spread out. The wood shelves, Blinds.com Woven Wood Shades (color: Tibet Walnut) and mid-century inspired furniture give it just a hint of rustic charm while the black board and batten keeps things modern and striking.
2. Go Modern With Monochrome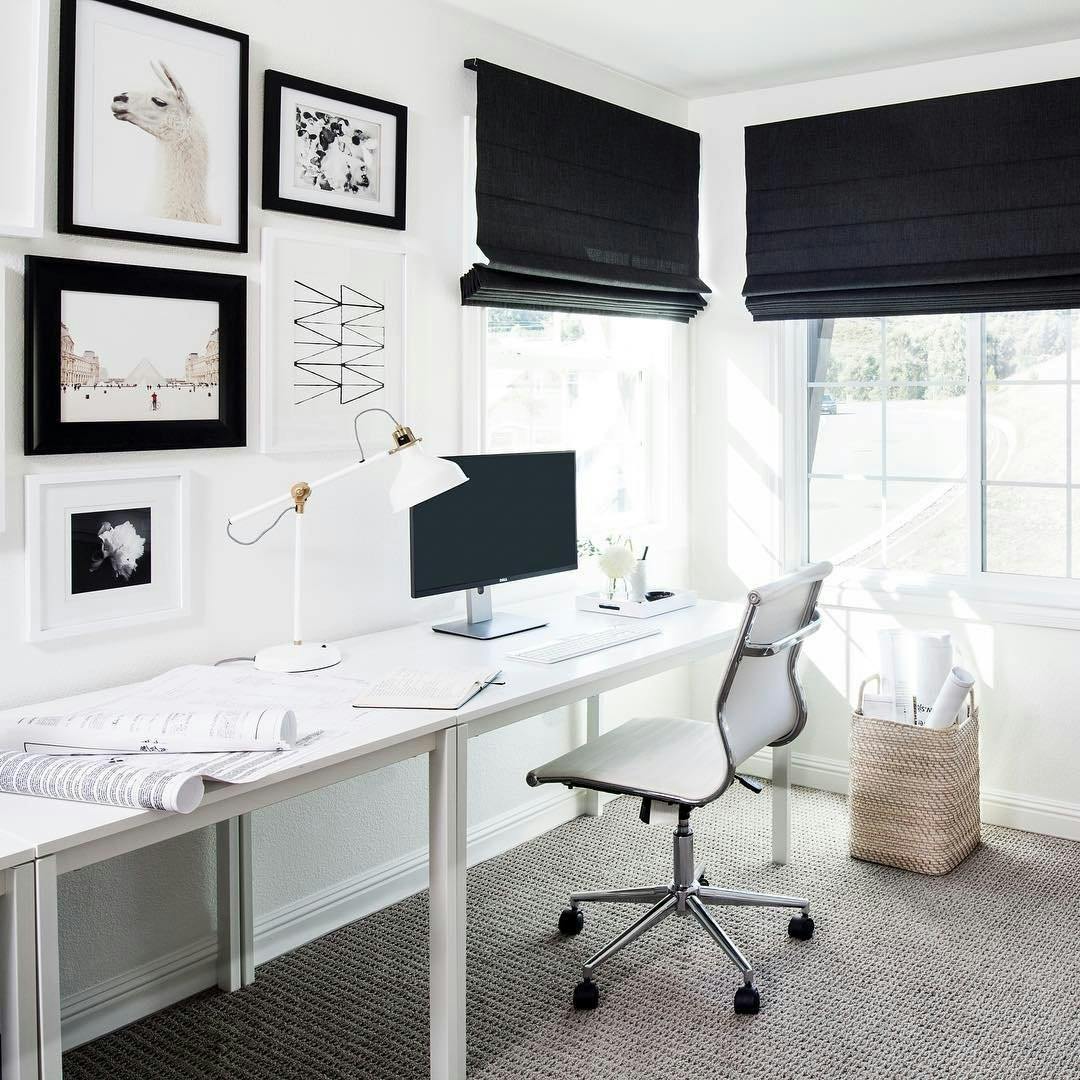 Pictured: Blinds.com Premium Roman Shades in Bellingham Night. Photo via @eggshell_home.
Do you work better with as few distractions as possible? Then a modern, monochrome workspace like this one from @eggshell_home might be right for you. But minimalism doesn't have to be boring! The right accents, like the Blinds.com Premium Roman Shades in Bellingham Night, can keep things from feeling stark by adding a softness to your windows.
3. Bring Nature Inside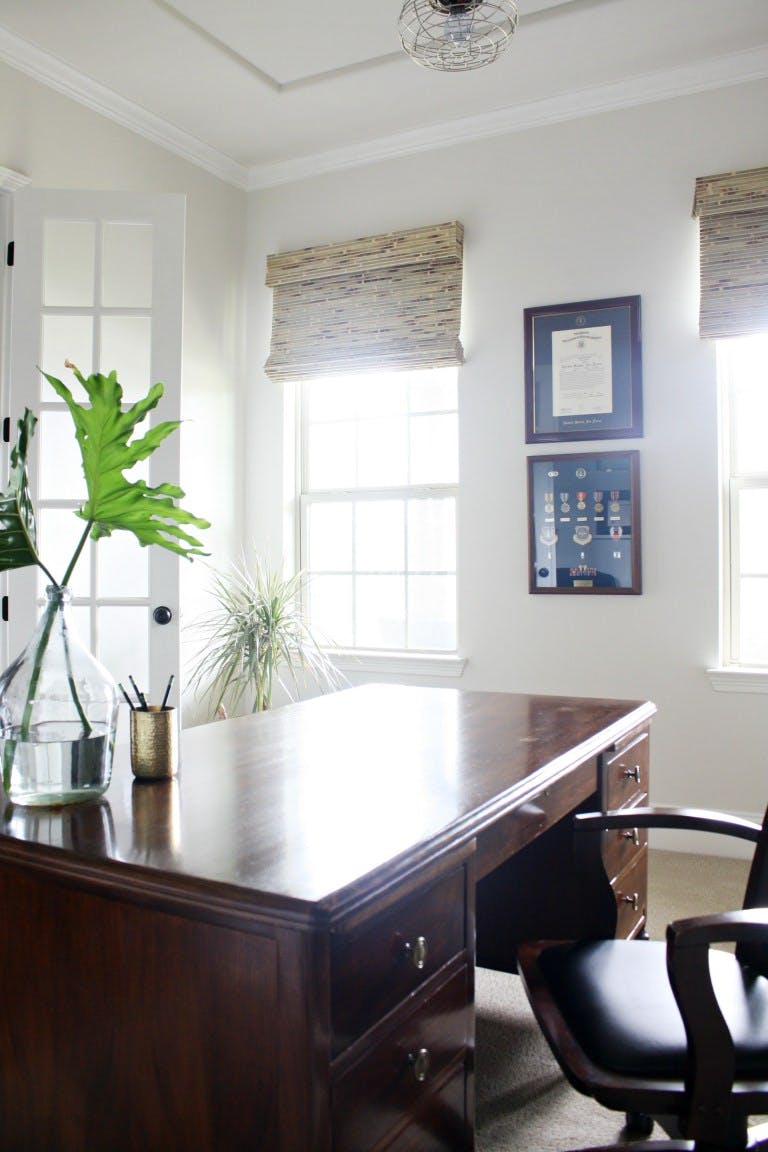 Pictured: Blinds.com Woven Wood Shades in Antigua Natural. Photo via @crazywonderfulblog.
Every office needs a couple of plant friends! Try bringing nature indoors with a few houseplants and open your windows. Studies have shown that being exposed to nature can help lower stress. Having a little white noise in the background like birds singing or trees rustling can be good for concentration.
You can also try bringing in earthy and natural wood furniture or the textural Blinds.com Woven Wood Shade (color: Antigua Natural) to help you feel grounded even if your daily work routine feels a little unusual right now.
4. A Creative and Colorful Workspace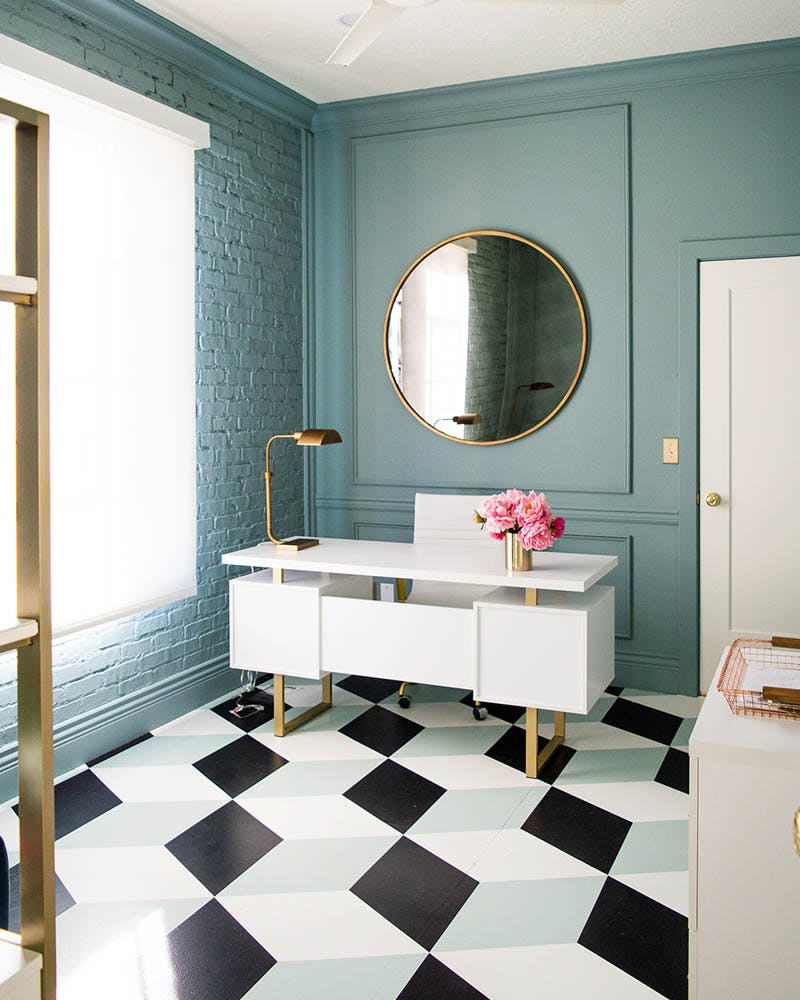 Pictured: Blinds.com Solar Roller Shades in 5% Cloud White. Photo via @houselarsbuilt.
This one goes out to anyone with a flair for the dramatic! This creative office color palette is super cool. This particular shade of teal is low-key enough to help keep you focused, contrasts nicely with the crisp white and makes the brass accents sparkle. The geometric tile gives this room a mod, retro feel (without the shag carpet). When going with a super bold color it's important to keep the space well lit so the Blinds.com Solar Roller Shade (color: 5% Cloud White) works perfectly here.
5. Pink Studio, Yes Please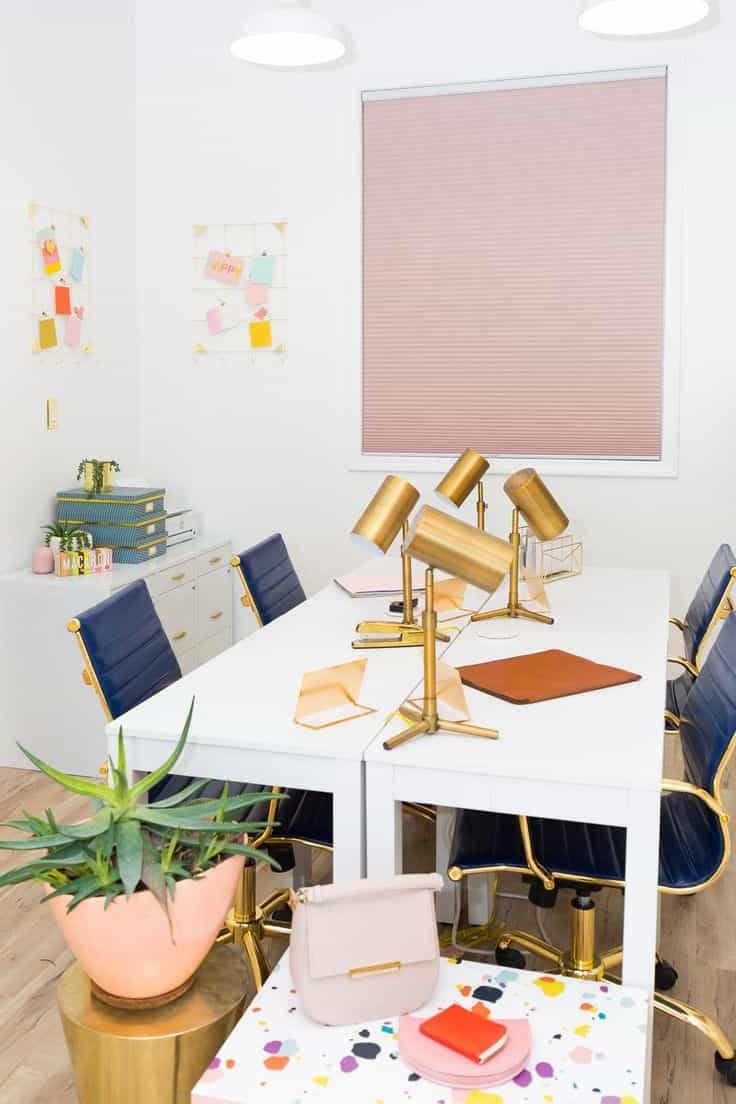 Pictured: Blinds.com Premium Light Filtering Cellular Shades in Dusty Rose. Photo via @sugarandcloth. We'll take pink studio offices over beige cubicles any day! This friendly pink studio from @sugarandcloth uses the Premium Light Filtering Cellular Shades in Dusty Rose to compliment the brass and navy blue accents in a fun and refreshing way. These two tables were pushed together to make one large work surface that's perfect for spreading out or collaborating. Colorful, confetti touches like sticky notes and an artsy paint splatter table add to its whimsical charm.
6. A Plush Office Nook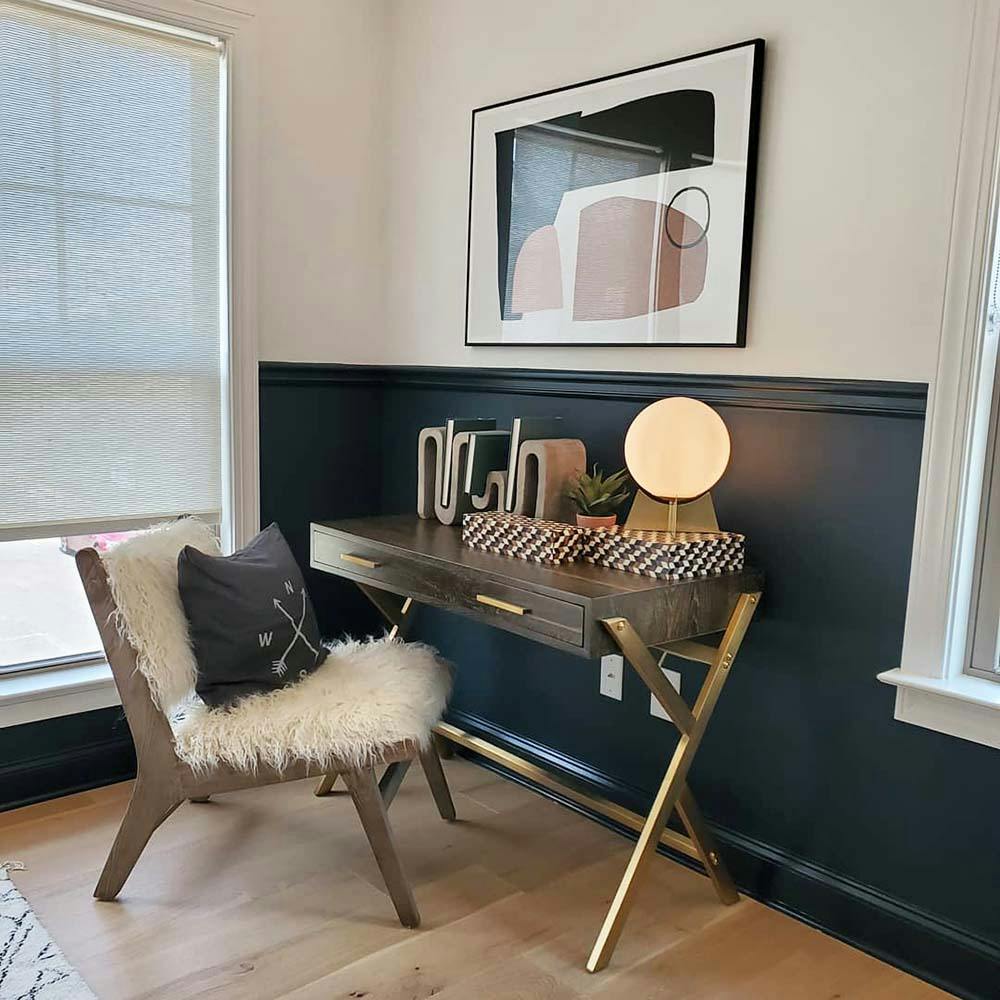 Pictured: Blinds.com Premium Light Filtering Roller Shade in Mykonos White. Photo via @themodelhomelife.
Okay, so maybe your home office is more like a work nook. No need to despair! A small and fashionable writing desk next to a corner window might be all you need. Use soft textiles like throw pillows or a fluffy chair to keep it cozy and comfortable. A few decorative accessories make it feel personal. Finally, keep it bright with the Blinds.com Premium Light Filtering Roller Shade in Mykonos White.
7. A Picture Perfect Portrait Wall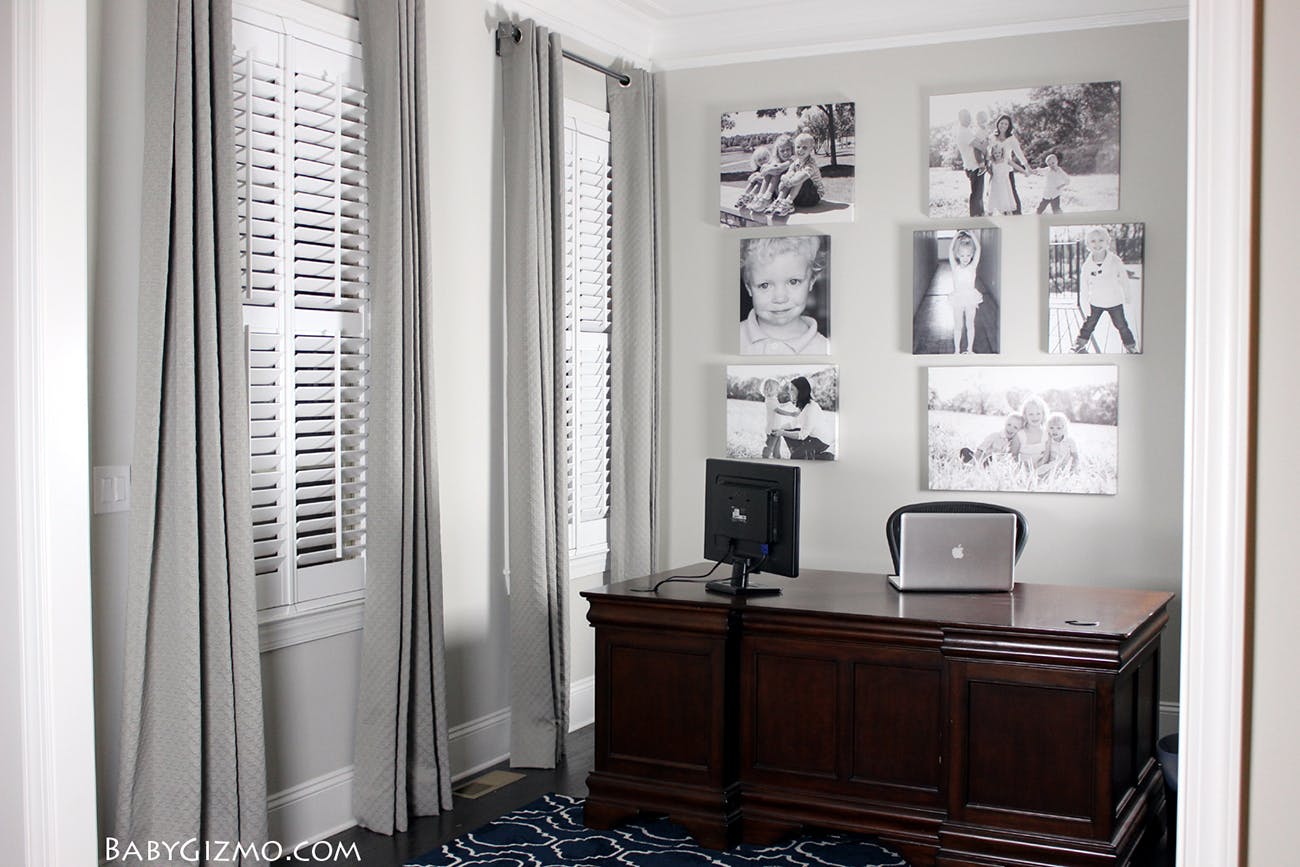 Pictured: Blinds.com Simplicity Wood Shutters in Bright White. Photo via @babygizmo.
Show off your precious family photos on every video call with a personal gallery wall like @babygizmo. Light tones of grey can be calming so sticking to a neutral grey palette keeps your office from overstimulating your senses. Black and white photos printed on canvas gives this stately room and personal touch.
Having tiltable Shutters over the windows allows you to control the amount of light coming in. This is perfect if you have south-facing windows that get a ton of sun during the day. Layer them with draperies for a regal look that still feels soft and welcoming.
8. A Workspace For The Kiddos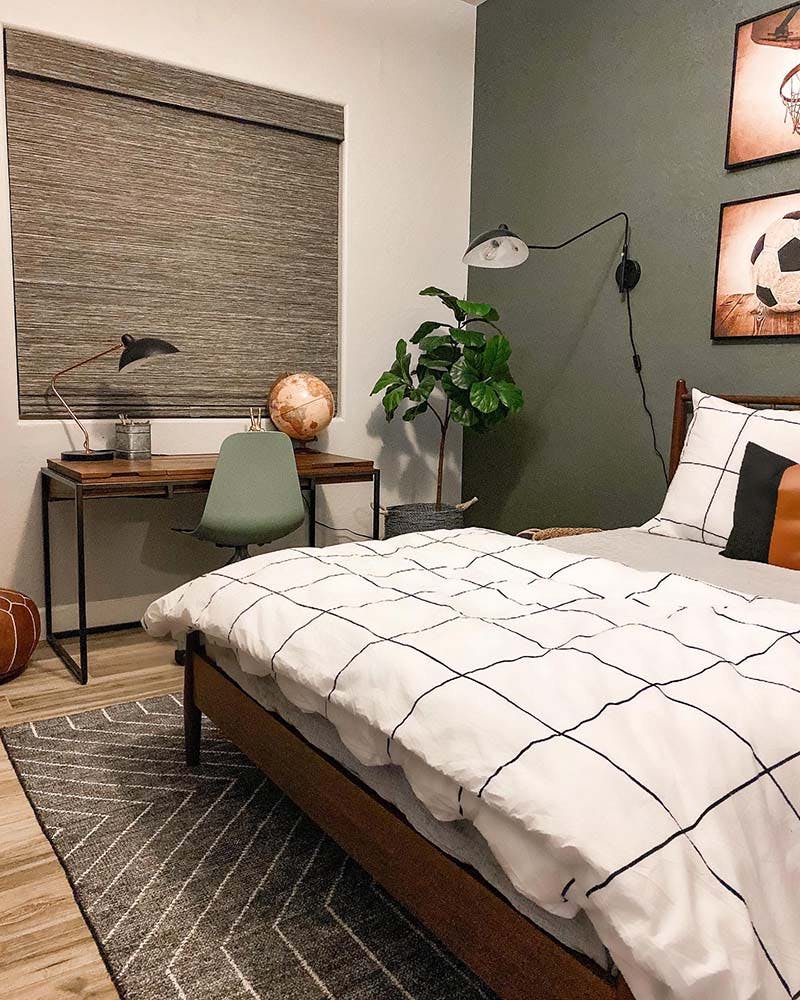 Pictured: Blinds.com Woven Wood Shades in Hatteras Rock. Photo via @jaci.daily.
Are the kids working from home too? A small desk below the window is the perfect spot for homework. Plus having their own workspace in their room makes it easier to focus. Coordinate the window shade with other colors in the room to create a soothing space that flows, no matter how the room is used.
9. Experiment With Color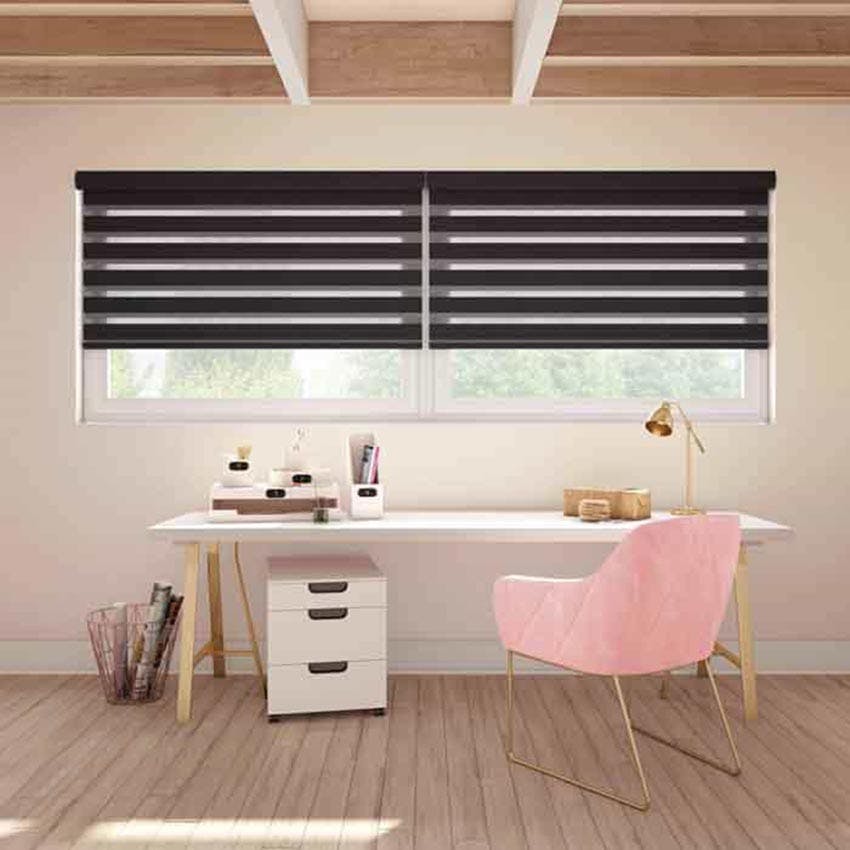 Pictured: Levolor Banded Shades in Spree Black.
Experiment with color! Using black banded shades in an already light and bright space creates contrast and a focal point in the room. Black is a neutral color that feels modern and refreshingly bold. It works well for older kids or teens because it adds a hint of grown-up elegance and maturity when paired with favorite colors like pink. Plus the banded shade can be opened to control light, similar to how a blind tilts, so they can control how much light they need over their workspace.
10. Making The Most Out of Multi-Functional Spaces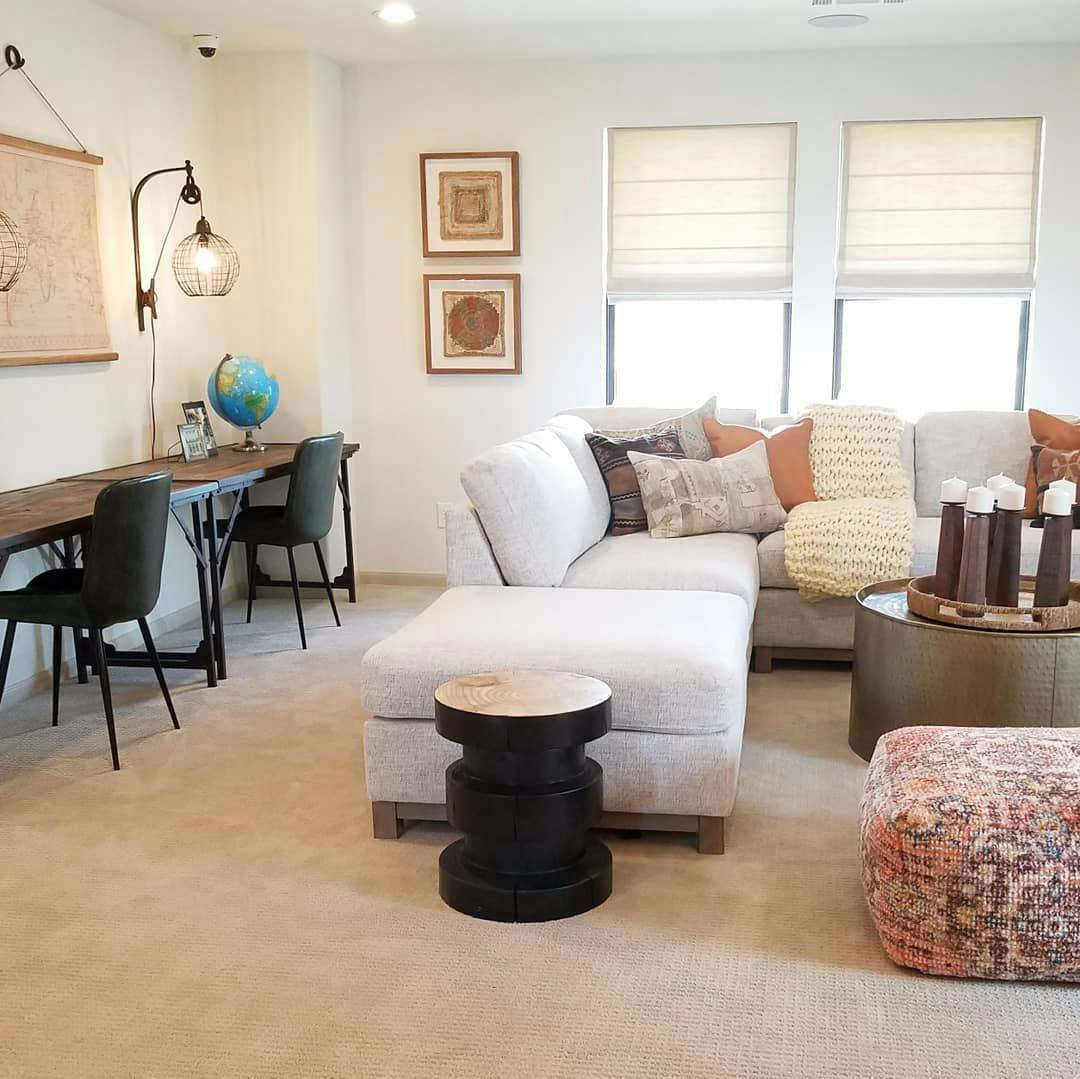 Pictured: Blinds.com Premier Roman Shade in Verona Barley. Photo via @themodelhomelife.
Making a multi-purpose room work for you? The key to a cohesive room that flows is to use the same colors and textures throughout the space. Try matching Roman Shades to your flooring or using the same wood tones throughout your decor. You can also try positioning furniture to create some separation between areas like @themodelhomelife did with this sectional couch.
Does Your Workspace Need A Pick Me Up?
The Blinds.com team is working daily from the comfort and safety of our homes and we're ready to help you! Give us a call to speak with a Design Consultant about your window project at 844-551-3769.
Read More: