When Can You Start Decorating for Fall?
You can start right now. It's time for warm apple cider, cooler days, and chilly nights around the firepit.
Whether you're looking to completely renovate your home for fall or just spruce things up with some new fall items, we're sharing 11 ways to transition your home decor from summer to fall. From simple touches like swapping out throw pillows to complete room transformations, there are plenty of ways to create an inviting space that feels like autumn.
How Do You Transition from Summer to Fall?
1. Warm Things Up With a Wreath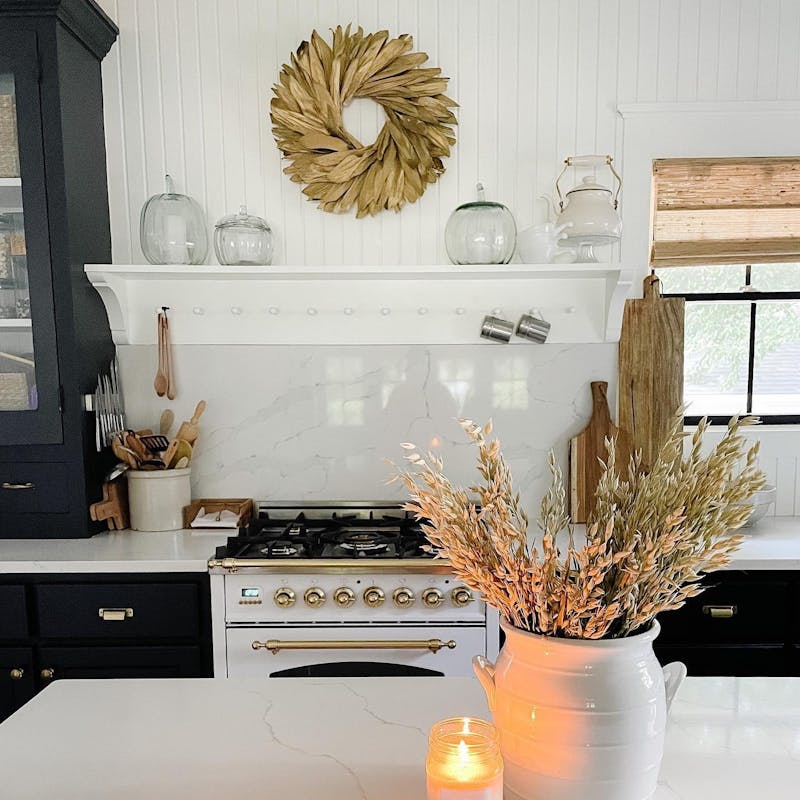 Pictured: Cordless Woven Wood Shade in Rustic Jute. Photo via: @jaymesquires.
A simple way of shifting from summer to fall decor is by adding a wreath. Try placing it in the kitchen above the stove and adding glass pumpkins that double as candle holders for a chic fall look. If traditional orange and brown wreaths aren't your style, put a modern spin on them by choosing one in a gold or copper shade.
2. Refresh Your Porch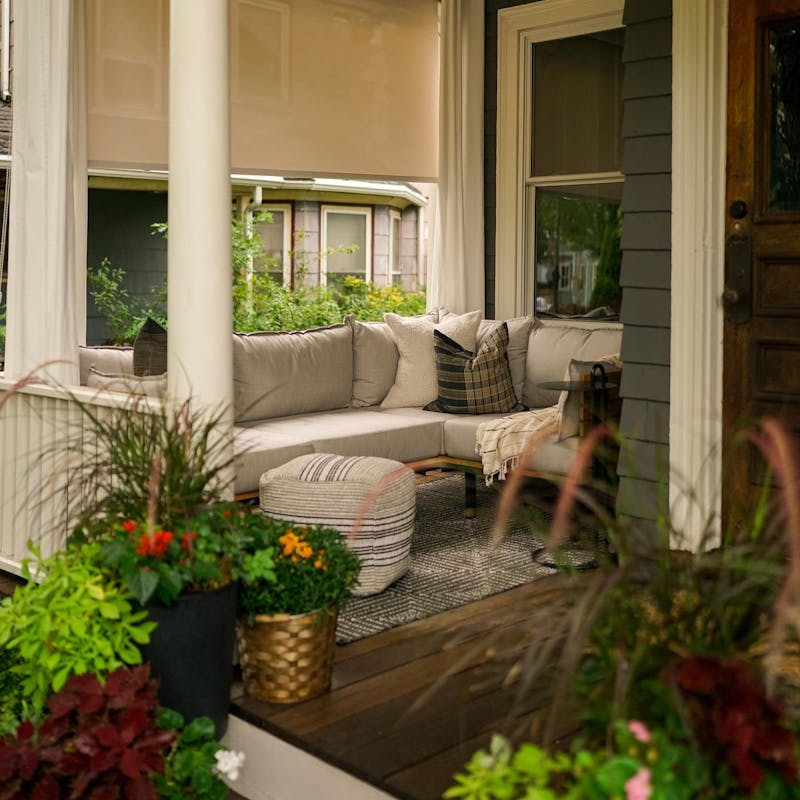 Pictured: Bali Outdoor Solar Shades in Muse 5% Alaska Sky. Photo via: @renovationhusbands.
Summer is coming to an end, but that doesn't mean nights on the porch have to stop. Transition your outdoor decor from summer to fall like the @renovationhsbands with cozy blankets, fluffy throw pillows, and tons of potted plants.
3. Break Out the Books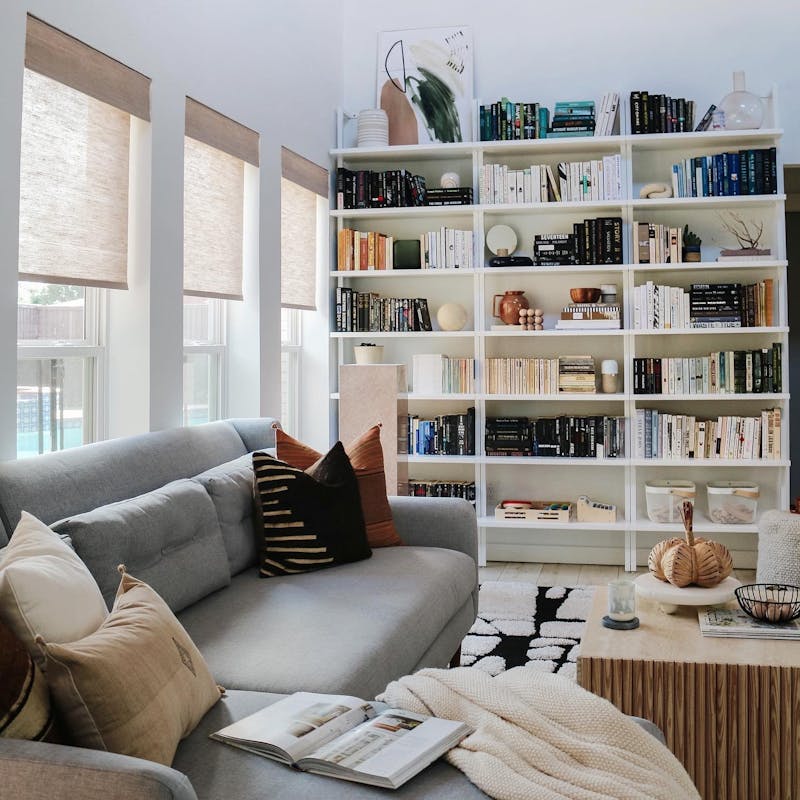 Pictured: Premium Woven Roller Shades. Photo via: @perkinsonparkway.
Nothing says fall like cozying up under a blanket with a good book. Set up a bookshelf or stack books on top of mantels with candle sticks or vases for a cozy, lived-in feel. Find a spot on the couch, pour yourself a warm drink, and bring in fall. To amp up the fall decor theme, decorate your coffee table with wooden pumpkins like @perkinsonparkway.
4. Bring in Warm Colors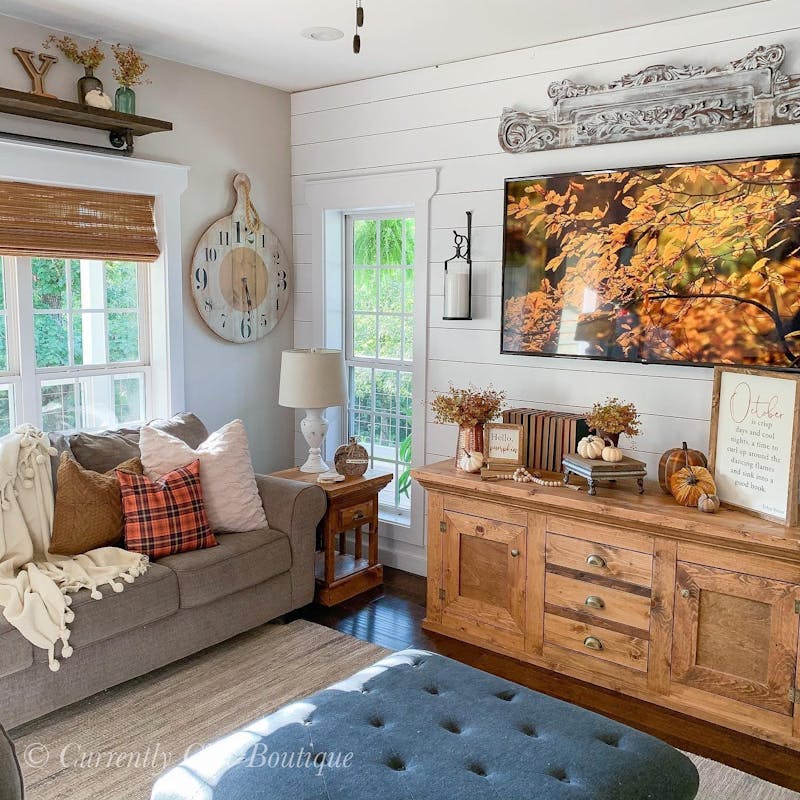 Pictured: Cordless Woven Wood Shade in Aruba Raffia. Photo via: @currentlychic.
Start to bring in colors you associate with autumn. Start incorporating oranges, browns, neutrals, and plaids into your home. Mix and match throw pillows or decorate surfaces with mini pumpkins and dried flower arrangements. For the finishing touch, set your frame TV to a picture that really captures the fall season.
5. Bask in Baskets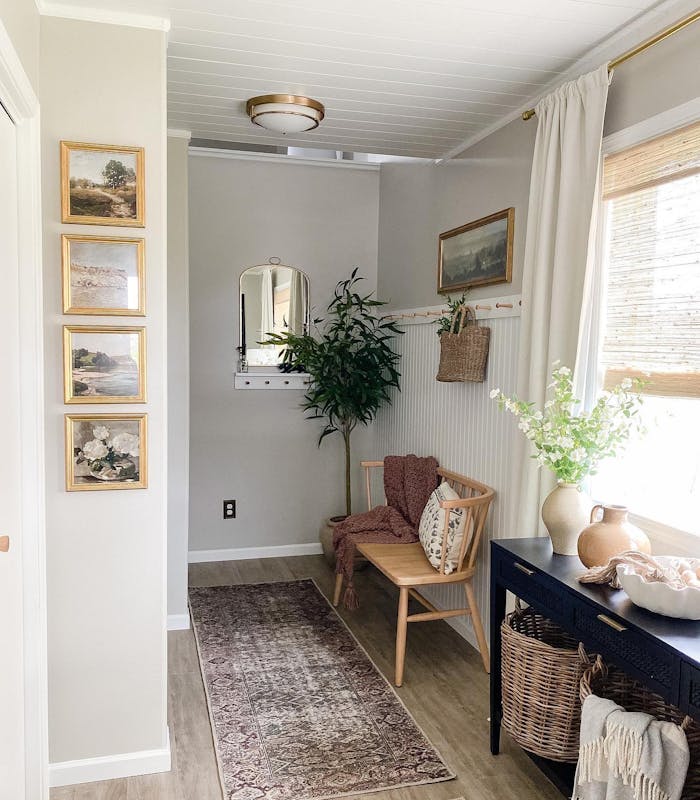 Pictured: Woven Wood Shade in Rustic Jute. Photo via: @homewiththehammans.
A functional way to make your home feel like fall is to add baskets around the house. Baskets add a cozy element to a room, plus they're great for storage. Use them for storing blankets, books, remotes, and anything you want to be hidden.
6. Update Your Table Setting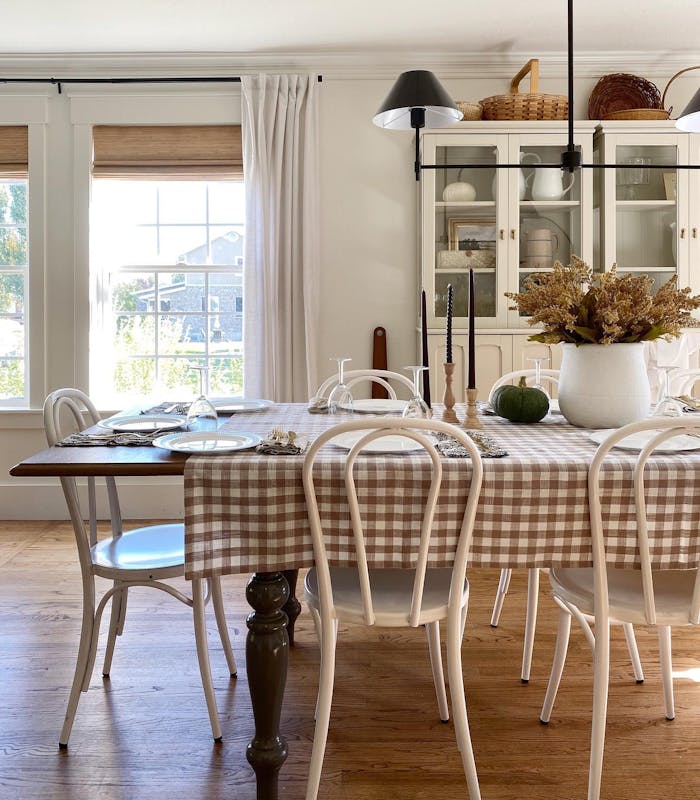 Pictured: Woven Wood Shade in Caribbean Straw. Photo via: @_home_found.
To transition from summer to fall, refresh your table's centerpiece. You might have seen your mom do this when you were younger, and this trend isn't going anywhere. Add a plaid or checkered tablecloth, candlesticks, and small pumpkins to make your home feel like fall. Continue the theme of adding warmth to a space by updating your window treatments. Woven wood shades are known for adding warmth and texture to a space.
7. Refresh Your Bedding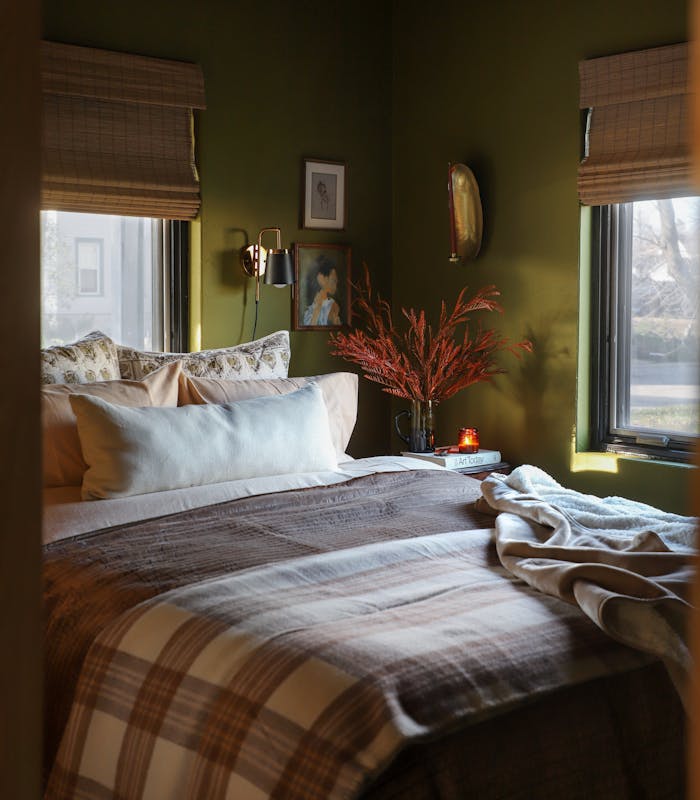 Pictured: Woven Wood Shades in Rustic Tan. Photo via: @ispydiy.
Embrace the seasons changing by refreshing your bedding for fall. Swap your old bedding for blankets and comforters with soft neutrals, flannels, and shades of brown. It's an easy, inexpensive way of making your home feel like fall. Opt for a heavier comforter as the nights will be more chilly than in the summer.
8. Decorate with Antlers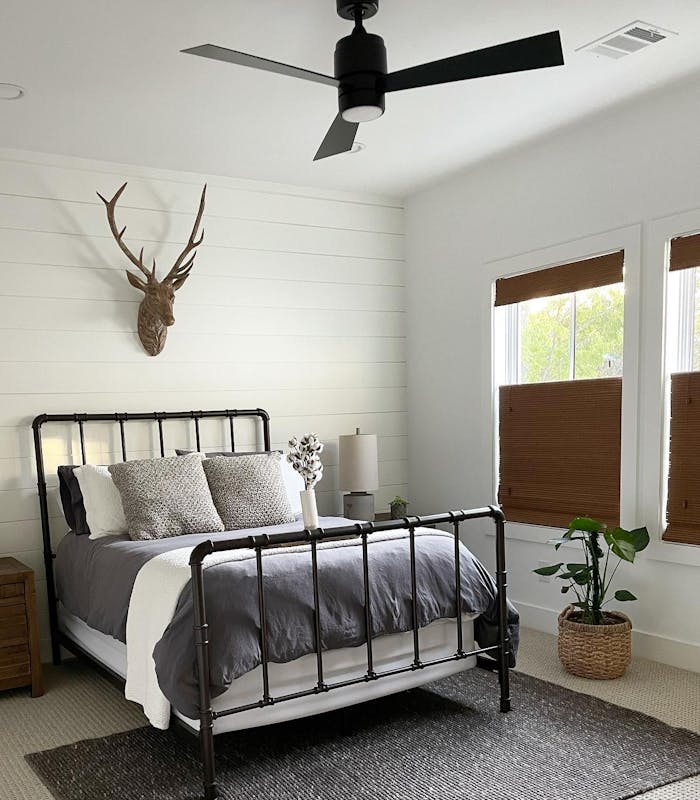 Pictured: Woven Wood Shade in Tibet Oak. Photo via: @texasmodfarmhaus.
Give your bedroom a mountain lodge feel by styling a room with antlers. It will give the room a rustic feel while being reminiscent of colder weather. Dark window treatments will also complement the antlers and reinforce the fall home theme.
9. Plaid Pattern Play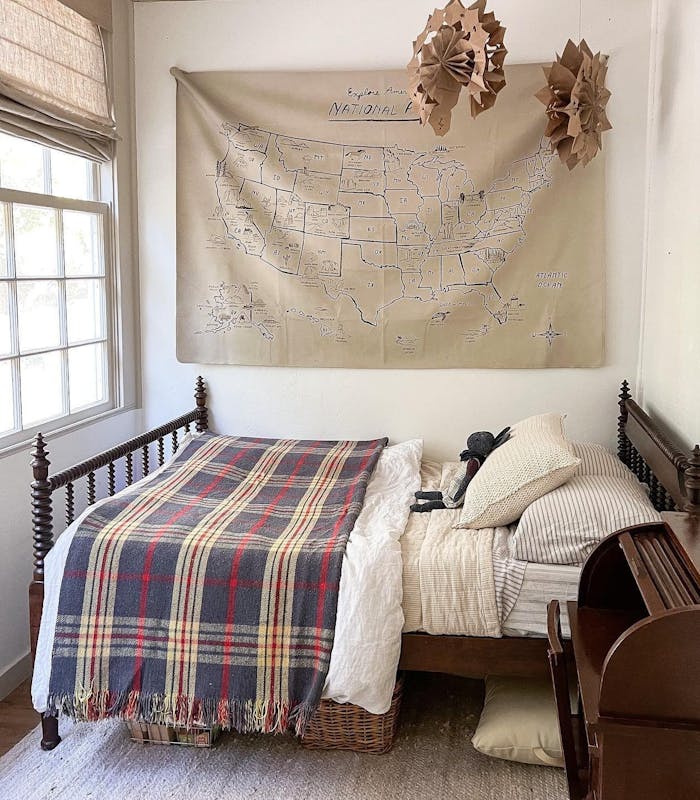 Pictured: Premium Roman Shade in Sussex Flax. Photo via: @happinessisahomestead.
Decorating for fall means getting playful with patterns. Drape a flannel blanket over the bed for an easy way to give a room a fall refresh. Balance a bold bedding choice with neutral window coverings like @happinessisahomestead.
10. Add Faux Plants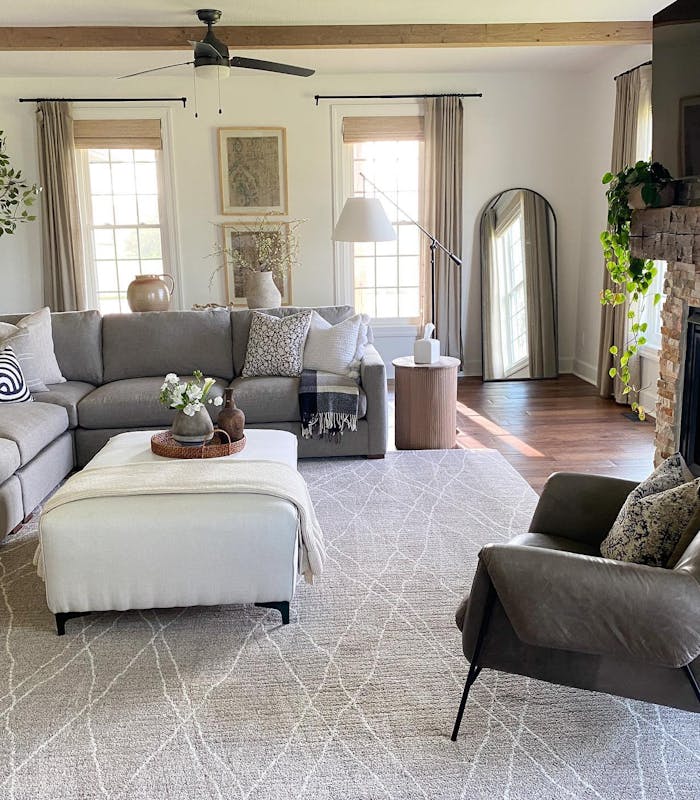 Pictured: Woven Wood Shades in Bonaire Flaxen. Photo via: @homeontroy.
Swap your live plants for autumn-themed florals and dried plants like a large potted faux tree and dried floral centerpieces. You can also try making your own DIY dried flower arrangement for a fun fall activity.
11. Mix & Match Wood Tones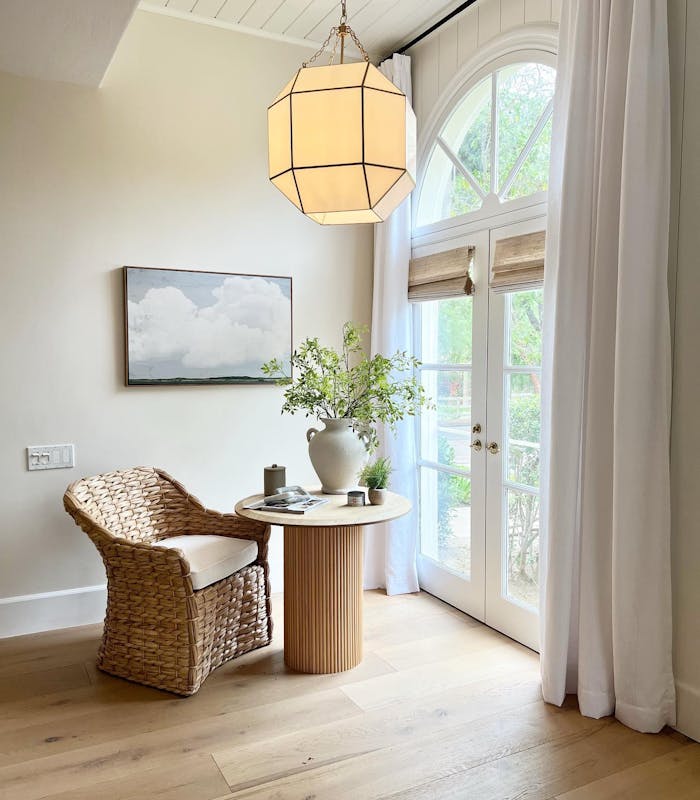 Pictured: Woven Wood Shades in Bonaire Flaxen. Photo via: @fortheloveofbeautifulspaces.
Fall home decor is not complete without adding a wood element. Adding wood is a simple way of bringing in earthy, natural textures inside during the fall season. Create some dimension throughout the space by mixing wood tones.
Shop all of our autumn-hued blinds and shades to get the look in your home.
Want More Fall Home Inspiration?
6 Unique Fall Decorating Ideas You Need to Try
Scorching Front Porch Gets a Cool Off with Outdoor Shades and Charming Fall Decor
5 Trending Color Palettes Your Home Needs for Fall
Warm Up Your Space (Without Turning Up the Heat) this Fall
Connect with us!
See all of the inspiring ideas we couldn't share this time in our Fall Home Decor board on Pinterest, or our Fall Ideabook on Houzz!