Many of us are spending more time at home due to our current hybrid work environment. If our space looks cluttered and chaotic, we may start to feel that way too. While not everyone can do a home renovation right away, we're sharing 6 small changes you can make to improve your home and peace of mind.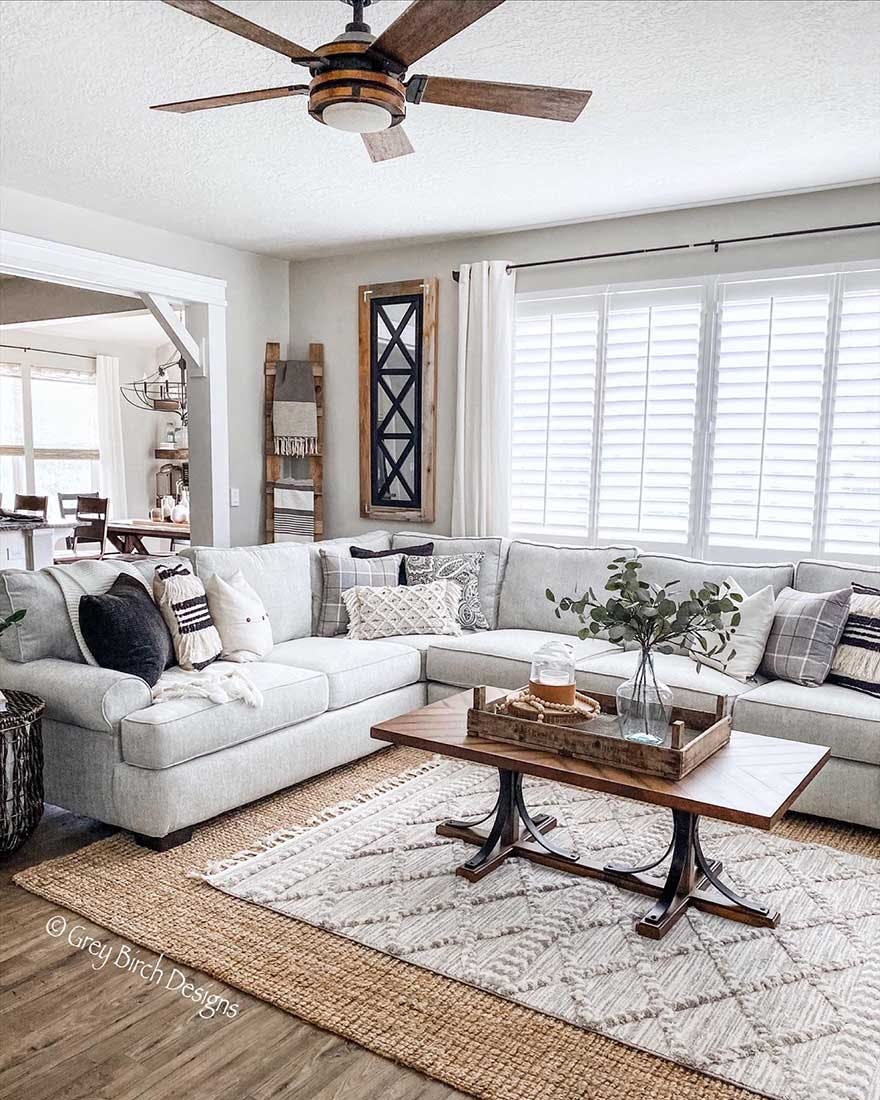 Pictured: Blinds.com Premium Wood Shutters in White. Photo via @greybirchdesigns.
Cleaning (For Your Health)!
Even though it may feel like a chore, tidying up your home environment can be a form of self-care! A cluttered house can contribute to stress and anxiety by over-stimulating your mind. Over time, constant stress and not being able to unwind can sap your energy and eventually make you feel run down or sick. So taking the time to clean and get organized is good for the soul. Additionally, dust can carry allergens and other irritants, so cleaning fixtures, like blinds, regularly can help improve your home's air quality too.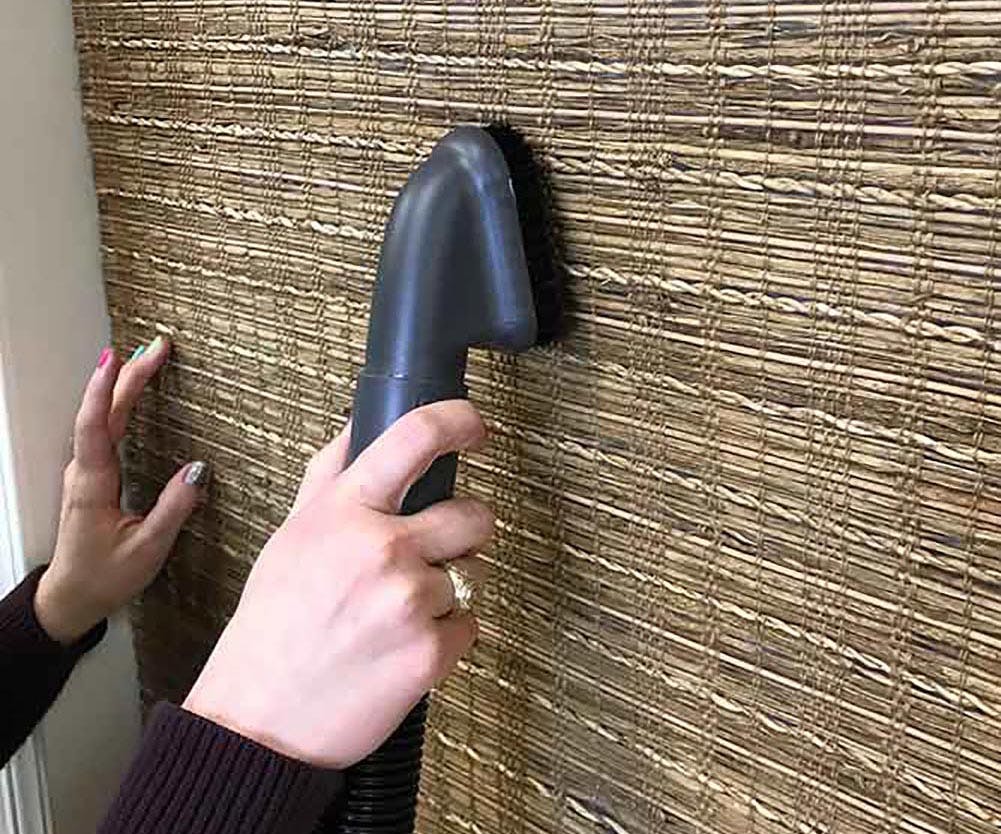 Don't neglect the fabrics in your home either. Draperies and Roman Shades can hold on to dust and dander, so it's a good idea to vacuum them regularly with your vacuum's brush attachment.
While you're giving your windows some TLC - consider cleaning the glass to let in more light! A space filled with natural light can feel bigger and more open. Studies have shown that natural light can help boost levels of vitamin D and improve your mood. So make sure you're getting the most out of your windows and rinse off any grime that's built up over the season.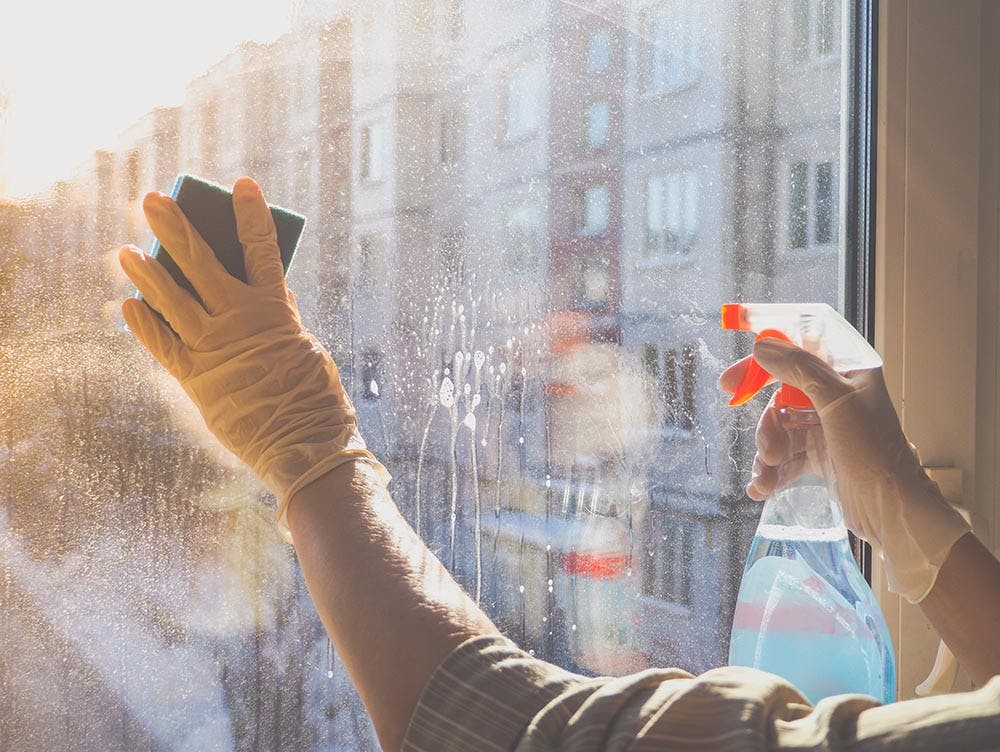 Does your home need a little aromatherapy? Smell has been linked to memory more than any other sense. If your home has a musk that you can't quite get rid of and it's bringing you down, the culprit could be your window treatments! Old curtains or shades can hold onto hard to remove smells like cigarette smoke and pet odor from previous owners or tenants. If a good cleaning doesn't help, it may be time to upgrade your window treatments to something less pungent. Also be sure to protect your blinds or shades from window condensation that could be causing a mold or mildew smell.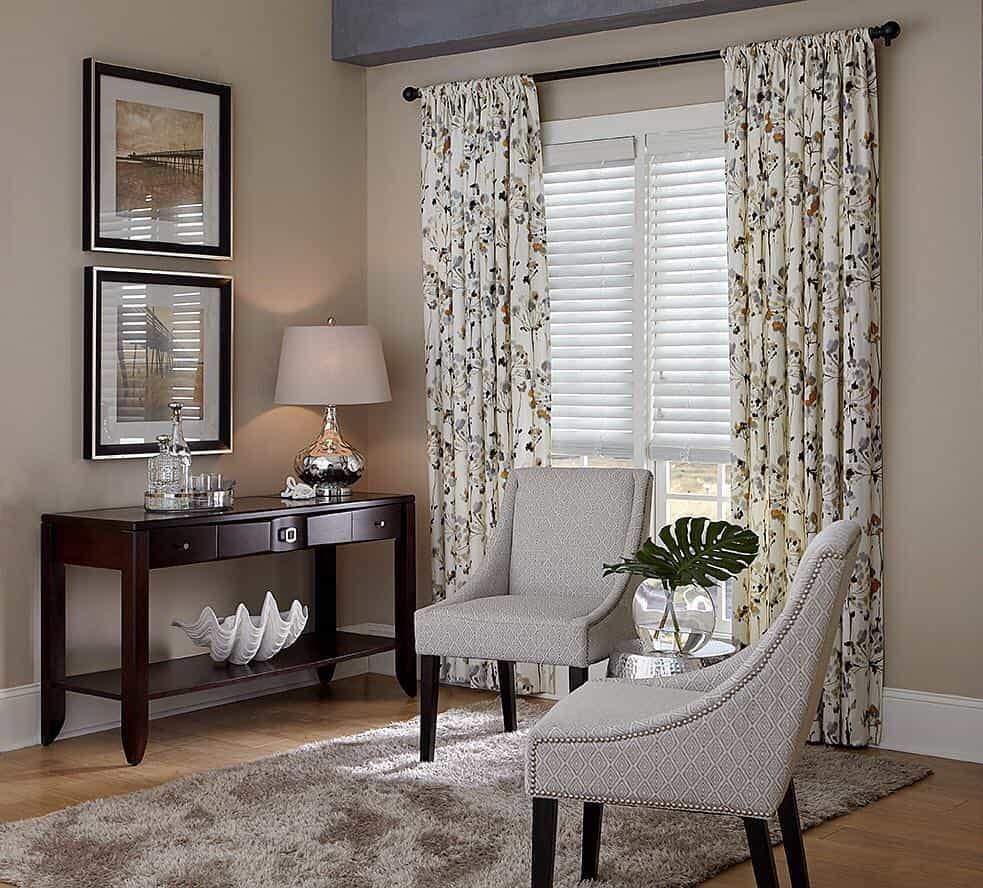 Pictured: Blinds.com 2" Premium Wood Blinds in True White and Blinds.com Easy Rod Pocket Drapery in Le Jardin Tan.
Maintenance + Making Repairs
Do you finish one project before you start on another? Or do you feel surrounded by incomplete tasks every time you walk in the door? Patching holes in the drywall, touching up paint and fixing or replacing broken blinds can go a long way to making you feel comfortable at home. When you're feeling overwhelmed, start small and work your way up to the bigger tasks on your list. Experts call this momentum "the snowball effect".
Broken blinds? If you ordered through Blinds.com they may still be under warranty! Give us a call: 844-551-3769.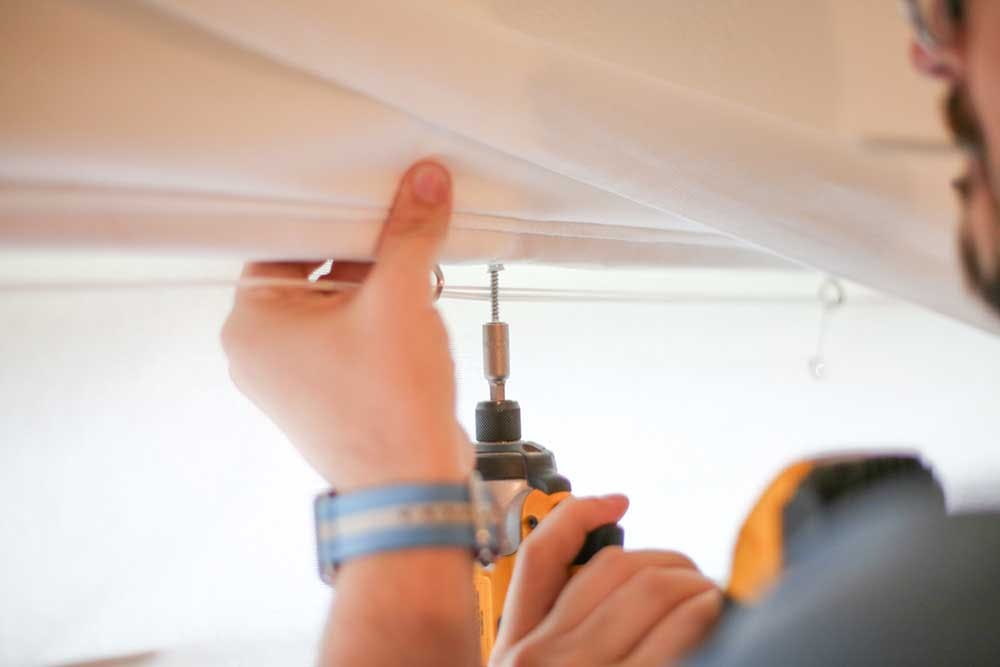 Need help with installation? Let us take that off your plate! Check out our Professional Measuring and Installation Services.
Light And Its Affect On Your Mood
We can't talk about wellbeing without mentioning sleep. Experts recommend keeping your room as dark as possible for the best sleep. Getting enough zzzs is vital to our overall health and can prevent burnout. Light pollution like streetlights, car headlights or the flood light positioned outside your window could be messing with your circadian rhythms. This is why blackout shades are the most popular window treatments for bedrooms.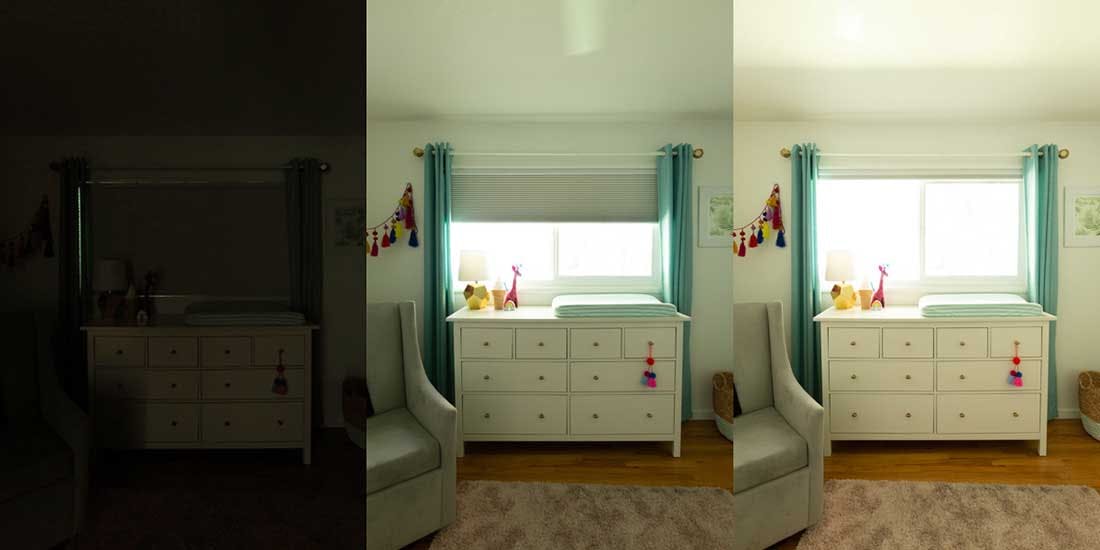 Pictured: Blinds.com Premium Blackout Cellular Shades in Crisp Cotton. Photo via @lovelyindeed.
However, keeping your entire home dark all day isn't good for your mood either. Experts say that not getting enough sun can increase levels of stress hormones in your body. Natural lighting can improve your energy levels, increase serotonin and can help elevate your mood. We recommend light filtering window treatments in the rooms where you spend most of your day: the living room, kitchen and office. They can keep your space bright while giving you privacy when you need it.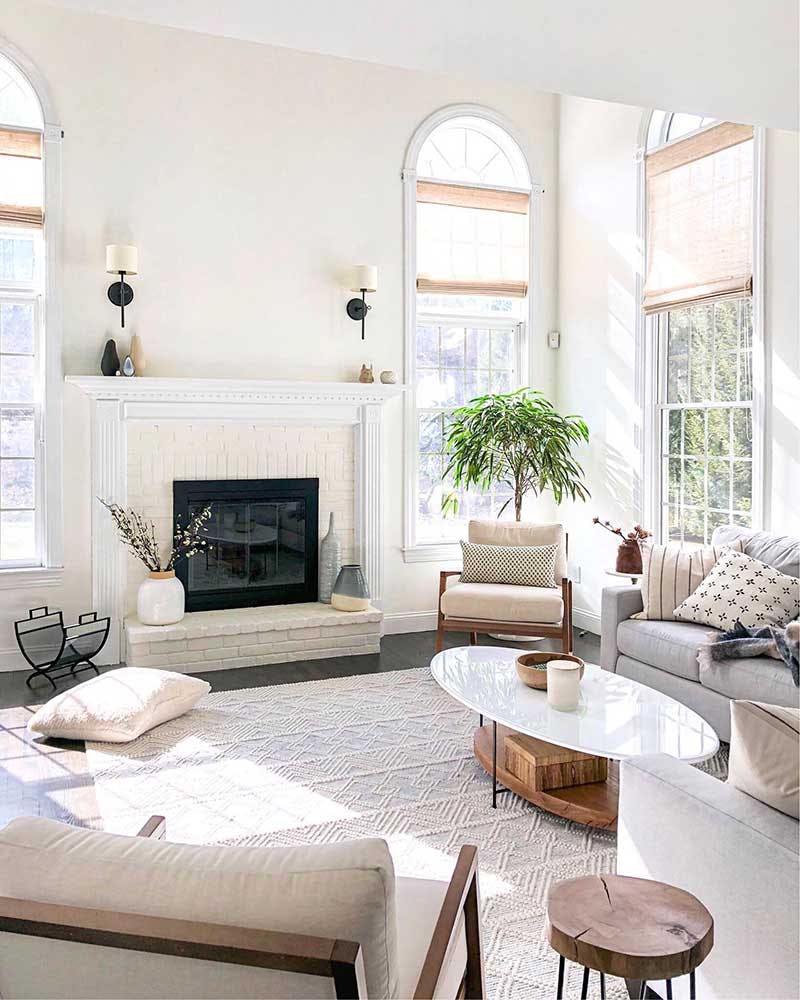 Pictured: Blinds.com Woven Wood Shades in Bonaire Flaxen. Photo via @mstarrevdesign.
Vitamin D isn't the only reason to open your windows and let the light in. Having a view into nature and the world outside has been shown to impact mental health too! Connecting with the natural world can help you feel more emotionally grounded (pun intended). Try incorporating nature into more of your décor, like with woven wood or bamboo shades to lower your stress levels and feel more connected to your environment.
Live in an urban environment or have a not-so-lovely view of your neighbor's garage? Indoor plants can be a great substitute for having a view. Plus, plants can help improve your home's air quality.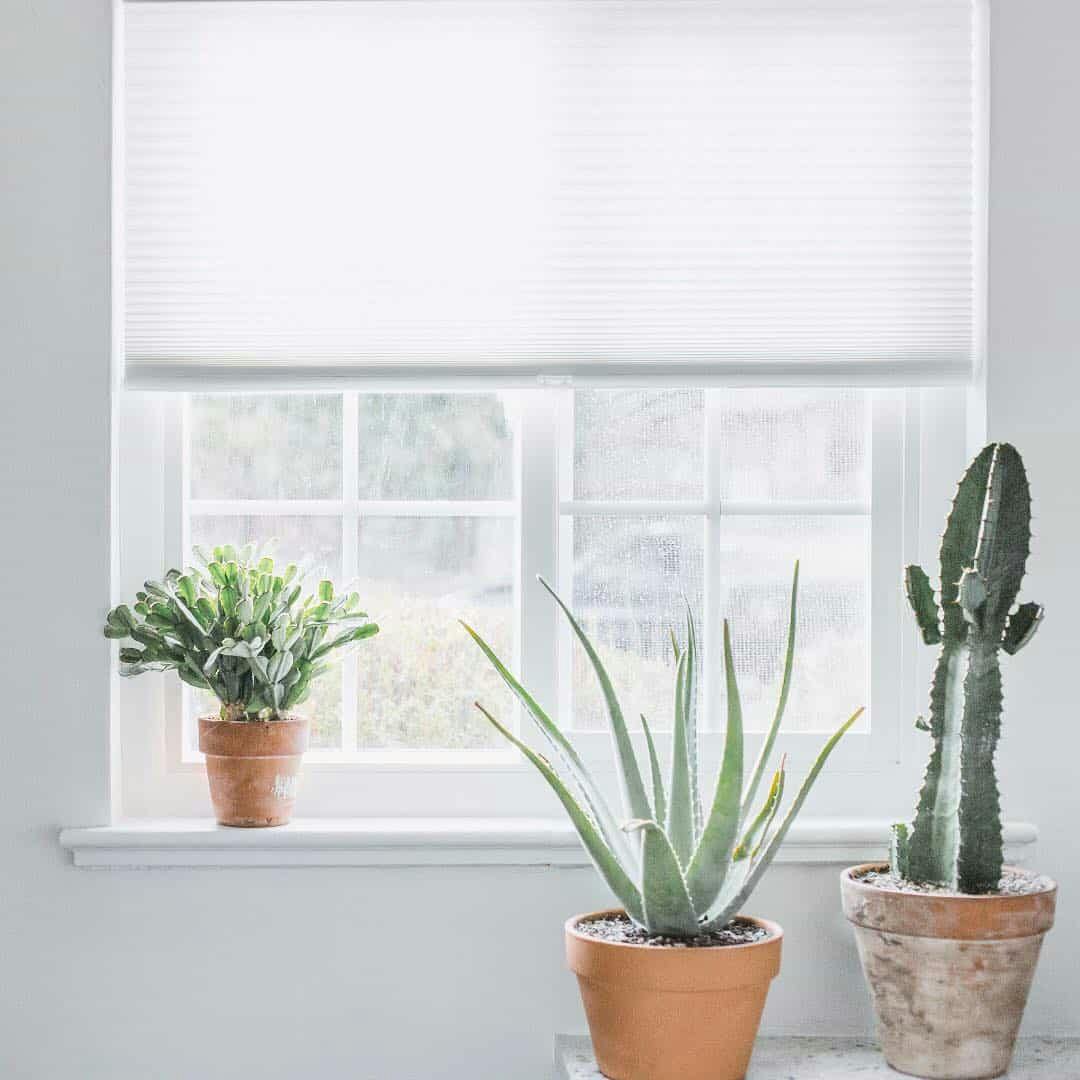 Pictured: Blinds.com Premium Light Filtering Cellular Shade in White. Photo via @abigailmarygreen.
Privacy and Security
Do you feel like your home is a secure, relaxing environment, or are you nervous that your neighbors can see you lounging on the sofa with that bag of chips? Having the right window privacy can help you feel more relaxed and give you a sense of security. Faux Wood Blinds and Cellular Shades are popular choices for windows where privacy is a big concern.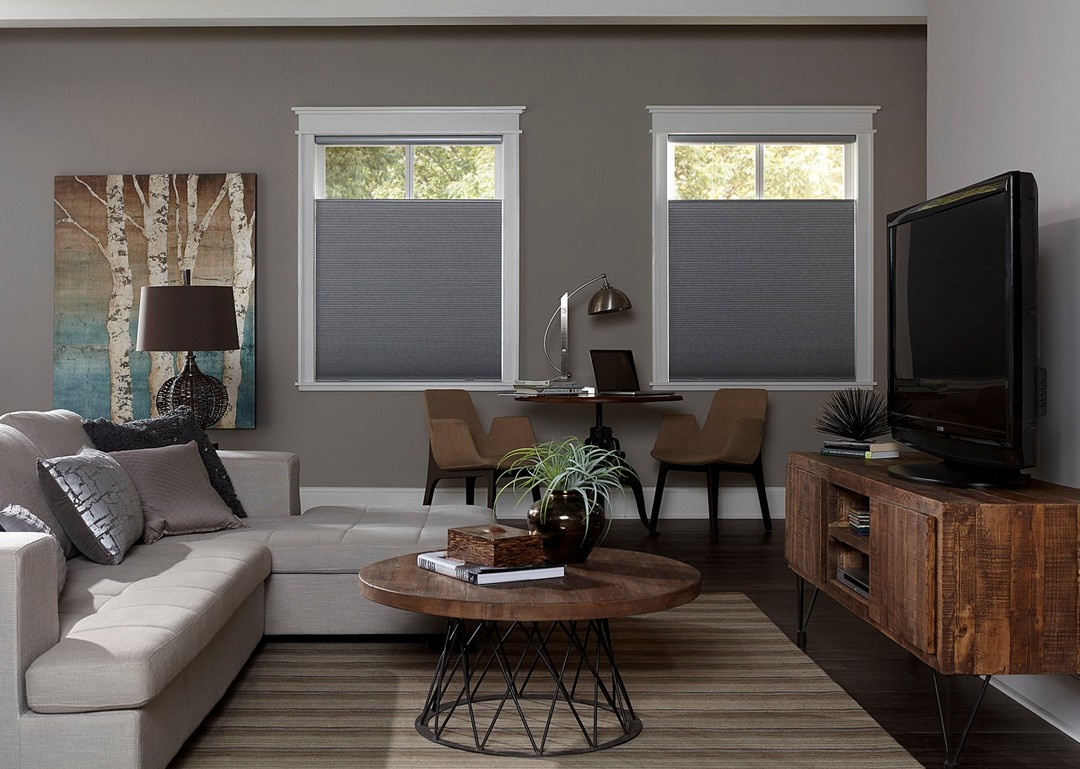 Pictured: Blinds.com Blackout Cellular Shades in Mineral.
Design Tricks and Tips
Having too many harsh lines in your decor can send you into sensory overload. Choosing a thicker blind slat like a 2 1/2" Faux Wood Blind can make your windows feel less busy as there will be fewer lines stretching across them. Plus the larger slat size lets in more light and gives you a clearer view out. Choose a cordless lift to eliminate frustrating pull cords that get tangled up at the sides of your windows.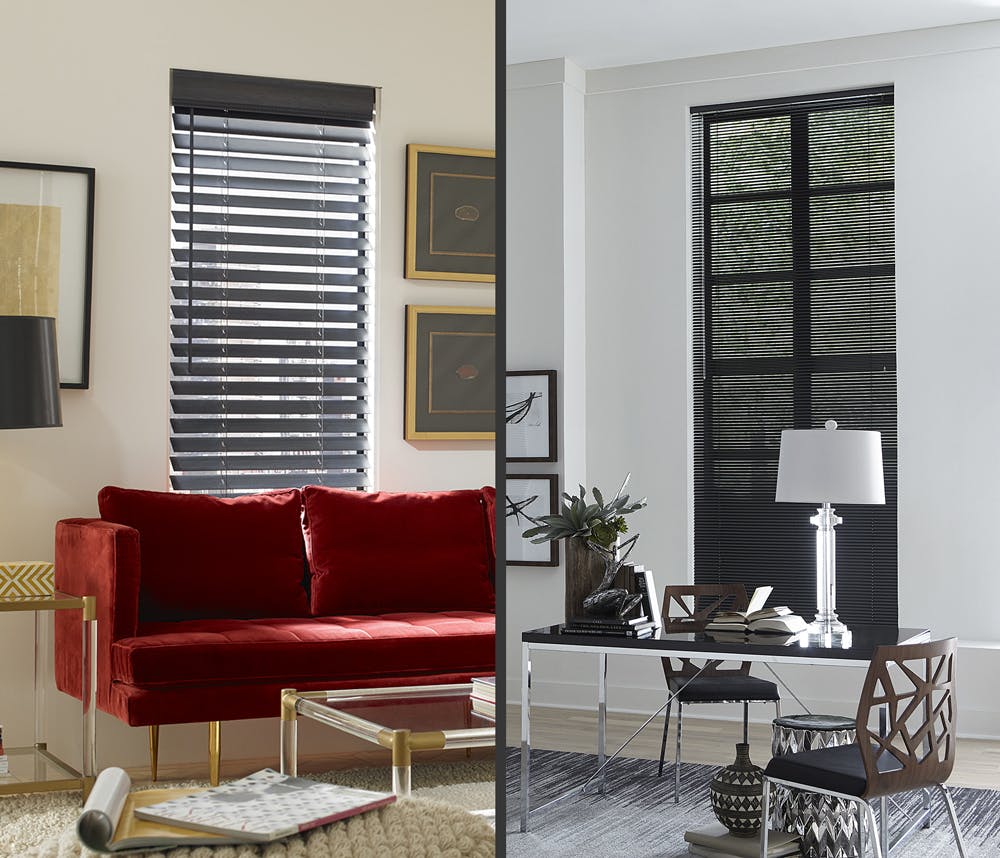 Pictured (left): Blinds.com 2 1/2" Premium Faux Wood Blind in Smoke. Pictured (right): Blinds.com 1" Premium Mini Blinds in Raven.
The right window treatments can also trick your mind into feeling like the room is bigger than it actually is. Frame a window with draperies that are taller than the window to create the illusion of taller ceilings by drawing the eye upward. This trick works especially well in homes with small windows or rooms with low ceilings. Plus, draperies are great for layering and can help soften harsh lines making a room feel more cozy.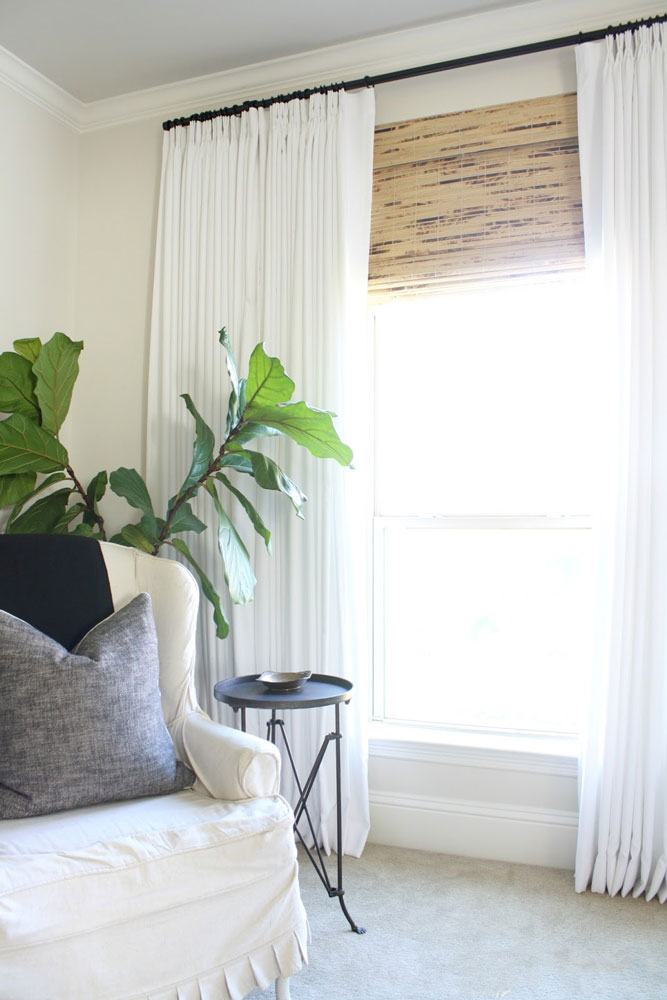 Pictured: Blinds.com Woven Wood Shade in Antigua Natural. Photo via @crazywonderfulblog.
When window blinds and shades are fully raised up they can take up space in the window, blocking light and your view. Maximize your window's size by installing your blinds or shades as outside mount. This means they are installed on the wall above the window (instead of inside the window frame) so they clear the window opening when fully raised!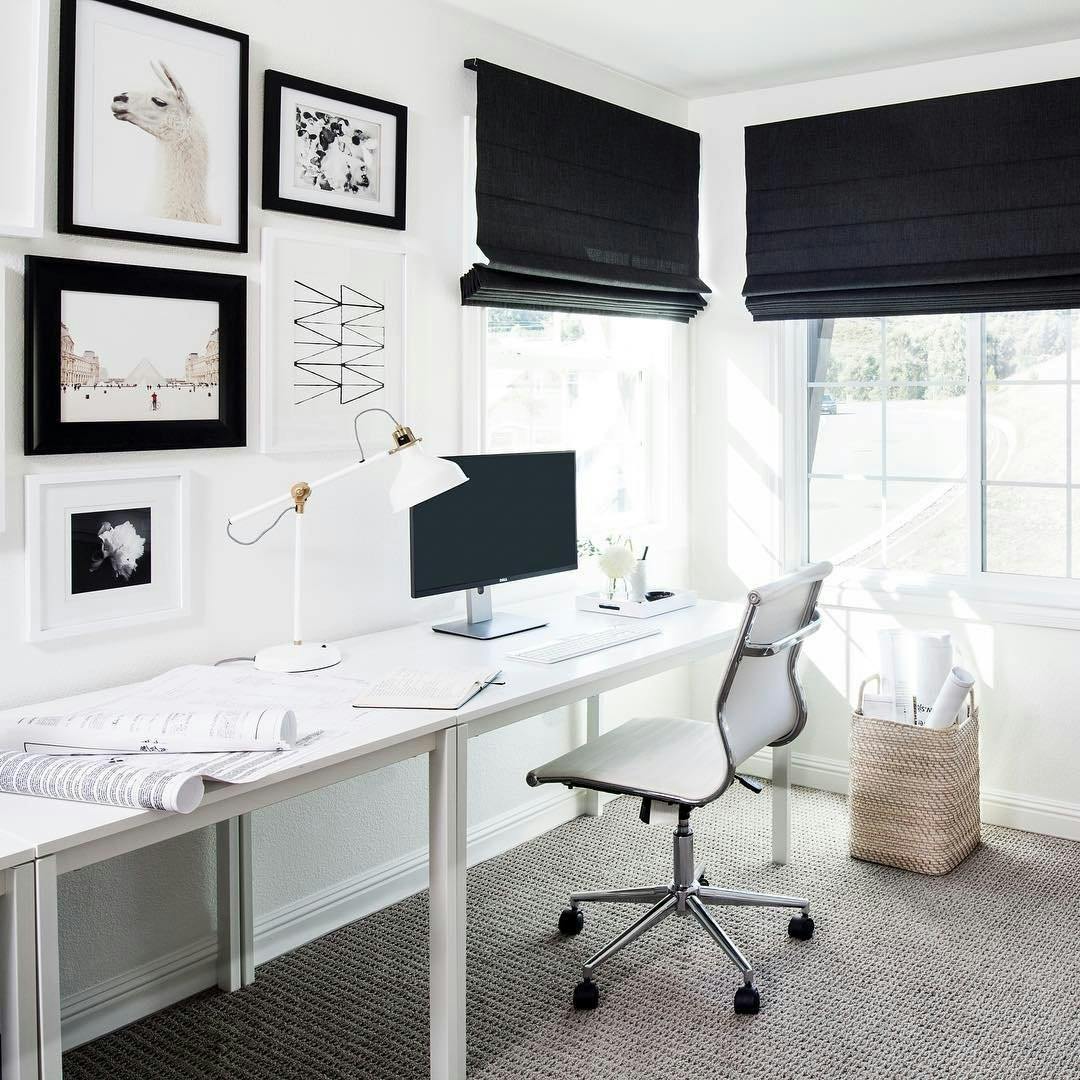 Pictured: Blinds.com Premium Roman Shade in Bellingham Night. Photo via @eggshell_home.
The Psychology of Color
Color can have a surprising effect on your mood as well. In fact, there are whole studies done on the mental and emotional effects of color. Typically colors are categorized in one of two ways: warm or cool. Red, orange, yellow, brown and pink are considered warm colors while blue, green and purple are considered cool colors. The bolder the color, the more pronounced the emotional effects can be.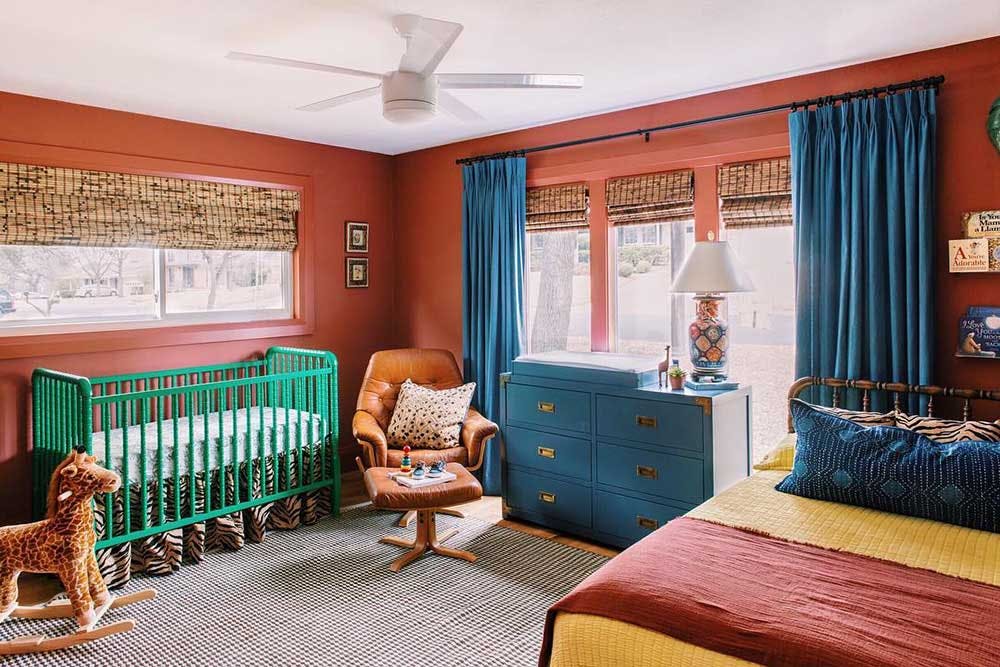 Pictured: Blinds.com Woven Wood Shades in Driftwood Umber. Photo via @clairebrody.
Nearly half of all window treatments ordered are a neutral color like white, beige or grey. But it's important to know that neutral colors (especially white) can still have a warm or cool undertone. Neutrals tend to be on the lighter side of the color spectrum and reflect light well which can make a space feel more open. They're versatile, and work with a variety of décor styles without being overwhelming.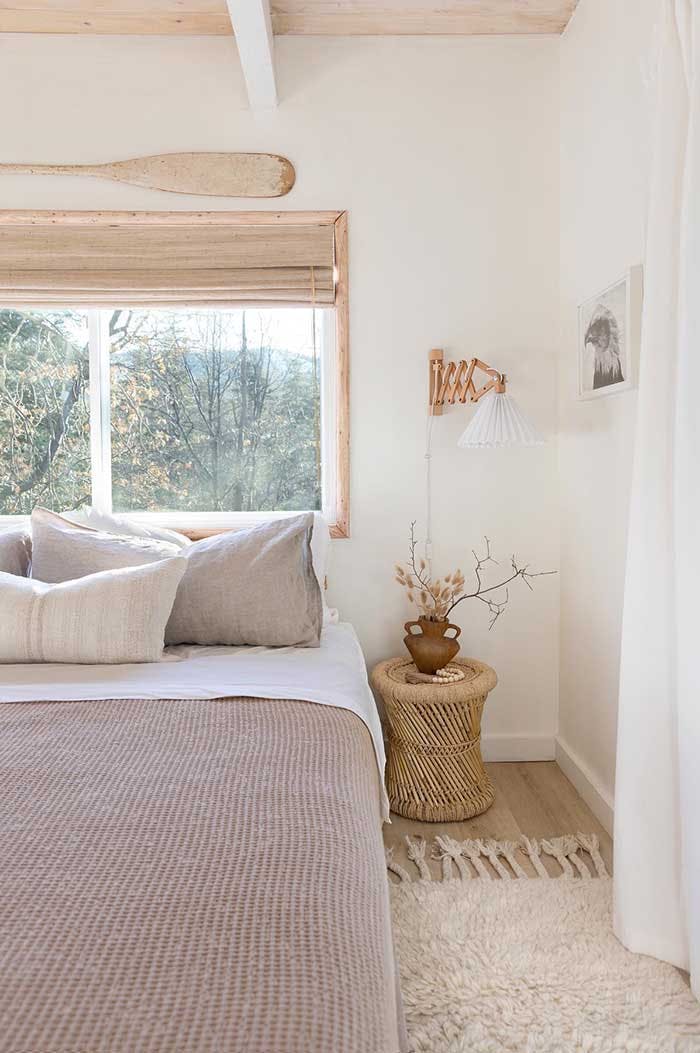 Pictured: Blinds.com Woven Wood Shades in Bonaire Flaxen. Photo via @caro_kmartin.
Warm colors feel energizing, exciting and inspire creativity while cool colors are considered soothing and refreshing. Warm colors are also said to stimulate your appetite (and conversation!) so they are a popular choice in kitchens, dining rooms and living rooms. Cool colors tend to fade to the background and draw less attention so they are popular choices for bedrooms and bathrooms.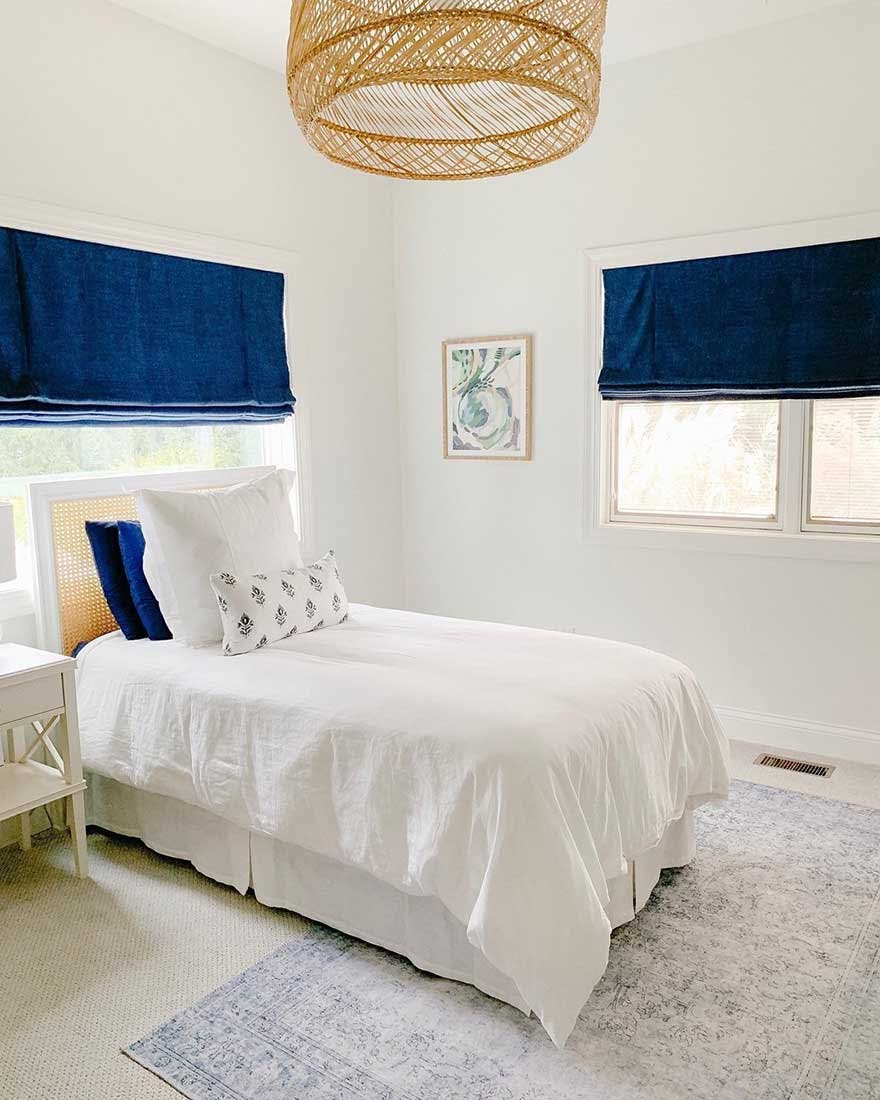 Pictured: Blinds.com Premium Roman Shades in Rio Atlantic. Photo via @margaretofyork.
Everyone can have their own color associations and personal preferences, so choose what works for you. It's usually a good idea to mix both warm and cool-tones for optimal balance. To help a space from feeling too busy, stick to a color palette!
Feeling Stuck? We're Here To Help!
Decorating is a matter of personal taste and self-expression so there are no hard rules. Feel free to blend decor styles and colors to suit your personal needs. The key is to experiment! But if you're feeling stuck or have window treatment questions, our Design Consultants are available to help! They can make recommendations on what's right for your windows. Give us a call at 844-551-3769.
For more inspiration, be sure to follow us on Instagram @blindsdotcom or on Pinterest.
Read More: