Need help matching curtains and blinds to achieve the perfect layered look? Or are you trying to coordinate window treatment styles in the same room or adjoining rooms?
We're sharing our advice for coordinating window treatments to help you pull off a designer look for less.
How to Layer Window Treatments
When layering draperies with blinds or shades, the key is to have enough contrast so the layers don't clash. For your base layer, choose either hard window treatments (wood blinds, shutters, faux wood blinds) and soft window treatments (roman shades, roller shades, cellular shades).
Hard window treatments are often in wood stains or neutral paint colors. When layering curtains on top, any pattern or solid will work well with these neutral finishes. Choose a drapery color or print with colors that match other finishes like your rug and throw pillows.
When layering soft window treatments and curtains, try choosing a print for one and asolid in a coordinating color for the other. If you're feeling extra adventurous you can mix 2 prints, just be sure that one is large scale and the other is more delicate. For example, try a bold floral with a delicate pinstripe.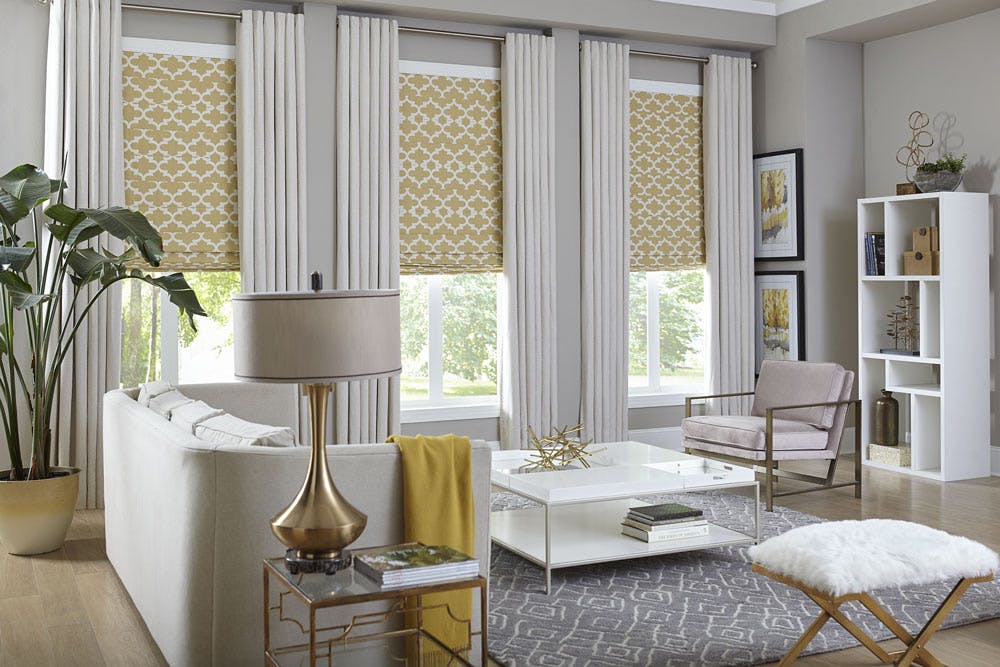 Double the Softness - Layering Sheer and Solid Draperies
If you want your windows to have visual softness and voluminous fabric, layer blackout drapes and sheer panels. Sheer panels let in soft filtered light while still preserving some privacy, and blackout drapes give you an uninterrupted night's sleep.
Our drapery hardware is available with a double rod option that allows both treatments to move independently, letting you control the light in your room as needed.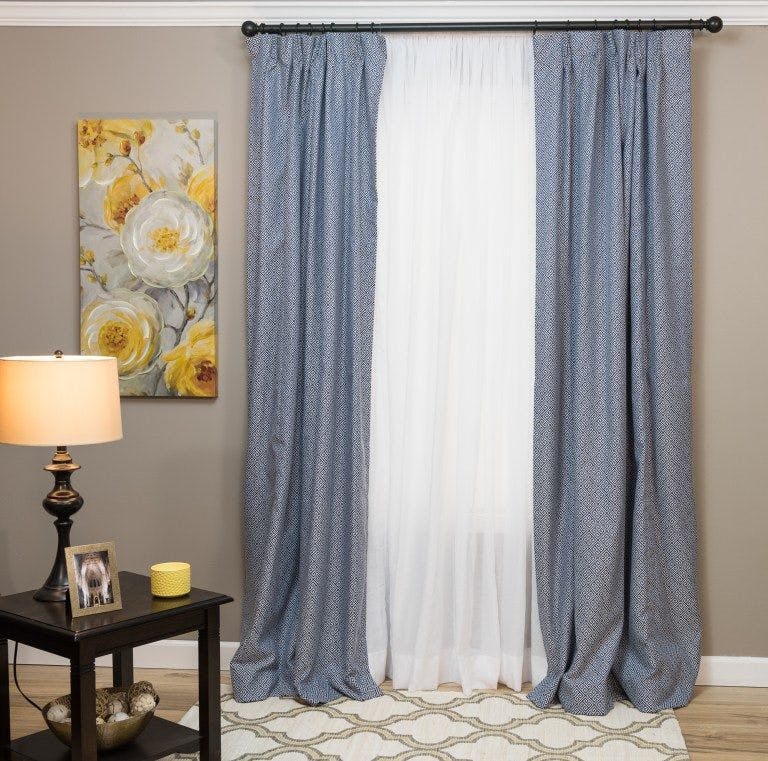 Easy Classic Pleat Draperies in Athena Oceanus | French Pleat Draperies in Colette Silken VX132 | Drapery Hardware
Combining Draperies with Soft Window Treatments
Draperies and Roman Shades
One timeless window treatment combo is layering drapes over Roman Shades. Because they're both soft window treatments, they play well together and give your room a cozy feel. For versatility, choose light filtering Roman Shades for daytime privacy and blackout curtains to block light at night.
Note: Roman shades can leave small gaps on the sides of the window where light can shine through. Adding drapes on top will help give you complete darkness and a more upscale look.
Want your window look to fade into the background? In the space below, the homeowner used matching fabrics for both to achieve a soft, minimalist look.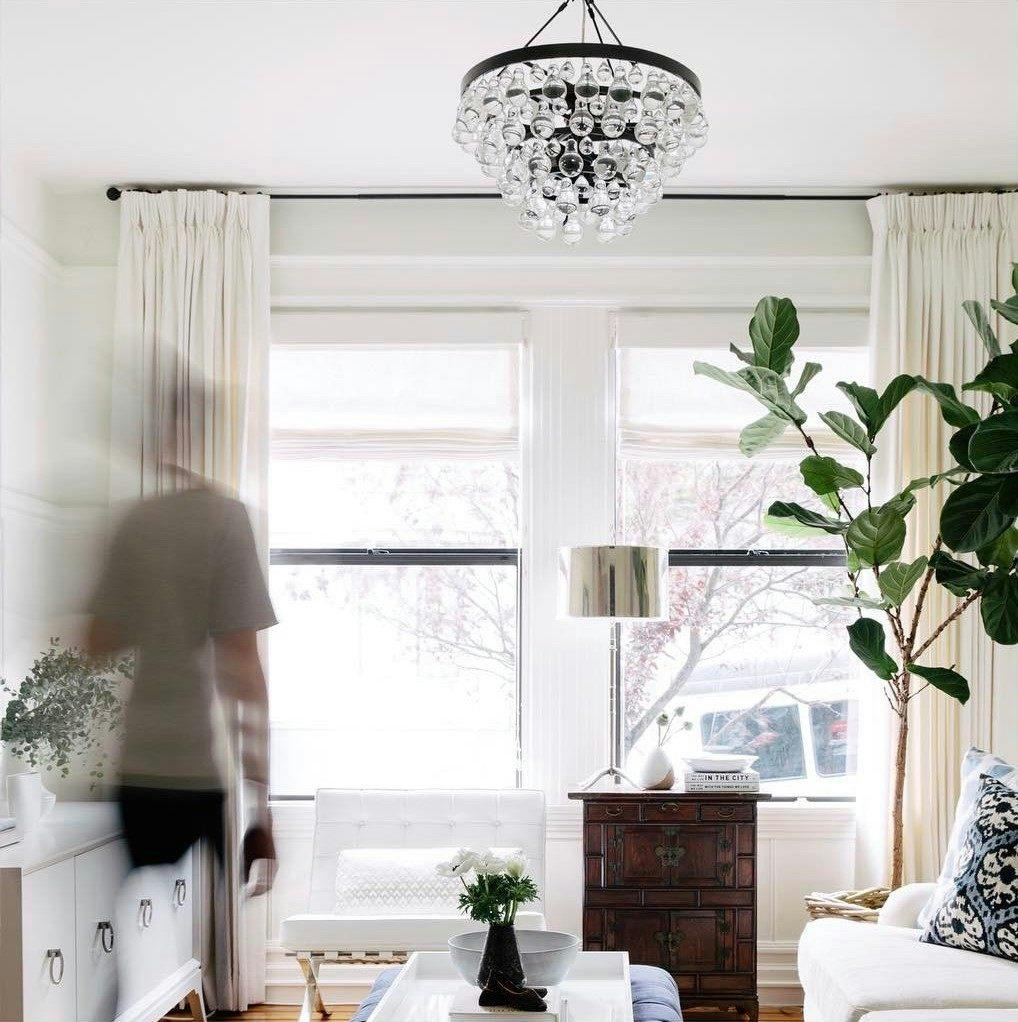 Premium Roman Shades in Uma Off White | Easy Classic Pleat Draperies in Uma Off White
If matchy-matchy isn't your thing, try a printed roman shades and draperies in a coordinating solid.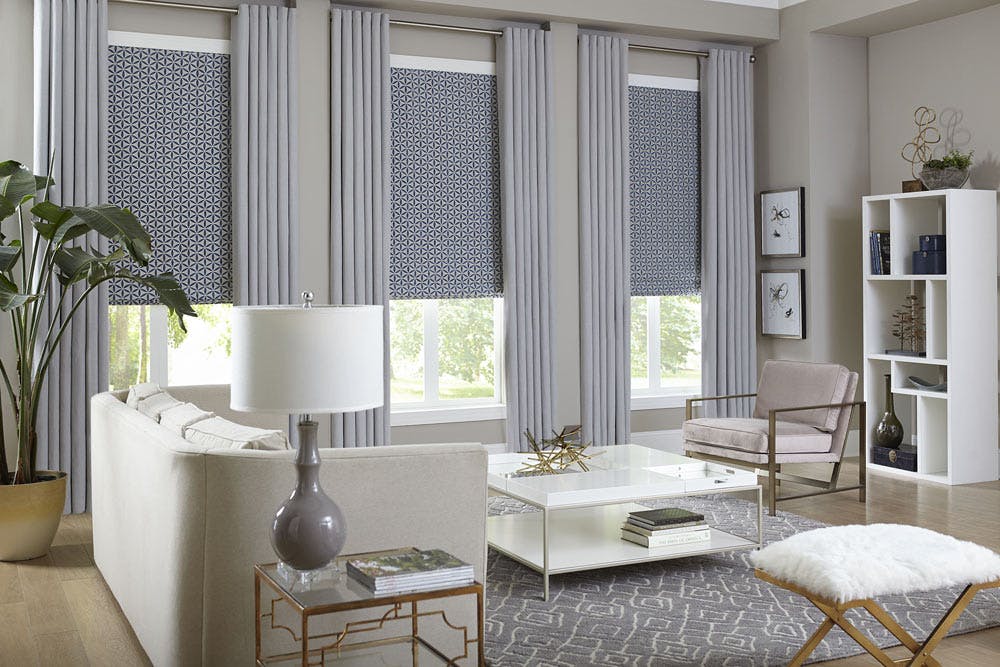 Premier Roman Shades in Twirl China Blue | Easy Grommet Draperies in Gent Greystone | Drapery Hardware
Draperies and Cellular Shades
If you have old windows or live in an extreme climate, cellular shades will insulate from outside temperatures and block drafts like a champ. However, the contemporary look of cellular shades isn't right for every home's style. Layering draperies on top can help lend a more traditional feel and soften the look of your room.
When choosing fabrics, pick your draperies first and use a matching solid color or neutral for the shades.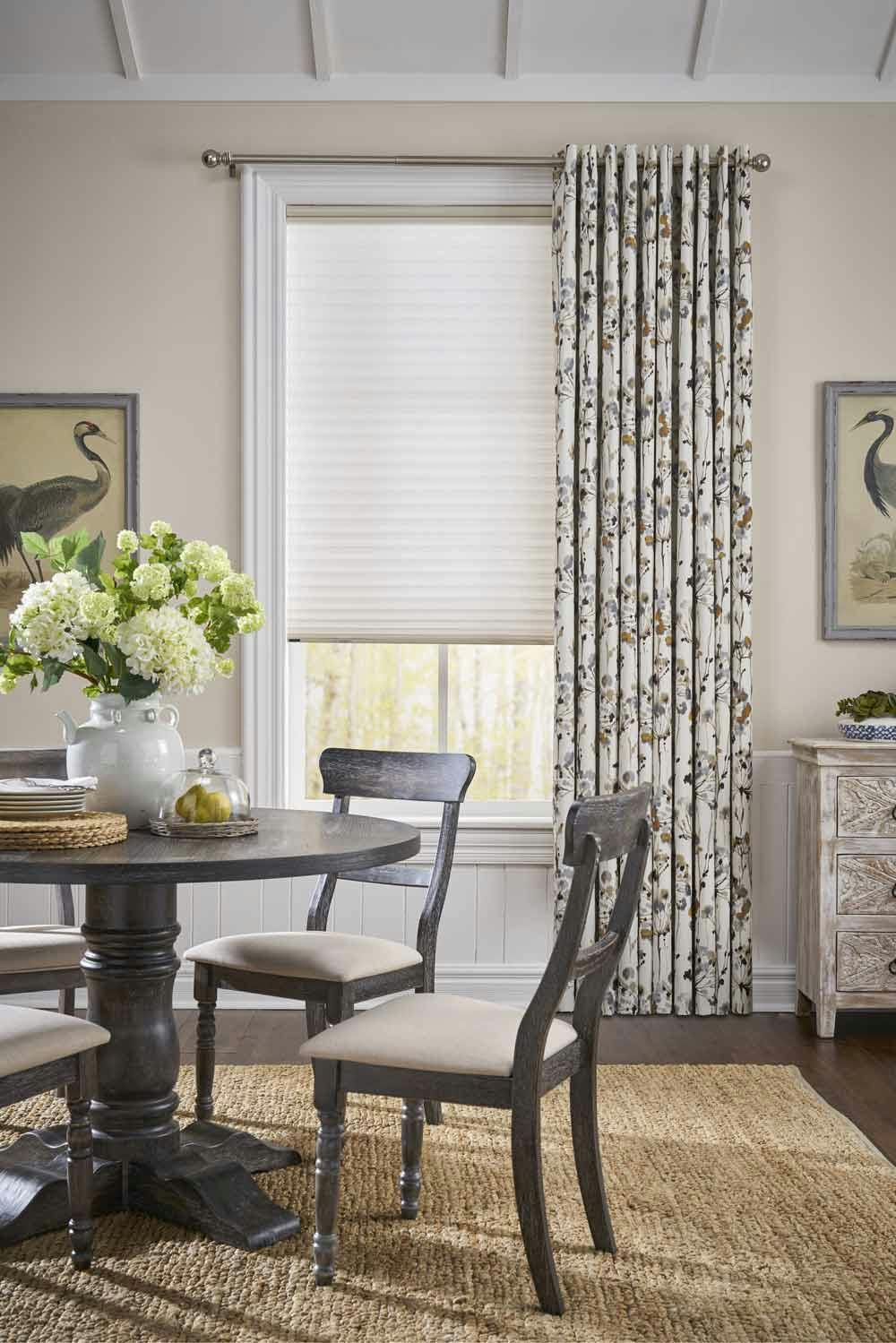 Light Filtering Cellular Shades in Papyrus | Easy Grommet Draperies in Le Jardin Tan-Grey
Drapes and Roller Shades
If you have shallow windows or want a sleeker look, try pairing roller shades with curtains. To mix and match without making your windows too busy, choose a solid shade and printed drapes or vice versa. If you're feeling extra adventurous you can mix 2 prints, just be sure that one is large scale and the other is more delicate.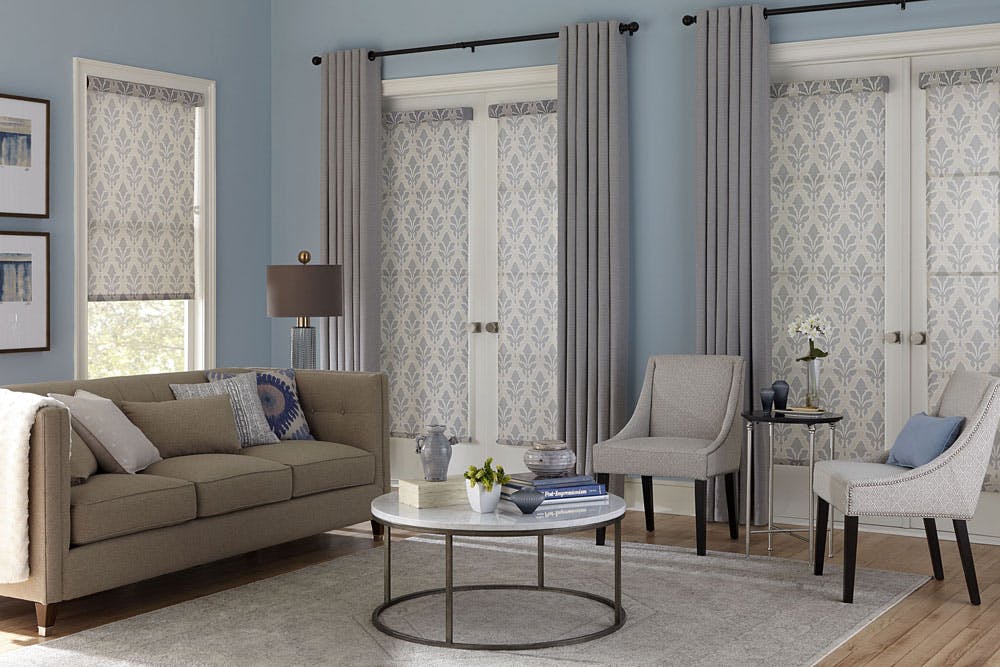 Solar Roller Shades in Majesty 5% Pewter | Easy Grommet Draperies in Brisbane Clear Sky
Draperies and Sheer Shades
Sheer shades can be tilted like blinds to adjust the light coming it, but they're made of fabric, so they also roll up for a completely clear view. Layer blackout draperies on top to darken the room when needed.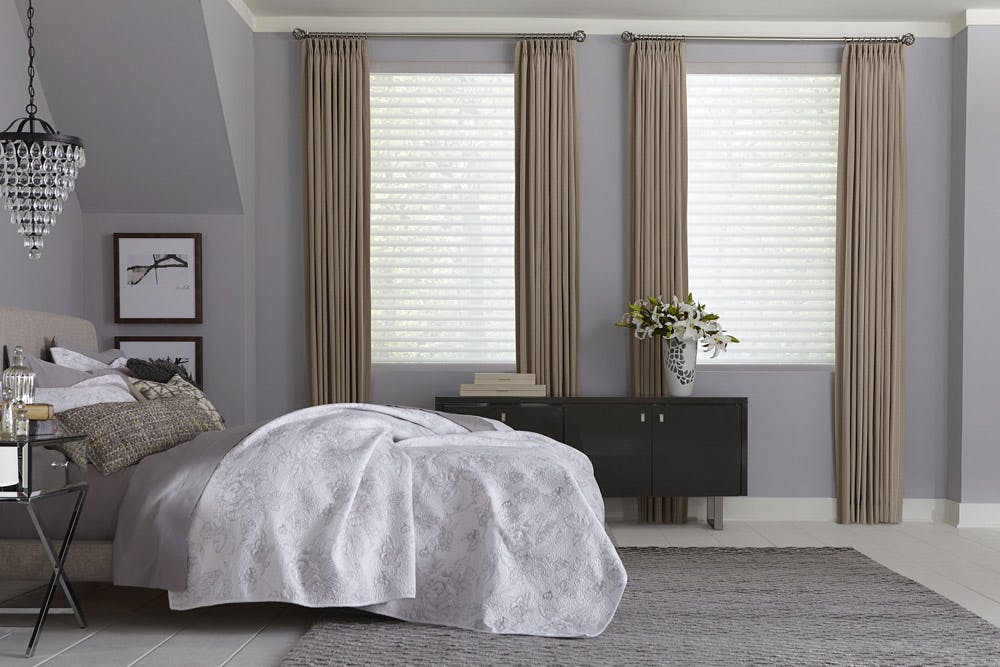 Easy Classic Pleat Draperies in Linen Stripe Tan-Smoke | Light Filtering Sheer Shades in Linen Ash
Combining Soft and Hard Window Treatments
Can you put Curtains Over Blinds?
You can't get more classic than crisp 2" blinds with draperies layered on top. This look is perfect for traditional homes or formal spaces like dining rooms and polished living rooms.
2" Premium Faux Wood Blinds in White P630 | Custom Composite Wood Arch in True White 4196 | Easy Classic Pleat Draperies in Athena Corn Silk
White blinds will look great with virtually any drapery fabric, as long as it's not a white/cream that's so close it clashes. If you go with stained wood blinds, try choosing a fabric that has tones of the stain color in the print or weave. No matter what you choose, we always recommend ordering free samples to see how your choices look together.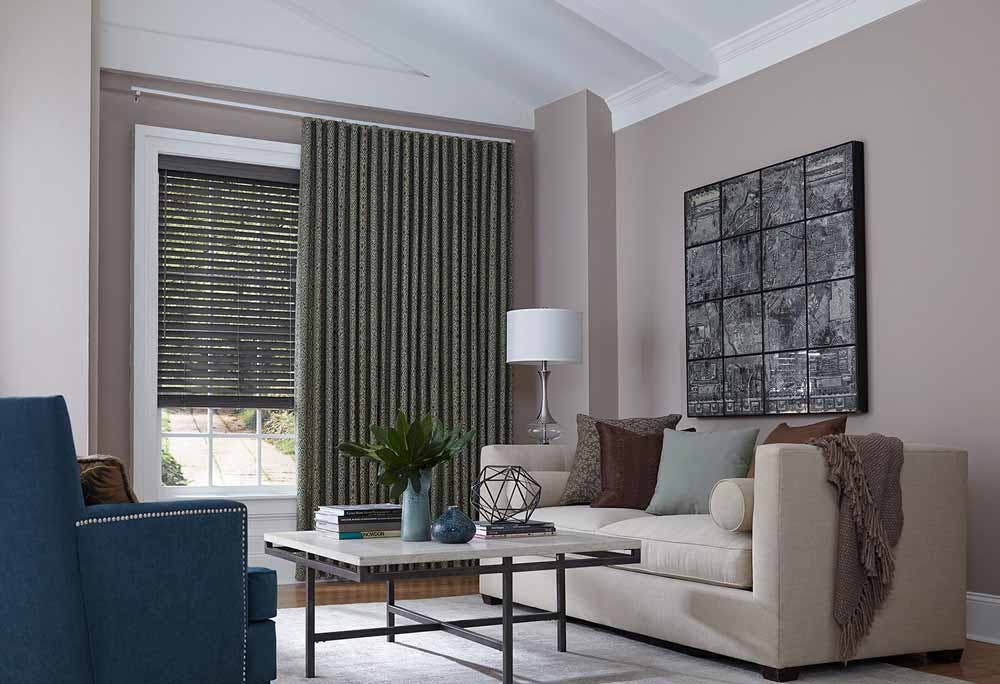 2" Architectural Wood Blinds in Vintage Gravel | Blinds.com Easy Ripplefold Draperies in Gail Oceanside
Draperies and Shutters
For an upscale version of the look above, try draperies layered over shutters. Although shutters come at a higher price point, they give windows a built-in look and add to your home's resale value.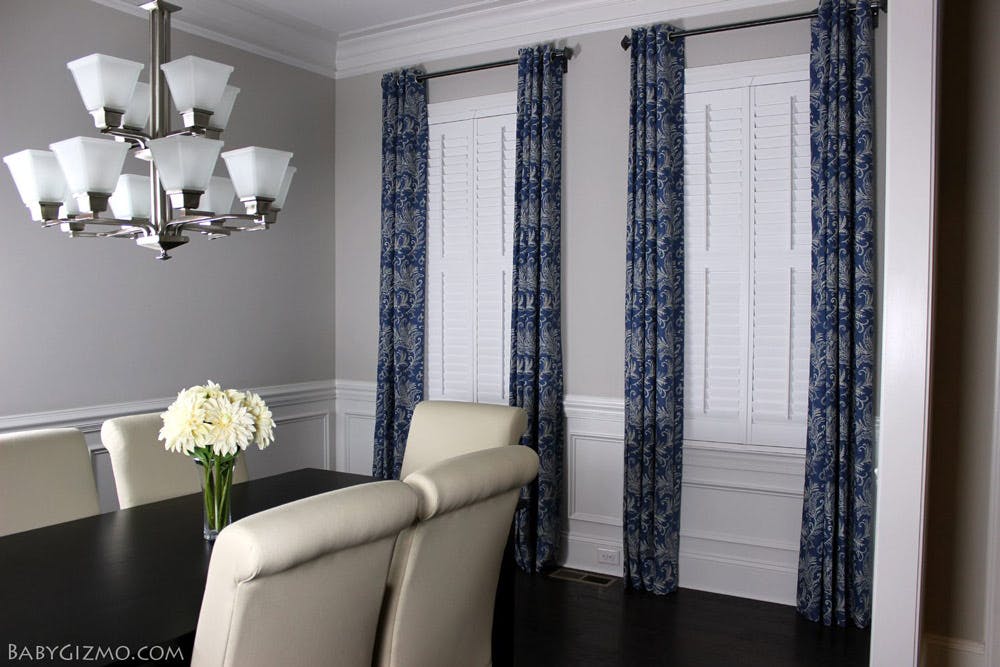 Simplicity Wood Shutters in Bright White | Grommet Draperies (Fabric discontinued - Marseille Blue Jay similar)
When layering draperies over shutters, be sure that your curtain rods protrude out far enough beyond your draperies. Your Blinds.com designer can help double check this before you place your order.
If you're combining stained wood shutters with curtains, select a fabric that has tones of the stain within the pattern or weave.
Layered Drapes for Contrasting Texture
Draperies and Woven Wood Shades
Woven Wood Shades and white drapes are a look that's been trending on Instagram for 5 years - with no end in sight.
Woven shades are a designer favorite for the way they add a pop of texture to neutral spaces. They are available in hundreds of beautiful weaves that give rooms a softly filtered glow. Drapes hung on top add softness and extra light control when you need it.
Easy Pinch Pleat Classic Drapery Panels in Lexi White | Woven Wood Shades in Antigua Natural  | Drapery Hardware
You can go with this specific woven and white combo, or choose a printed drapery fabric to play up the maximalist/eclectic look even more.
Mixing Window Treatments in One Room
Do you have two windows in the same room with vastly different shapes where matching window treatments just won't work? The bedroom below had both a wide skinny window and sliding glass door, but the homeowners wanted a matching look. Combining Roman Shades and Draperies in a matching fabric bulls the room together, but also each window to have the function it needs.
This look also works well if you want drapes but some of the windows don't have enough wall space to install a rod, or are blocked by furniture like a headboard. Use Draperies where you can and Roman Shades on the other windows.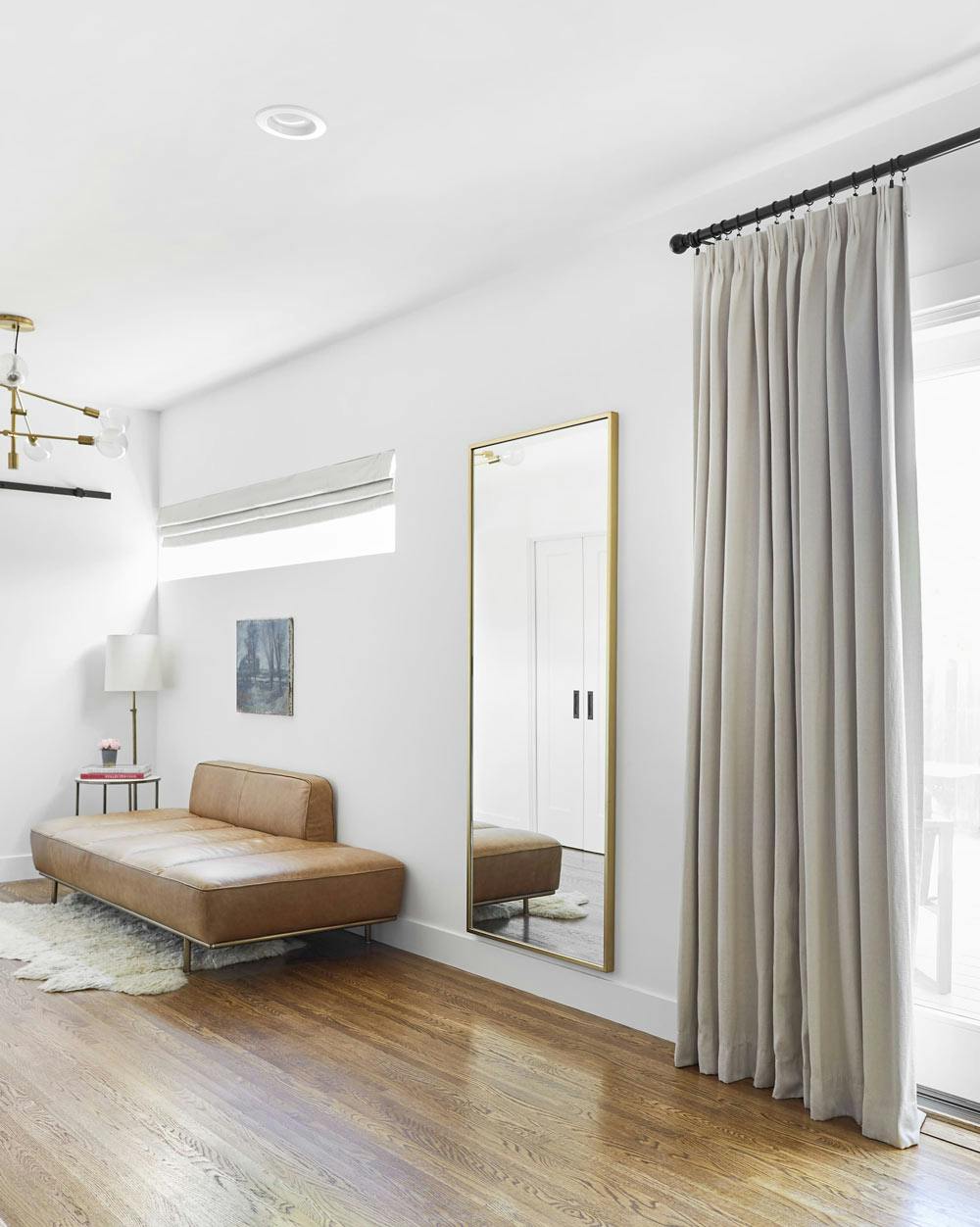 Premium Roman Shades in Tantalum Antique | Easy Classic Pleat Draperies in Tantalum Antique
Layering Window Shades in The Same Window
Roller Shades and Roman Shades
To give your windows more functionality, you can layer decorative treatments, like Roman Shades, and a functional blackout roller shade behind.
Please note, layering treatments in the same window may only work for very deep windows or if the back shade is mounted inside the frame and the top shade in mounted on the wall outside.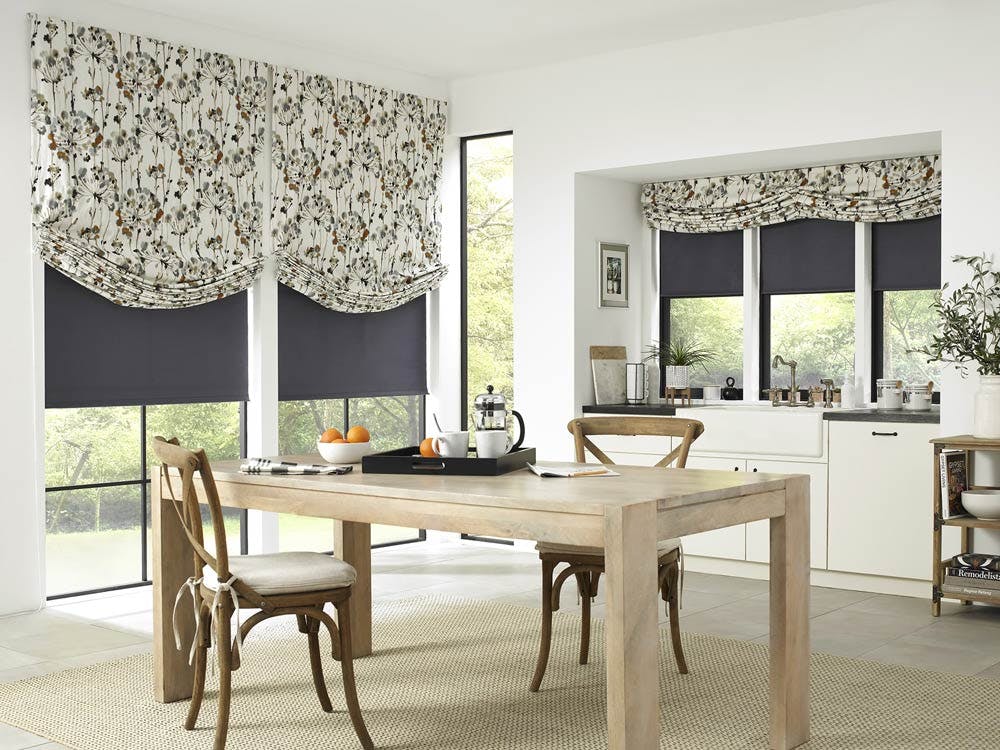 Premium Roman Shades in Le Jardin Grey | Economy Blackout Roller Shades in Semi Opaque Charcoal
For the reverse effect, try blackout Roman Shades on top and a sheer Solar Shade or Woven Shade behind for when you want to let in light but maintain some privacy.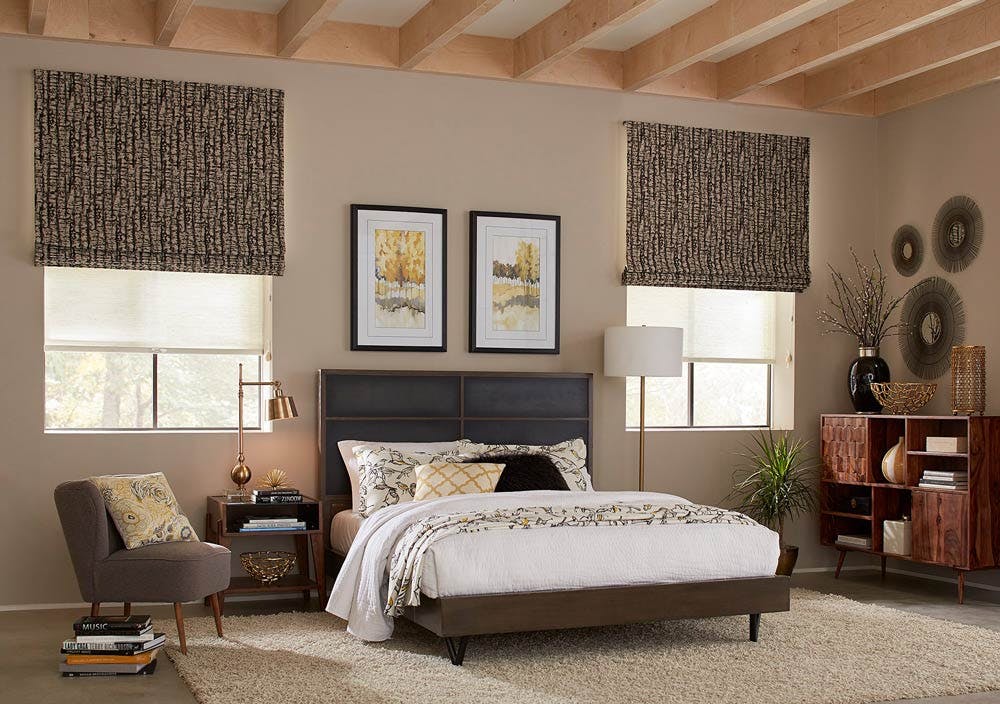 Blinds.com Premier Roman Shades in Shelby Walnut | Premium Natural Roller Shades in Cirque Glacier
Cover Hardware and Add a Polished Look With Cornices
For a perfect coordination of color and style, pair the classic feel of wood blinds with a matching cornice. This formal accessory not only completely complements your wood blind, it will also hide your blinds when they are fully raised, giving a wide open appearance in your window.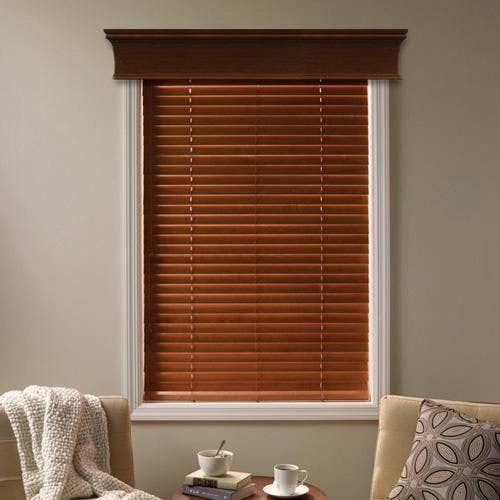 Premium 2" Wood Blinds | Wood Cornice
Need Help Finding Your Perfect Match?
If you want help making the right choice for your home, get free advice and free color samples from a Blinds.com Designer. Call today at 800-505-1905.