There are a number of trending interior design styles at the moment. Modern, Scandinavian, mid-century modern, traditional, and minimalist only begin to scratch the surface. One interior design style we're seeing stand the test of time is modern.
As tech continues to play a larger role in our lives, the demand for smart home innovation is rapidly increasing. A smart home incorporates internet-enabled appliances, smart technology, in everyday household appliances and devices, including window coverings. Learn how to master the modern, minimal look with motorized roller shades.
Meet Annie Mescall
Annie Mescall is a fashion and lifestyle blogger. You may have seen her reels modeling petite outfits or sharing her outdoor kitchen must-haves pop up on your explore page.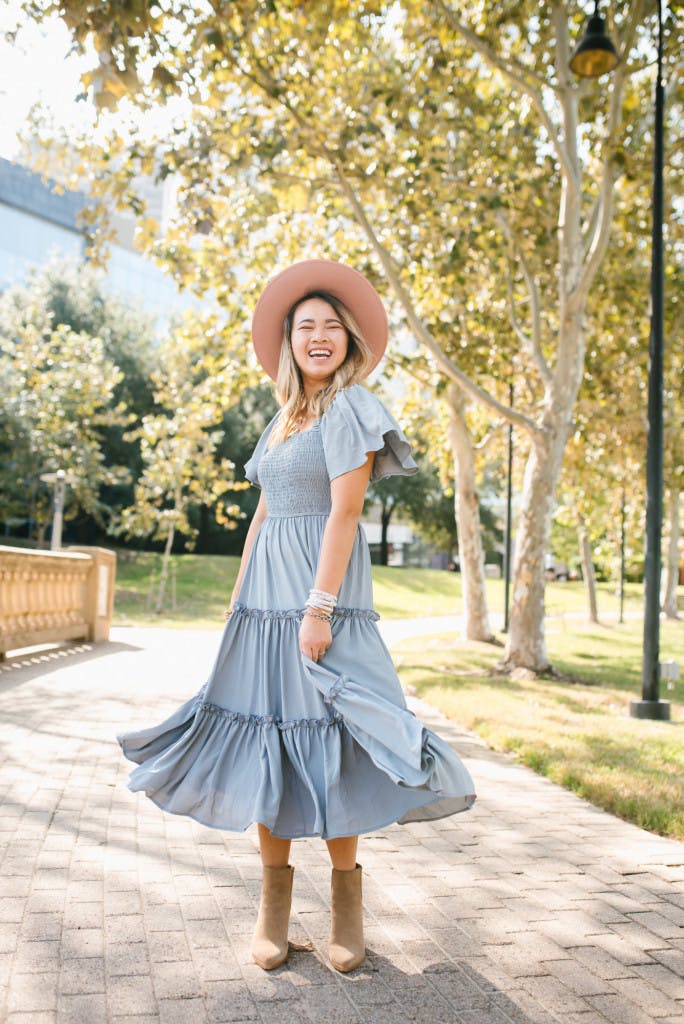 Photo via @anniemescall.
As a wife and mother of 3, who's juggling being a content creator, spending time with her family, and building her dream home, Annie has a lot on her plate. She needed a window shade that was functional, but also fit her "transitional" design style.
"I gravitate towards decor pieces that are the latest trends and sleek, and Tommy [her husband] loves things that are a bit more loved like antiques. I have a love for modern decorations, but when it comes to my home and family, there needs to be some warm and southern touches."
Annie and her family currently reside in Houston, Texas.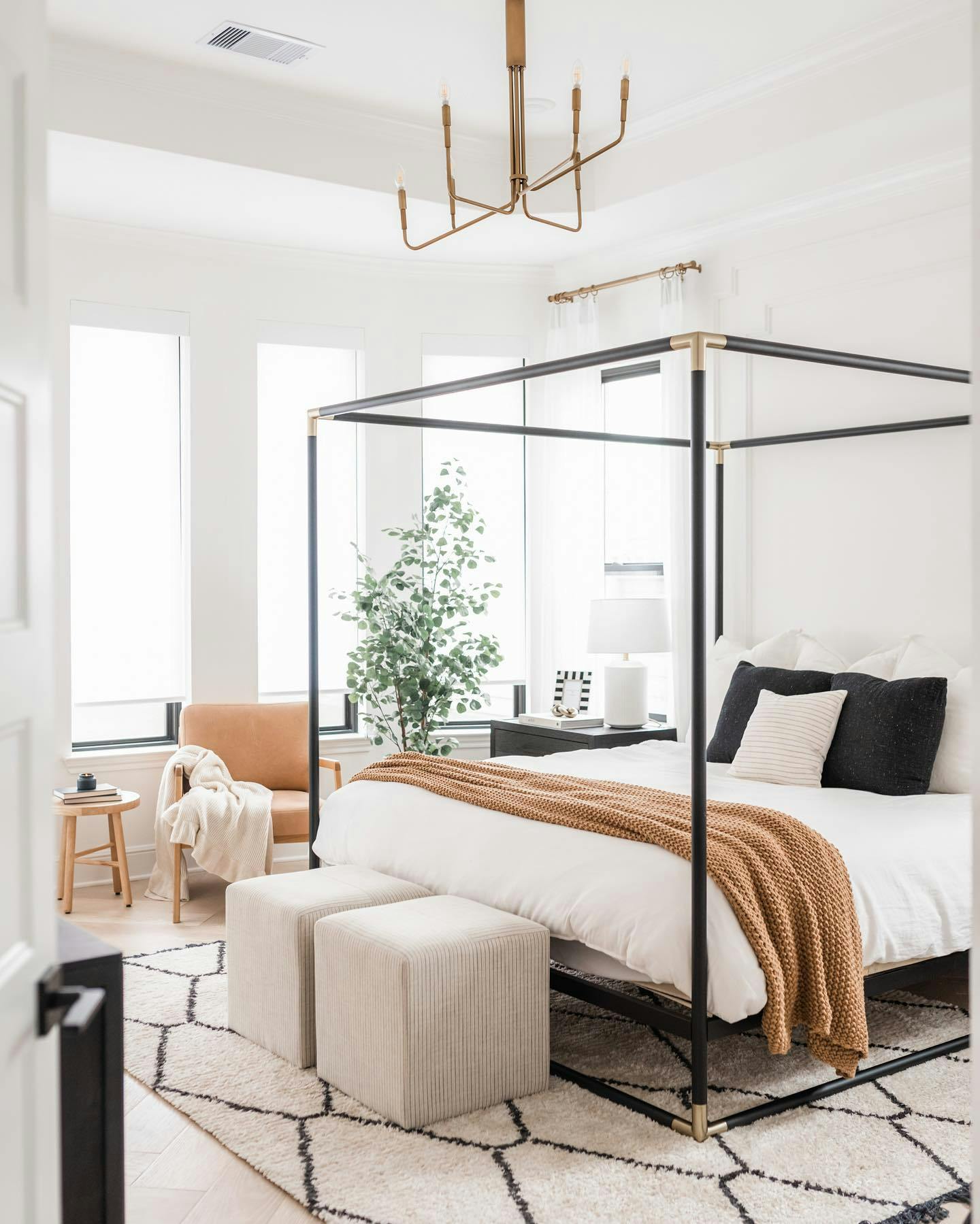 Pictured: Classic Light Filtering Roller Shades in Carleen Calla Lilly. Photo via @anniemescall.
Photo via @anniemescall.
Smart, Subtle, Chic Roller Shades
We had the pleasure of working with Annie last year to help her find window shades for her primary bedroom and bathroom. She wanted a shade that let in plenty of natural light while still maintaining her privacy. Annie also wanted to incorporate "as many smart home features as possible" in her home.
The beauty of custom window shades is you can choose every feature of the shade from the material, the opacity, to the type of lift control. With the help of our design consultants, she ultimately landed on Classic Light Filtering Roller Shades in Carleen Calla Lilly with an inside mount and motorized lift.
"I had a lot of assistance with choosing the right shade of white. There are tons of different options, so I do appreciate that I was able to get a lot of help to find the perfect shade."
"The experience overall was easy, the timing was really great as well. The [shades make the] biggest difference in a room, and we also get privacy. We knew we wanted light filtering, so they gave us the perfect colors for this."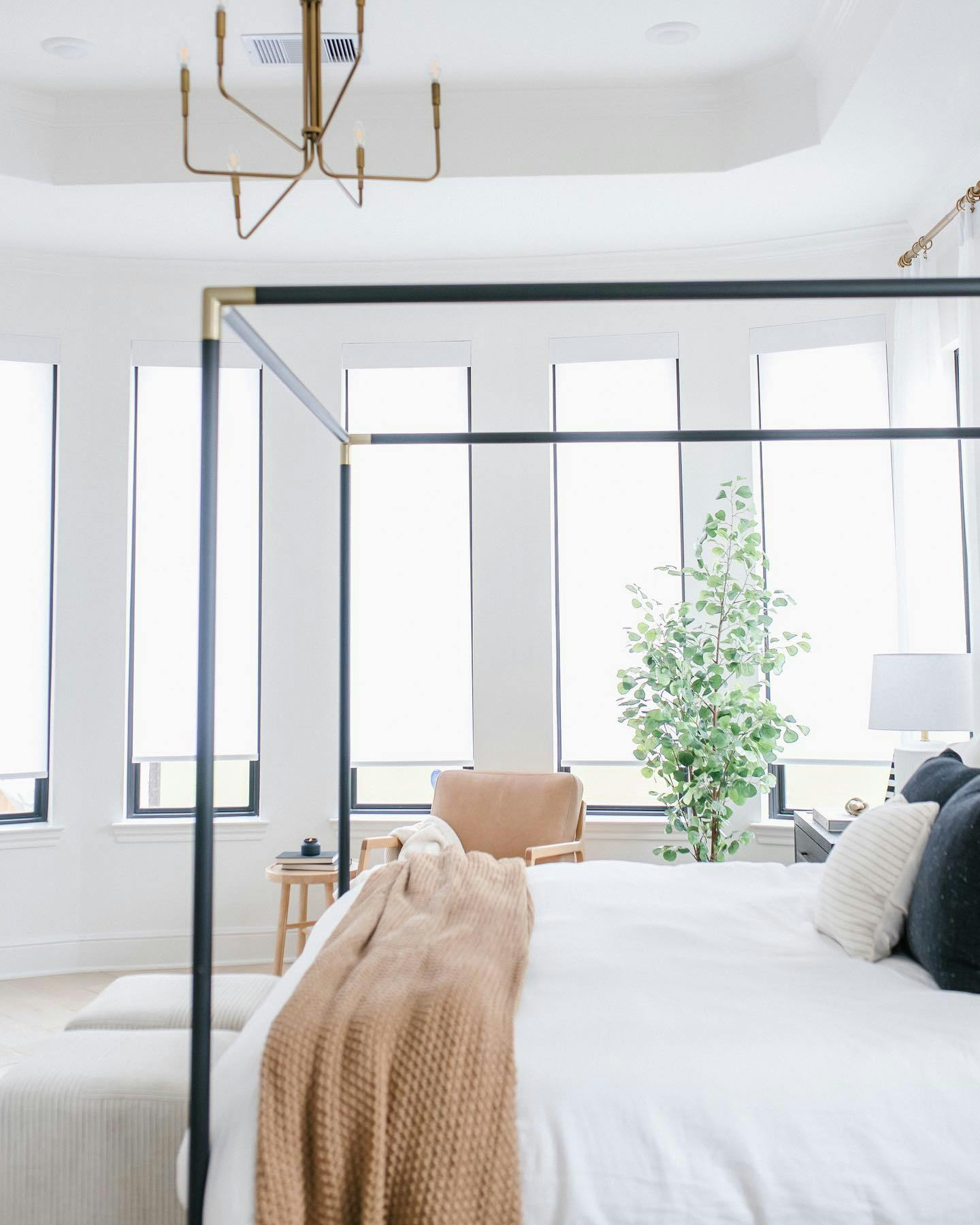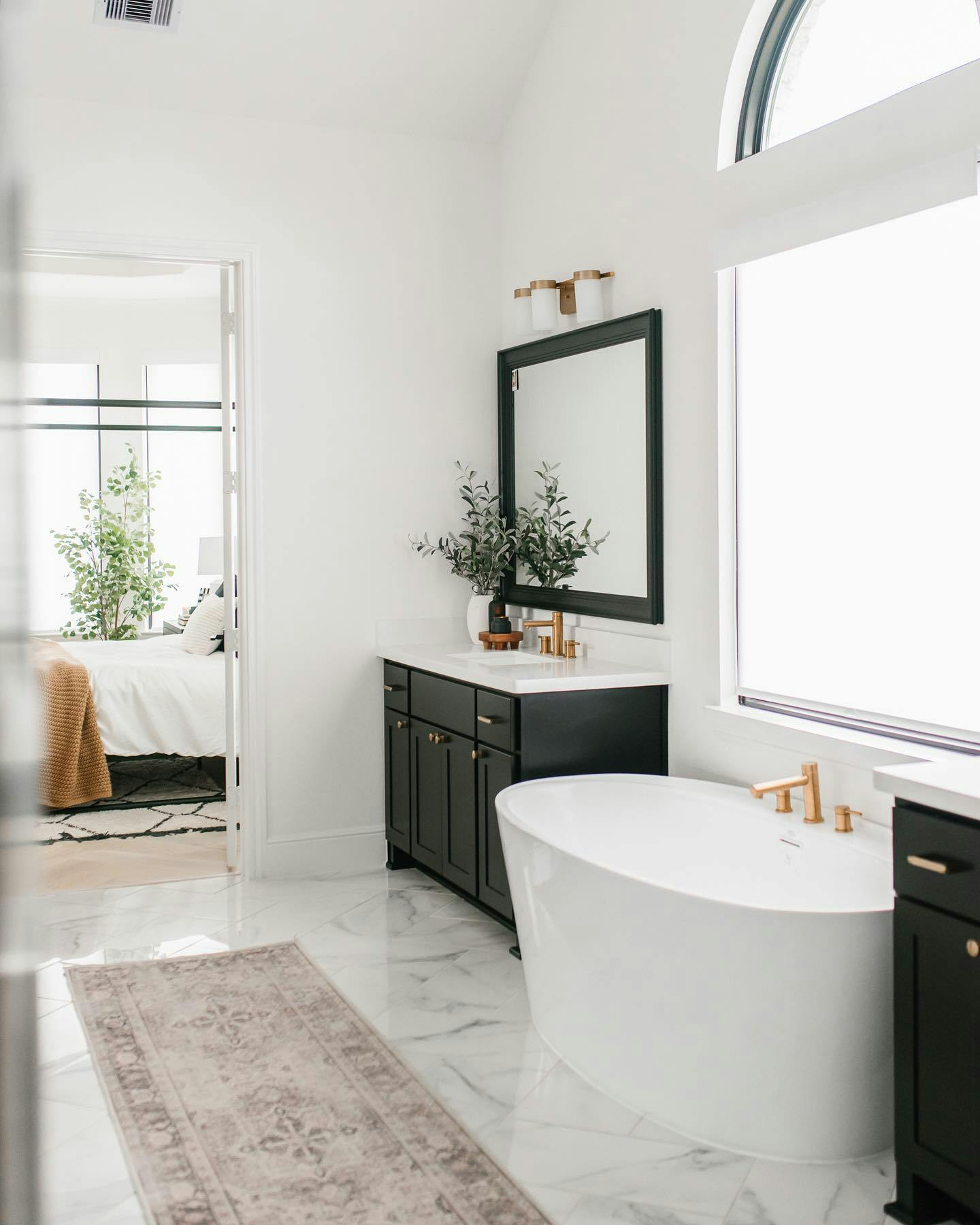 Pictured: Classic Light Filtering Roller Shades in Carleen Calla Lilly.
Make it Modern with Motorized Shades
A simple way to upgrade roller shades for windows is by adding motorized lift control. Not only do motorized shades add a modern touch to any space, they're also a much safer option for homes with pets and small children.
If you're wondering if roller shades are still in style, the answer is yes, they definitely are. Roller shade's sleek design pairs well with modern, contemporary decor. Plus, Blinds.com offers a huge selection of fabrics and colors, so you can find the right window shade that fits your style.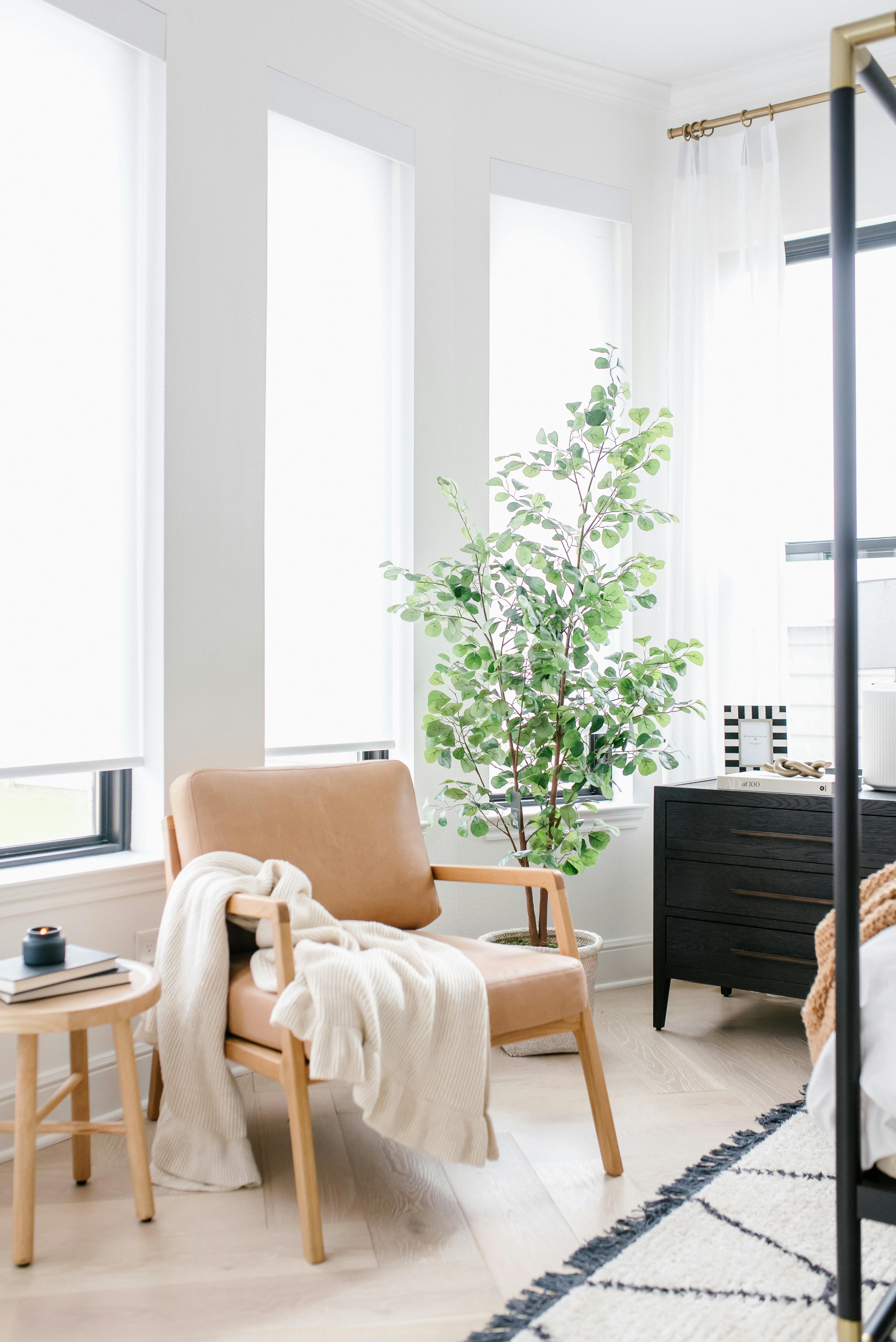 Pictured: Classic Light Filtering Roller Shades in Carleen Calla Lilly.
Brighten Things Up with Light Filtering Shades
Annie's goal was to make her bedroom feel light and cozy, including her window shades. She has gorgeous bow windows in her bedroom that serve as a focal point for the room. Adding light filtering motorized roller shades really added to the wow-factor Annie was going for.
Light filtering shades let the most natural light into a room. When the window shades are down, they give the room a soft, gentle glow. Layering warm, neutral-toned throw blankets on the bed also makes the space feel more inviting and cozy.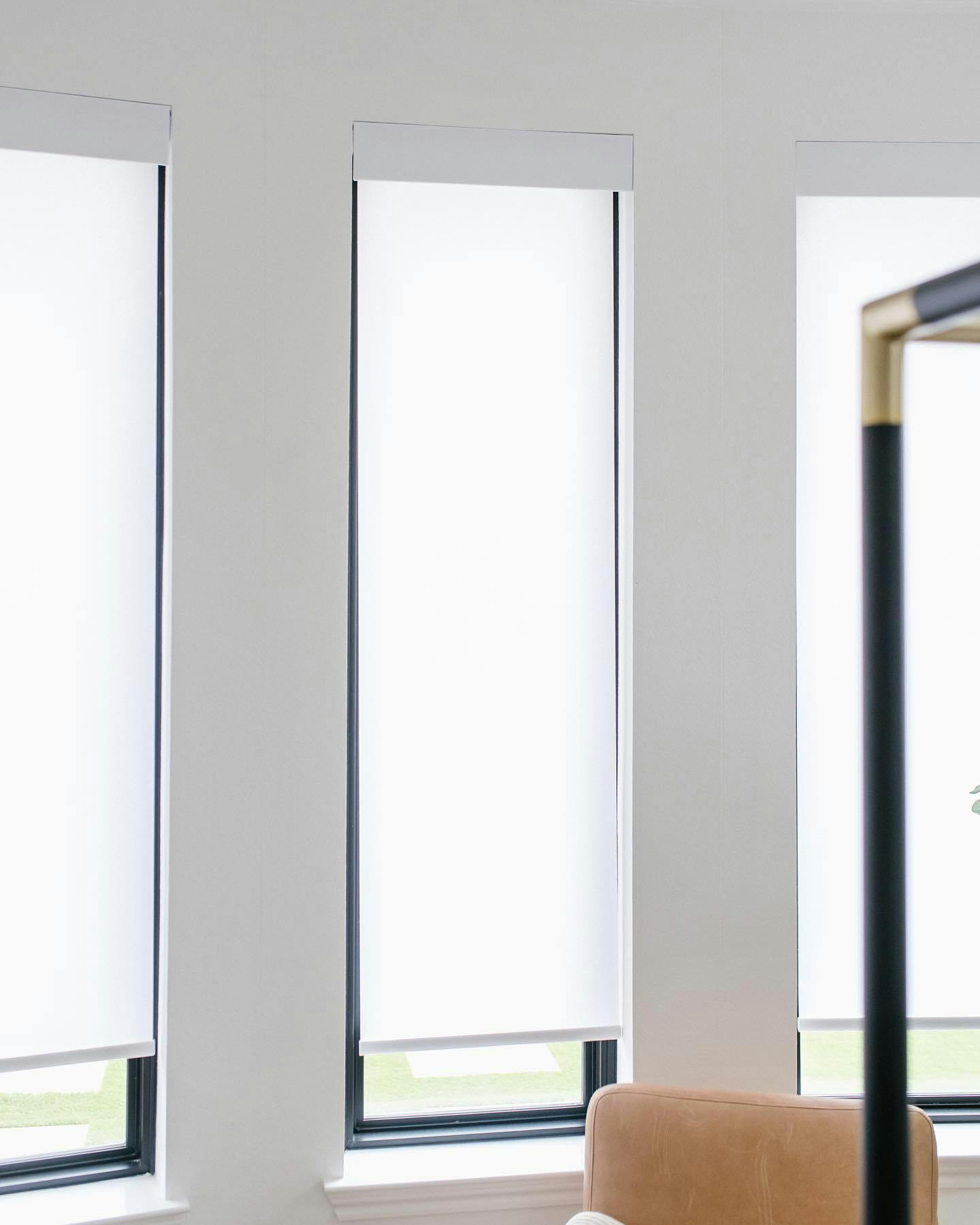 Pictured: Classic Light Filtering Roller Shades in Carleen Calla Lilly.
Shop this Look!
If you're a fan of modern design and looking to replicate Annie's bedroom look, she chose Classic Light Filtering Roller Shades in Carleen Calla Lilly. If you have specific questions about motorized lift control or roller shades, our design consultants can help you find the perfect custom window shade for your space at 800-505-1905. You can also visit these pages for assistance on how to install or how to measure roller shades.
Want More Design Inspiration?
Step Inside Nina William's Coastal Farmhouse Bedroom with Solar Shades
The House that Lars Built Gets Major Studio Upgrade with Blackout Roller Shades
Modern Farmhouse Home Gets Tons of Natural Light with New Shades