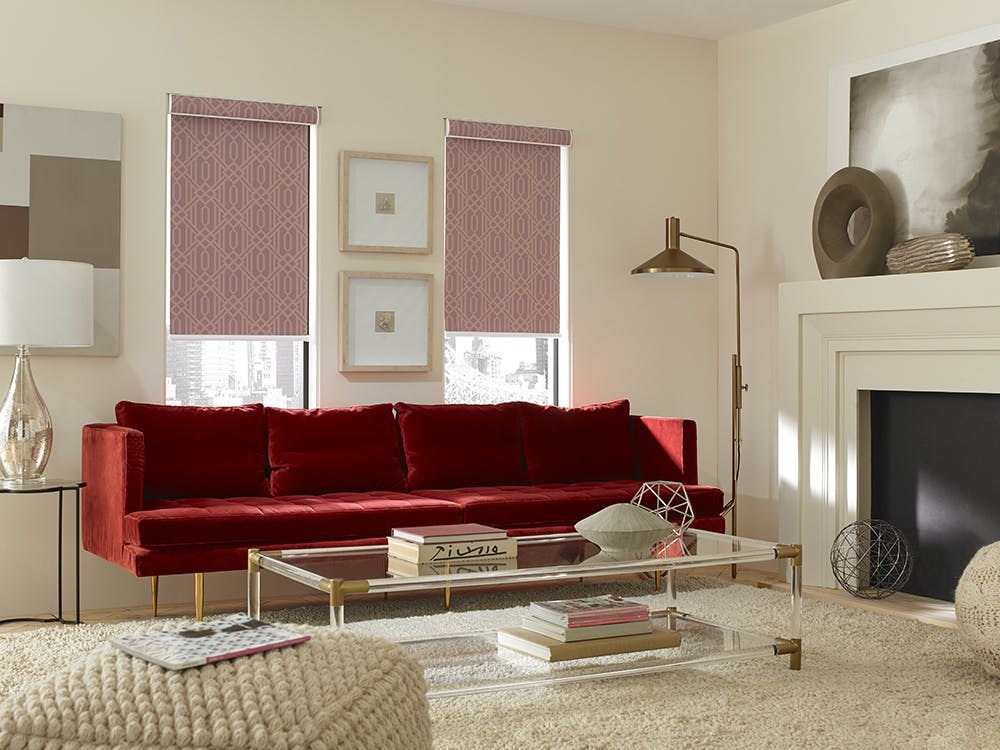 Pictured: The Economy Blackout Fabric Roller Shades in Deco Persimmon.
Not Your Grandma's Roller Shades
Just in time for summer, we've launched our new collection of Roller and Solar Shades: The Economy Fabric Blackout Roller Shade, The Economy Light Filtering Roller Shade and the Economy Solar Shade! We're particularly excited about these rollers because of of the variety of features, options and colors that are now made more affordable. These are a sleek, modern twist on a household classic. Definitely not your grandma's roller shades.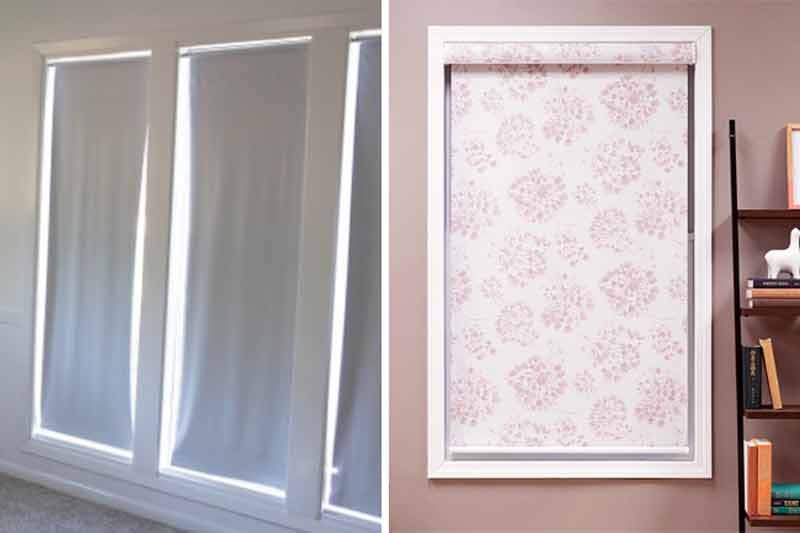 Pictured: Old, warped roller shades compared to crisp, new Blackout Fabric roller shades in Cottonwood Spring.
Over 70 Beautiful Colors and Patterns
These new shades are available in three styles: Light-Filtering, Blackout, and Solar so you can find the exact shade for you light control needs. Each shade boasts over 70 exciting colors, and upscale textures ranging from earthy neutrals, bold solids, trendy patterns. The colors and patterns coordinate across the entire collection making it easy to harmonize your home's style.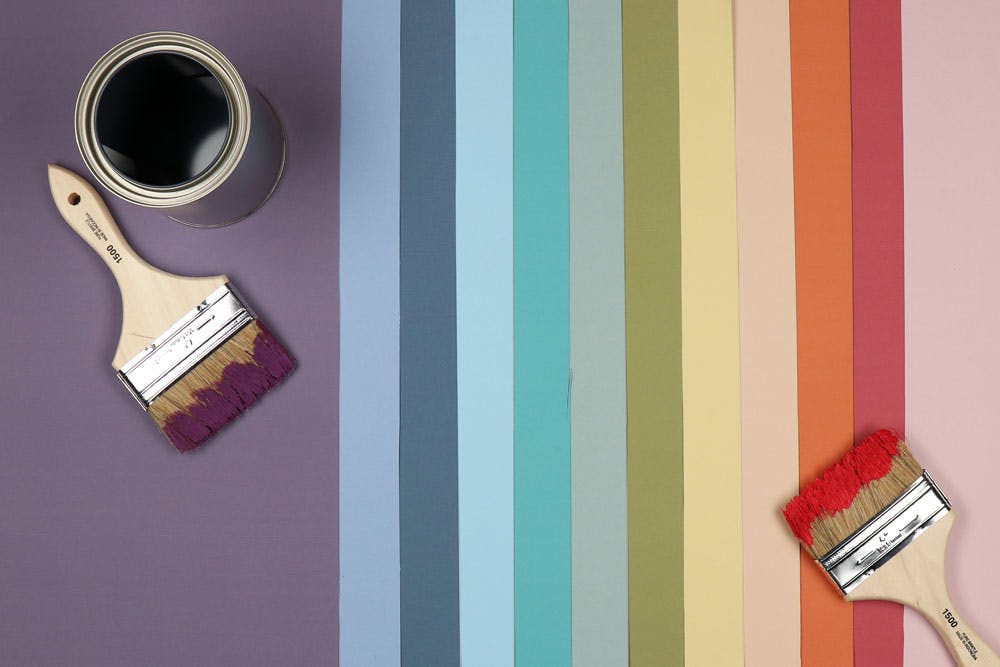 Pictured (left to Right): Spectrum Grape, Spectrum Lakeshore, Spectrum Surf, Spectrum Sky, Spectrum Gulf, Spectrum Fern, Spectrum Moss, Spectrum Sunflower, Spectrum Blossom, Spectrum Ember, Spectrum Raspberry, Spectrum Camellia.
Each shade will be white on the back (the side facing the window glass) so you can rest easy this will comply with HOA or Condo Association requirements and pump up your curb appeal.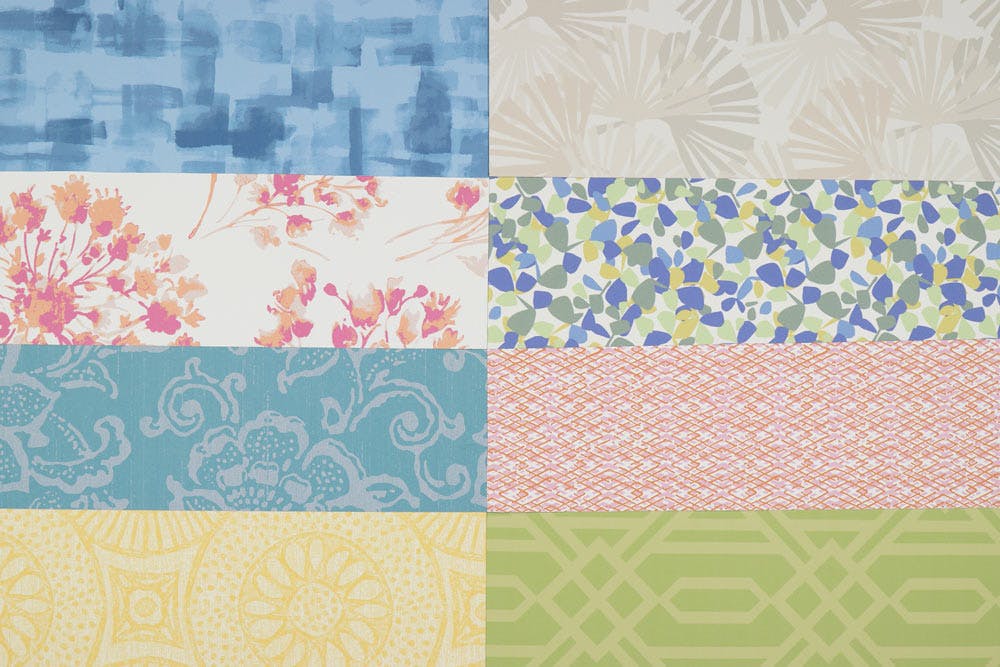 Pictured (top left to bottom right): Brushstrokes Denim, Ginkgo Sienna, Cottonwood Spring, Petals Spring Mix, Courtyard Teal, Terra Nova Bloom, Taos Sunflower, Deco Aloe.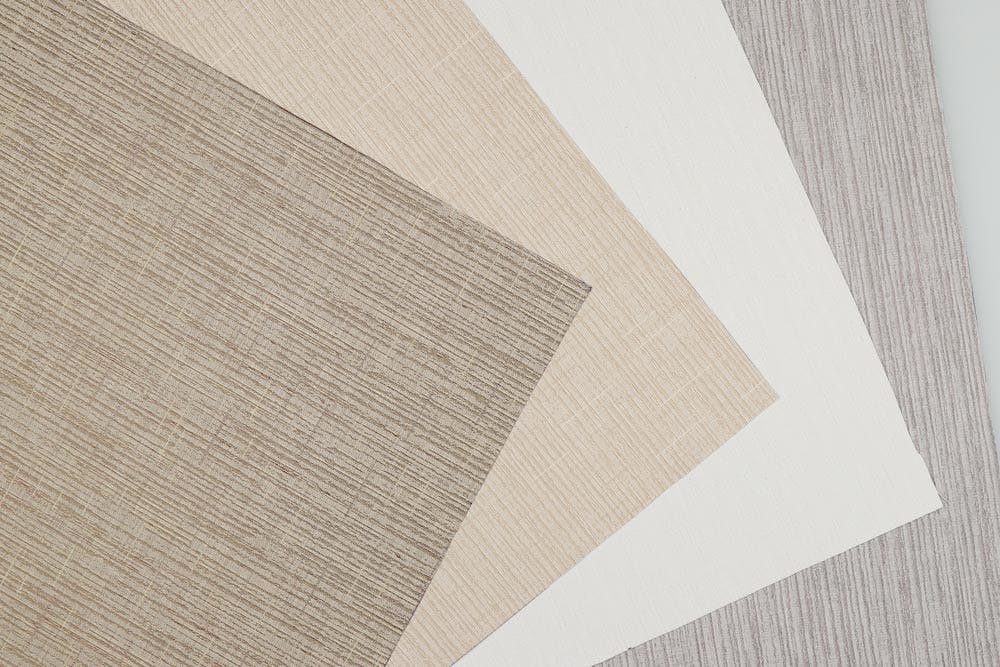 Colors Pictured: Caldera Rye, Caldera Terra, Caldera Bright White, Caldera Mercury.
Do You Even Lift? - Roller Shade Lifting Options
Beautiful colors and patterns are nice, but what happens when you want to see out your window? How can you raise the shade up and let the light in? That's where your lift options come in.
Standard Cord Loop lift can be made with your choice of a plastic or stainless steel chain or select the geared clutch upgrade which is perfect for very wide shades. Opt for cordless lift if you have small kids or pets around and want to keep cords out of reach. Cordless roller shades can be raised and lowered by simply tugging on the bottom of the fabric.
Finally there's out favorite: The super sleek, super cool motorized lift with battery motor. Just press a button, and you can raise or lower the shades in a whole room.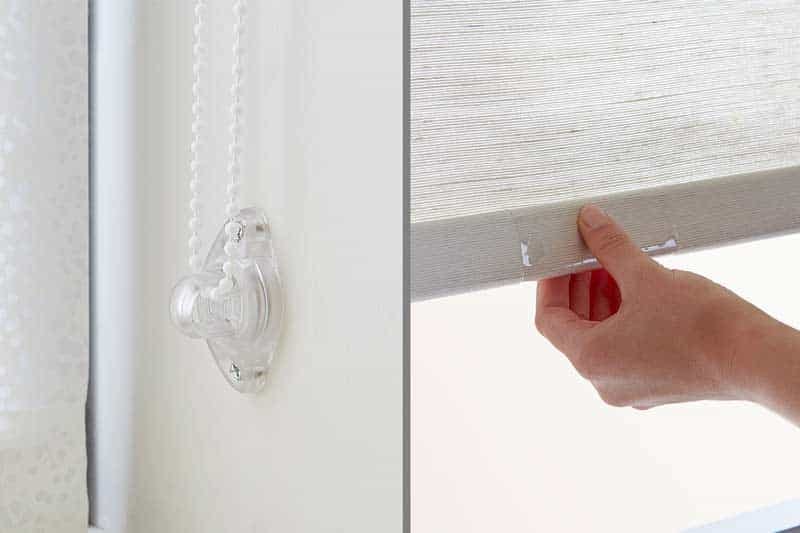 Pictured: A cordloop lift compared to a cordless lift (note: exact hardware look and style may vary).
Decorative Valances to Top It Off
Elevate your look by adding a 3" or 4" decorative valance to hide the roll, mechanisms and brackets beautifully. Choose from white, black or anodized aluminum for the valance color (bottom rails will coordinate with the valance). Or choose Reverse Roll so the fabric hangs off the front of the roll making the roll and mechanisms less obvious and overall more sleek.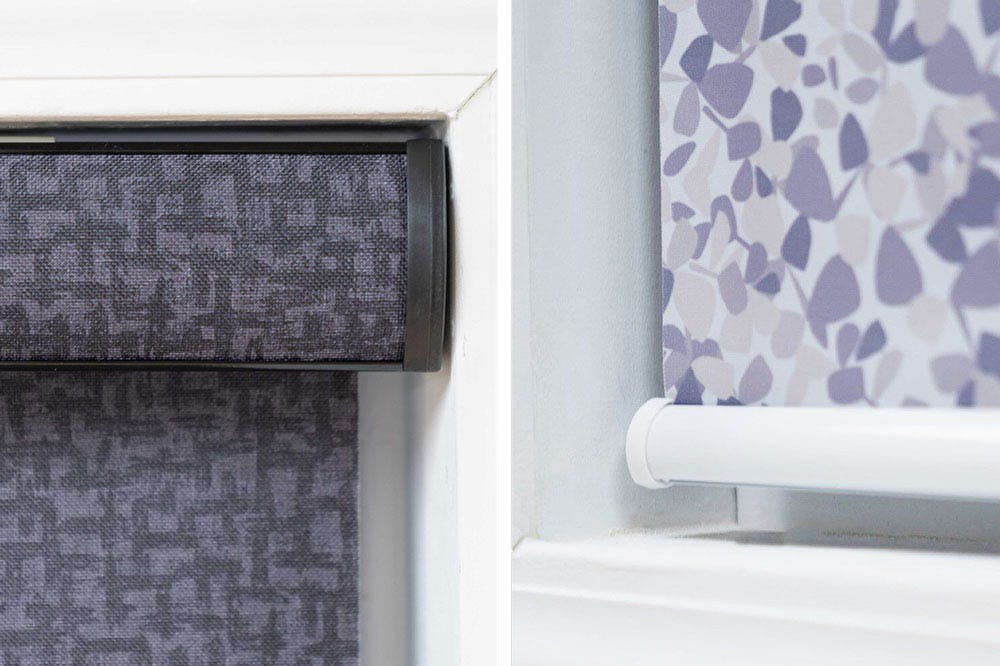 Pictured: Color-coordinated valance and bottom rails for the Economy Fabric Blackout Roller Shade, Light Filtering and Economy Fabric Blackout Roller Shade, Light Filtering and , Light Filtering and Light Filtering and and Solar Shades. Also note the gap between fabric and inside edge of window where light can leak in.
With roller shades, the fabric will always be made a little narrower than your measurements to accommodate the brackets and end mechanisms. This creates gaps on each side when light seeps through (aka Light Gaps). For maximum Light Control and to get the most from your Blackout Shades, we recommend adding on Light Blockers when ordering. These are opaque plastic channels that adhere to the inside edge of your window to cover these gaps and give you more light control. Light blockers are available in multiple colors so you can coordinate with the rest of your decor.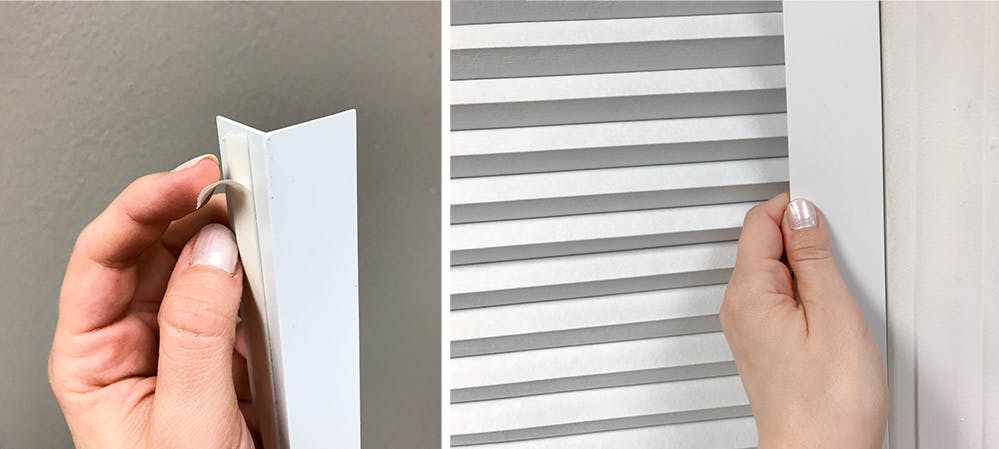 Pictured: Light Blocker strip showing peel and stick side and how to adhere it to the inside of your window.
Still Have Questions?
Our expert Design Consultants are always available to help with your questions and offer the insights on your window project: 844-551-3769.
Fabric samples are always free! And just like all of our products, we stand behind it with our standard 3 Year Warranty, SureFit Guarantee and Satisfaction Guarantee so you can order with confidence and peace of mind.
Learn More about Roller Shades
How to Measure for Roller and Solar Shades
What do the Percents Mean on Solar Shades?
Light Gap 911: Maximize your Blackout Blinds and Shades