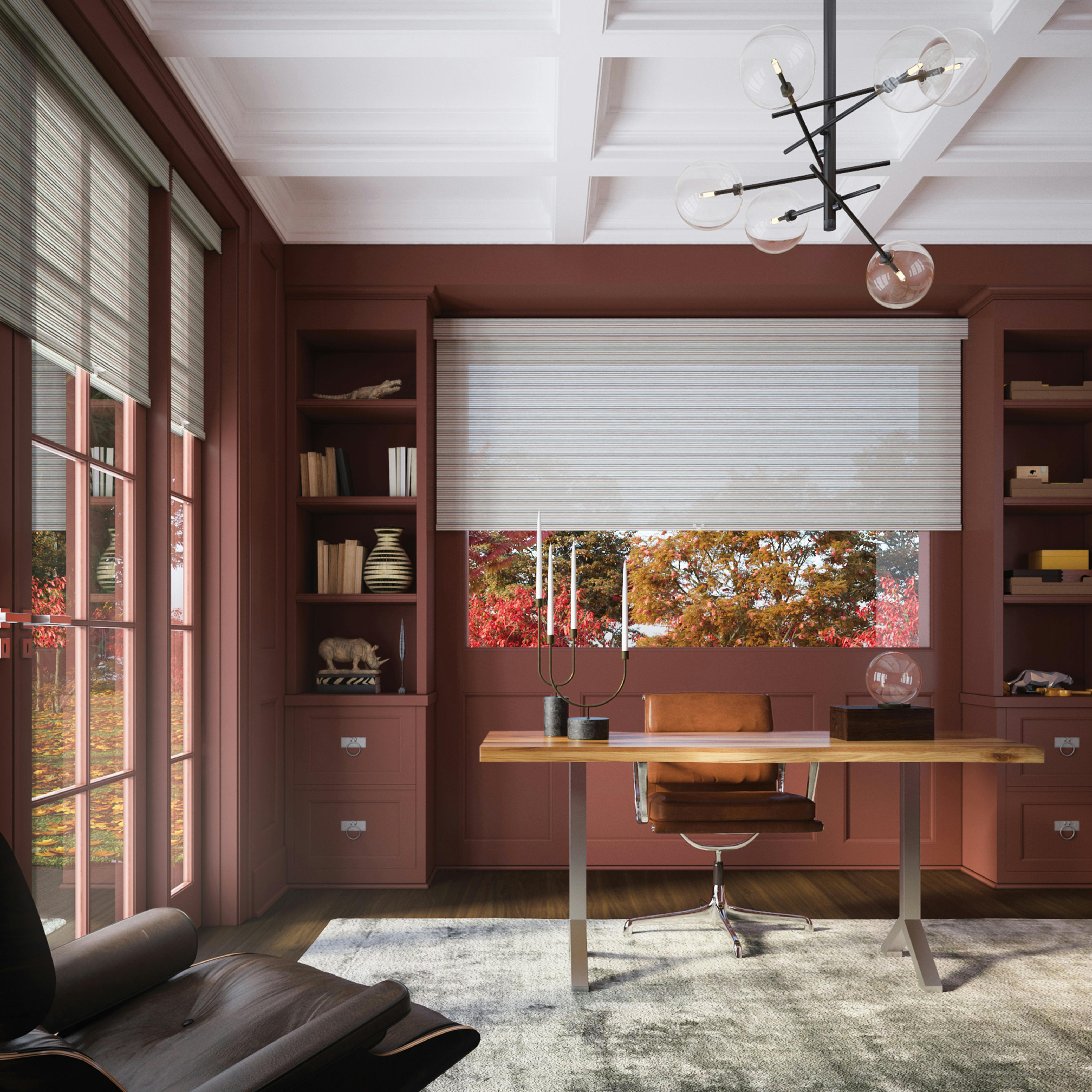 More people now work from home and need a designated workspace. If you're working remotely, you want a comfortable space that's an extension of your personality. Creating the right home office environment can have an impact on your productivity. You've chosen the furnishings, paint colors, and lighting. But what about your windows? Let's explore ways your home office's window coverings can help make your workspace a more pleasing and productive place to work.
How to Choose Home Office Window Coverings 
When selecting window treatments for a home office, you need to consider their functionality. You want to create an environment that's comfortable and aesthetically pleasing but also needs to be efficient and productive. The ideal home office lets you control the light coming in, offers privacy, eliminates distractions, and improves energy efficiency.
Keep It Light — or Not
If you're working from home, you're likely spending a lot of time on a computer. The hours spent staring at a screen without the right lighting conditions can cause eyestrain. Glare on the monitor or poor backlighting can impact your productivity, so looking for office window treatments that soften the room's ambiance is essential.
If your office space is bright or the windows are behind your computer monitor, that will affect your view of the screen. At Blinds.com, we recommend blackout shades or shutters to eliminate unwanted outside light. If that's too extreme, light-filtering home office curtains are a good compromise. They soften natural light and reduce glare without creating an environment that's too dim. Tilt-able shades or shutters are terrific options for long workdays and video conferences. These window treatments allow you to adjust the amount of natural light throughout the day.
Give Your Office a Lift
Multiple lift options are available for home office window treatments — from classic pull cord models to remote control, motorized options that let you adjust all the windows in your office at once. If your workspace only has one or two windows, a pull cord or cordless manual lift option is a more cost-effective solution, especially if you don't raise or lower them frequently.
However, motorized blinds and shades[LN3]  are excellent for offices with lots of windows, especially if you're frequently on video calls or need to vary the light for other reasons, such as presentations. Motorized home office blinds are timesaving, easy, and convenient.
A Room With a View
Controlling the view looking into or out of your workspace is another important factor when choosing office window coverings. Outside distractions can interrupt your workflow if your office is on the first floor. However, if your exterior view is soothing, you may want to choose home office window treatments that let you obstruct the view only when needed. Periodic breaks from staring at a computer screen are essential to avoid work fatigue, so rest your eyes by taking in some nature.
Light-filtering office window coverings are ideal for offering some privacy without obstructing your view. They also create a soft, diffused ambiance for video conferences. Cordless shades or adjustable blinds let you quickly let in the light or keep it out.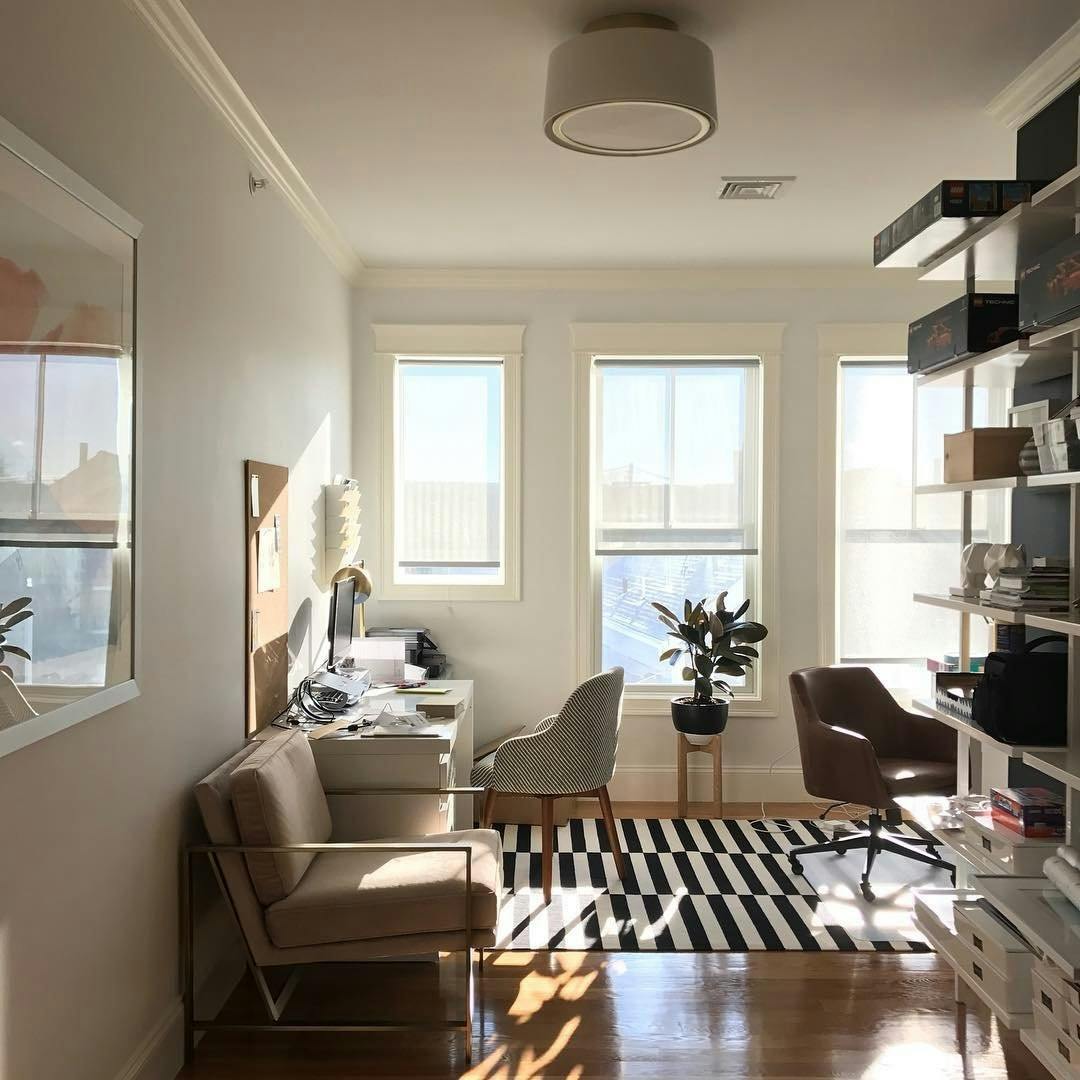 Home and Work Efficiency
Working in bright sunlight with the windows closed can create a greenhouse effect that makes your office uncomfortably hot. Cellular or solar shades regulate the temperature to keep your workspace comfortable without resorting to air conditioners or fans. Over the course of a year, that could add up to significant energy savings if you work from home regularly.
Colors & Material
Besides the functional characteristics that affect how you work, the colors and materials of your office window treatments help set the overall vibe in your workspace. You'll find classic roller shades and aluminum blinds in various colors and fabrics. Or you could opt for wood blinds or shutters stained in colors to match your desk, bookcases, and other office furnishings to give your office a comfortable, homey feeling.
Best Window Treatments for the Home Office
Now that you've seen all the functional aspects of office window treatments, you need to narrow it down to a specific style. When choosing the best window treatments for your home office, keep in mind that each has its pros and cons. Decide what makes the most practical sense based on how you work, then consult our size guide to find the right fit.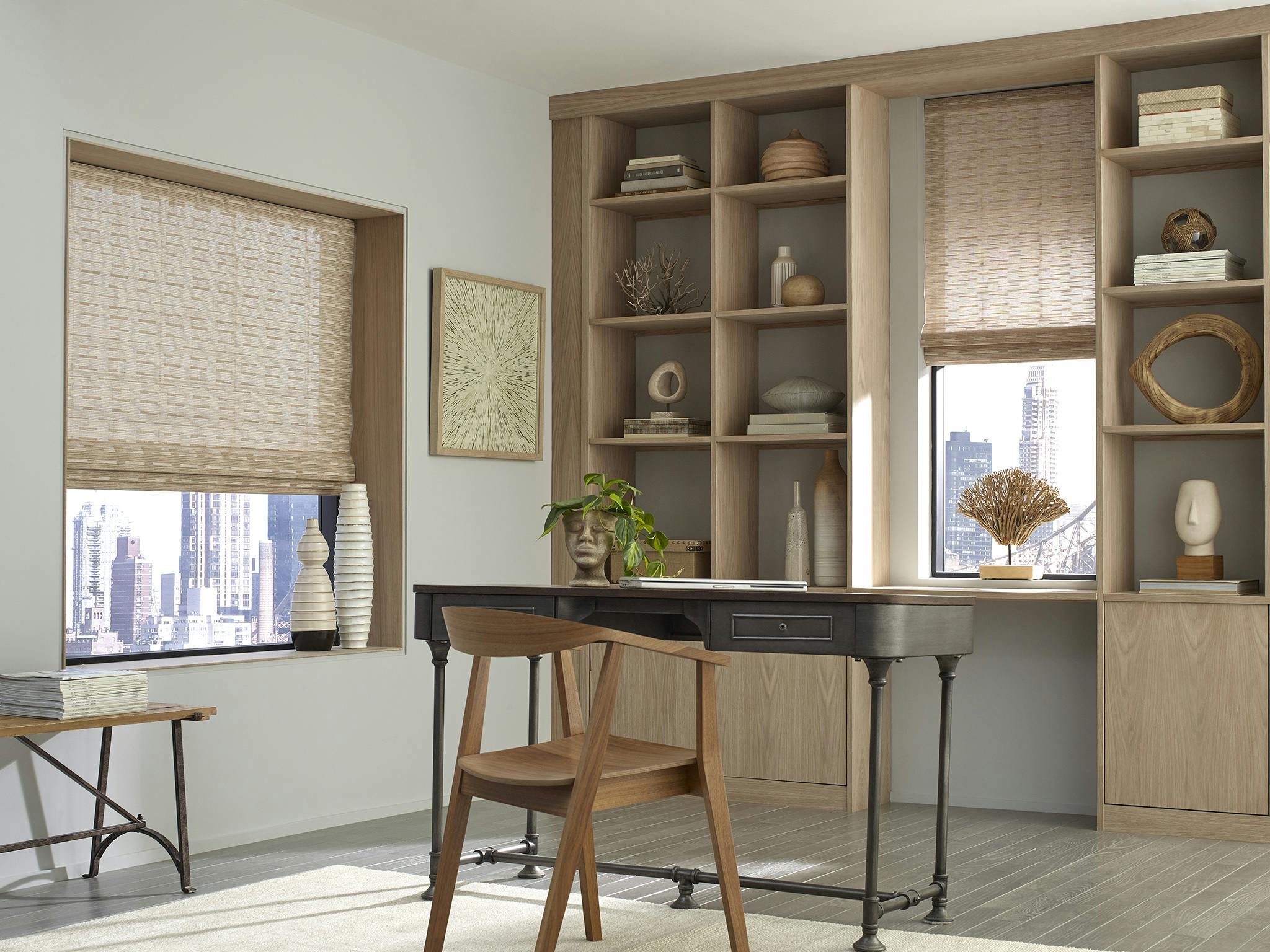 Cellular Shades
Cellular shades use a honeycomb structure to improve insulation and energy efficiency. That makes them an excellent year-round choice for setting a comfortable climate in your home office. Their thin, translucent construction makes them a great light-filtering choice for video calls and allows natural light while obstructing the view into and out of your workspace.
Solar Shades
Solar shades don't block the view outside the window but manage UV rays and sunlight. They're a smart option if you want to limit glare and reduce light in your office without losing the view outside. Because they minimize sunlight, solar shades also reduce the greenhouse effect that heats your office on sunny days, keeping things cool when it's hot out.
Roller Shades
Because they're available in a wide variety of sizes and colors, roller shades make it easy to customize the amount of light you let into your office (from light filtering to blackout) while matching nearly any décor. Choose a cordless lift for an even sleeker look or a motorized lift to effortlessly raise and lower your shades without leaving your desk. You can also partially raise or lower them to further customize the amount of light coming in.
Roman Shades
Roman shades offer a premium style of drapes without compromising on light control and visibility. Blinds.com has a terrific assortment of fabrics and fold styles to customize any look. Upgrading to a top-down/bottom-up lift allows you to open the shades by either raising or lowering them – meaning you can obstruct the view on the lower part of the window only for privacy without giving up the view outside or limiting the natural light filtering in.
Blinds
Blinds come in a wide variety of materials, colors, and sizes — from aluminum mini blinds to full-size wood blinds (or faux wood blinds for the same look on a budget). They can also run horizontally or vertically. You can match your furnishings or create a statement piece in an otherwise neutral office.
More importantly, blinds are tilt-able, allowing you to quickly adjust the light and obstruct the view throughout the day as lighting changes. Tilt-able options are ideal for reducing eyestrain and enhancing video calls
Shutters
Like blinds, shutters  are durable, stylish office window coverings that can match or accent your décor while allowing you to adjust the lighting throughout the day. When choosing shutters for your office, make sure they're tilt able to accommodate the varying lighting demands of a workday that frequently calls for video calls, screen time, and privacy.
Curtains
Home office curtains  are a classic, highly customizable choice. They can be bold or subtle, light-filtering or room-darkening. They're also easy to install and interchangeable if you redecorate your workspace often.
The best thing about curtains for an office is that they can be used with other window treatments for more light control. For instance, layering curtains that part in the center with top-down/bottom-up Roman shades lets you control where light enters vertically and horizontally. Blackout curtains also add another layer to light-filtering cellular shades for improved temperature control and lighting.
Get more inspiration for decorating your home office:
https://www.blinds.com/newsroom/natural-light-is-best-for-video-conferencing
https://www.blinds.com/blog/home-office-set-ups-to-inspire-you
https://www.blinds.com/blog/linen-roman-shades-for-city-sages-tone-on-tone-office
FAQ
We recommend cellulars shades, faux wood blinds, roller shades, and bamboo shades.

We recommend cellular shades because they are available in light filtering or blackout for the precise glare control you need. They also insulate against heat and cold to keep your workspace comfortable. 

We recommend faux wood blinds due to their durability, timeless look and easy to clean protocols. Being made of PVC also prevents any smells or stains.

We recommend roller shades due custom opacity for sunlight, full roll up, easy customizability and its durability in conjunction with its ease of cleaning.

We recommend woven wood shades  because they add natural texture to elevate the style of your windows. Choose from light filtering or blackout liner options.