Whether you're hosting a backyard party, attending a neighborhood block party, or simply looking for creative ways to honor Independence Day, we've got you covered with Fourth of July decor ideas.
We'll explore mouthwatering recipes, patriotic decorations, and entertaining activities to make your July 4th celebration an unforgettable one. So, grab your sparklers, and your favorite patriotic decor, and let's dive in!
Fourth of July Decorating Ideas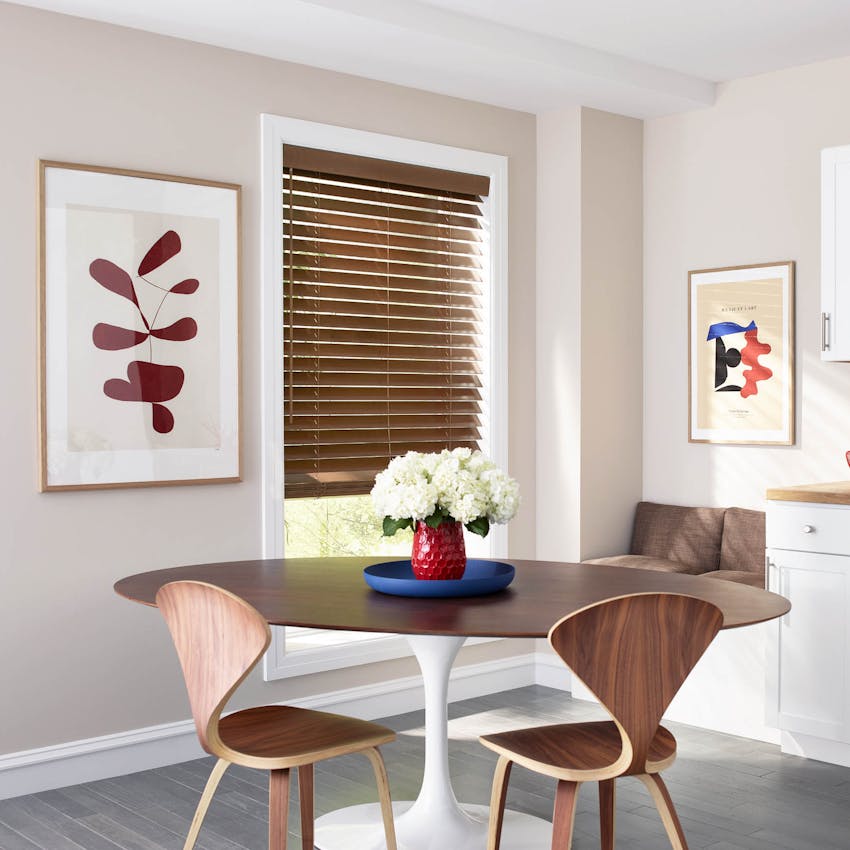 Blinds.com Premium 2 1/2 inch Wood Blinds in Walnut
1. Decorating for Independence Day has never been so easy! Start by searching your pantry for non-perishable goods, like beans, that are red, white, and blue. You can use these items to create your very own July 4th American Flag. Fill glass jars with different themed color items to reinforce the patriotic theme. Learn how to create this July 4th display.
2. From fireworks to candles, July 4th will go off with a bang with these unique Yo-Yo Burlap Candle Wraps! Grab your favorite patriotic fabric, some candles, and a yo-yo maker at your local craft store. Find step-by-step directions to create this look here: Step-by-Step Yo-Yo Burlap Candle Wrap Directions
3. Bring the celebration to your yard literally! This is a great way to entertain the entire family for endless hours – plus it will wash out with the rain this summer! Grab some poster board, cut out different July 4 shapes, like stars, and spray with spray paint. For a less permanent look, you can also use flour. You'll have the most patriotic yard in the neighborhood in no time!  For more July 4th ideas from this Pinner, be sure to check out her blog Landee See, Landee Do
Star Spangled Fourth of July Snacks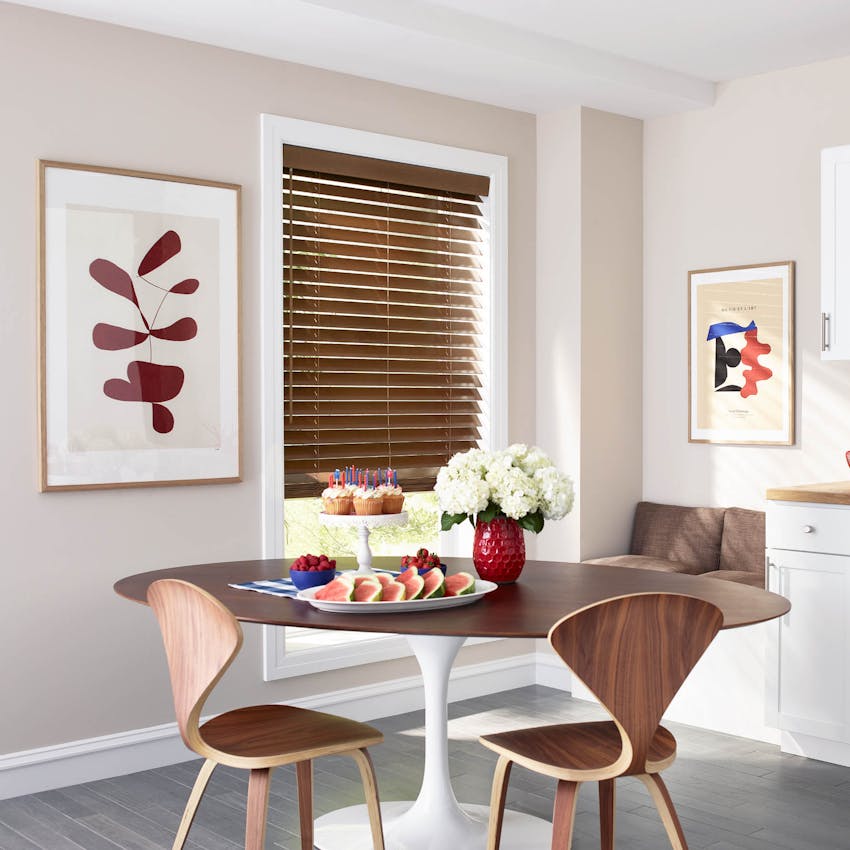 Blinds.com Premium 2 1/2 inch Wood Blinds in Walnut
1. How many tootsie pops does it take to create a flower bouquet? This sweet tootsie pop creation is great for any centerpiece. All you need is a Styrofoam ball and a bag of tootsie pops. This is great for all ages. Learn how to make lollipop bouquets.
2. Nearly every Fourth of July celebration involves a grill, burgers, and hot dogs. Who doesn't love making their food patriotic? Food on a stick is perfect for outdoor parties. Friends and family can munch on "rocket dogs" by the pool all night long. For more creative food and decoration tips, be sure to check out They are Crafty.
3. Get out your cookie cutters and watermelon and let's have some fun! Start by slicing the watermelon into thin slices then use cookie cutters to create fun shapes. Grab a white bowl, some blueberries for color, and viola! - the perfect summer treat! Make a 4th of July fruit salad.
Want More Fourth of July Decor Inspiration?
Everything You Need to Know to Throw the Best 4th of July Party
13 Simple Ways to Get Your Patio Party-Ready
These Window Treatments for Doors Will Attract Attention During Your Next Backyard Party