As the weather is warming up and we start attending backyard barbecues and pool parties, our patio doors will begin seeing a lot more use.
Sliding glass, French, and patio doors add to the beauty of a home. It's important to find a window treatment that will protect your doors. Find the best options for window treatments for patio doors, French doors ,and sliding glass doors in this guide.
Sliding Glass Doors
Sliding glass doors allow plenty of natural light to enter your home, but when you want to maintain your privacy, it's best to opt for vertical blinds. If you're not sure which window treatment is best for covering sliding glass doors, it's a good rule of thumb that your window treatment should open in the same direction as the door. Vertical cellular shades are another great option to consider. They're energy-saving and a safer alternative if you have children or pets.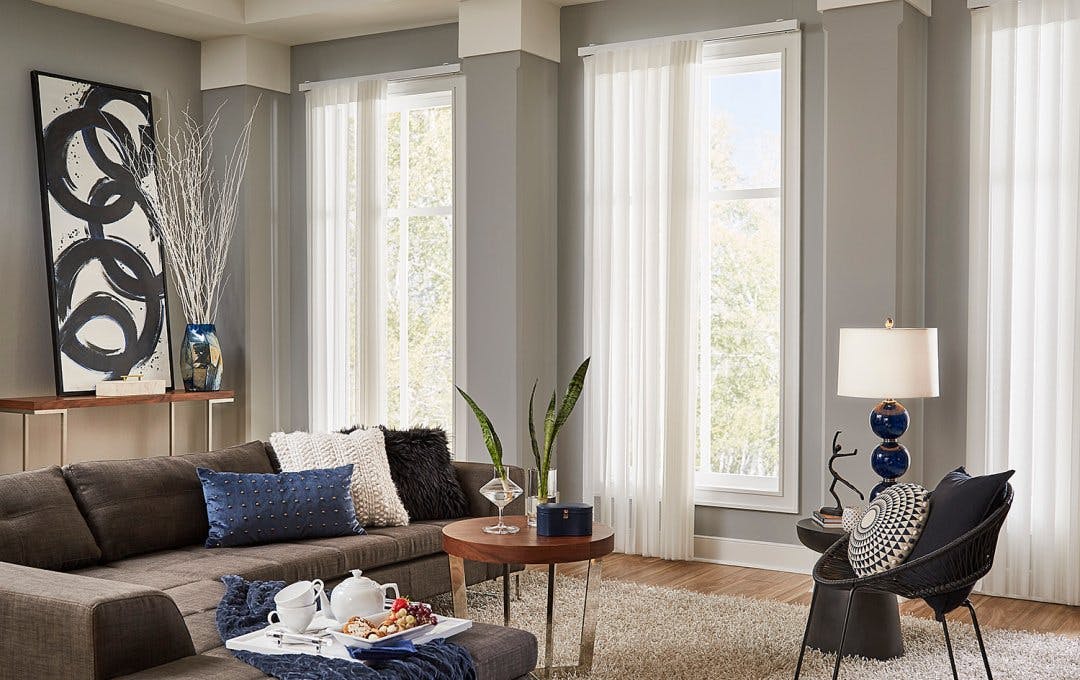 Premium Vertical Sheer Shades in Pacific White
Look for a window treatment that is durable and can handle daily use. You can also layer window treatments for better light control, increased privacy levels and increase your home's energy efficiency. (hello lower energy bills!)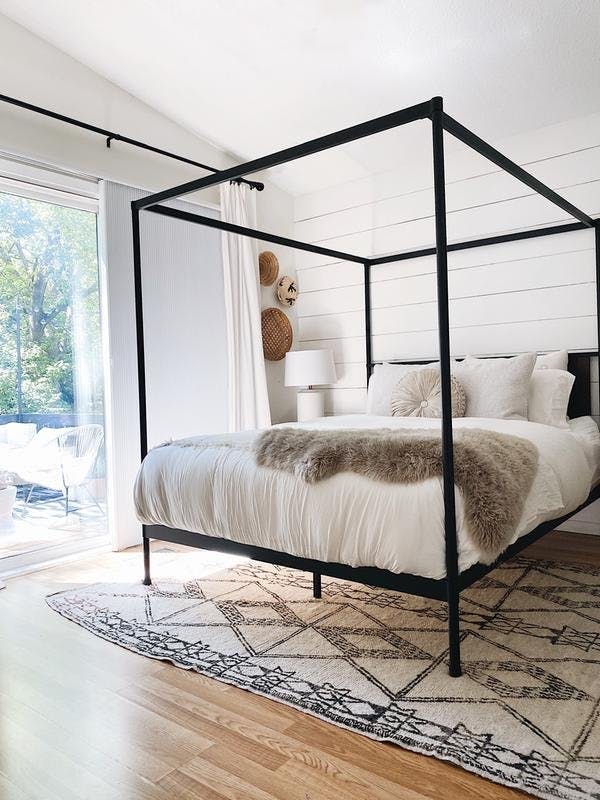 Blackout Vertical Cellular Shades in Cotton
If you prefer a soft fabric window treatment, we recommend roller shades, Roman Shades, or draperies.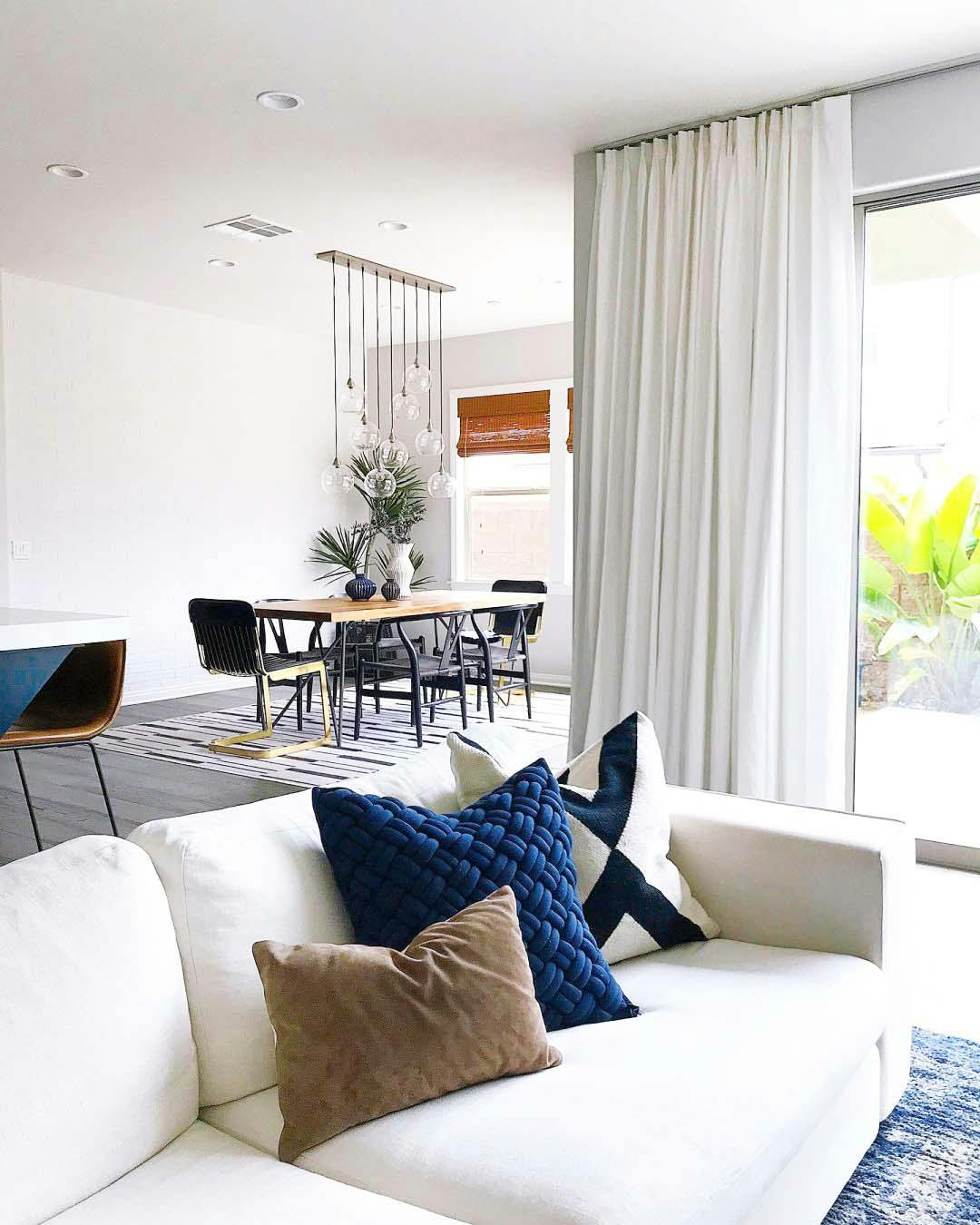 Pictured: Easy Classic Pleat Drapery in Wilmington White. Photo via @houseofhanes.
French Doors
French doors have been a fan favorite for as long as we can remember. Their classic design adds a touch of elegance to any home, but when you're reading or studying, the glare from outside can make it difficult to focus. Consider these factors when looking for window treatments for French doors. French doors have door handles or levers your blinds or shades will need to pass. It's also common for French doors to have a raised trim around the glass, which you should be mindful of when measuring.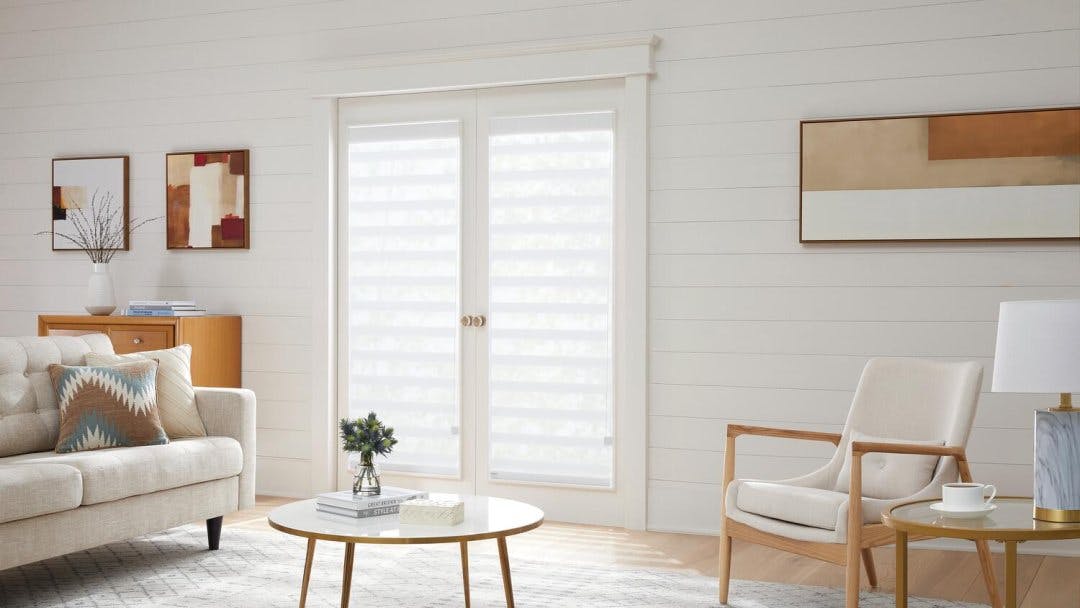 Premium Light Filtering Sheer Shades in Soft White
Another good tip is to check the outside mounting surface requirements to ensure you have enough surface area for the shade installation.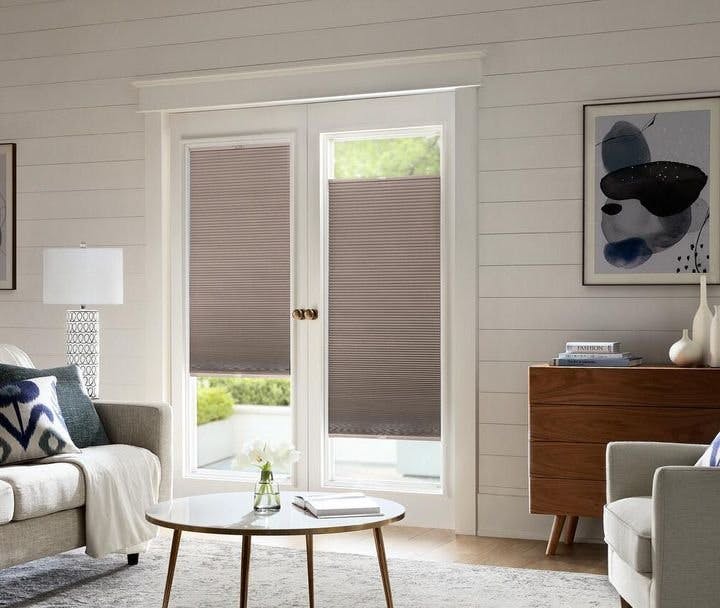 Blinds.com French Door Blackout Cellular Shades in Safari
Patio Doors
Patio doors can be classified as either sliding glass doors or French doors. Whether you prefer an earthy window treatment with plenty of texture like Woven Wood Sliding Panels or a classic option like Premium Fabric Vertical Blinds, there is a wide variety of window treatments for patio doors to choose from. Sliding panels, curtains and drapery, sheer vertical shades and sliding shutters are great alternatives to vertical blinds.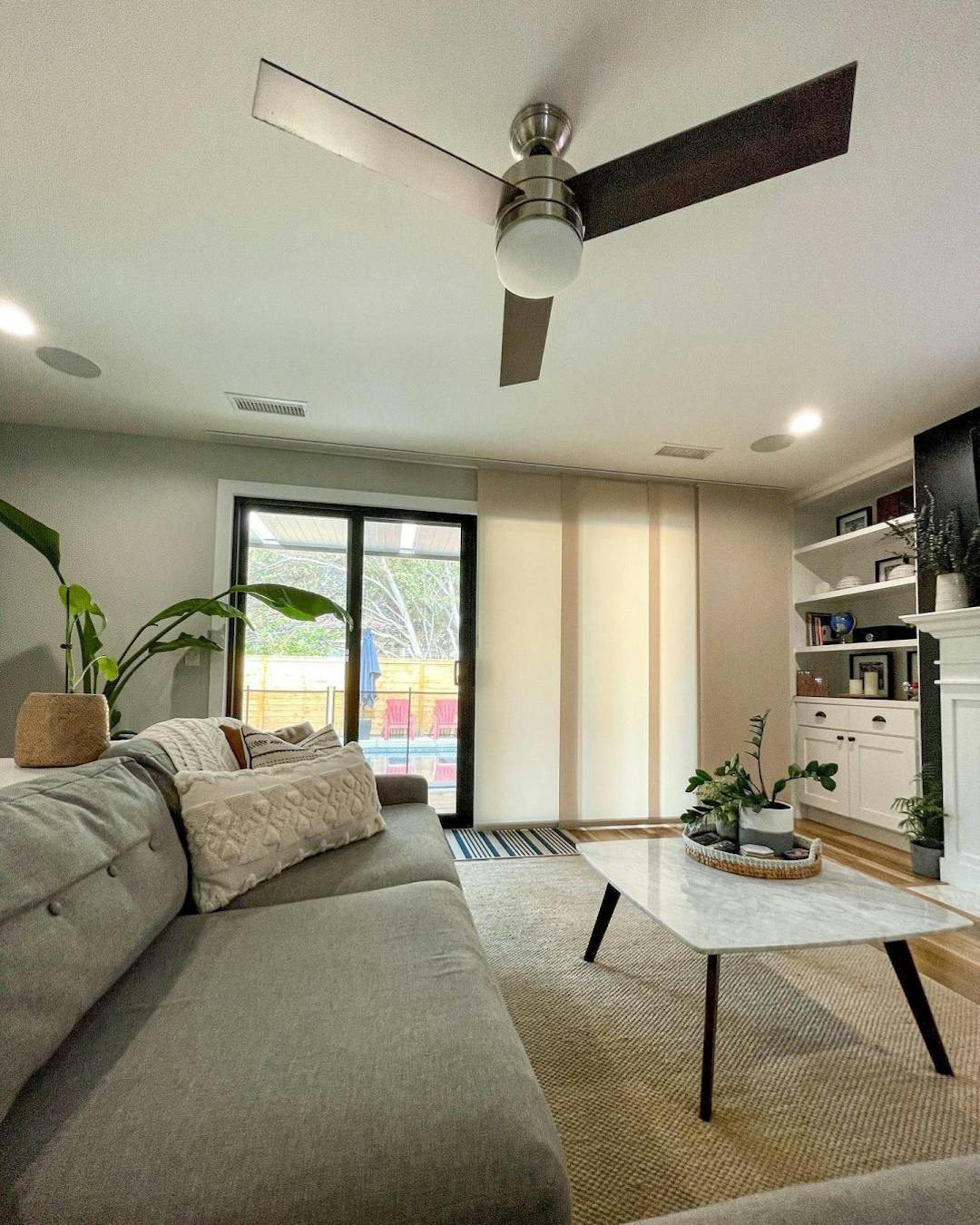 Pictured: Fabric Sliding Panel in Interlude Sand Bar. Photo via @humble_t_abode.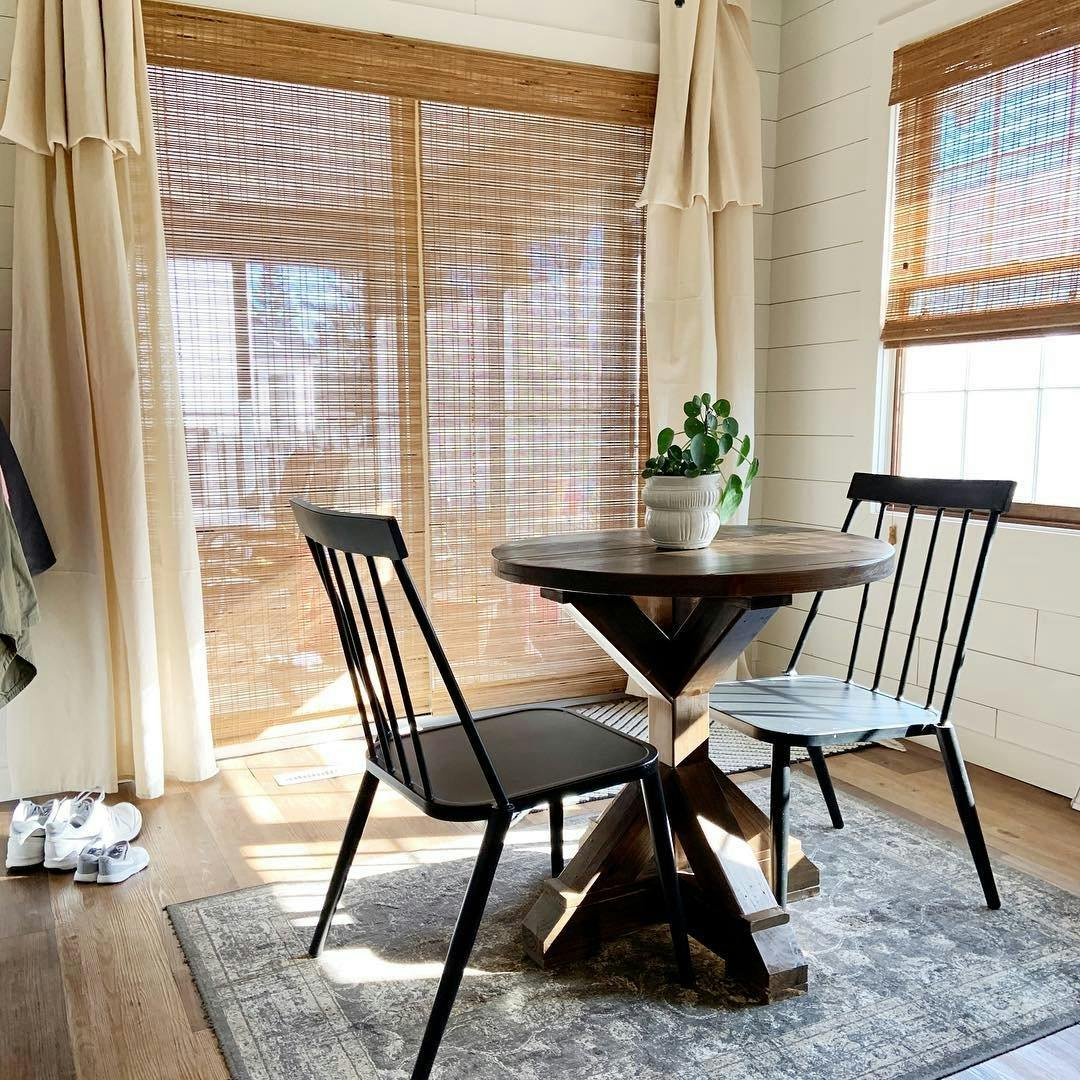 Pictured: Woven Wood Shades in Java Oak. Photo via @courtneylawrencestudio.
Need More Ideas for Window Treatments for Patio, French, and Sliding Glass Doors?
Have a tricky door or window situation? Want help with measuring? Give us a call at 844-335-7356. Our Design Consultants are available to help with all your questions!
Check out our other resources for sliding glass doors:
The Best Vertical Blinds Alternatives to Sliding Glass Doors
Blinds for Sliding Glass Doors - Alternatives to Vertical Blinds