Can you believe it's already August? Everywhere you look it's "Back to School" this or "School Supplies" that! Can we just sleep 5 more minutes, please? So we've rounded up 7 of the dreamiest kid's bedroom reveals and we have to admit- we're totally jealous, even as adults.
Bright & Cheerful Kid's Room
OhJoy's daughters' bedroom is everything we wanted and more as a kid. Bunk beds, soft, pastel pink sheets, and a to-die-for colorful rug. To balance the busy prints, Joy chose a subtle grey Premium Roman Shade. See more of OhJoy's home makeover.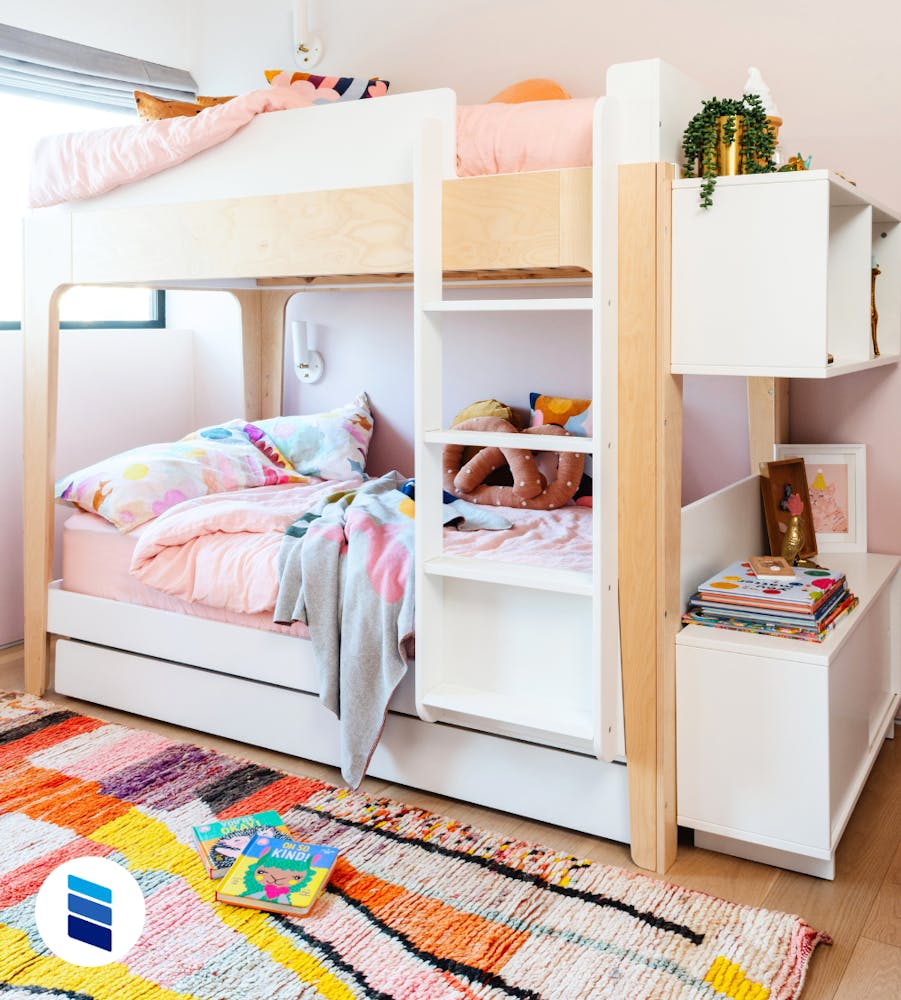 Pictured: Premium Roman Shades. Photo by Bethany Nauert for OhJoy!
Playful Patterns Kid's Room
Housesevendesign designed her daughter Evie's room with our Premium Roman Shades in a soft, beige shade. The floral-patterned wallpaper pairs perfectly with her Roman shades, giving the bedroom a vintage feel. Adding the Roman shade gave Evie's room a subtle, modern touch.
@Housesevendesign says: "This little nook is one of my favorite parts of Ev's room. We ended up working with Blinds.com to find the perfect window treatments for this space. They offer free fabric and color samples so we started there and ended up going with the Premium Roman Shades in Gent Bisque SW182. The Blinds.com team measures and installs for you and are super budget friendly too, we had such a great experience and are so happy with how they turned out!"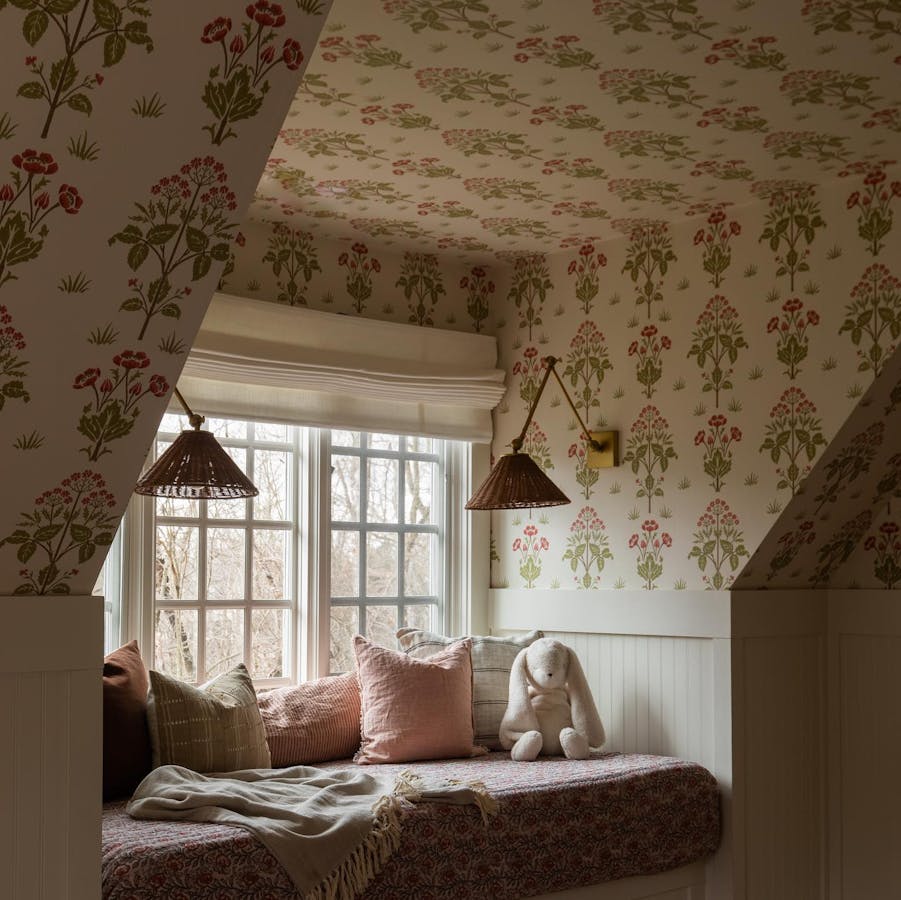 Pictured: Premium Roman Shades in Gent Bisque. Photo via: @housesevendesign.
Lovely Kid's Room Makeover
LovelyIndeed's kids' room makeover is...well, lovely indeed! The bright colors and fun shapes really pop against the white walls. Super sleek blackout cellular shades are a near perfect match to her wall color plus the motorized lift is home tech even the kids can get excited about!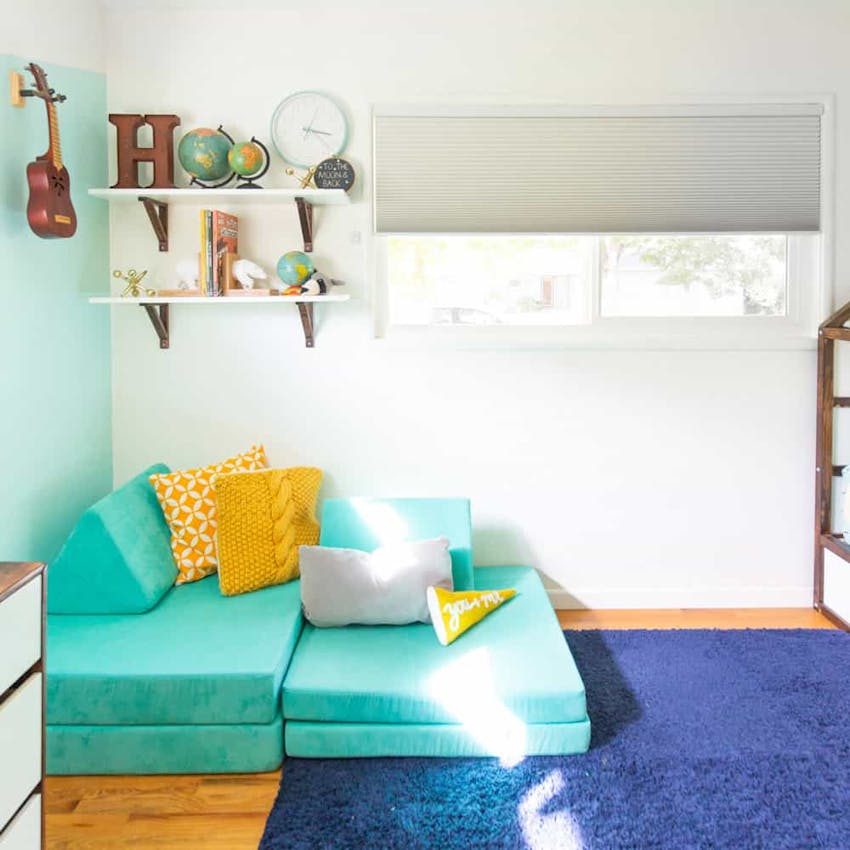 Pictured: The Blinds.com Premium Blackout Cellular Shade in Crisp Cotton from @LovelyIndeed.
Mature Boy's Room Design
This mid-century modern-inspired boy's room is too cool for school. The navy blue walls really mature the space while the soft and fluffy textiles make it a fun and comfy place to be! In the window is the Blinds.com Premium Roman Shade in Tantalum Slate. This is a room design that can really grow with the kiddos.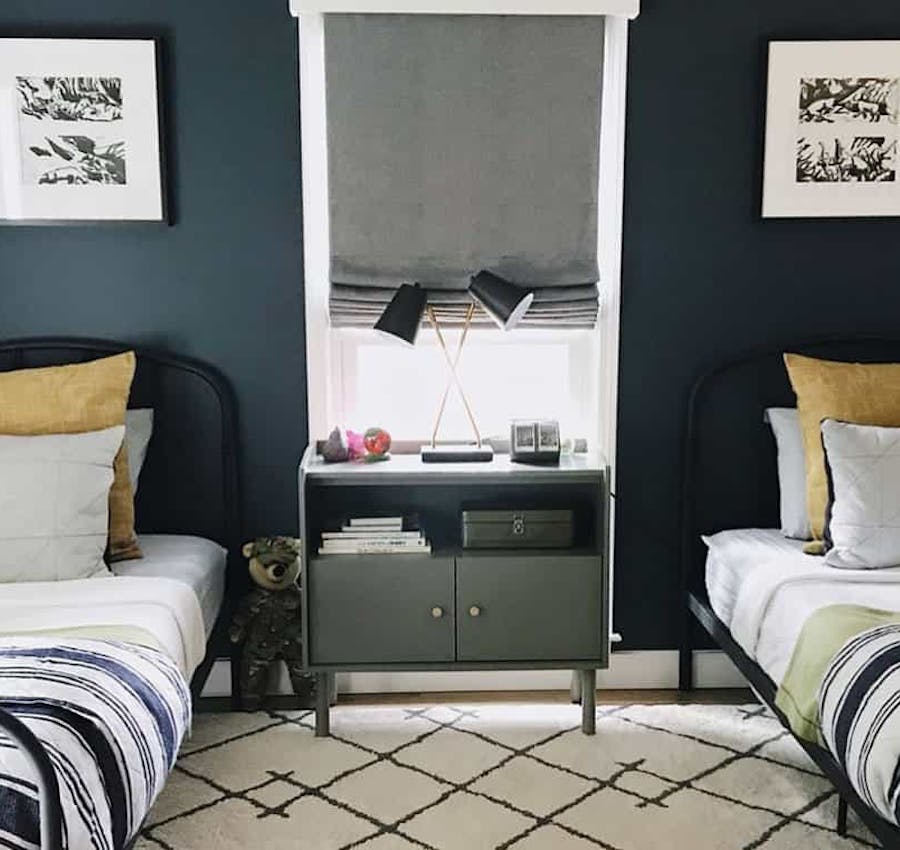 Pictured: The Premium Roman Shade in Tantalum Slate from @Ellishomeanddesign
Colorful & Unconventional Bedroom
This stunning room is everything. Full of whimsy and color, this is a space that really feeds a kid's imagination. With all the whimsical elements, you could play a really good game of "I Spy" here. Blinds.com Woven Wood Shades are 100% more fun than boring blinds.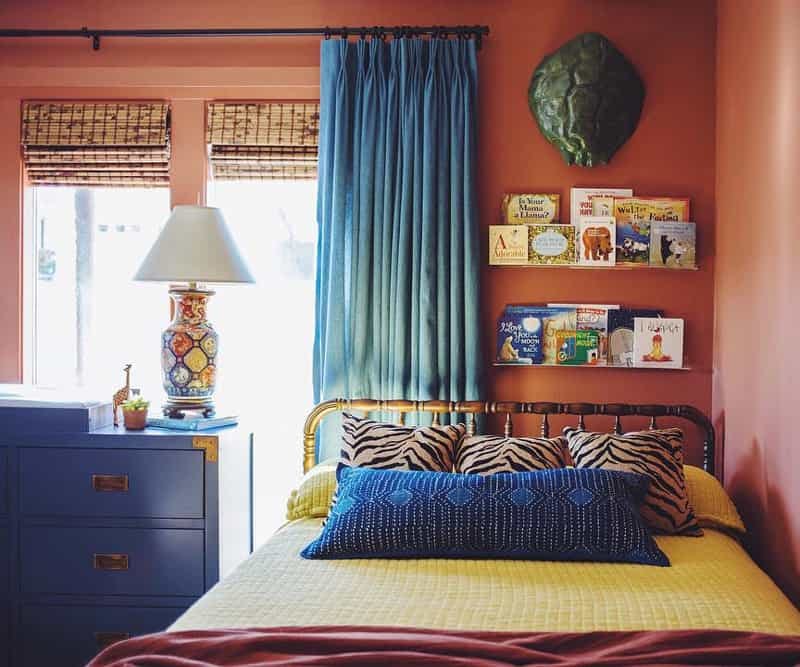 Pictured: Woven Wood Shades in Driftwood Umber from @ClaireBrody.
Dreamy Pink Girl's Room Reveal
This room looks the way sleeping on a cloud would feel: plush and dreamy. We love the warm neutral color palette with pops of gentle pink. The Premier Roman Shade in Oxford Jute blocks out the light for sweet dreams.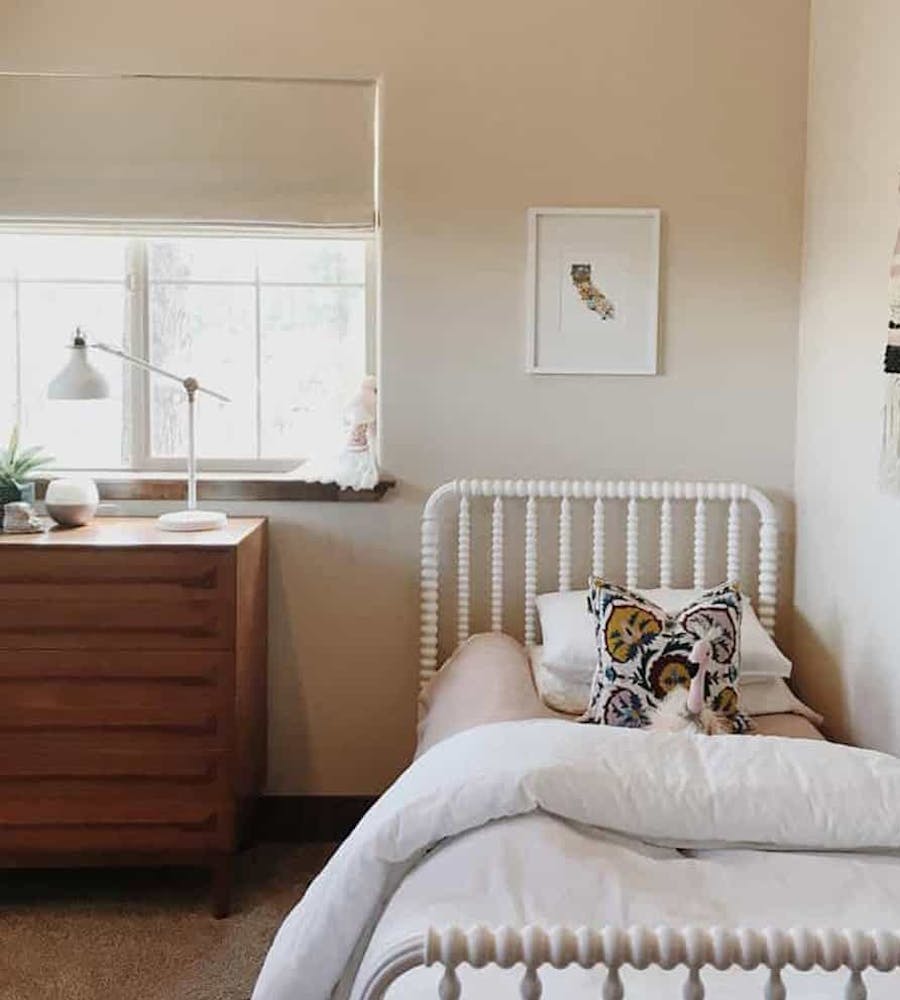 Pictured: Premier Roman Shade in Oxford Jute from customer Erica A.
Super Cool-Themed Kid's Bedroom
Prepare for take-off: this planes, trains, and automobiles-themed room is soaring to new heights! This design puts a modern spin on a childhood classic. The fun decor and crisp, clean lines really shine (even if the room may not stay clean for long). Cordless Premier Roman Shades in Linoso Soft White also cozy up the room. Plus how cool is that propeller?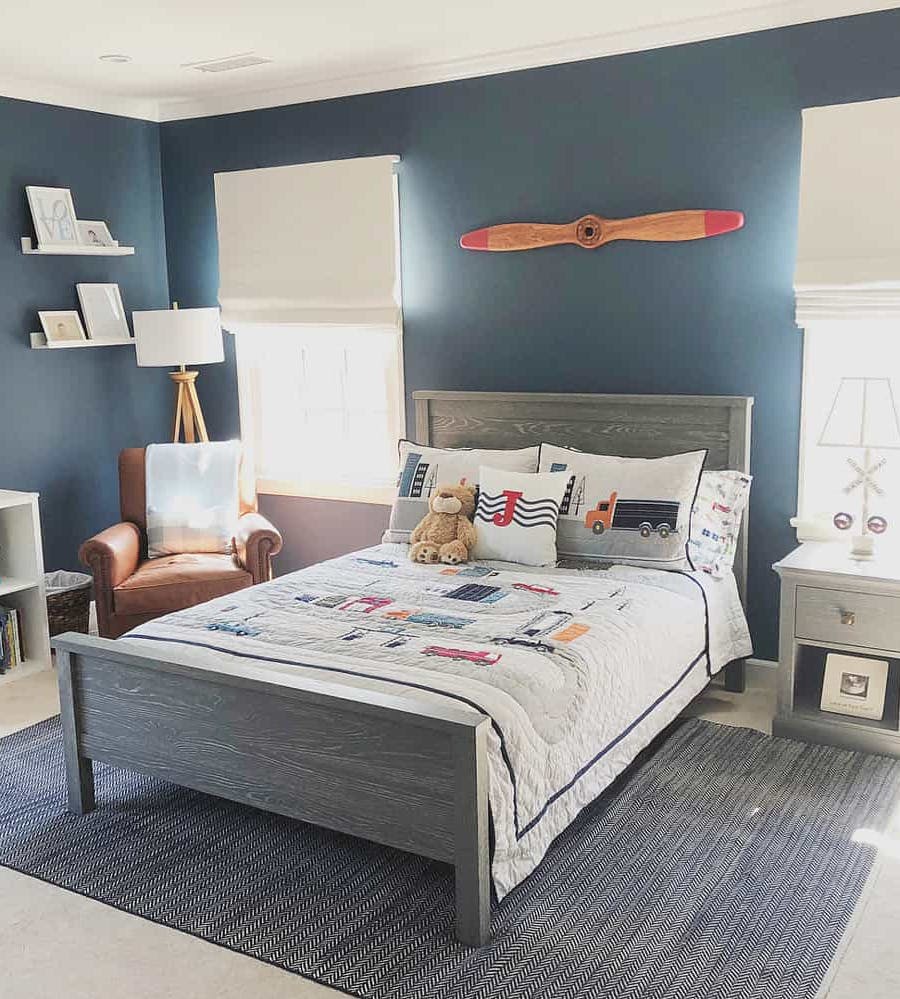 Pictured: Premier Roman Shades in Linoso Soft White from @tcbstyle.
Do You Have Room Envy Yet?
Well, the kids aren't the only ones who need a good night's rest! If your windows need updating so you can catch some extra zzz's, our expert designers are always available to help: 844-551-3769.
Looking for More Kid's Room Decor Inspiration?
Kid's Room Pinterest Inspiration
Lovely Indeed's Full Kid's Room Reveal
The Ultimate Guide to a Perfect Night's Sleep
From Inflatable Mattress to Cozy Hideaway