The weather is warming up, which means it's time to head to the patio. We know choosing outdoor shades can be tough, so before firing up the grill and loading up the cooler, we're answering five of your questions on the best outdoor shade options.
Q: Can you use roller shades outside?
If they are roller shades specifically for exterior use, yes.
Q: What are outdoor shades called?
Outdoor shades are also referred to as outdoor roller shades, outdoor blinds, or patio blinds. Hailed as the top choice for exterior roller shades, outdoor blinds are best for patios, gazebos, porches, and balconies.
Coolaroo Solar Outdoor Shade in Sydney 5% Bronze.
Q: How do I block the sun on my patio?
Patio roller shades help block harsh UV rays, helping preserve the life of your furniture and reducing heat buildup while keeping your view clear of any obstructions.
Solar Outdoor Shades in Outback Walnut 5%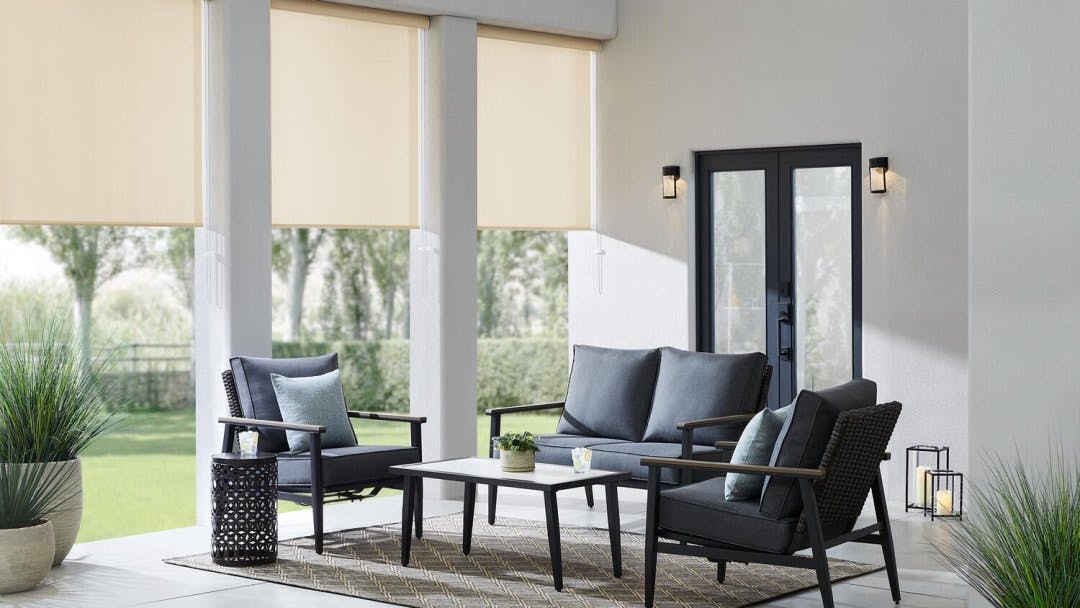 Outdoor Solar Shades in Palermo 5%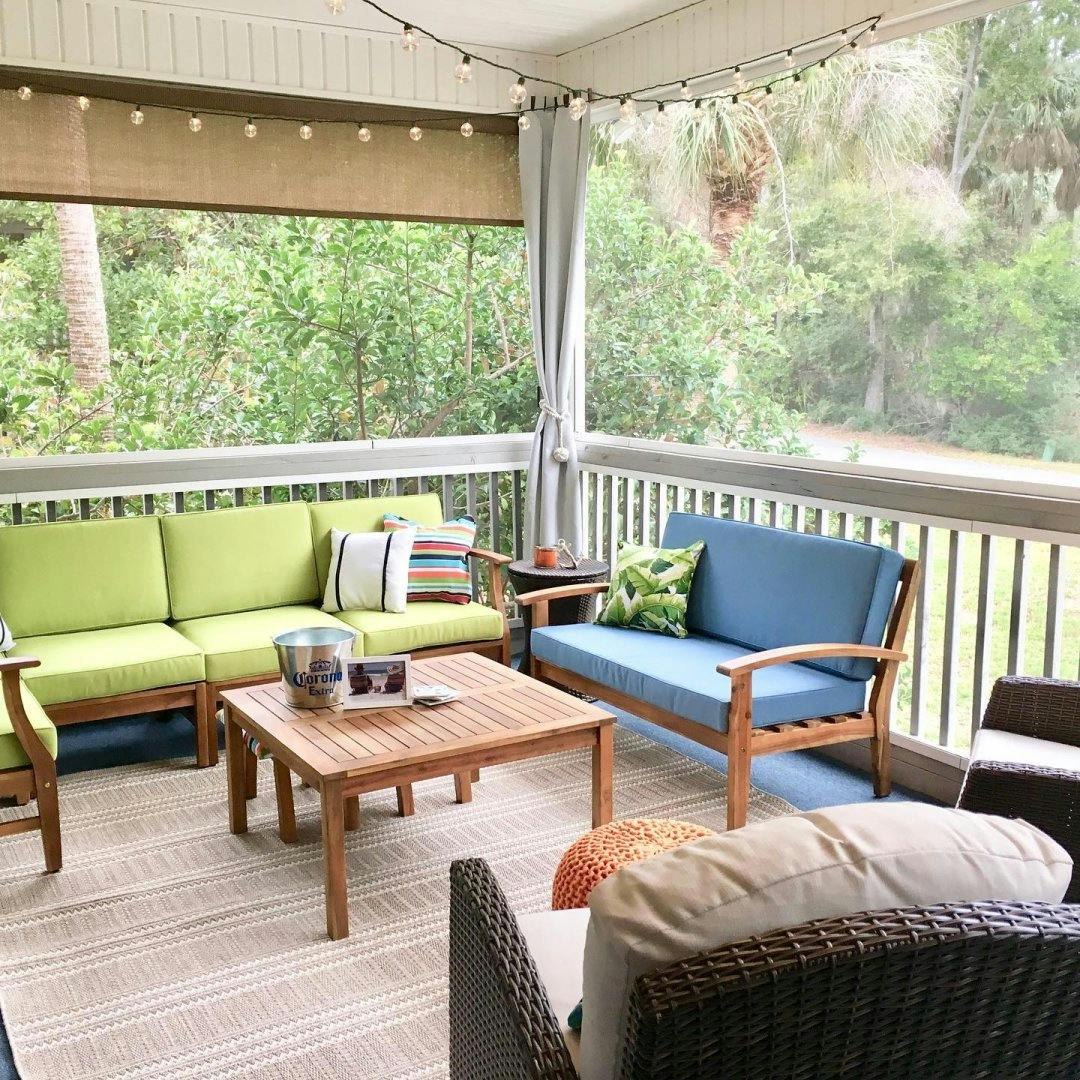 Solar Outdoor Shades in Outback Walnut
Q: What are the benefits of outdoor shades?
Outdoor shades are built to withstand the elements, whether you endure frigid Midwest winters or scorching hot summers. They also resist mold, mildew, and fading from continuous sun exposure. Outdoor shades can benefit the inside of your home depending on how they're positioned. They can reduce incoming sunlight, helping regulate your home's temperature.
In addition, outdoor shades are available with multiple upgrade options for you to enjoy a custom window treatment for your patio.
Cordless Lift: provides a hidden control system that eliminates the lift cord on exterior shades and enables the shades to be raised for lowered with the touch of a finger.
Continuous Cord Loop Controls: this option is a great choice for larger or heavier shades. The cords on outdoor blinds are secured to the wall or window frame, so your shades will have less visible cords.
Motorized Lift: this upgrade lets you raise or lower your patio shades with one click. A motorized lift is perfect for windows that are difficult to reach, media rooms, bedrooms, or if you have children or pets. (it's also a cool way to impress your guests at backyard barbecues.)
Opacity: this upgrade gives you the option to control how much light the outdoor roller shades let into a room. This is another great option for media rooms or bedrooms.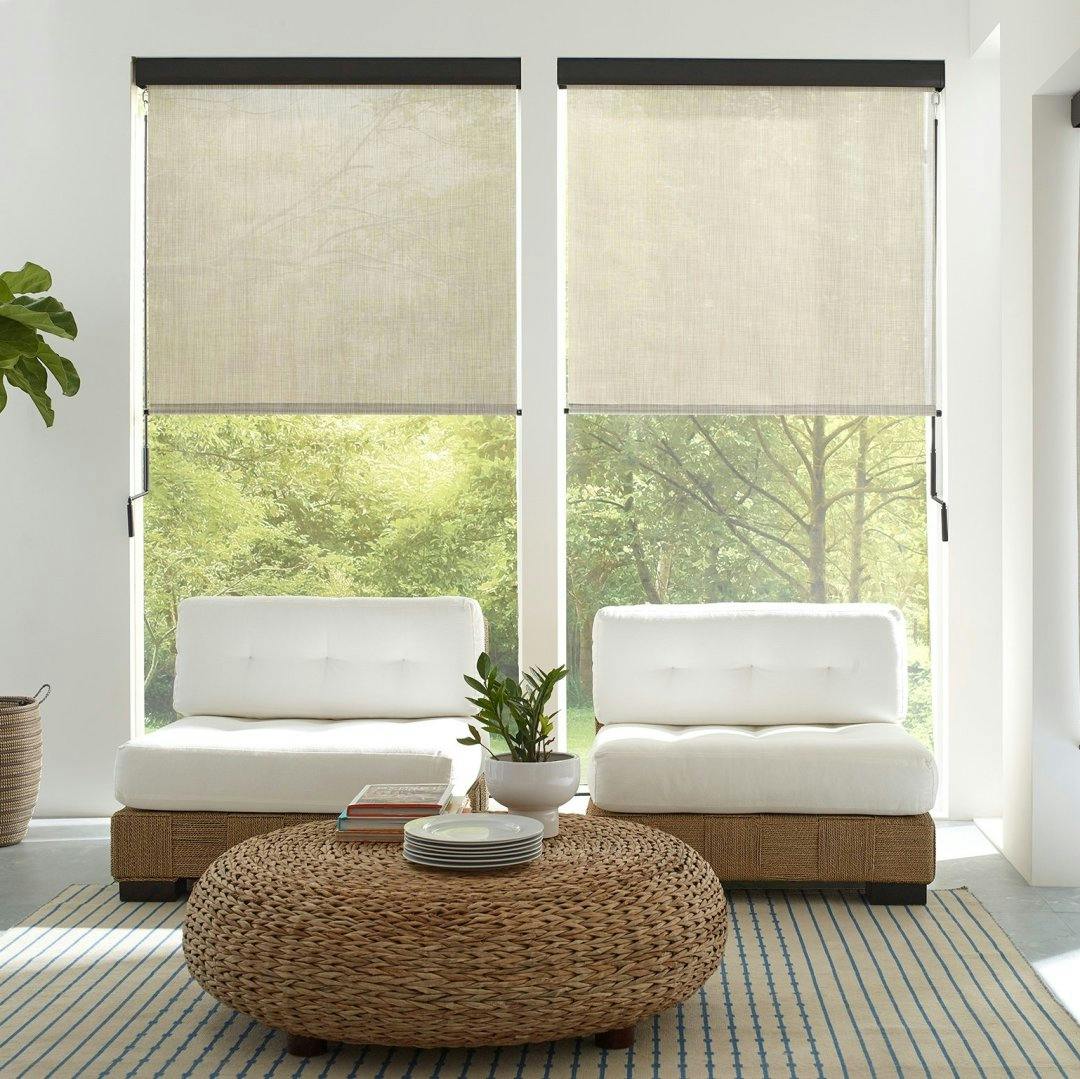 Heavy Duty Outdoor Solar Shade in Caribbean 10% with Crank Lift
Q: How do I install outdoor shades?
Outdoor shades can be installed in gaps between posts on a deck, porch, or balcony, even if there isn't a window to cover. If you feel confident enough to tackle the project yourself, we have guides on How to Measure and How to Install. If you're not quite ready to install yourself, you can see if our Professional Measure and Install services are available in your area.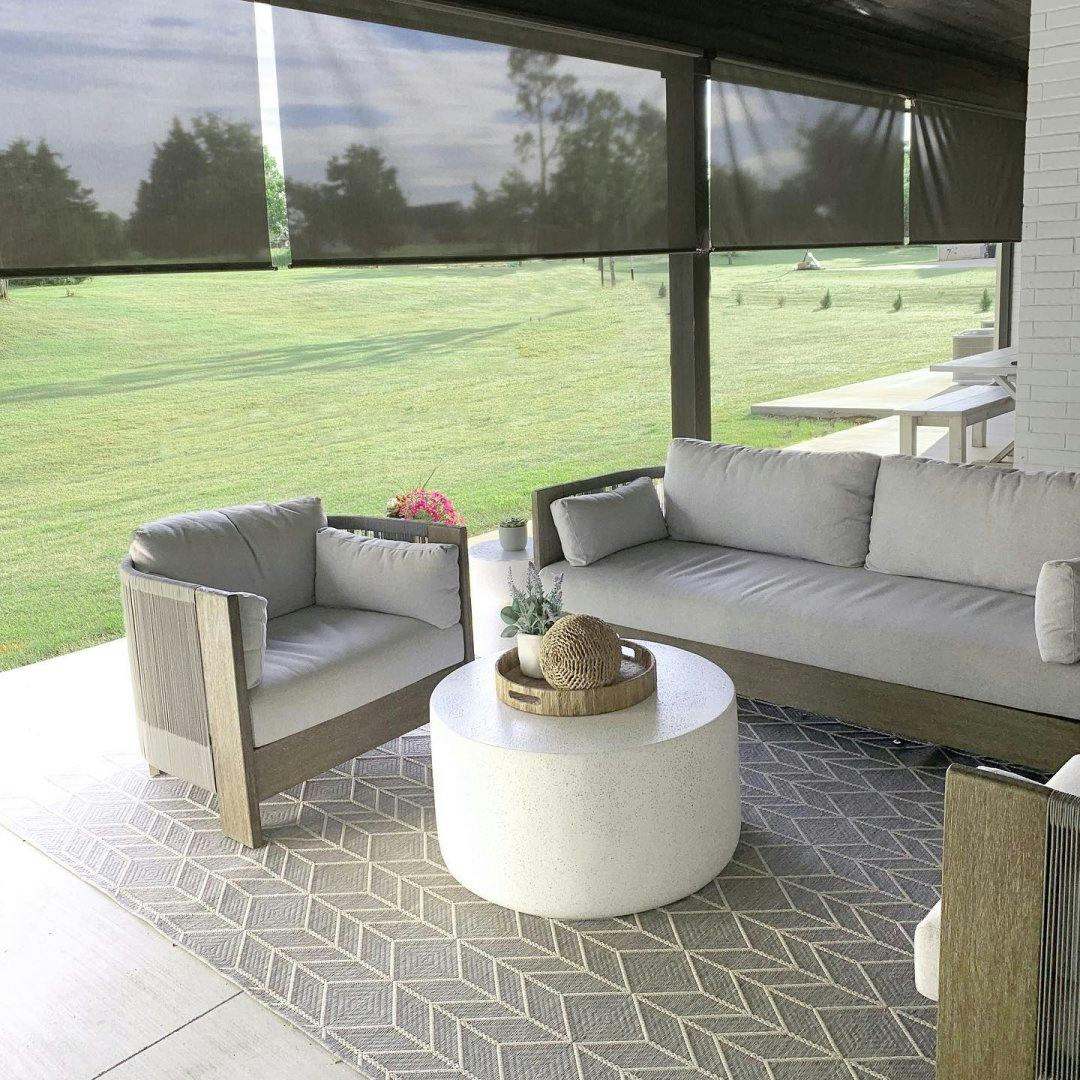 Heavy Duty Outdoor Solar Shades in Caymen 5%
Have More Outdoor Shade Questions?
Blinds.com designers are available to recommend the perfect shades, no matter where you're installing them! Contact our team at 800-505-1905, or by live chat.
You can also learn more in our post: Are Outdoor Shades Right For You? and get your patio ready for spring with 13 Simple Ways to Get Your Patio Party-Ready.