Blogger Abigail Green is the epitome of Colorado's minimalist style. The Denver native is a wordsmith, photographer, product stylist, and avid DIYer who's not afraid to pull out the power tools or her electrical wiring skills to bring her vision to life.
You may have gotten to know Abigail when she taught us how to make a live edge window valance or leather tab sheer curtains. Now she's back with another beautiful project: how to make a cozy patio nook with sheer curtains.
Abigail Says:
The curtains we used are Blinds.com Easy Rod Pocket Curtains in Raw Silk Crepe Lily (same ones we used in our living room curtain project, if you remember that project!). I love these curtains because they're a beautiful shade of white with a sheer texture that gives a very flow-y feel to them.
What You Need:
Medium Gauge Wire Cable
Drill
4x4 Wooden Posts
How to Make a DIY Curtain Nook with Sheer Curtains
1. Install wooden posts.
Abigail used existing posts on her patio. If you need to add posts yourself, you can follow the instructions here.
2. Pre-drill holes in posts and install threaded hooks.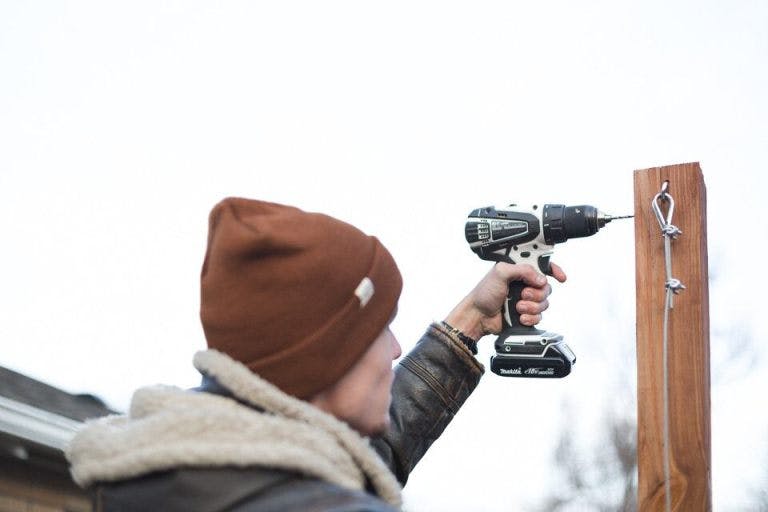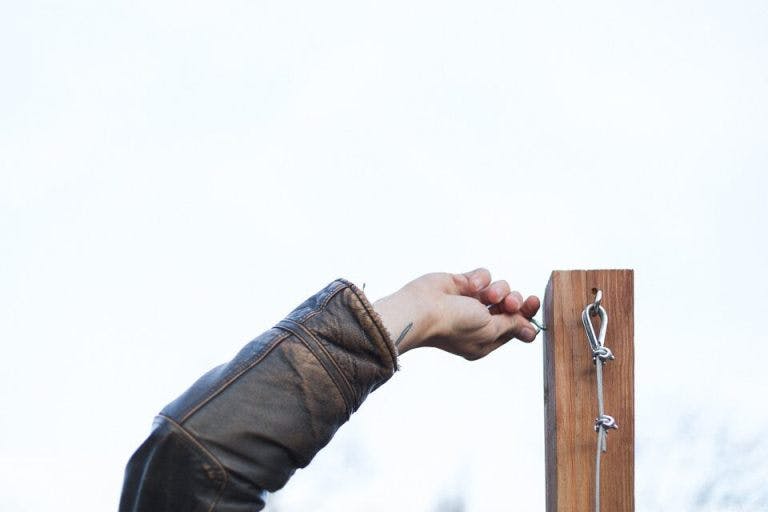 3. Loop cable through turnbuckle and secure with cable clamps.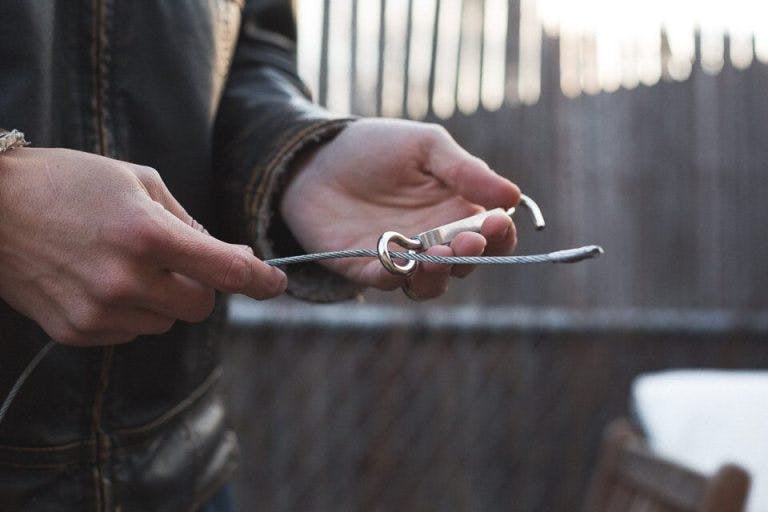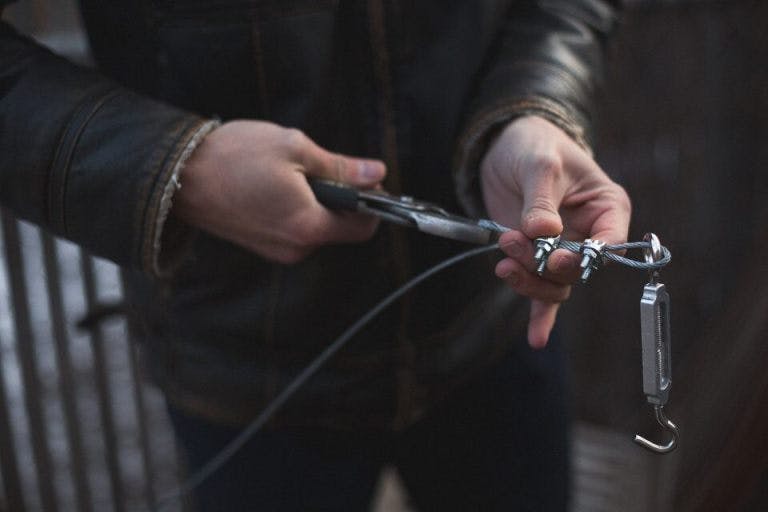 4. Thread curtains onto cable.
To protect your fingers and prevent the wire from snagging the fabric, wrap the end of your cable with duct tape before you feed in through the curtain pocket.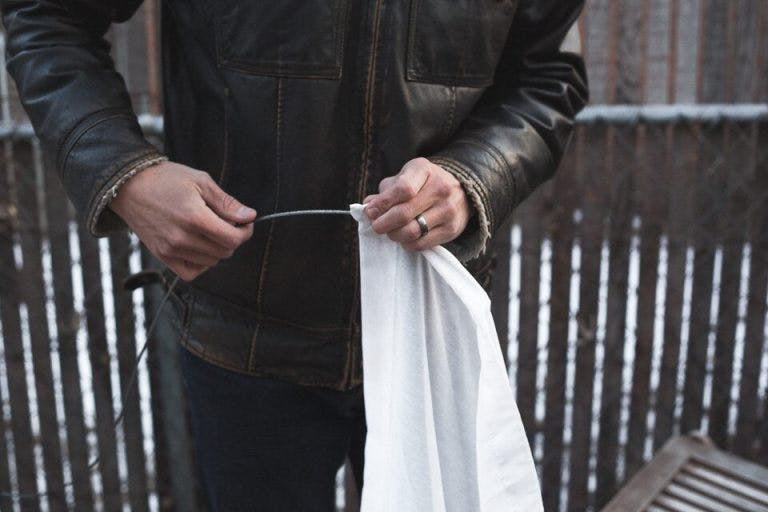 5. Secure wire to the post hooks and other anchors.
Abigail attached her wire to posts on one side, and the house on the other. If your structure is free standing, you can use 4 posts.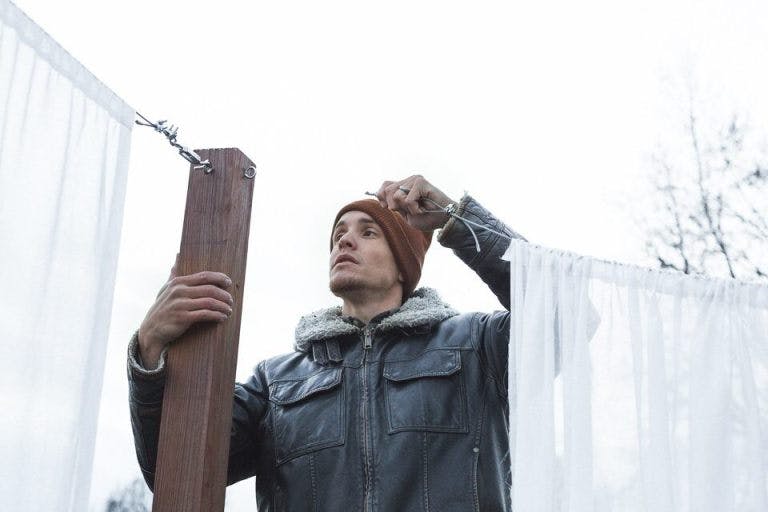 6. Arrange curtains.
If desired, knot the side curtains so guests can filter in and out easily and the space doesn't feel closed off.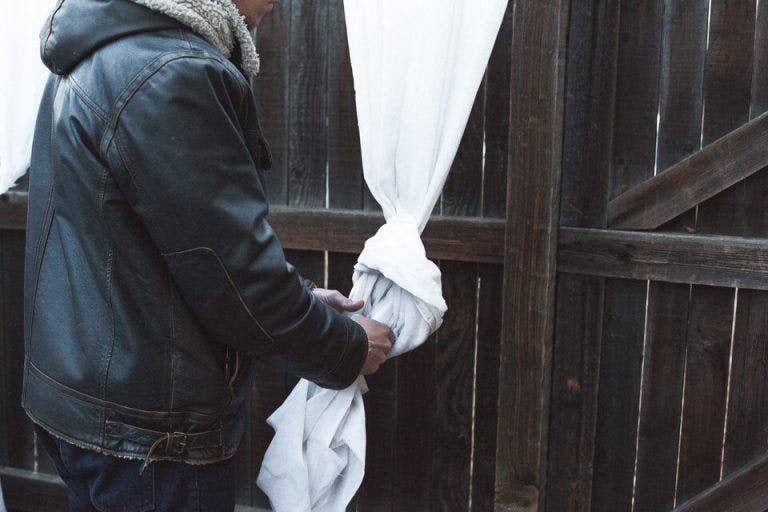 7. Clip on lights to add some ambiance.
Abigail chose globe lights with white cords so they would blend well with the curtains around the patio.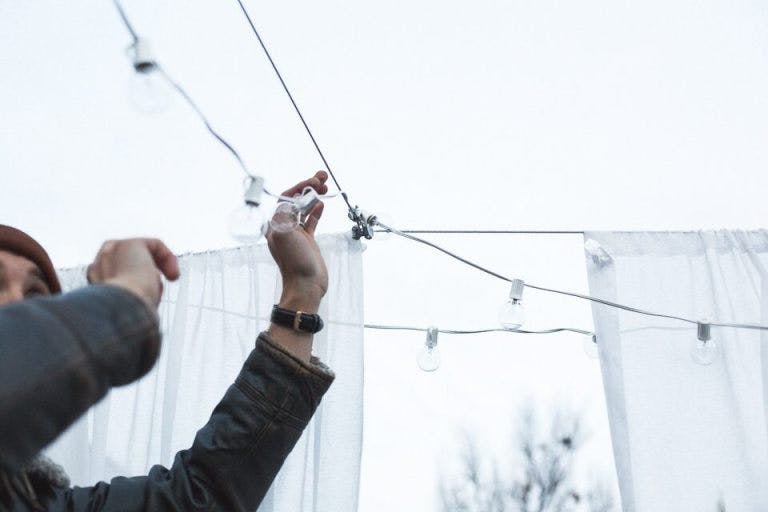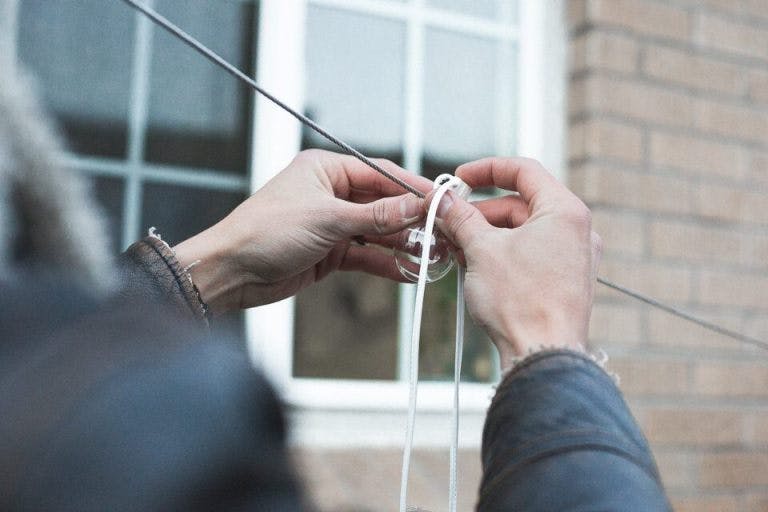 8. Add some freshness with a natural garland.
In the winter, use evergreen boughs. Come summertime, eucalyptus or boxwood garlands will add seasonal freshness.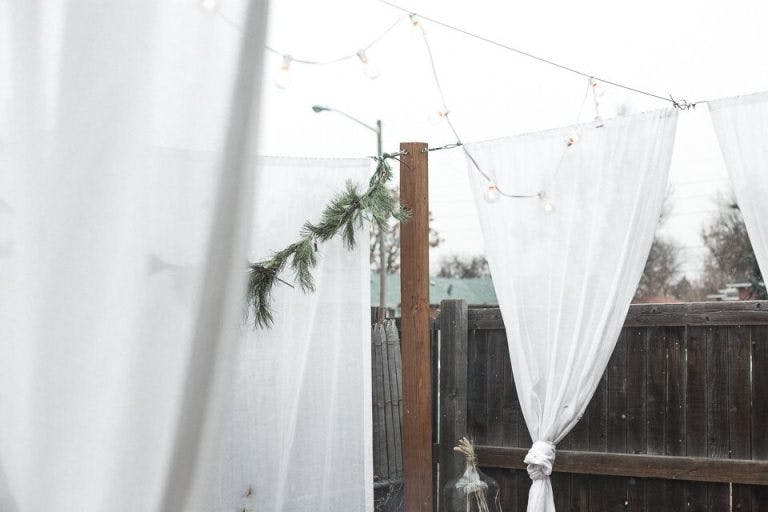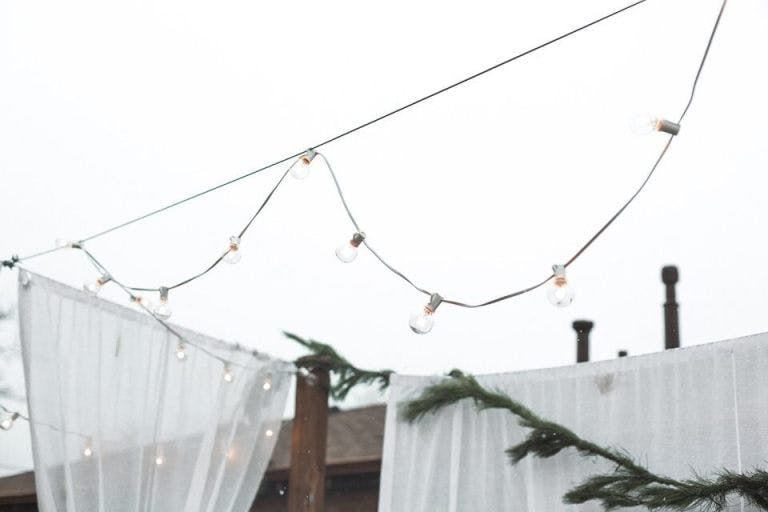 9. Bring in seating and accessories.
Finish off your space with seating, an outdoor rug, cozy blankets, pillows, and other accessories.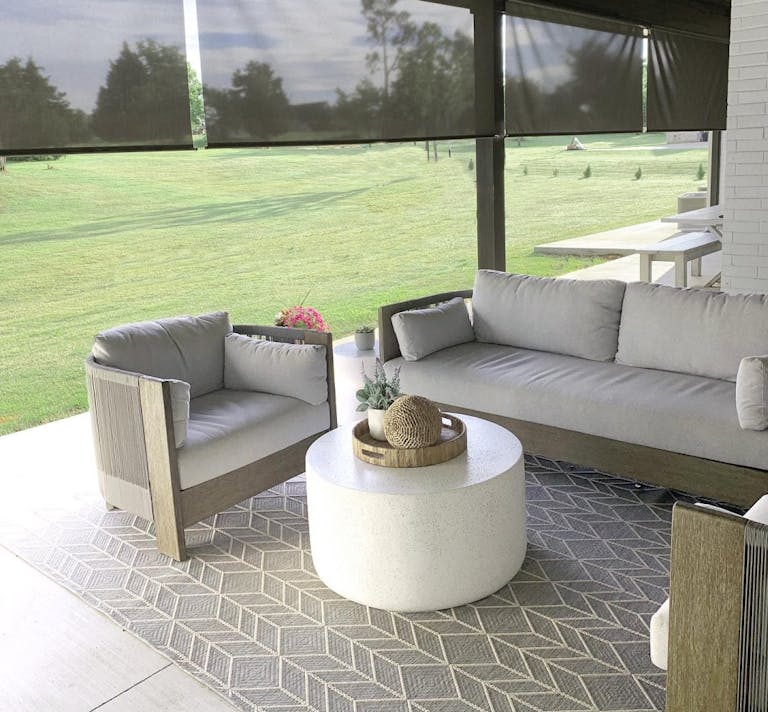 Pictured: Heavy Duty Outdoor Solar Shades in Caymen 5%. Photo via @houseofrad405.
In any season, guests will love gathering around a cozy fire. If using a fire pit, be sure to hang your curtains a safe distance away from the flames and always have a fire extinguisher on hand.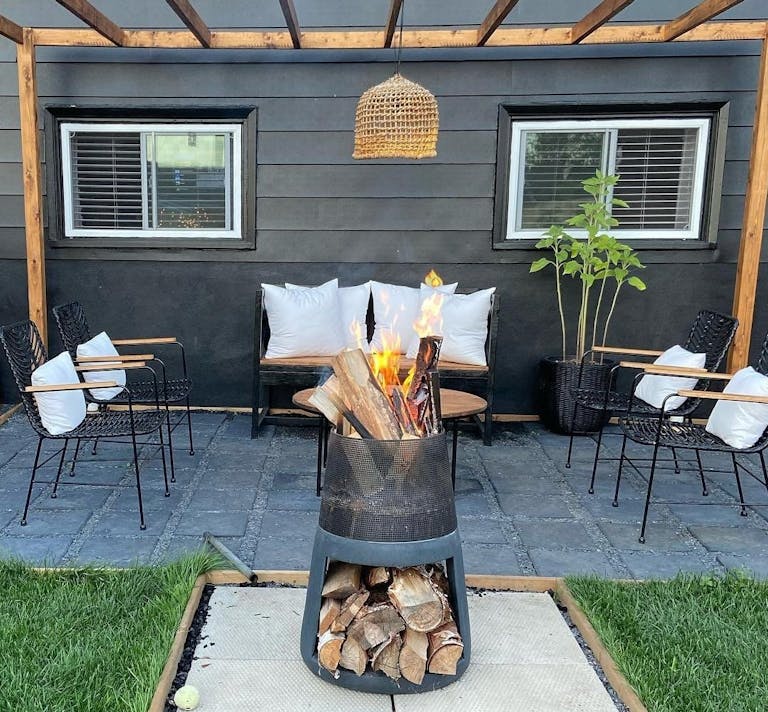 Photo via @blackhouseinteriorstbay.
See how Abigail Styled her Patio Curtain Nook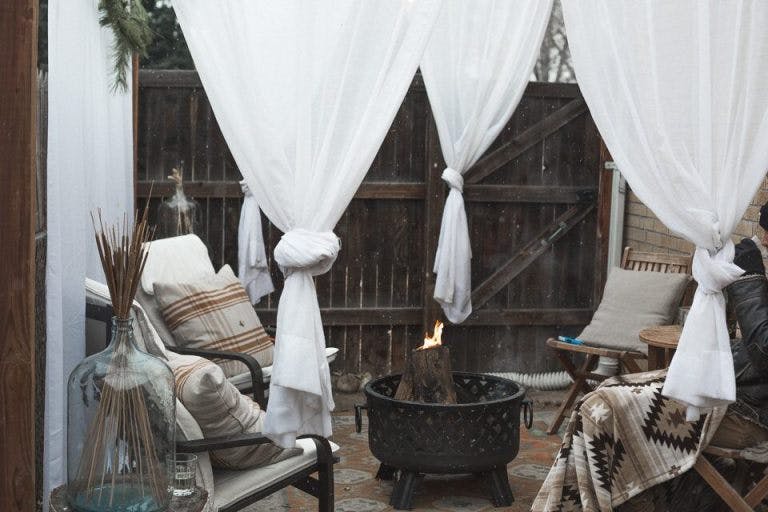 Want More Cozy Patio Inspiration?
Learn more about the inspiration for this project on Abigail's post on her blog, or her Blinds.com Instagram takeover that chronicled this look coming to life.
Also, be sure to check out her other Blinds.com projects: Live Edge Window Valance /  Leather Tab Sheer Curtains
More Patio Inspiration:
13 Simple Ways to Get Your Patio Party-Ready
10 Ways to Use Outdoor Shades to Stay Cool This Summer