French doors are a design element that add sophistication to your home for years to come. Their built-in glass panes open up formerly closed-off spaces to the rest of the home, and give guests a feeling of grandeur when they move from room to room or out onto a patio. However, like any window, there are times when privacy and light or glare reduction are desired - that's where the wide variety of French door window coverings from Blinds.com come in.
Special Considerations for French Doors
French doors often have a few features that can make it tricky when choosing blinds or shades. Consider whether your blinds or shades will need to pass behind a door handle or lever. French doors typically have raised, beveled trim around the glass, so you'll need to consider this when measuring (spacer blocks or projection brackets can help you clear thick trim).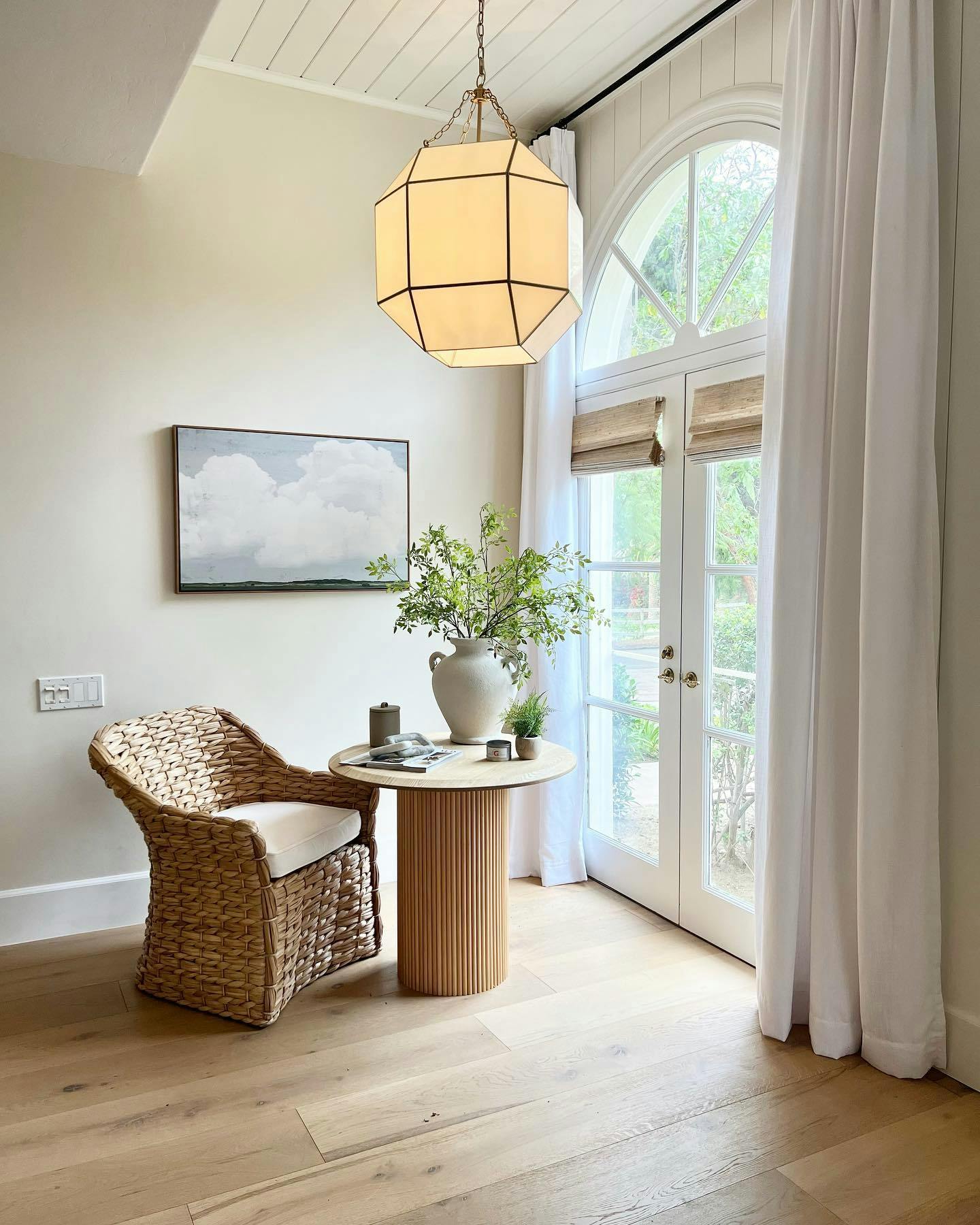 Photo via @fortheloveofbeautifulspaces. Pictured: Woven Wood Shades in Bonaire Flaxen.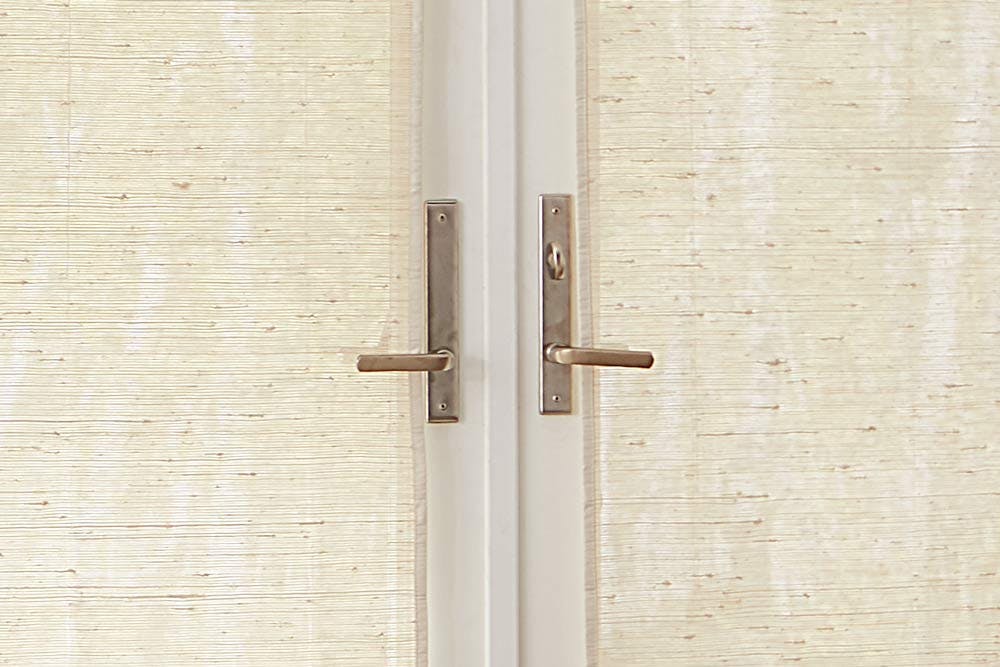 Pictured: Blinds.com Designer Woven Wood Shade in Kula Coconut.
Also be sure to check the outside mounting surface requirements to be sure you have enough flat surface for the shade to be installed. Hold down brackets are often available and can stop the shade from swinging when the door is used.
Measuring for French Doors can be tricky. But our friendly Design Consultants are here to help! 844-551-3769.
Roman Shades
If you are looking for a sumptuous covering that will frame and emphasize the style of your door, a Roman Shade is the perfect choice. These shades come in a wide variety of colors, textures, and trims that allow you to customize the look to the design of your home. The graceful folds of a roman shade pair well with the clean lines of the French door design, and harken back to the aristocratic estates where the doors were first used. High quality fabric will provide substantial light blocking, but an additional room darkening liner is also available for especially sunny areas.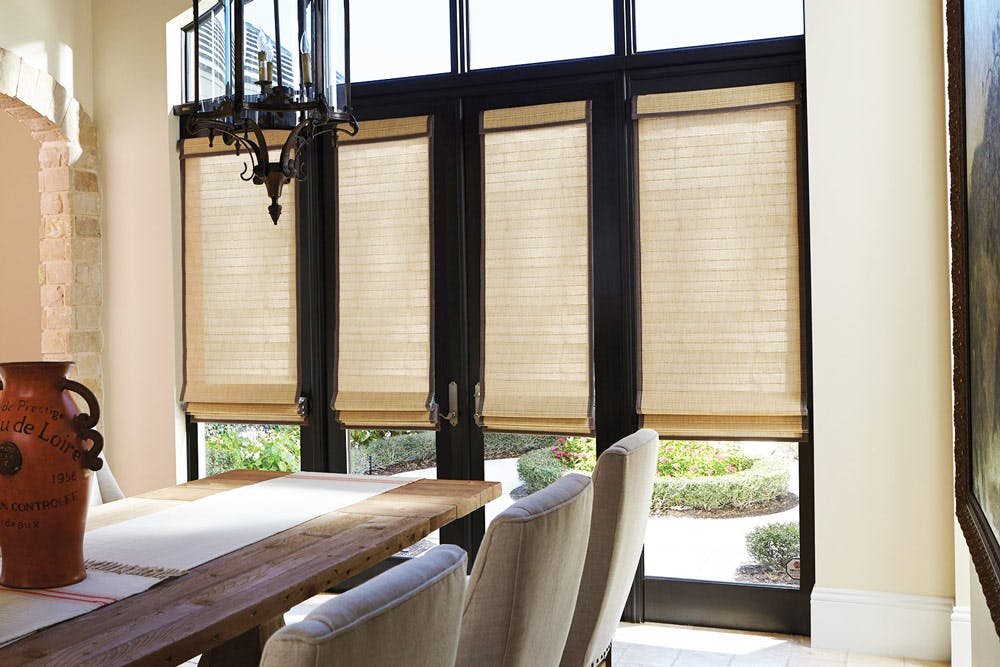 Pictured: Levolor Roman Shade in Designer Texture Toffee.
If choosing a corded lift, use a cord cleat to keep strings from flying or getting caught when the door is opened or closed. A bit of velcro at the bottom can help stop the shade from swinging too if hold down brackets are not available.
Woven Wood Shades
Woven Wood Shades are also an excellent choice for French Doors. They're very similar to Roman Shades but are made with natural bamboo reeds or woven grass materials that add a layer of texture and natural color to the room. An optional liner (light filtering or blackout) can be added to help you control light. Choose a woven wood shade for a fashionable and stylish statement on your doors. For high traffic areas (like doors) we recommend adding edge banding to protect woven wood shades from fraying over time.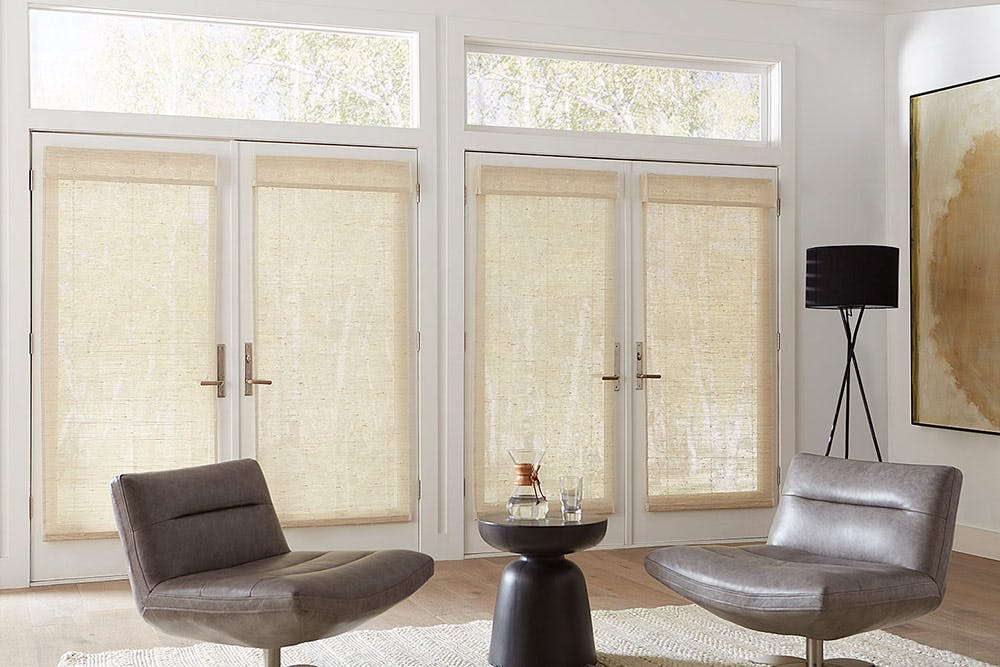 Pictured: Blinds.com Woven Wood Shade in Kula Coconut.
Cellular Shades
Cellular Shades are great for french doors because they are lightweight and do not protrude out from the window frame very far. This is likely the best choice for narrow doors too, as they can be made with smaller widths than many other window treatments. They also provide a layer of insulation over larger areas of glass where you can lose energy. A wide selection of colors and lift styles means finding the perfect shade to complement your home's style is easy. Don't forget to select hold down brackets or spacer blocks- most cellular shades offer them.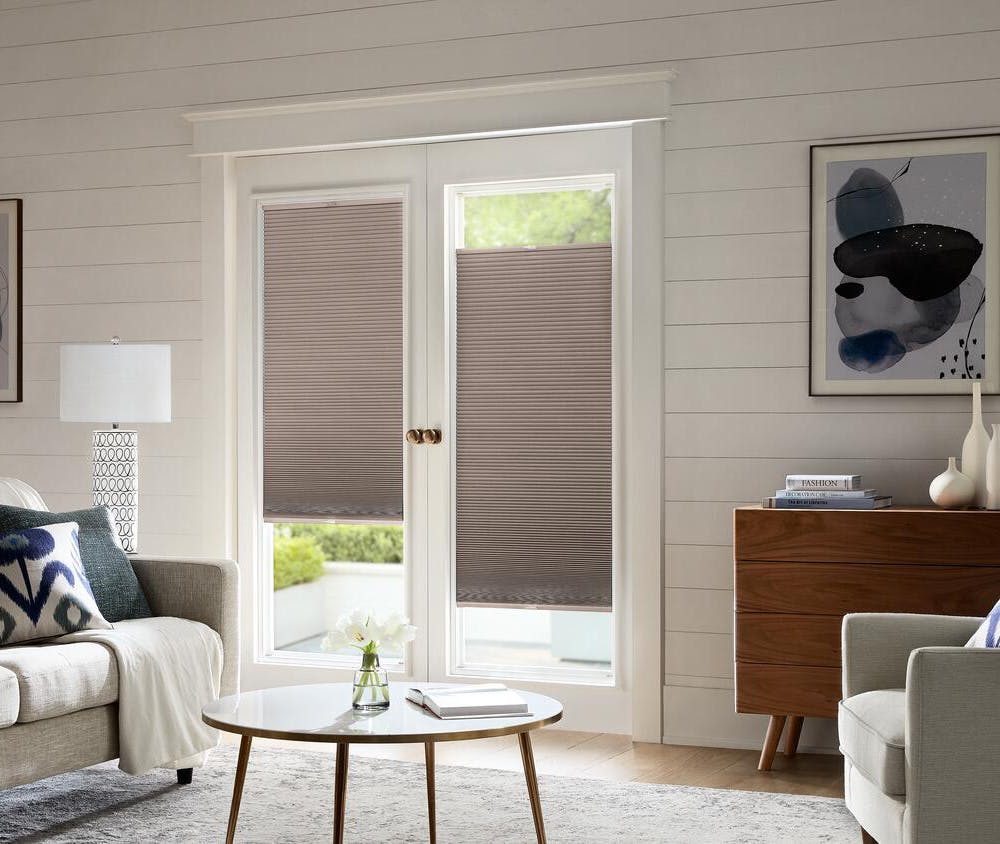 Pictured: Blinds.com French Door Blackout Cellular Shades in Safari.
A wide selection of colors and lift styles means finding the perfect shade to complement your home's style is easy. Don't forget to select hold down brackets or spacer blocks- most cellular shades offer them.
Aluminum Blinds
Aluminum blinds (also known as mini blinds) have been around for years - with good reason. They're durable, flexible and dent resistant - perfect for french doors that see a lot of traffic. The shallow headrail depth means they won't stick out as far as other window treatments and can often slide behind door handles. Tilt them open or closed to control light and level of privacy. Hold down brackets are strongly recommended to prevent noisy clanging when the door is used.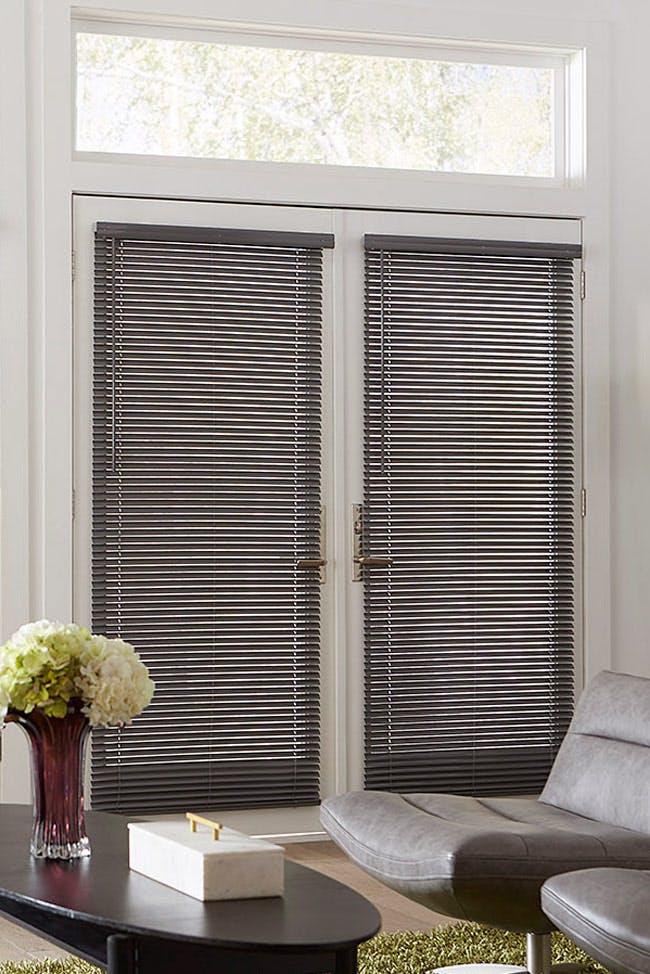 Pictured: Blinds.com 1" Cordless Mini Blinds in Charcoal Gray.
Solar Roller Shades
Another suggestion for French door window coverings are Roller and Solar Shades. They can be customized with a wide variety of opacity levels (solar, light filtering or blackout), fabric styles, and colors. For a sunny kitchen or patio door these shades will block harmful UV rays and reduce heat to keep rooms cooler. Roller shades are the perfect match for French doors because they do not have any unsightly back seams.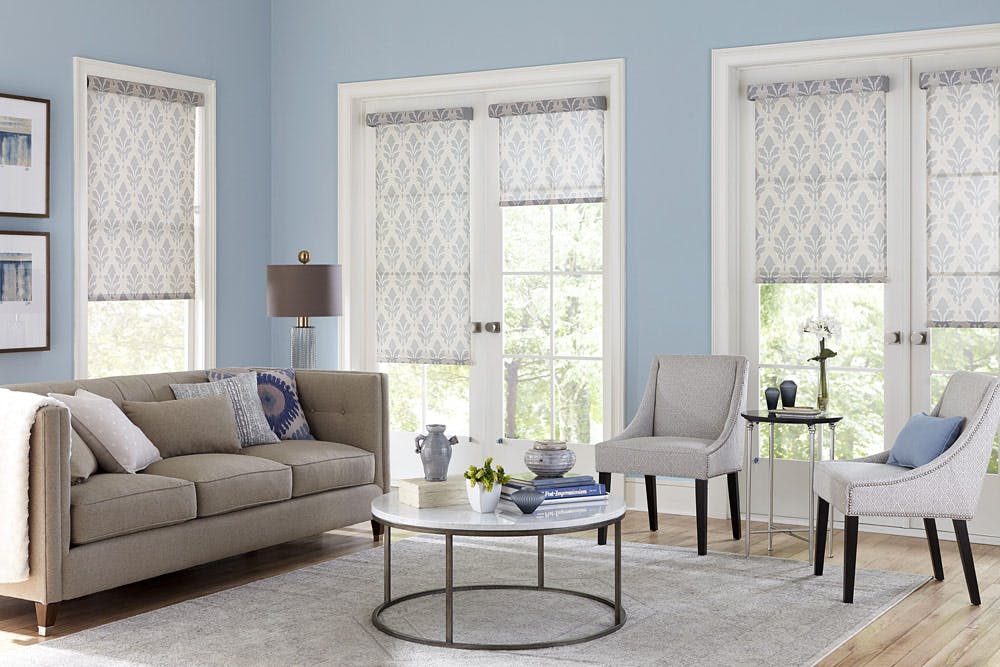 Pictured: Blinds.com Solar Roller Shade in Majesty Pewter.
Window Treatments Not Recommended for French Doors
Although we have listed the French door window coverings that we believe are the best fit in aesthetics and functionality, many of the window coverings on Blinds.com can be modified for French doors. However shutters are typically not recommended for French doors as they often require a lot of depth or an extensive build out to be able to tilt the louvers. Sliding panels and vertical blinds can be cumbersome as they need to be fully opened past the doors in order for the doors to be operable. Speak with a Design Consultant if you have concerns or questions about your French doors.
Be sure to look at our entire collection of Custom Door Window Coverings and let us know what option works for you! Then tag us in your finished photos on Instagram @blindsdotcom or #blindsdotcomlove!
Need professional help measuring your French Doors? We can help!
Read More: