Are you over your same old boring curtains—or worse, bare windows? Updating the look of a room can be as simple as switching up your window treatments. Changing the style and color of curtains or shades can completely refresh any space, making it feel bright and inviting.
Today we're sharing ideas on how to makeover your windows, whether they're large picture windows or charming arched windows, with five easy looks that will give you an upgraded view in no time!
1. Laine & Layne's Cozy Front Porch
Technically these aren't windows, but Laine & Layne's front porch is too stunning to not add to the list. Justin and Chelsi, better known as Laine and Layne, are all about intentional home building. Their porch is Southern charm personified.
Reminiscent of country summers sipping iced tea on the front porch, outdoor shades help to define their outdoor space, giving it a finished look while keeping their outdoor furniture clean and dry. The shades also provide relief during the hot summer months, when sitting outside can be uncomfortable.
Laine and Layne Says:
"The shades are on a crank system and are extremely easy to raise and lower. We even keep them lowered at night to help minimize the amount of bugs on our furniture, and we keep them lowered during rainstorms which help keep our furniture and rug from getting wet. Overall, they have been such a great addition to this space and we can't recommend them enough!"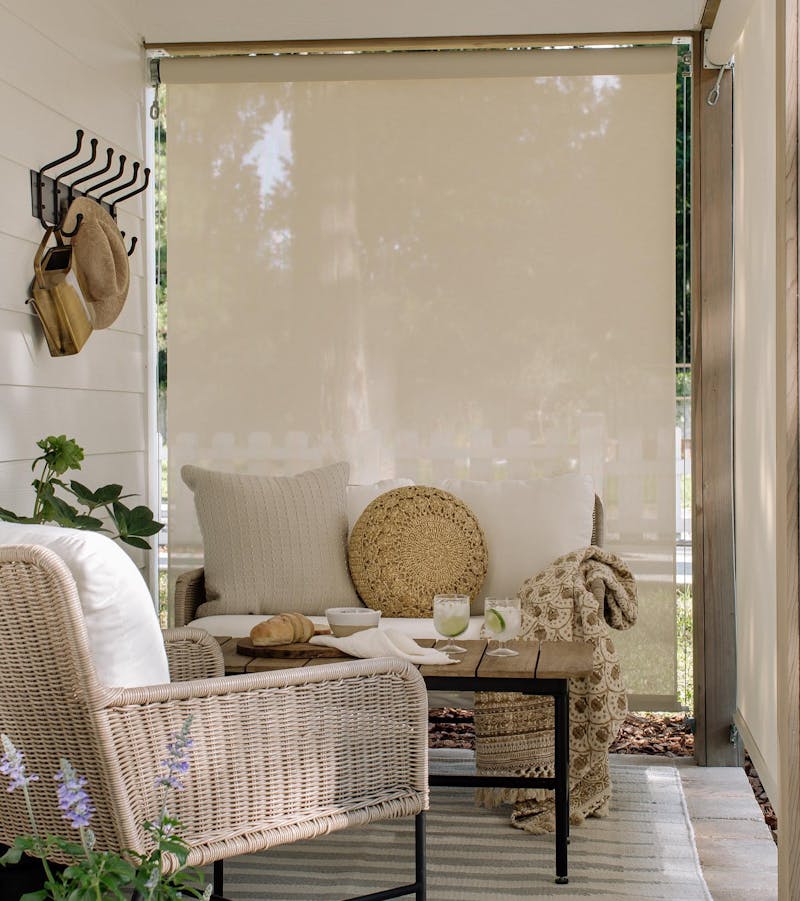 Pictured: Patio Sun Shades in Aurora 3% White Bone. Photo via: @laineandlayne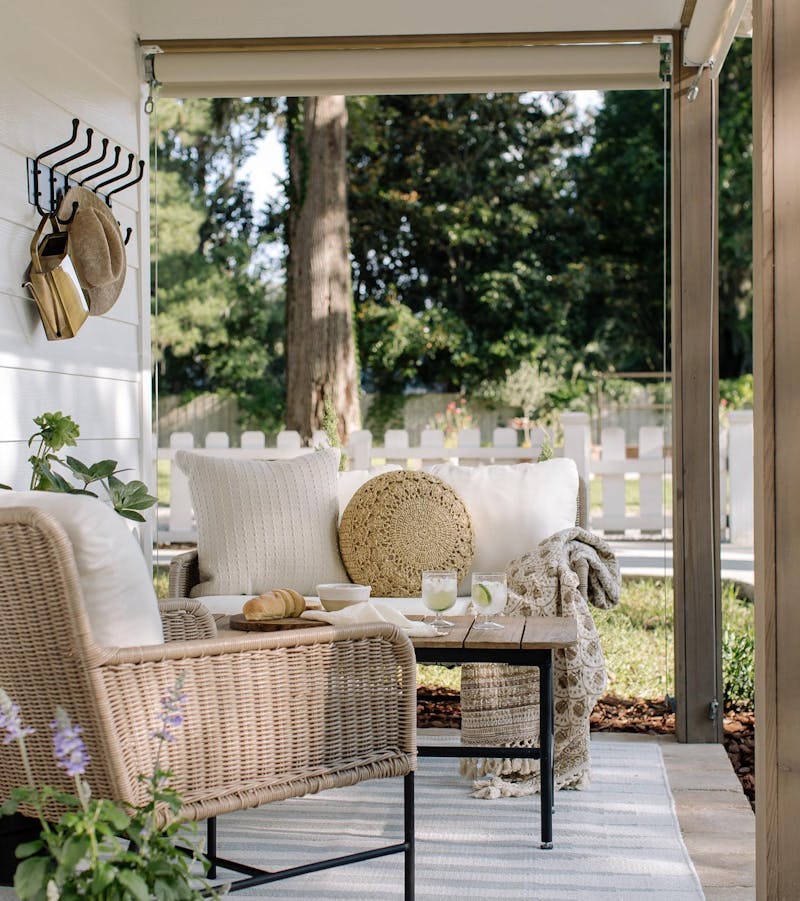 2. Nina Williams' Coastal Farmhouse Bedroom
In this bedroom by Nina Williams Blog, we're instantly transported to the coast. Classic solar shades' sleek, modern design is a subtle window covering choice and perfect for making a room feel light and airy. The shades blend in perfectly with Nina's beige walls and bedding, creating a calm, monochrome effect.
Nina's solar shades are also motorized. Take a look at them in action. This serene space reminds us of weekends at the beach house all year long.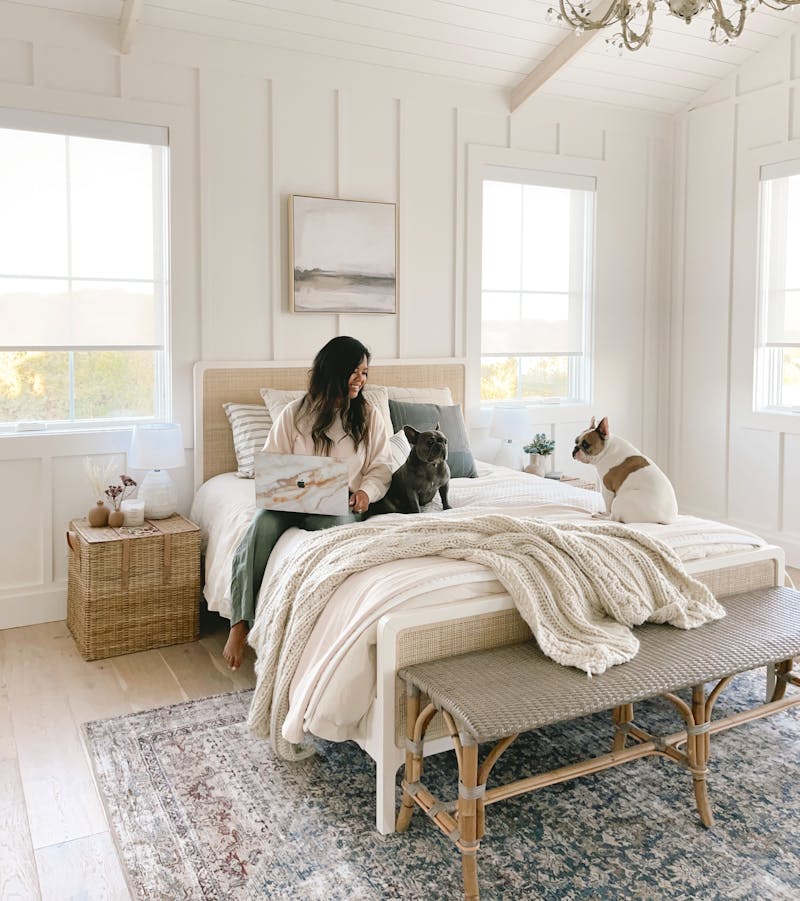 Pictured: Classic Solar Shades in Sonoma 7% Mercury. Photo via: @ninawilliamsblog.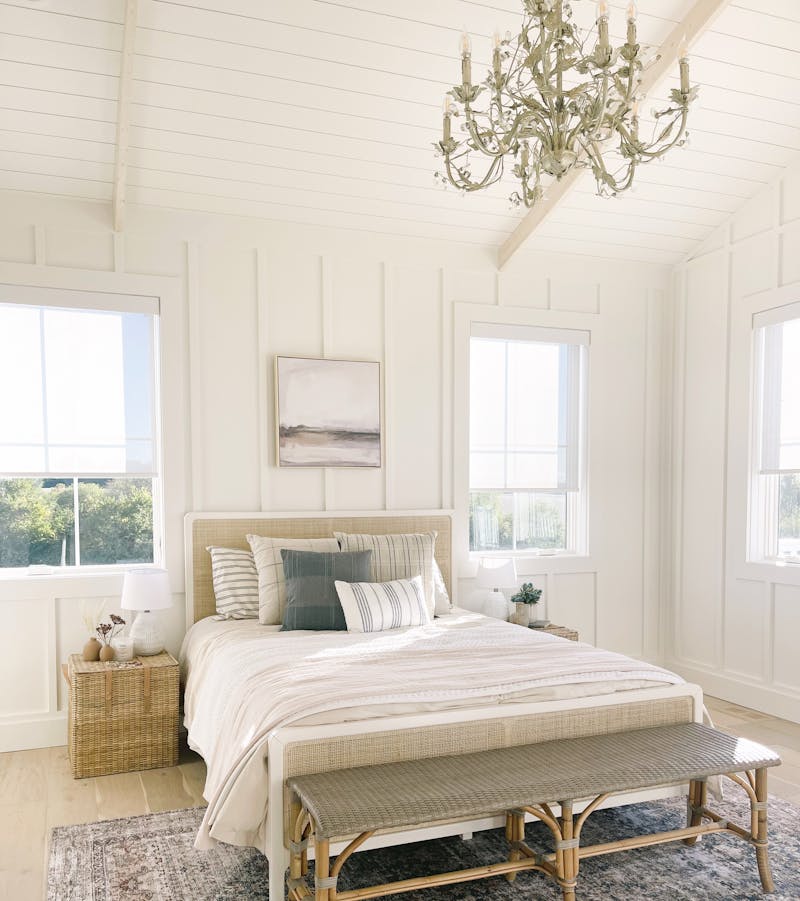 3. MojisStyle's Romantic Roman Shades
Interior Design, home decor, and lifestyle influencer Moji Ojediran, better known as Mojisstyle, used Roman Shades to elevate her bedroom windows. The simple black-and-white design is classic and elegant, while the waterfall style is a hot window covering trend. Waterfall style has no valance at the top of a shade.
Roman shades pair beautifully with the rest of the decor in Mojisstyle's bedroom. By layering window treatments, she's adding depth and visual interest to her windows.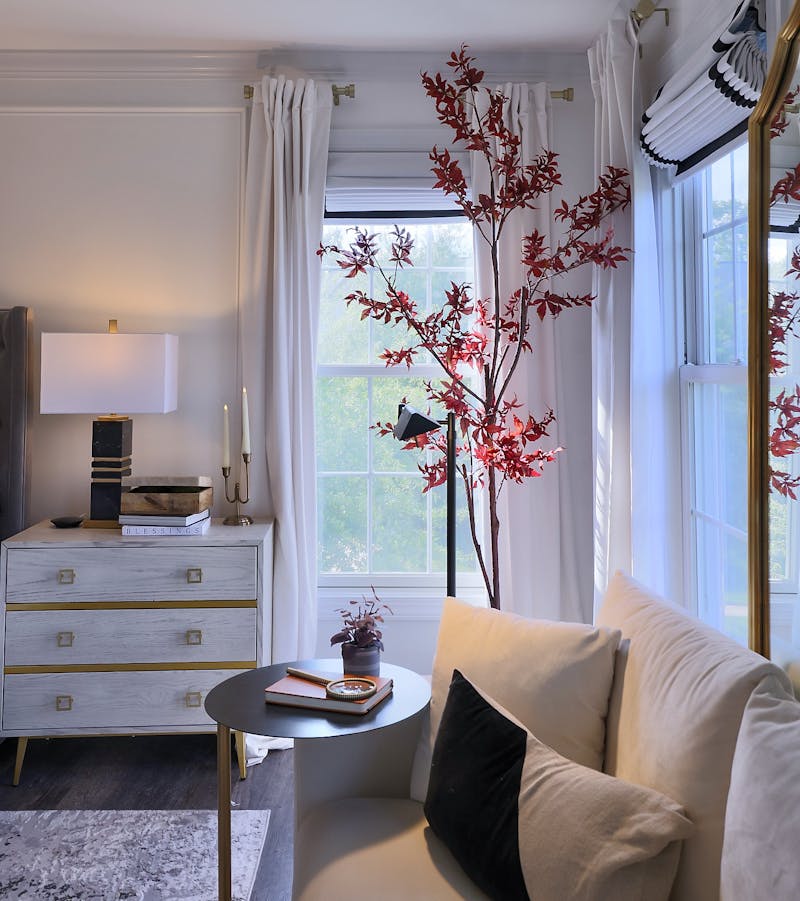 Pictured: Premium Roman Shades in Rio Winter White. Photo via: @mojisstyle.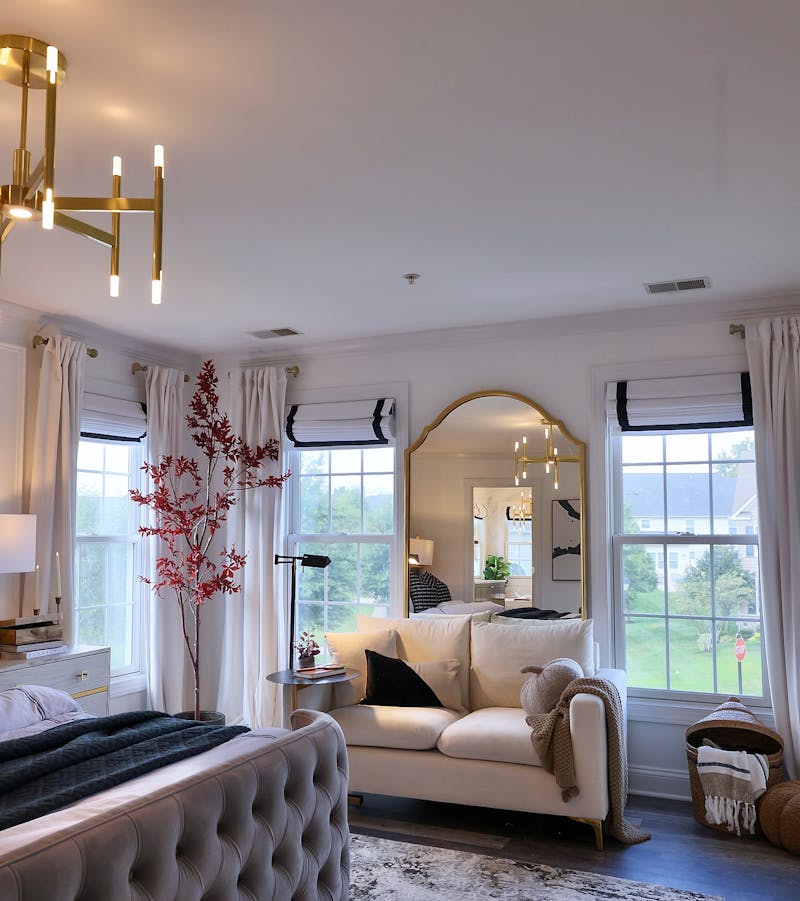 4. ISpyDiy's Dreamy Private Porch
This porch designed by Jenni Yolo, or iSpyDiy, gives new meaning to the phrase "made in the shade." By adding patio sun shades, potted plants, and a porch swing, Jenni's front porch feels like a tropical getaway.
The outdoor shades and area rug are perfect ways to define the space. See the entire transformation from start to finish.
Jenni Says:
"They completely change the feeling of space! We love the privacy and being able to block the direct sun, blazing in the evening. It feels like such a special, private space now (even though we are in the middle of the city!). I layered in some texture and greenery, and now this oasis feels complete."
Pictured: Patio Sun Shades in Maui 5% Stucco. Photo via: @ispydiy.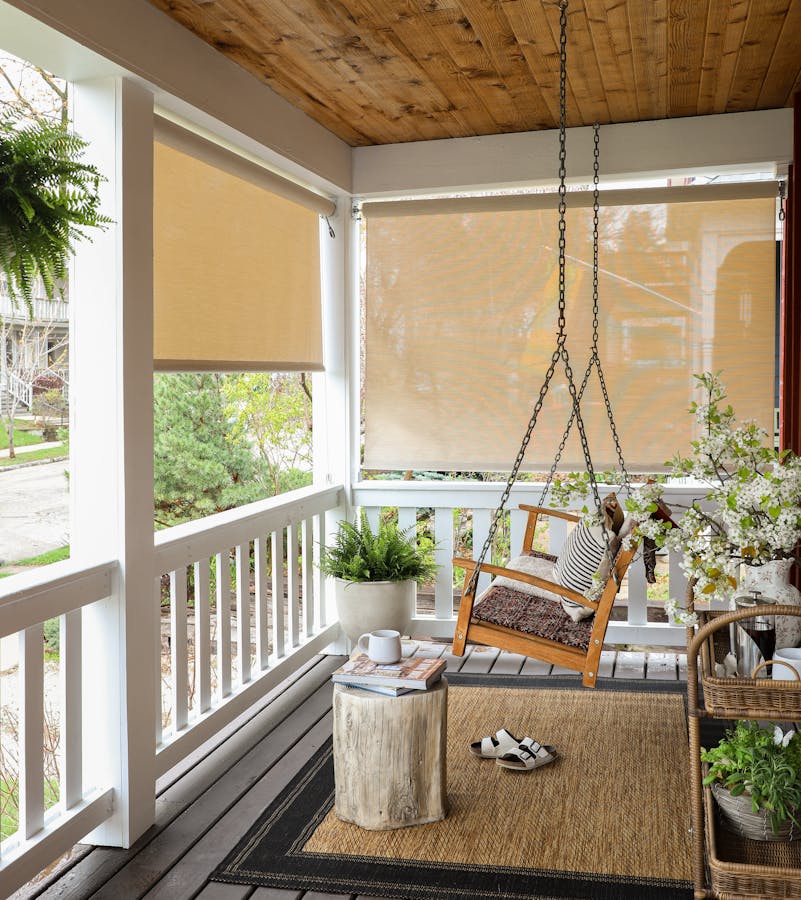 5. The Inspired Room's Farmhouse Kitchen
Melissa, better known as The Inspired Room, helped design her daughter's kitchen, which has all the design elements of farmhouse style. The large slider window over the farmhouse sink serves as a focal point, which is a key element of modern farmhouse design. Woven wood shades were the ideal window covering choice to give the kitchen a rustic feel while adding plenty of warmth and texture to the space.
Melissa says:
"I am in love with the shades in my daughter Kylee's kitchen that she got from @blindsdotcom! She got the Woven Wood Shades in Fiji Natural and they added so much style to her space in addition to being practical for privacy and sun control!"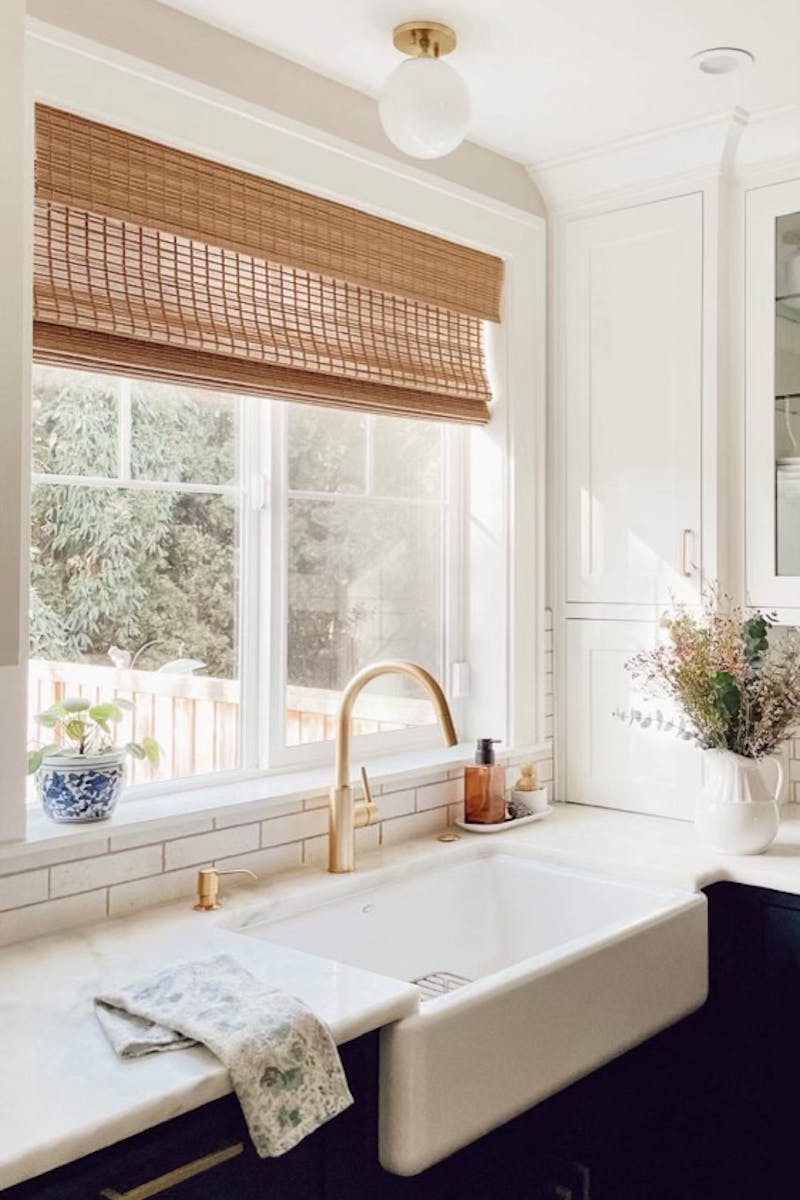 Pictured: Woven Wood Shade in Fiji Natural. Photo via: @theinspiredroom.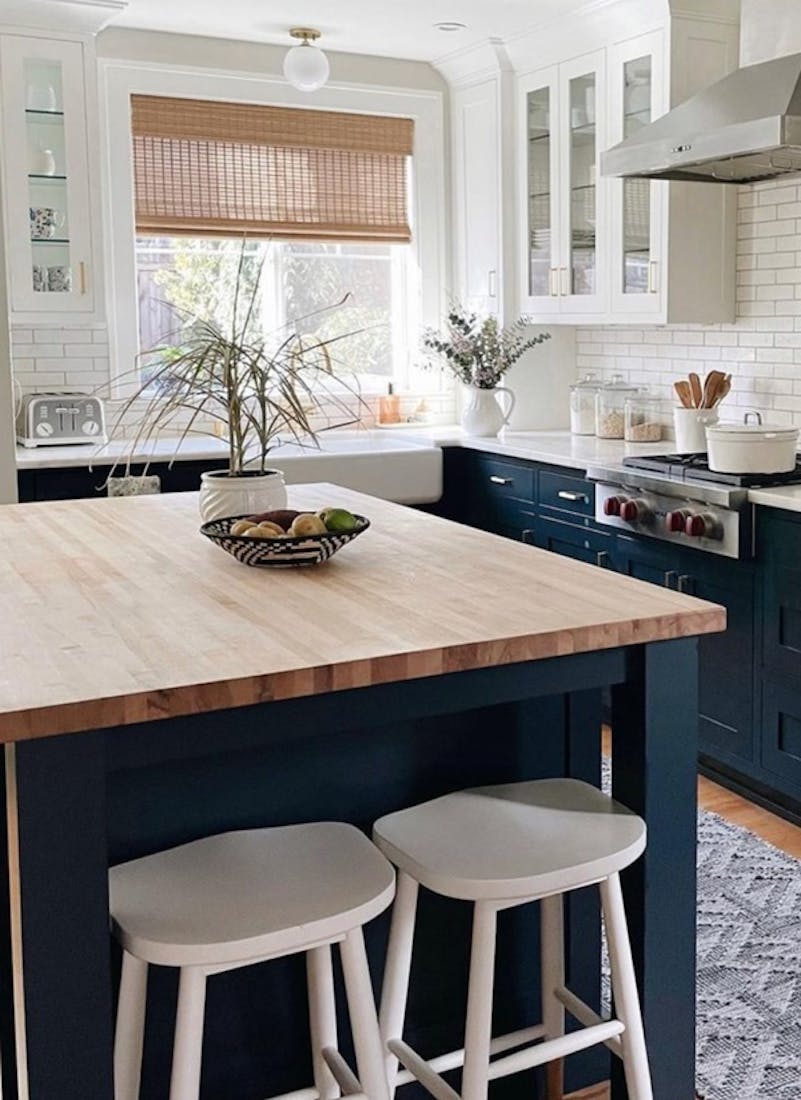 Ready to Renovate?
Adding unique window treatments to your home can be one of the easiest, most economical ways of giving your space a fresh new look. At Blinds.com, you have lots of creative options to meet your taste and style. We have options for casement, arched, bay windows, and more.
Whether you opt for vintage curtains, modern Roman shades, custom valances, or dramatic drapery panels, adding custom window treatments can transform ordinary windows into incredible works of art. For the most stylish window covering solutions, contact one of our expert Blinds.com Design Consultants at 800-505-1905 for their advice on finding the perfect window covering for your home.
Want More Design Inspiration?
How To Achieve Modern Design with Roller Shades
Step Inside Nina William's Coastal Farmhouse Bedroom with Solar Shades
Modern Farmhouse Home Gets Tons of Natural Light with New Shades