We love to see before and after pictures from customer home and window makeovers. These photos are like a "behind-the-scenes" peek at the work that goes into a home renovation. Often, once you see how something is done, it can be feel more achievable yourself!
Last year we rounded up 10 of the Best Before + After Window Makeovers and it quickly became one of our most popular rounds ups ever. Since then, even more wonderful photos have poured in from Instagram (@blindsdotcom) and Pinterest! So it's a good time to share even more inspiring before and after pictures to give you a little DIY motivation.
1. A Modern Farmhouse Dining Room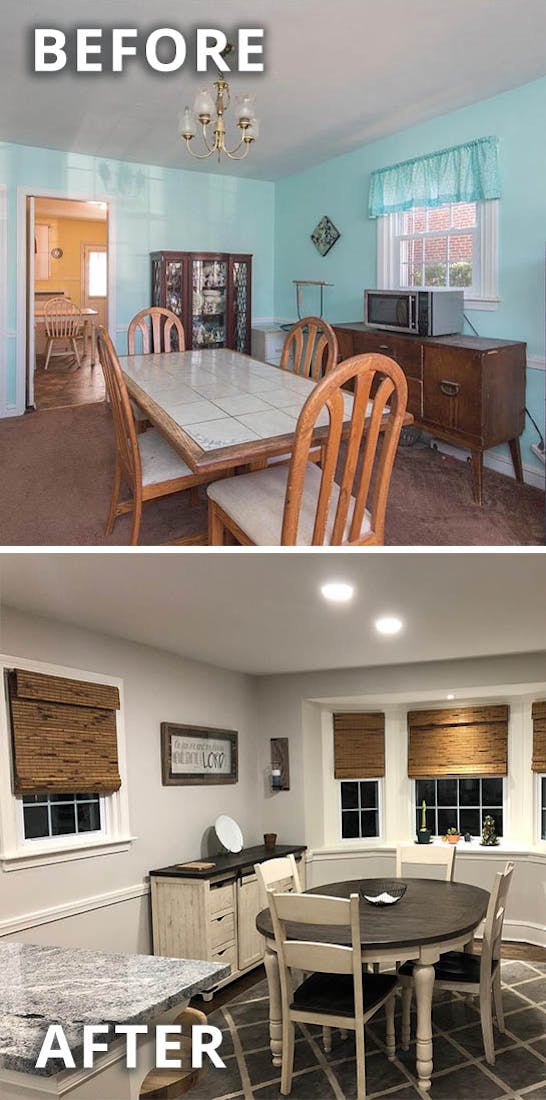 While we can appreciate robin's egg blue on the walls of this country dining room, we really love the modern farmhouse transformation from customer Samantha H! The neutral colors really help the wainscoting pop. Plus, adding the Blinds.com Cordless Woven Wood Shades in Hatteras Camel helps give this fresh dining room more privacy at night.
2. A Simple Swap With Dramatic Results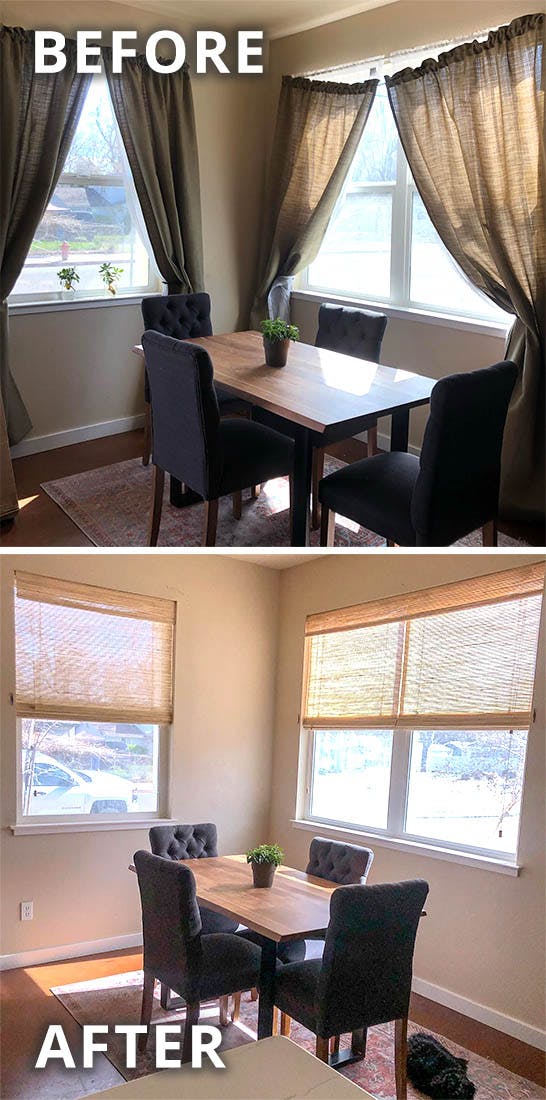 It doesn't take much to refresh a room. @Thelelandhouse swapped out dark, sagging curtains for the Blinds.com Premium Woven Wood Shades in Zuma Flaxen. These fresh window treatments make the room feel bigger, brighter and more inviting.
Pro tip: Light colored window treatments can help a room feel even bigger and may let more light through!
3. Out With The Old, In With The New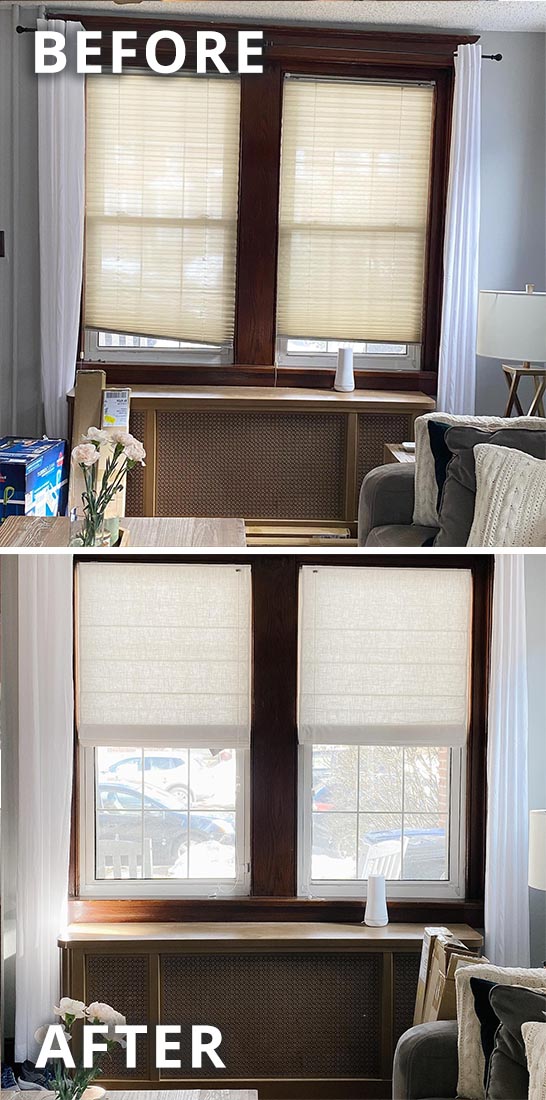 When fixtures like blinds are broken, they can make a room feel messy and even negatively impact your curb appeal. @eat_the_crumbs shows us how one simple change, like swapping out broken window treatments can instantly tidy up a space. Here they chose the Levolor Roman Shades Odyssey Whisper White in Light Filtering.
4. Total Teal Reveal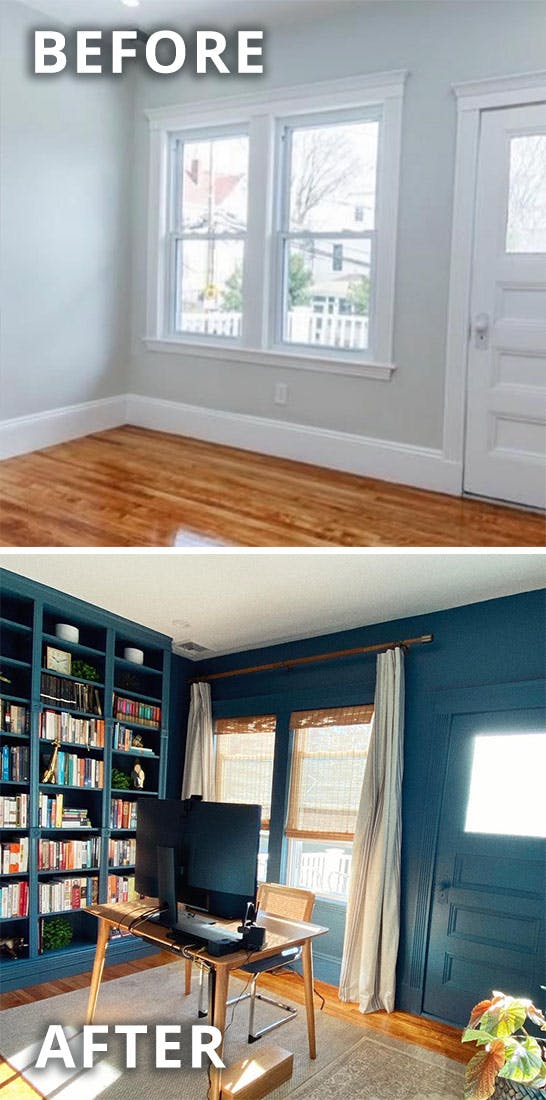 Small home updates can be impactful, but sometimes you just want to give the whole room a complete facelift like @katzeitlerdesign. This home office checks all the boxes of our favorite home decor trends: Dark blue walls, tone-on-tone walls and trim, built-in book shelves and woven wood shades. Get this look with Blinds.com Cordless Woven Wood Shade in Aruba Raffia.
Pro tip: To pull a room's look together, coordinate wood accents in your home so they are all in the same color family. Woven wood shades and wood flooring makes for an easy and trendy pairing!
5. A Basement Upgrade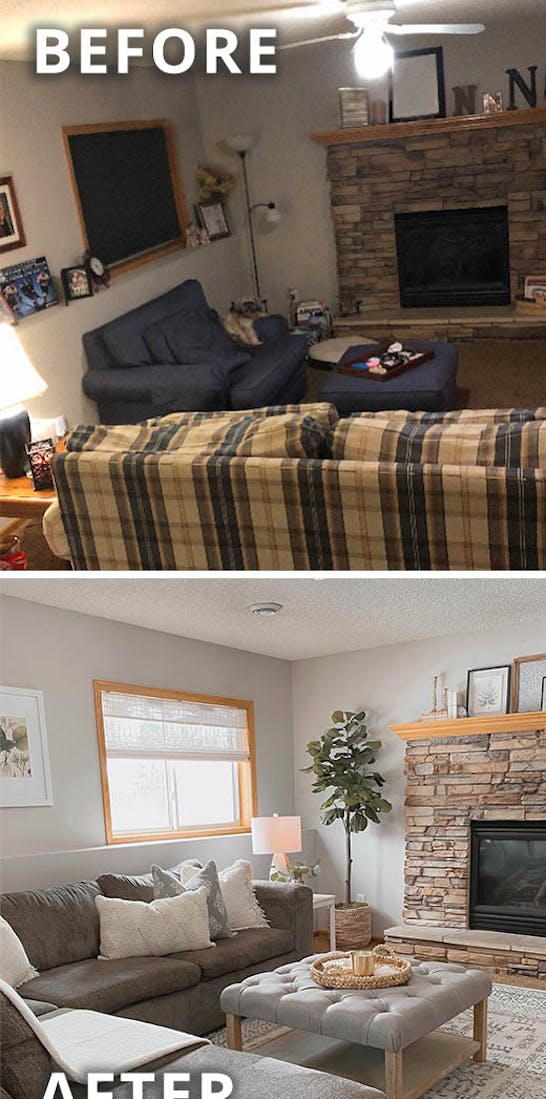 This room started as a dim, narrow basement. So @kristycaroldesign took advantage of the natural light this larger basement window provides by swapping out old, dark window treatments for Blinds.com Woven Wood Shades in Moorea White. Throw in a new, stylish sofa and now it's a bright and welcoming space for the family to relax.
6. A Guest Bedroom To Be Jealous Of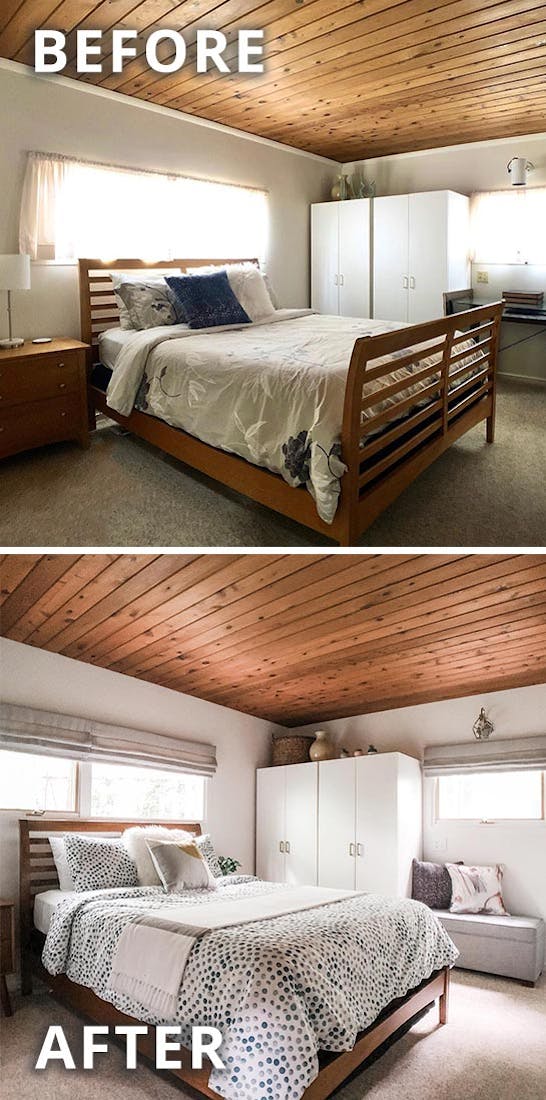 @modernspacecraft did the #oneroomchallenge and took the opportunity to update the guest bedroom. She took the room from a place to tuck away spare furniture to a sleep haven that includes blackout roman shades. Blinds.com Roman Shade in Newport Gray with a blackout liner help darken a room so you (or your guests) can get a good night's rest. A cute and fluffy comforter also makes this space way more inviting.
7. Updated Kitchen, No Demo Required
This may look like a total kitchen renovation with brand new cabinets, but @aesthetically.audra turned her cabinet doors around for more of a shaker style. She complimented the look with butcher block counters, fresh paint and the Blinds.com Cordless Woven Wood Shades in Montego Bark.
8. A Lofty Kid's Bedroom and Play Suite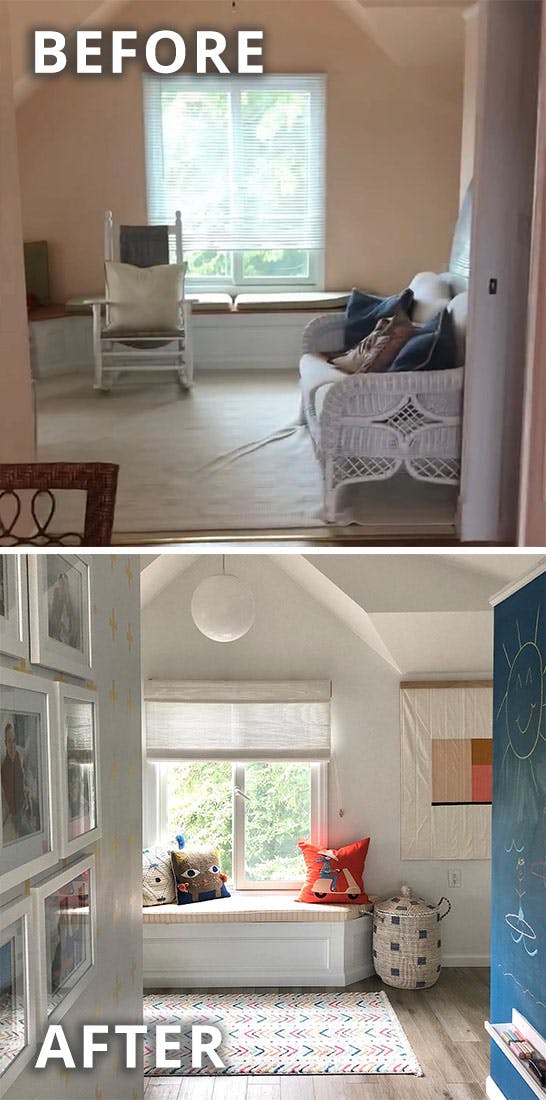 Often the best home projects don't involve any demolition. Changing out fixtures, like window treatments, and adding fresh paint can be enough to dramatically transform a room. @lifestlyedny turned this lofty space into a kids 2 bedroom suite! Shown are the Blinds.com Woven Wood Shades in Mesa White.
Have Questions?
Need a little help getting your window project started? We're here for you. Speak with one of our expert Design Consultants by calling 844-551-3769. Already given your home a window makeover? We want to see! Share your before + afters with us on social. Use #blindsdotcomlove or tag us on instagram @blindsdotcom. For more inspiration, be sure to follow us on Pinterest or check out our Inspiration Gallery.
Read More