If you ask someone to imagine their dream kitchen or bathroom, chances are it will include a window over the sink or tub. There's something about having a view outside as you wash the dishes or soak after a long day that feels luxurious. However, choosing a window covering that can stand up to these humid areas can be tough. We're sharing our top picks for bathtub blinds and blinds over the kitchen sink, along with a few other features to consider.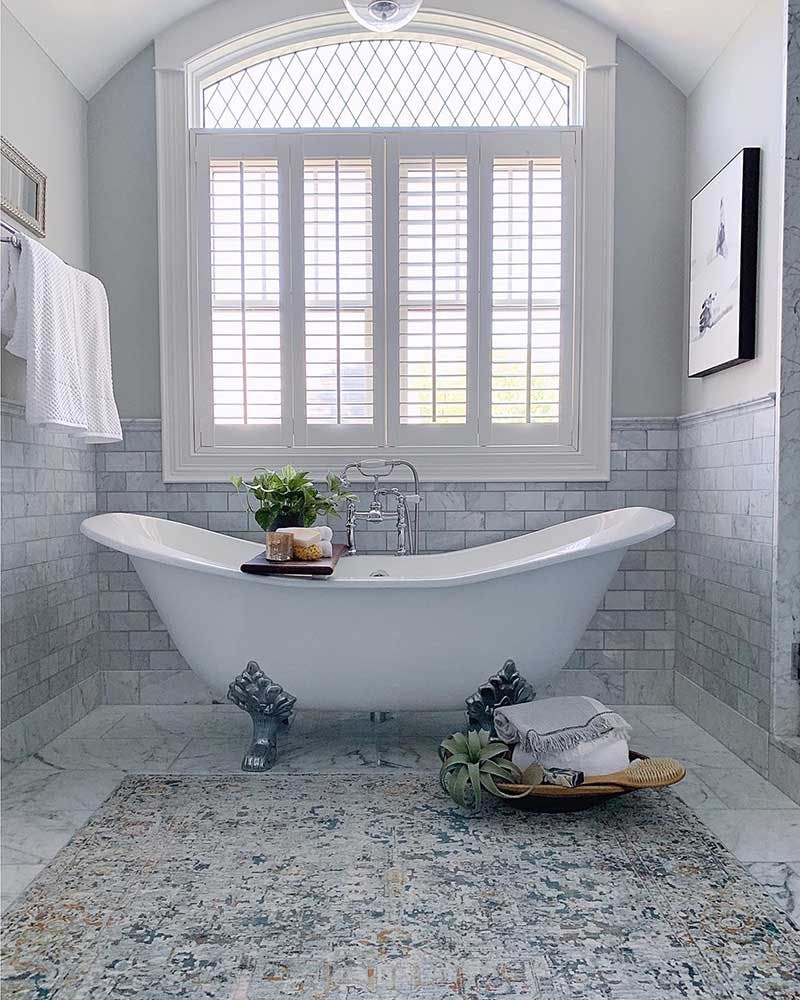 Pictured: Blinds.com Composite Shutter in Pearl. Photo via @lemonleafhomeinteriors.
One of the first things to consider when covering sink or tub windows is how often they will be exposed to moisture. Windows over tubs and sinks are subjected to much more humidity, steam and splashing than other windows in the home. Diligently running your bathroom fan might not be enough to protect window treatments from humidity and condensation. So it's extra important to choose a window covering that is non-absorbent and will stay strong in a splash zone.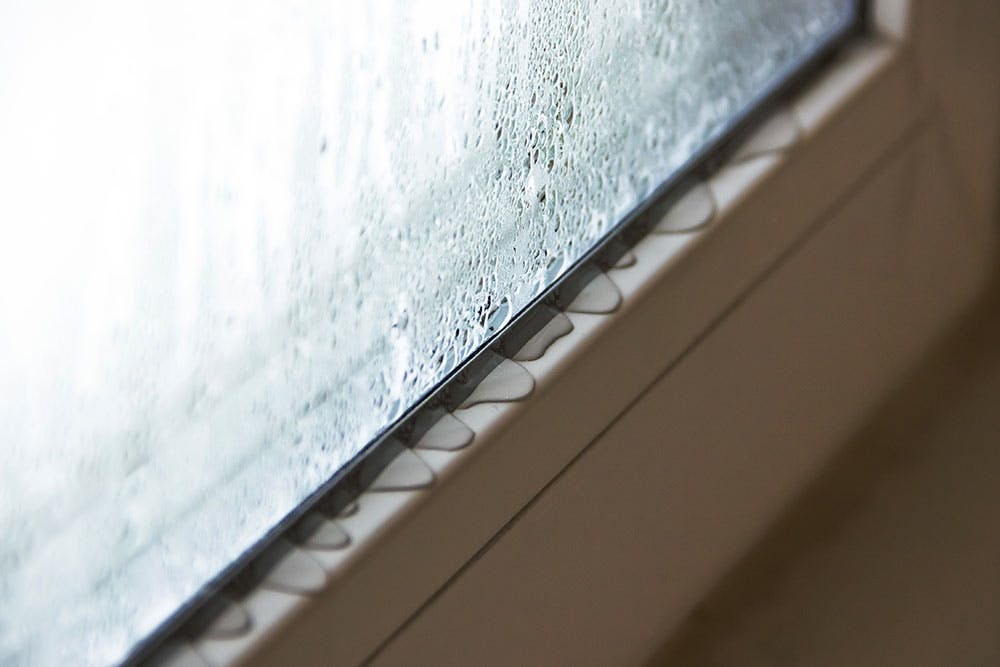 Read More: How To Protect Your Blinds From Window Condensation.
Faux Wood Blinds + Faux Wood Shutters
Faux wood blinds and faux wood shutters are kitchen and bathroom classics because they are moisture-resistant. Real wood blinds can swell, crack or warp when exposed to too much moisture so faux wood blinds are the perfect alternative. They are perfect for splash zones because they are so easy to clean, and resist discoloration and staining. Many faux wood blinds come in convincing wood-tones with embossed textures, so it can sometimes be tough to tell faux wood from real wood.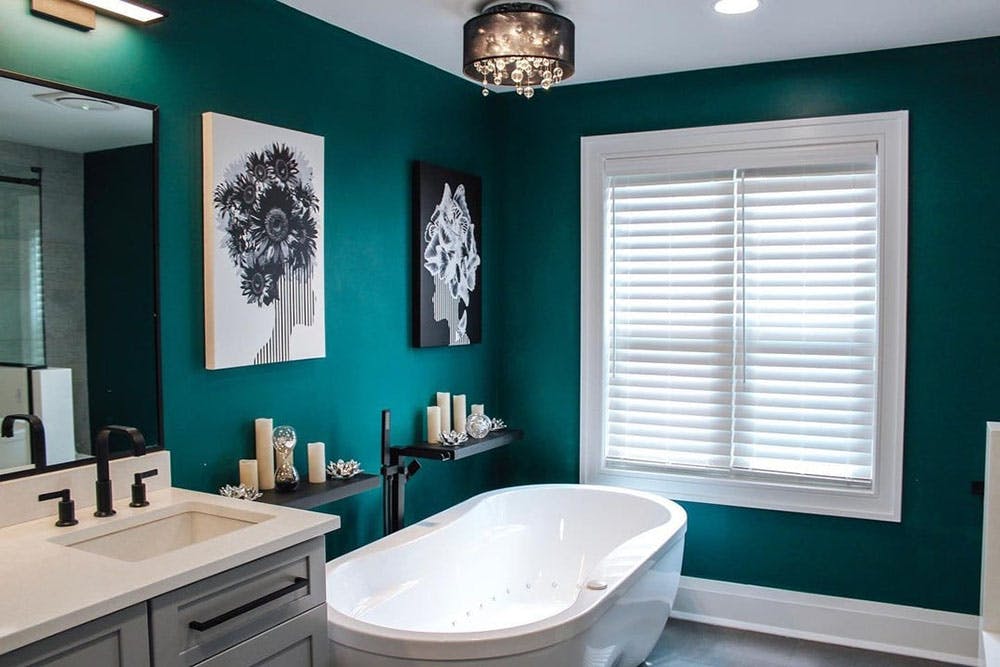 Pictured: Levolor 2" Faux Wood Blinds in Classic White. Photo via @mchomeimprovements.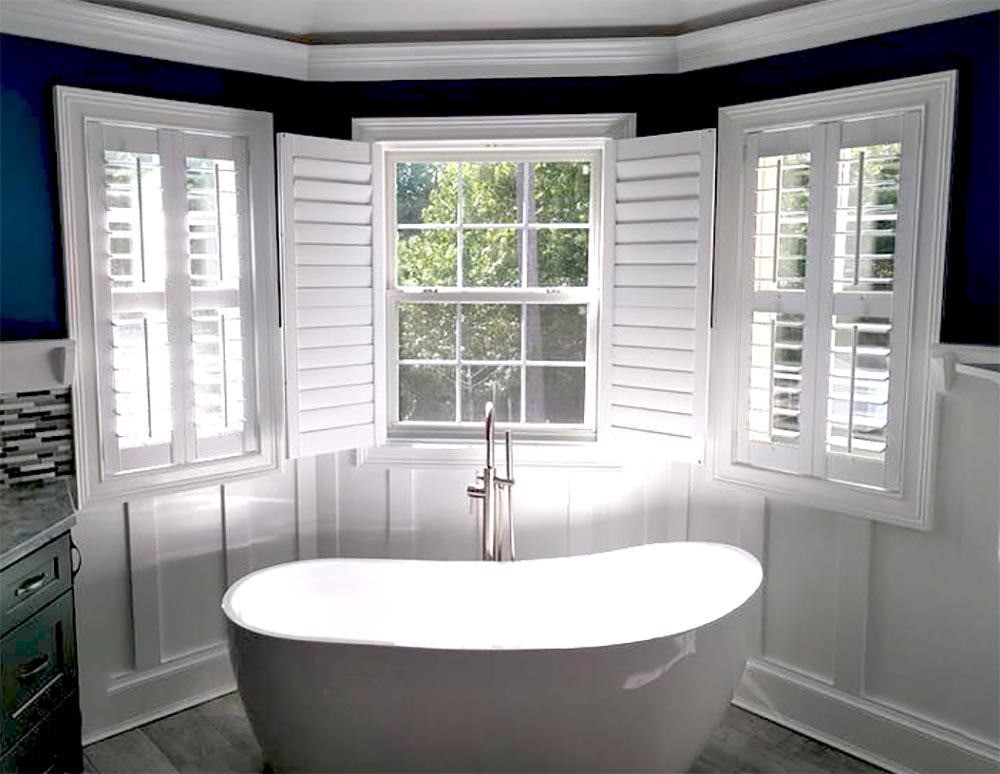 Pictured: Blinds.com Composite Shutter in Snow.
Roller Shades
If faux wood blinds don't suit your aesthetic, a roller shade might be perfect for you. Many roller shades are made from vinyl or PVC, so they don't hold on to moisture like other fabric shades. Fabric can breed mold, so it's best to stick with vinyl roller shades for windows over sinks and tubs.
But these are not your grandma's boring ol' roller shades! Nowadays, roller shades are printed in a wide variety of stylish colors and patterns. Some roller shades are even stamped or embossed so they have a texture that adds depth! Be aware, not all roller shades are vinyl or pvc so be sure to check the shade's material type or order a sample first.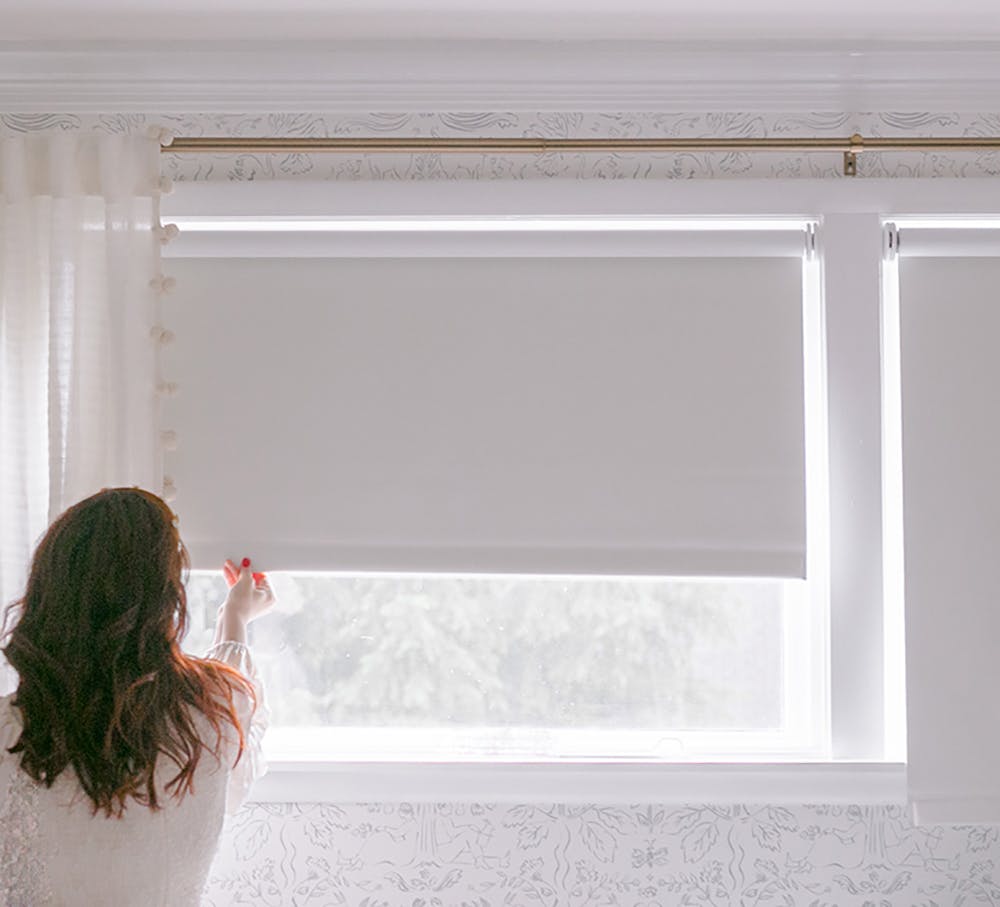 Pictured: Blinds.com Premium Blackout Roller Shades in Rainier Snowfall. Photo via @abeautifulmess.
When ordering your Roller Shades, also consider how much privacy you need. Roller shades that are inside mounted are prone to light gaps on the sides (sometimes up to an inch!) which can be a problem especially for tub windows. We recommend outside mounting solar shades for the most privacy.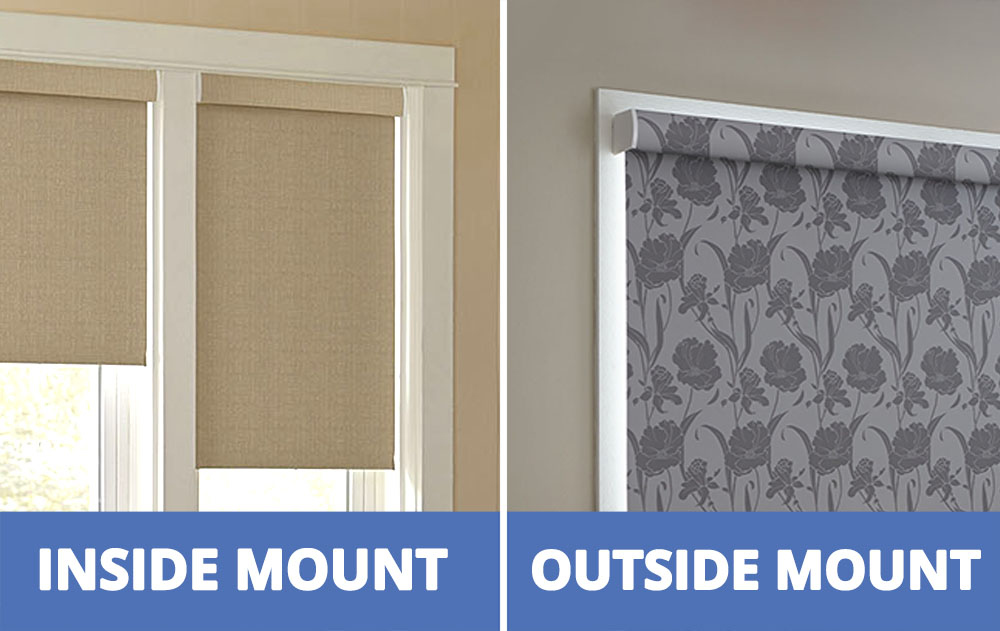 Read More: What's The Difference Between Inside And Outside Mount?
You'll also want to think about privacy with the fabric itself. While light filtering roller shades are not transparent, if you have a light on in the room at night, shadows or silhouettes may be visible from outside. If that is a concern for you, we recommend sticking with a blackout fabric.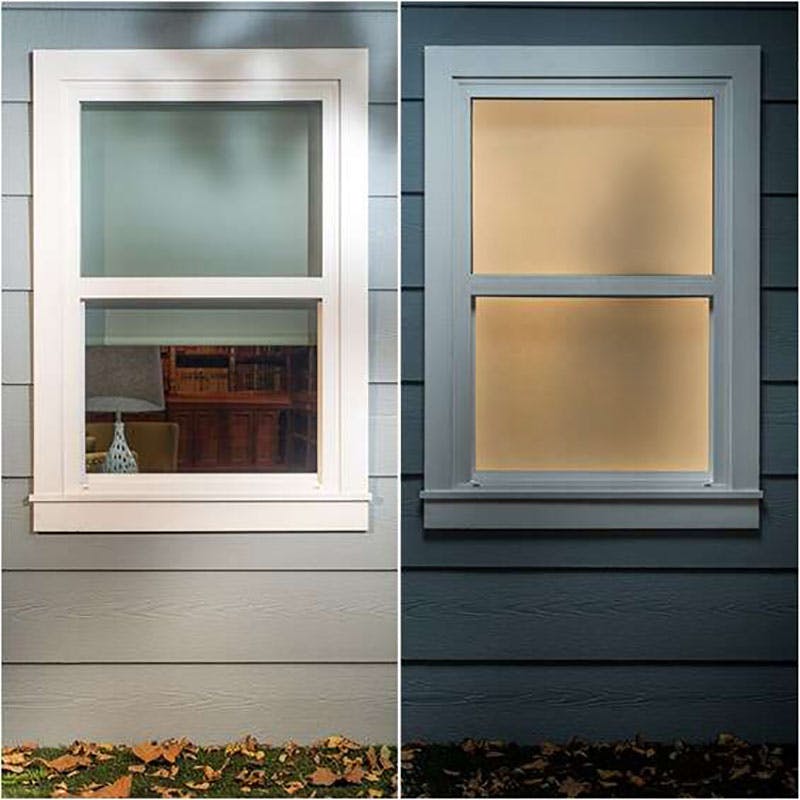 Pictured: Outside view of the Blinds.com Light Filtering Roller Shade in daytime and nighttime. Color: Splendor Oyster
Solar Shades
Solar shades are just like roller shades but are see-through by nature. So they are great for windows where you want to cut down on heat or sun glare, but privacy is not a concern. They are also usually made with durable vinyl or PVC and some can are even suitable outdoor patios or decks. Since they do not offer much privacy, we recommend keeping these in kitchen sink windows instead of bathrooms to avoid giving your neighbors a free show.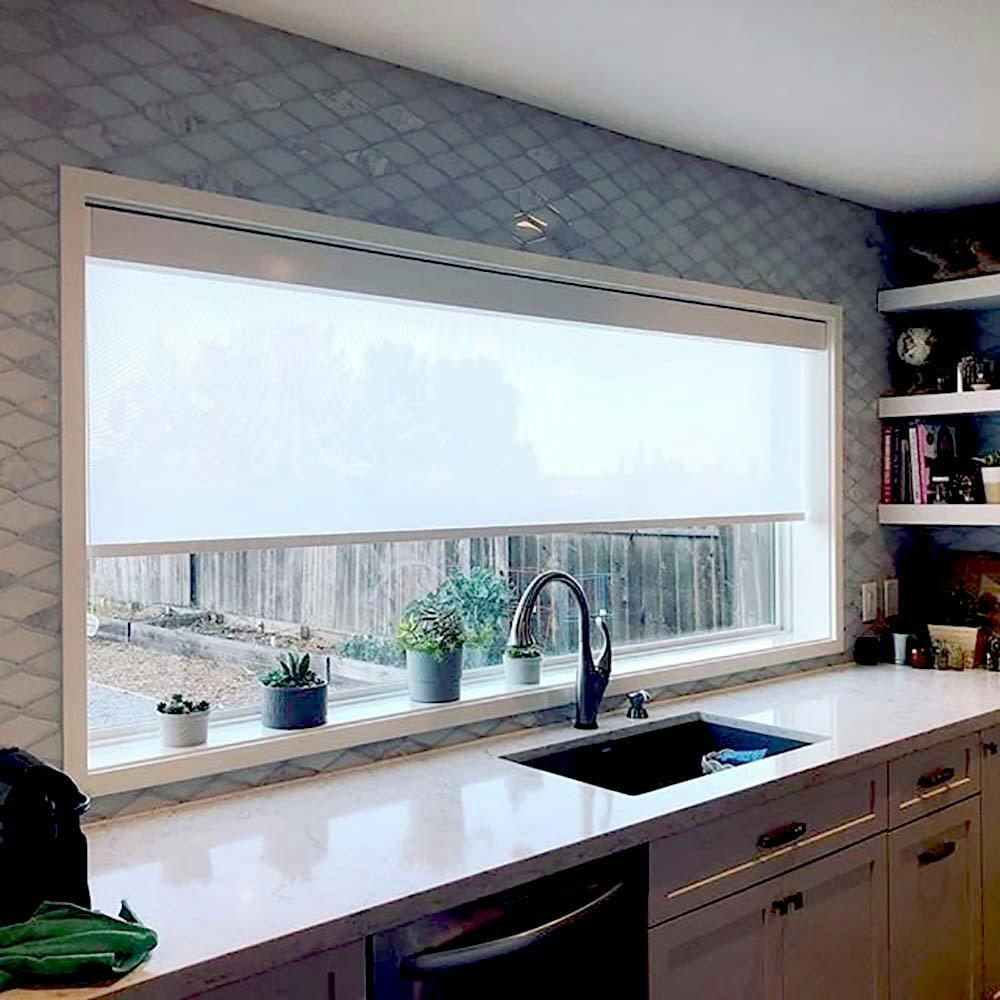 Pictured: Blinds.com Premium Solar Roller Shade in Oxford Frost. Photo via @Penney_do.
Mini Blinds
Mini blinds are also a good choice for humid areas. They're typically made with aluminum which does not rust, and they have a special coating that helps resist corrosion. Sometimes mini blinds will also be made from non-porous vinyl so it is non-absorbent and resists staining. Mini blinds are also super affordable so consider these if you're on a tight budget and have big windows to cover.
What About Woven Wood Shades?
Real wood blinds, wood shutters and woven wood shades can all warp, swell or crack when exposed to high moisture environments, so faux wood blinds and shutters make for durable alternatives. But are woven wood shades safe to use in high-moisture areas? Many people choose woven wood shades for their textural style, but if you're choosing these shades for tub and sink windows you'll need to be more careful.
Woven wood shades are sometimes made with bamboo. Real bamboo grows in humid, warm landscapes, and resists warping more than other types of wood, but it is still absorbent and can grow mold. True bamboo shades may be okay for areas with less moisture like over a sink but are still not ideal for wet areas like tubs or showers.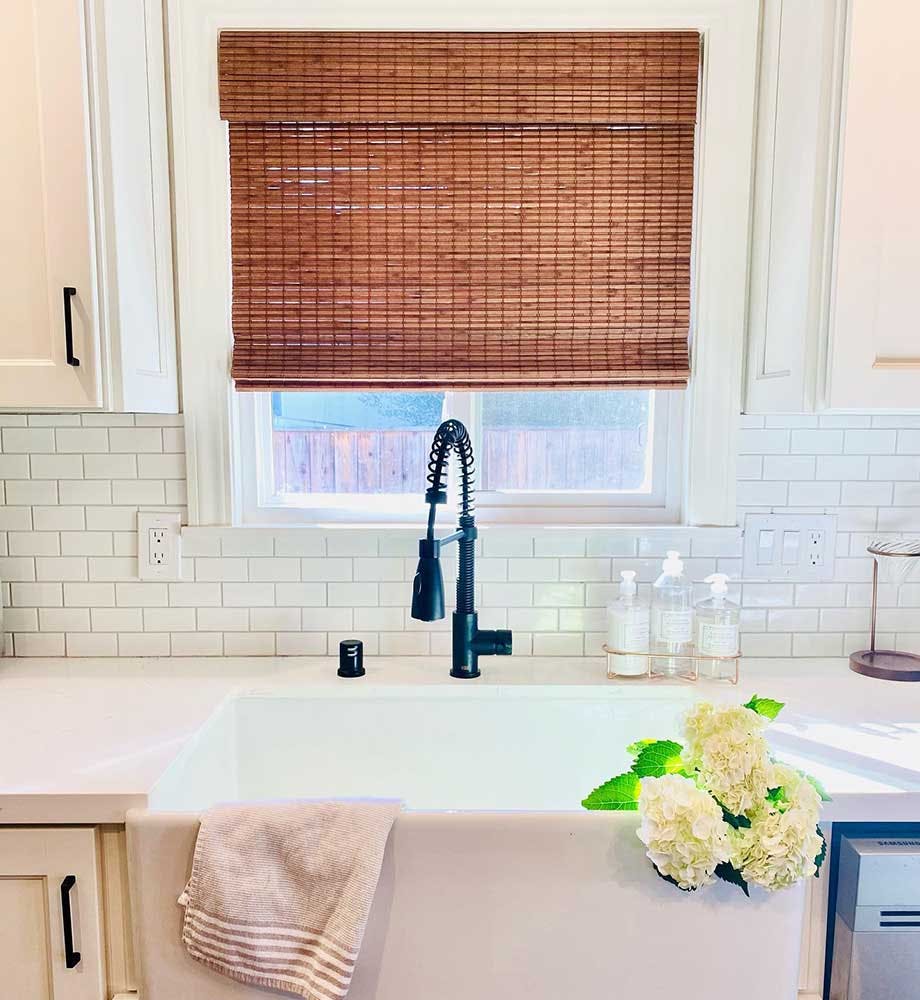 Pictured: Blinds.com Cordless Woven Wood Shade in Montego Bark. Photo via @k_reddd.
However, not all woven wood shades are made with bamboo, so double check your specific product and color's material specifications. Jute and exotic grass weaves can disintegrate or fall apart if they get wet.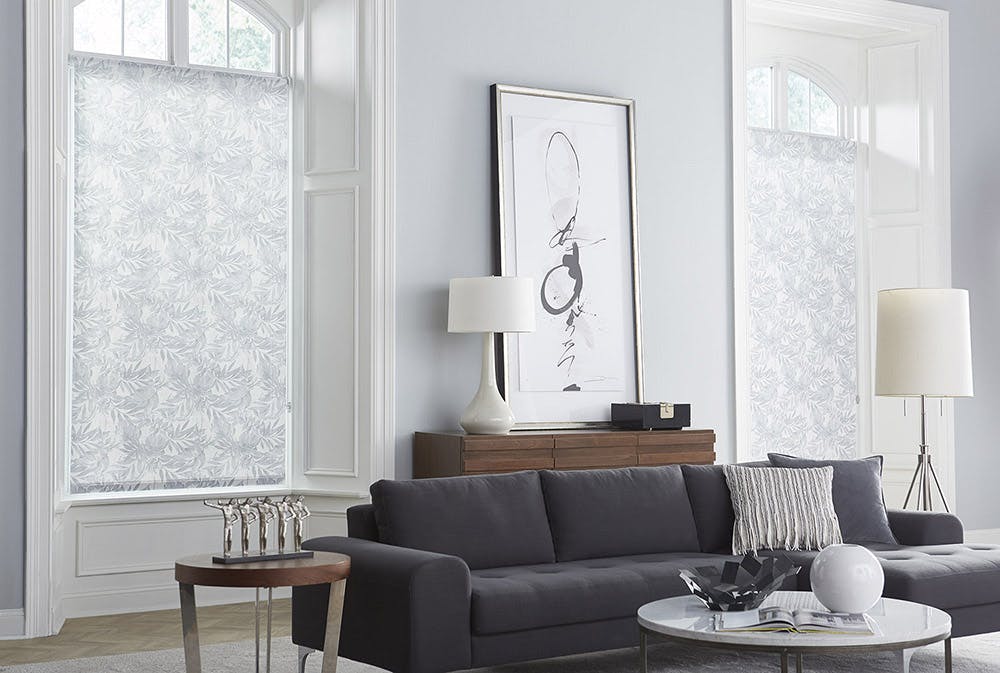 For a look that rivals the elegance of woven woods, consider a vinyl roller shade with a nature-inspired pattern like the Blinds.com Economy Light Filtering Roller Shades in Rainforest Mist (above). Or look for a faux wood blind with an embossed or sandblasted color for a textural appeal similar to a woven wood shade.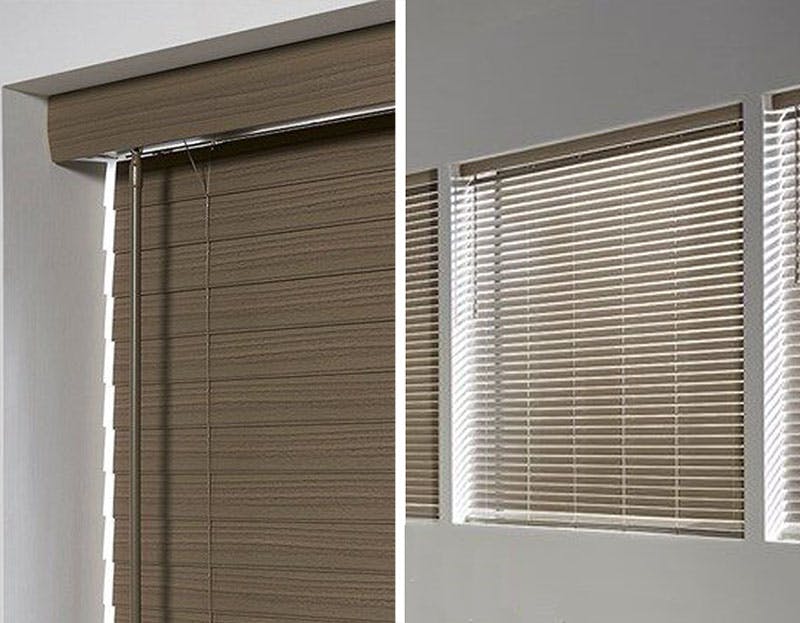 Pictured: Blinds.com Cordless 2" Faux Wood Blind in Ashwood.
Avoid Fabrics
Fabrics like roman shades, draperies, cellular shades and some roller shades are not the best choices for wet areas. They will hold onto moisture, making them frustrating to clean and more susceptible to mold or stains. Stick to non-porous (non-absorbent) fabrics like vinyl or pvc.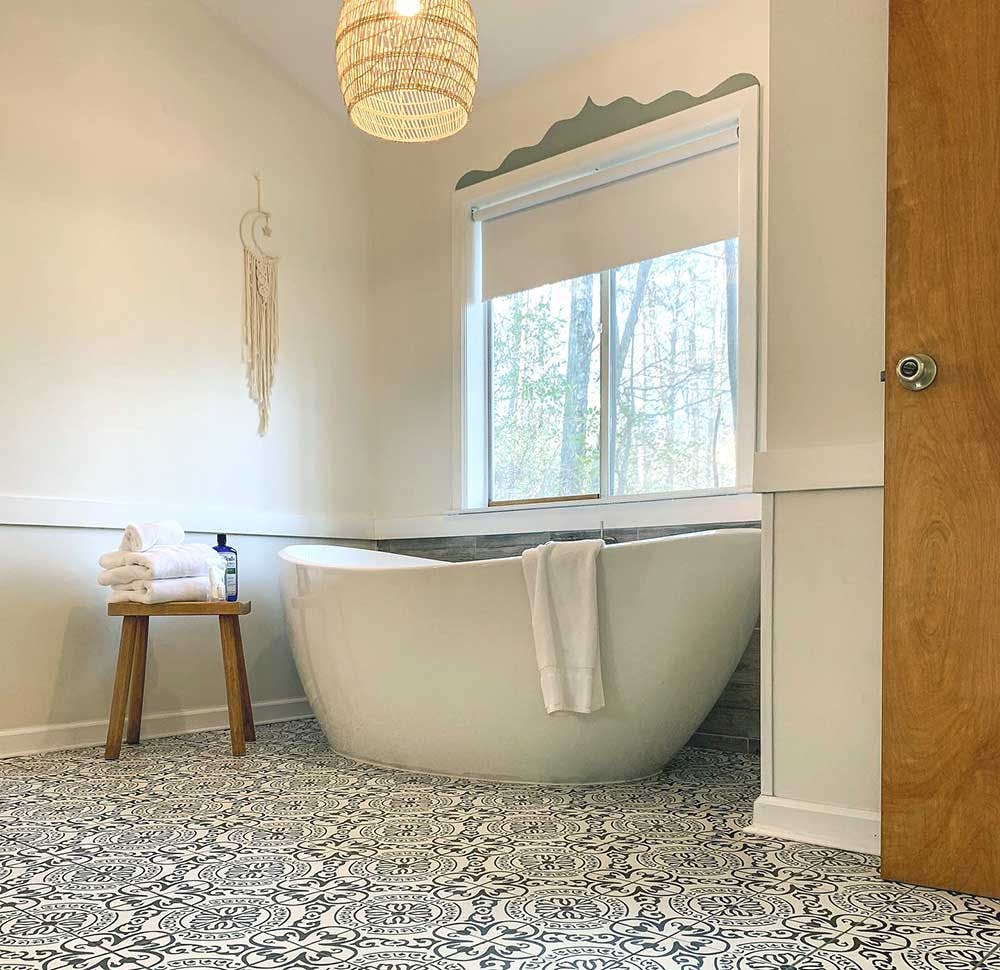 Pictured: Blinds.com Economy Blackout Vinyl Roller Shade in Reminiscent White. Photo via @adohicabin.
If your heart is truly set on a soft fabric, a fabric cornice (sometimes called valances) could be a good middle ground. These are decorative pieces that are installed at the top of your window. Depending on your window size, they can be far enough away from the sink or tub to avoid direct splatters while still adding a fabric element to your window design.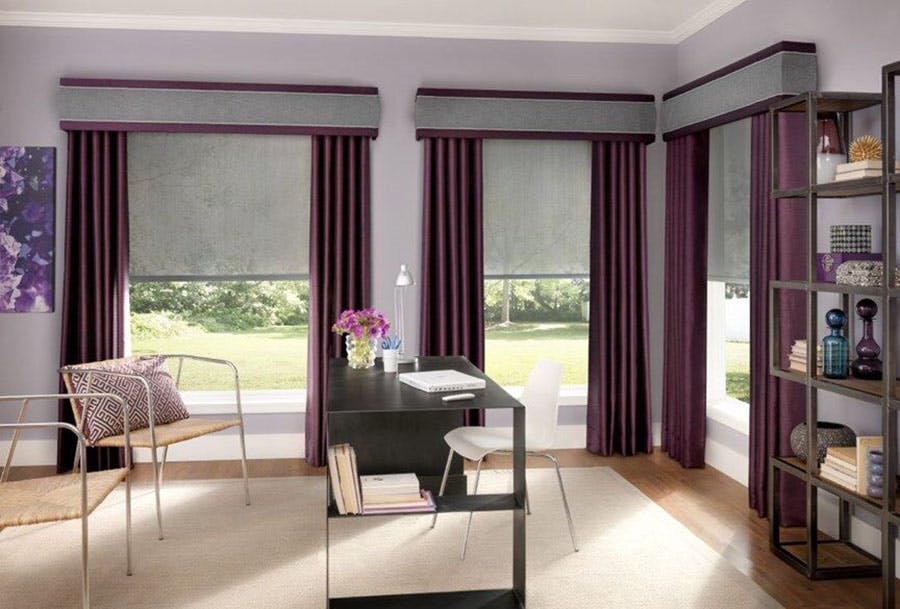 Pictured: Bali Fabric Wrapped Cornice in Poetic, Vienna 0362 with a contrast color Zoe Silver Mist 0024.
Window Height: How High Can You Reach?
If you have to stand on tippy toes trying to reach across the sink or tub to the window, we recommend sticking with corded or continuous cord loop (abbreviated as CCL) for the lift control. Cordless blinds and shades can only be raised as high as you can reach, so consider this when choosing a window treatment.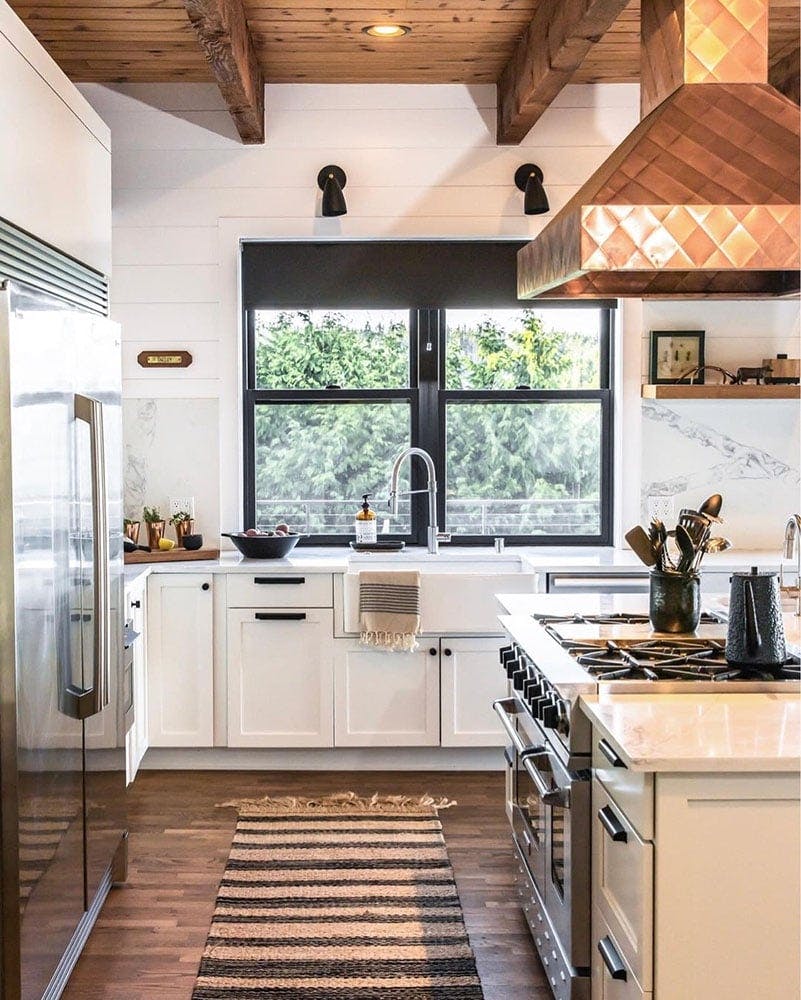 Pictured: Blinds.com Light Filtering Roller Shade in Savannah Jet Black. Photo via @5girlsoneboy.
If you have your heart set on shutters (Who wouldn't? They're gorgeous!), consider how much space you have around your window. Shutter panels swing open like a door so fixtures like sink faucets can prevent the shutter panels from opening. But you can still get the stately look of shutters with a faux wood blind in a larger slat size like the Blinds.com 2 1/2" Faux Wood Blinds (shown below in White).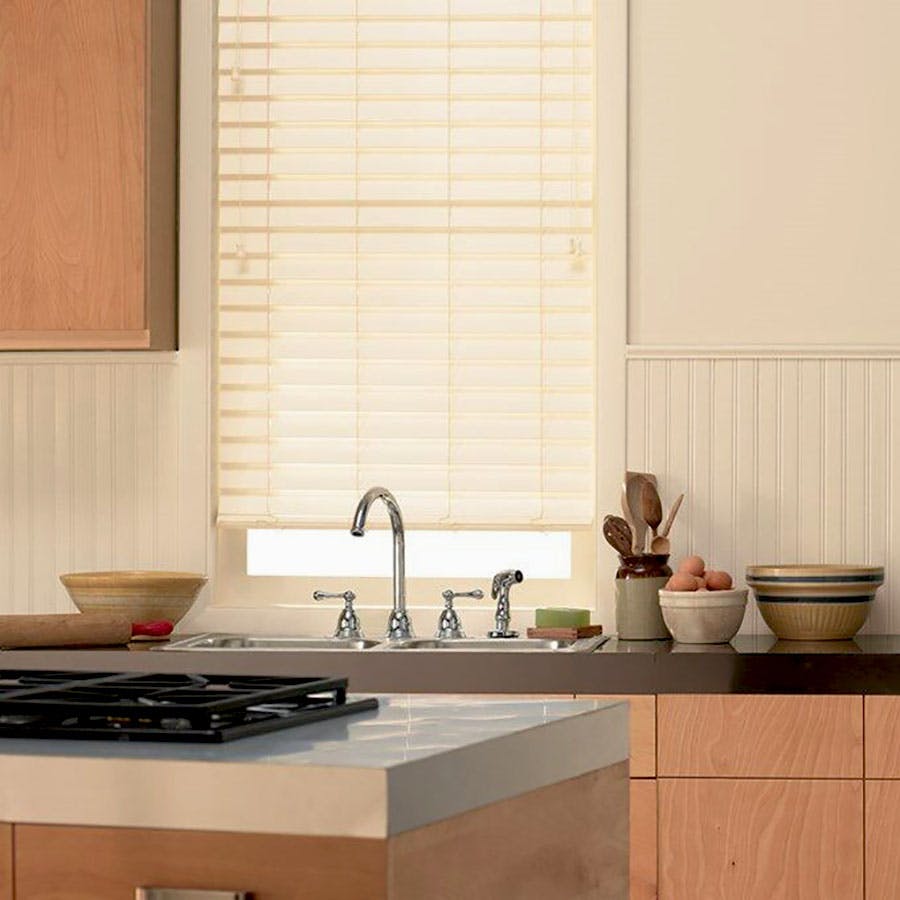 Pictured: Blinds.com 2 1/2" Faux Wood Blinds in White.
Still Have Questions?
Choosing the right window treatment can feel daunting but our Expert Design Consultants are ready to help answer any of your questions: 844-551-3769. They can also send you free sample swatches or help set up a Professional Measure and Install.
For more window inspiration, follow us on Instagram and Pinterest!
Read More