Summer is only weeks away. It's time to power down the laptop and start spending more time outside. Before you start planning your next summer vacation and weekend getaways, we're sharing 5 of our favorite influencer outdoor spaces to inspire you to deck out your own backyard.
1. Cozy Outdoor Patio with Neutral Heavy Duty Outdoor Solar Shades
We're swooning over Jenna of @houseofrad405's outdoor space, because it is equally stylish and functional.
She chose Heavy Duty Outdoor Solar Shades to help protect her home from the sun and reduce her home's cooling costs. The added privacy was a bonus.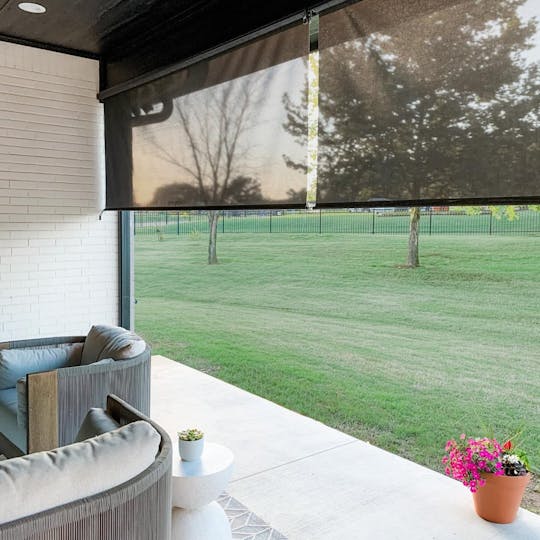 From the neutral outdoor furniture to the Heavy Duty Outdoor Solar Shades, she can entertain guests for hours without having to take the party inside.
"Now my family can relax on our porch without the sun beating down on us, and I have to admit I'm enjoying the extra privacy!" says Jenna.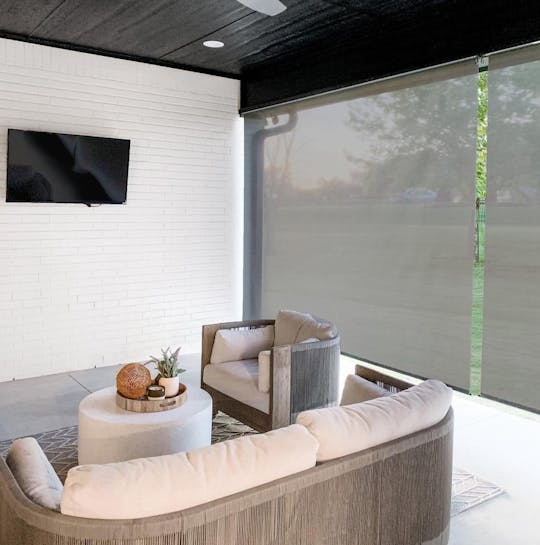 Pictured: Heavy Duty Outdoor Solar Shades in Caymen 5%. Photos via @houseofrad405.
2. Front Porch Gets Modern Upgrade with Outdoor Solar Shades
The Renovation Husbands hit their front porch makeover out of the park. They chose outdoor solar shades in the warm, beige color Muse 5% Alaska Sky for their porch. From the lush plants to the outdoor furniture complete with plush pillows and cozy blankets, what's not to love.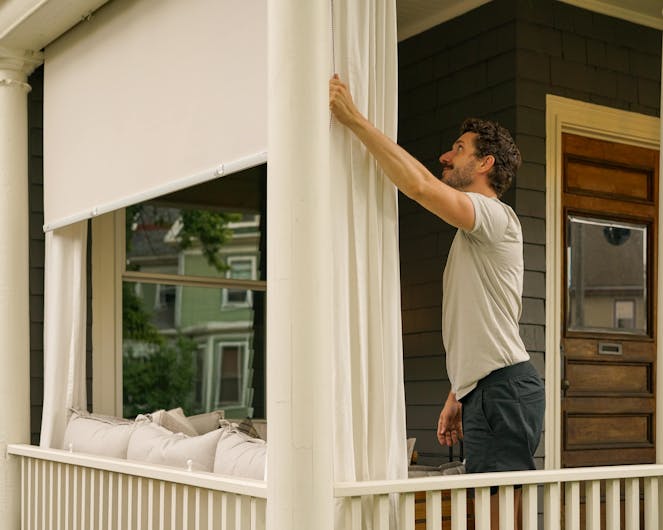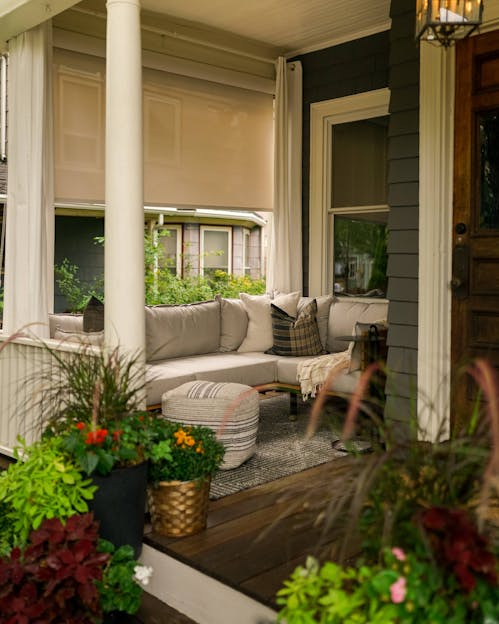 Pictured: Bali Outdoor Solar Shades in Muse 5% Alaska Sky. Photos via @renovationhusbands.
3. Charming Screened Porch with Beige Outdoor Solar Shades
Needless to say, this is the screened porch of our dreams! Yuni Min of @loveyourabode's porch is classic, elegant, and effortlessly balances traditional and modern style.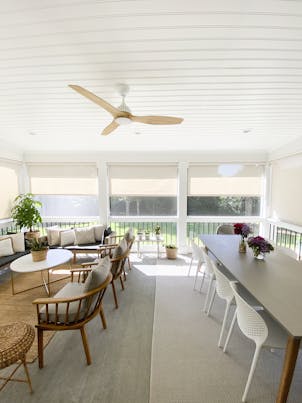 She opted for Outdoor Solar Shades in Palermo 5%, which bring a sense of classic southern charm to her outdoor space. The pops of color from the plants and floral arrangements take this stunning porch over the top and onto our list of favorite outdoor spaces.
"When our screened porch was built, having custom shades was on our wish list. Thanks to our friends [at] blindsdotcom, we now have gorgeous custom shades that offer privacy and shade," says Yuni.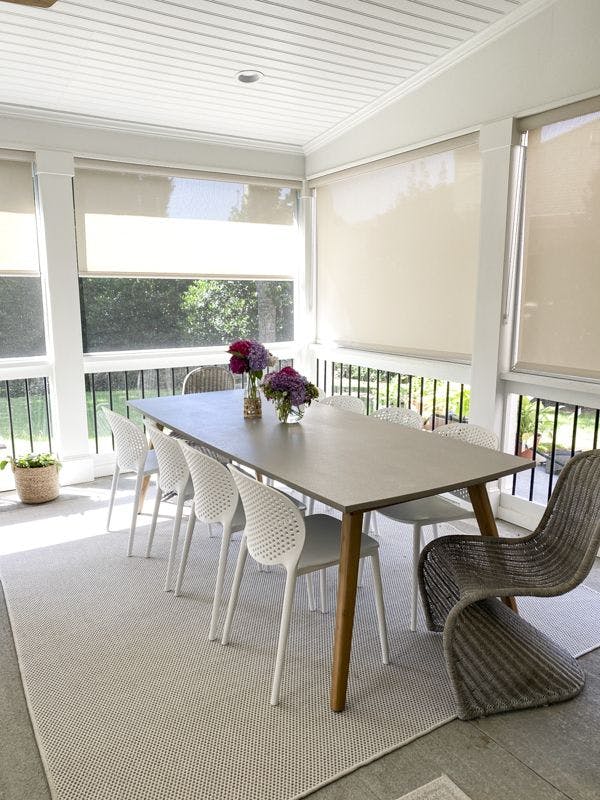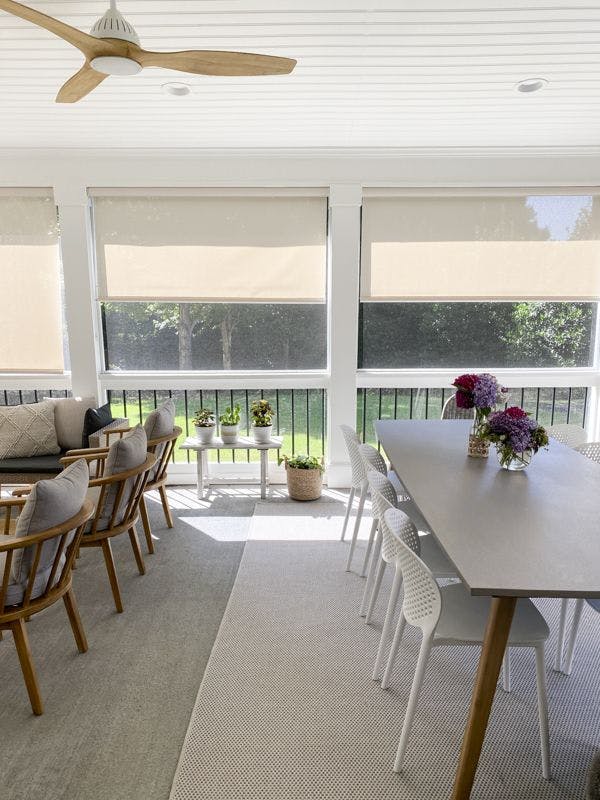 Pictured: Outdoor Solar Shades in Palermo 5%. Photos via @loveyourabode.
4. Outdoor Oasis with Warm Neutral Heavy Duty Outdoor Solar Shades
Sometimes when we're looking for solitude, finding a space inside doesn't cut it. We want to feel the warm breeze touch our skin and the soft grass under our feet, so we can really clear our mind.
Rachel Owens of @rachelamyowen's outdoor space does just that -- and then some.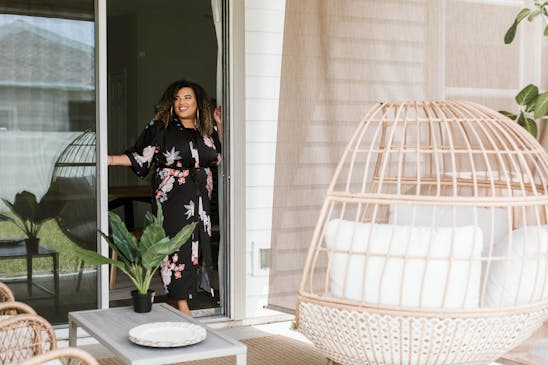 She needed a durable outdoor shade that could withstand Florida's hurricane season and intense heat, but also not clash with her neutral outdoor decor.
Heavy Duty Outdoor Solar Shades in the warm, earthy neutral shade Bermuda 5% were the right choice for her home.
"I knew I wanted a color that wasn't too dark, but also not too light and I love this natural finish," says Rachel.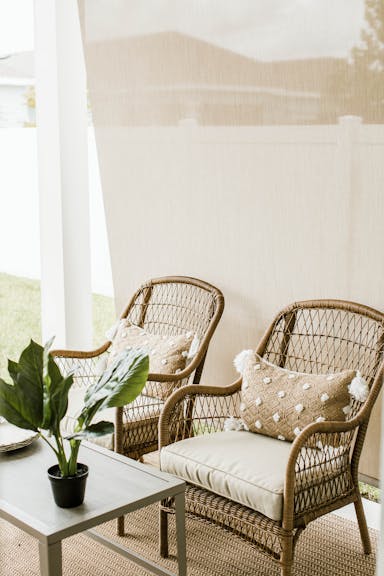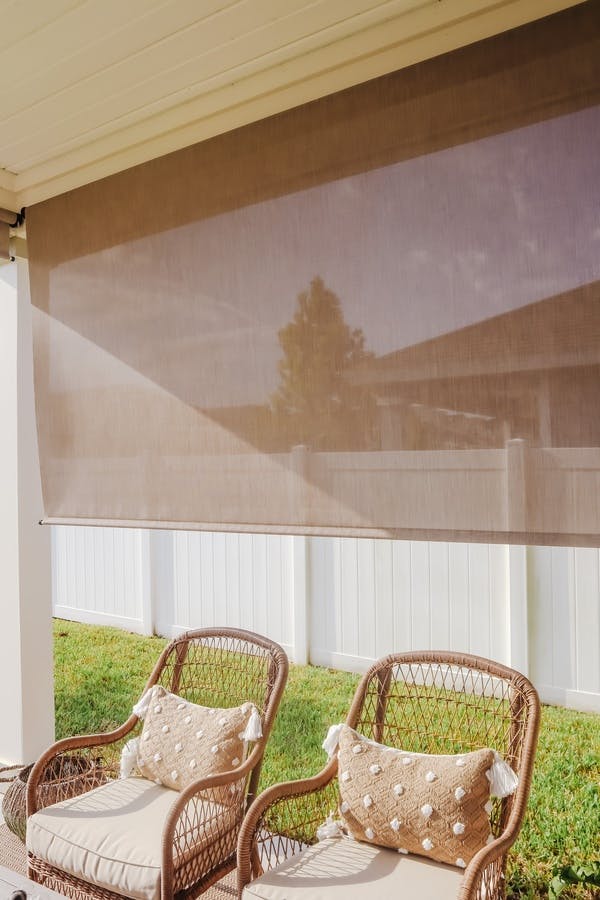 Pictured: Heavy Duty Outdoor Solar Shade in Bermuda 5%. Photos via @rachelamyowens.
5. Americana Porch with Classic White Outdoor Solar Shades
The monochrome look has dominated the runways and interior design for years, and is now making its way to the home's exterior.
We can't get enough of Tammy of @vintagewhitefarmhouse's classic Americana style.
Her bright, white Outdoor Solar Shades bring the entire front porch together while keeping her outdoor space cool during those steamy Utah summers.
"I have loved having these porch shades from blindsdotcom this past year! They save us every single afternoon from the hot sun," says Tammy.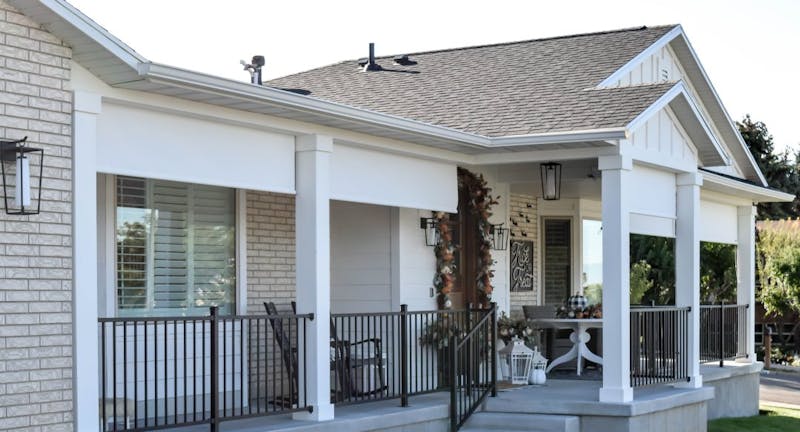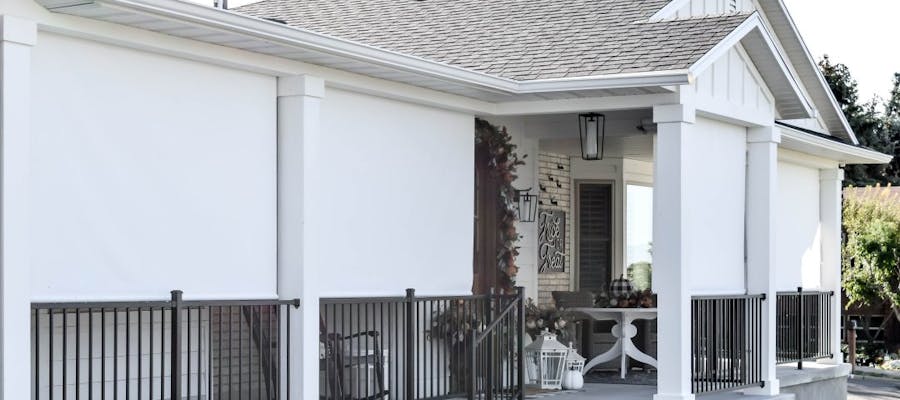 Pictured: Outdoor Solar Shades in Palermo 3% Frost. Photos via @vintagewhitefarmhouse.
Want More Influencer Favorites?
Elsie Larson from A Beautiful Mess Found Blackout Shades that Completely Disappear
Color-Loving Blogger Oh Joy Gives a Sneak Peek at LA Home + Shares Her Top Window Covering Picks
How to Maintain a Cleaning Schedule and What's Missing on Your Spring Cleaning Checklist
Peek Inside the Home of Ariel and Ned Fulmer (of YouTube's The Try Guys)